There is nothing like a warm apple cinnamon donut and the heavenly smell that fills my kitchen. I have been getting ready for fall. Half day school started back for my girls, so I wanted to make something fun for a back to school Saturday family breakfast. These sweet mini apple cake donuts are tender and topped with a sprinkle of cinnamon sugar. The mini size makes them easy to make and quick to bake. They are perfect for a weekend breakfast treat. Serve them with a big cup of coffee, if you are a coffee lover like me or a cup of hot chocolate or warm apple cider. These cake donuts are so tender and delicious that I think they would also make a delicious dessert too.
Mini Apple Cinnamon Donuts- makes 18 small donuts
2 cups flour
1½ cups sugar
2 teaspoons baking powder
1 teaspoon cinnamon
1/2 teaspoon ground ginger
1/4 teaspoon all spice
1/2 teaspoon kosher salt
1 large egg
1¼ cup apple cider (Martinelli's or another good all juice based cider)
2 tablespoons butter, melted
2 teaspoons vanilla extract
Preheat the oven to 350 degrees.
In a large bowl whisk together the dry ingredients: flour, sugar, baking powder, cinnamon, ground ginger, allspice and salt. Then add in your apple cider, melted butter and egg. Stir until the batter is well combined.
Next prepare the donut pans by spraying them with a flour based baking spray like Baker's Joy.
Then once your pans are ready pour or spoon the donut batter into a 1 gallon zip top bag. Then snip a small hole in the bottom corner of the bag. The plastic bag will work like a large pastry bag which makes filling the donut pans much easier. Fill the donut tins about three quarters of the way full, which is about two quick turns or circles of batter for each donut.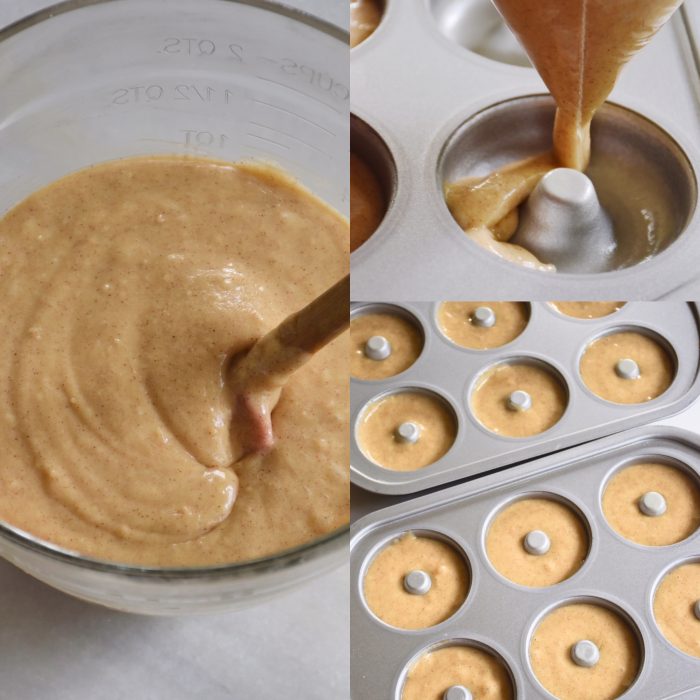 Bake the donuts for 15 minutes. Then while they are baking make your cinnamon sugar topping.
Cinnamon Sugar Topping
5 tablespoons butter melted
1/2 cup sugar
1 teaspoon cinnamon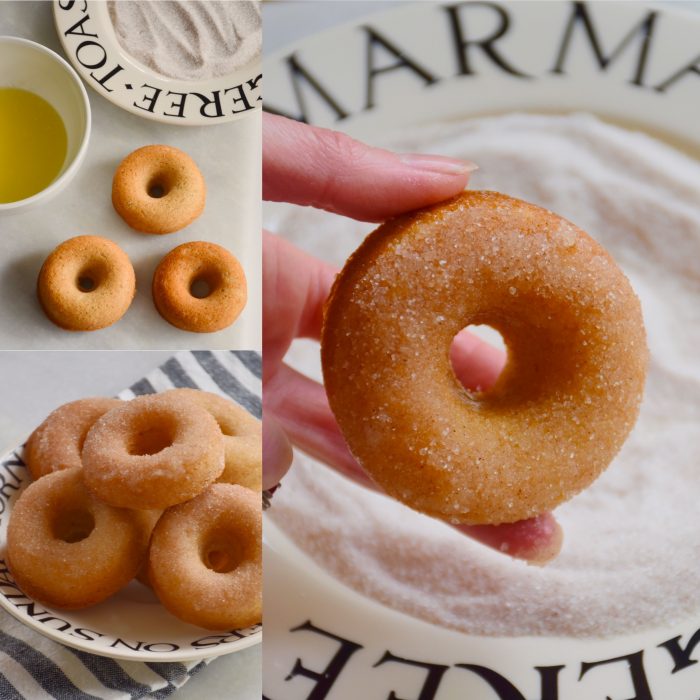 In a shallow bowl or plate mix together the cinnamon and sugar. Then melt the butter in a bowl or small skillet. Once the donuts have cooled for about five minutes quickly dip one side of the donut in the butter and then the cinnamon sugar.
These mini apple cinnamon donuts were a hit in our house. I got these mini donut pans for my birthday this year and I have had so much fun baking with them. The batter for this recipe doesn't require a mixer so it's perfect for little ones who love to help. I think my six year old said it best as she was dancing around the kitchen, "These donuts are so yummy!"  So if you are looking to do a little fall baking then try these mini apple cinnamon donuts.