"Tacos-can we ever have enough tacos in our lives? I didn't think so. Because when the taco is right, the birds start to sing and the stars shine more brightly and you have the impression that everything is right with the world…A perfect taco is a gift to the universe."
Jonathan Gold
As a Texas girl I dream of tacos. They are the food I crave and sometimes long for. So, in our house tacos are on the menu at least once or twice I week. Breakfast egg and cheese tacos, fish tacos with a crispy cabbage slaw, brisket tacos and this Tex-Mex classic chicken tacos al carbon.
One of my favorite kinds of tacos are tacos al carbon. In Spanish "al carbon" means cooking over coals so usually tacos al carbon are meats like beef or chicken that have been grilled with onions and sometimes peppers. I like to make mine on cast iron grill indoors, but you could also use a large cast iron or nonstick skillet. These tacos were the ones I always loved to order as a kid and my girls love eating them too!
Chicken Tacos al Carbon- Serves 6
3 boneless skinless chicken breasts, butterflied
1/4 cup fresh lime juice (2 limes)
1/4 cup fresh orange juice
1 clove of garlic minced
1 teaspoon cumin
1 teaspoon kosher salt
2 tablespoons olive oil
1 sweet yellow onion, sliced into thin half rounds
12 to 15 flour tortillas
First, slice the chicken breasts in half horizontally so there are six pieces of thinly sliced chicken.
Next, make the marinade whisk together the lime juice, orange juice, garlic, cumin, kosher salt and olive oil. Pour the marinade in a gallon sized plastic zip top bag and add in the chicken breast slices. Let the chicken marinade in the fridge for 30 minutes to an hour. Before cooking take the chicken out of the marinade and pat it dry with a paper towel so the chicken will brown well and the sweet citrus juices won't stick to the grill.
Heat a cast-iron grill pan or a large skillet over medium heat for about 5 minutes then add 2 tablespoons of canola or olive oil. Add the onions first and cook then until they turn translucent and caramelize a bit. Once the onions have cooked down move them to the side of the grill or pan.
Add the chicken breasts. Cook the chicken for 5 to 6 minutes a side until the chicken has browned and cooked through.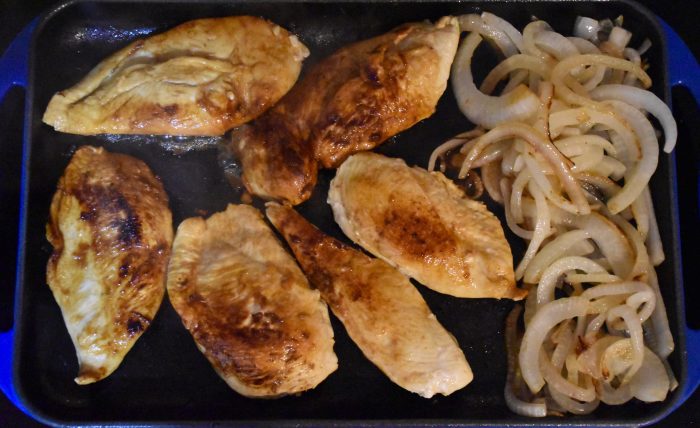 Slice the grilled chicken on the diagonal into thin strips.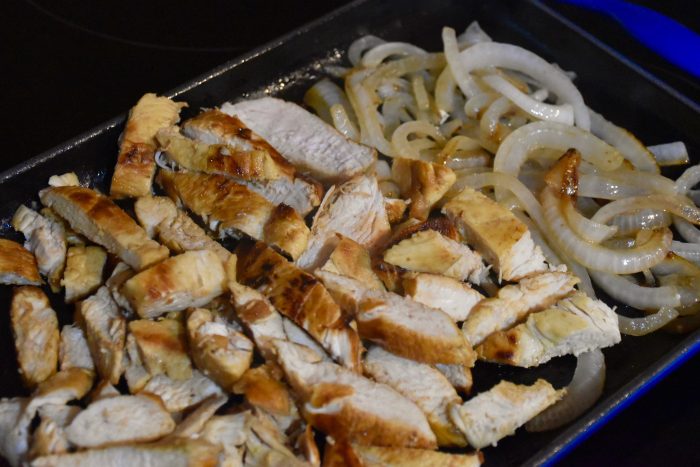 Roll the meat and onions in fluffy flour tortillas and serve them with a sides of pico de gallo, guacamole, sour cream and cheese.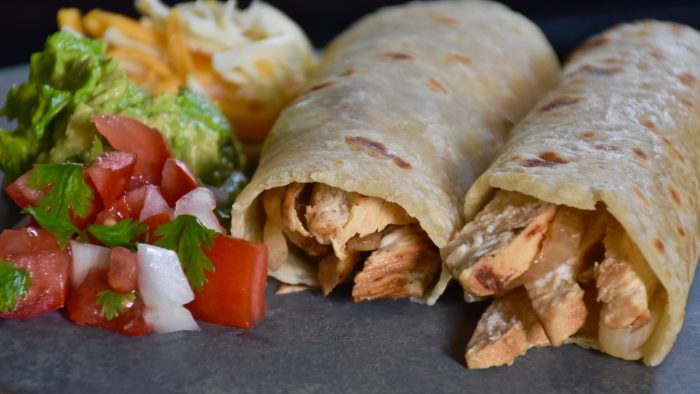 Then layer on the toppings and create your own perfect taco. Add a side of black beans or some skillet roasted corn and you have a delicious taco night. Want to make it a party? Then make a side of El Tiempo's Green Sauce and some Key Lime Ice Cream Pie for dessert!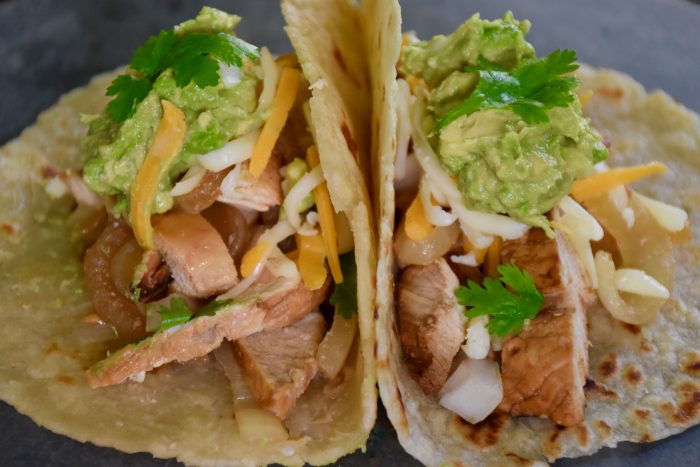 You can get lost for a moment in a bite of these tacos. Because there are never enough tacos for those who dream of them.