I cook with a sense of adventure and fun. Never one to make just the same rotation of dishes I am always trying to push the flavor boundaries and create something different. Sometimes I never know where my inspiration will come from. I was sitting in a waiting room looking at a magazine when I saw a picture of a pulled chicken sandwich. Inspired, my mind began to swirl with ideas about creating my own ultimate version, a pulled chicken sandwich with a Southwestern carrot slaw. My recipe is a twist on your traditional roasted chicken with a lime and smoky cumin flavored slaw.
These sandwiches are the perfect Sunday night dinner. Roasting chicken takes just under an hour; however, the hands on cooking time isn't much. If you take a little help from the store by buying shredded carrots and barbecue sauce, then it makes a fun and easy dinner. Add a side of macaroni and cheese or, a pasta or potato salad and you have a delicious meal.
Pulled Chicken Sandwiches -Serves 4
3 bone in skin on chicken breasts
4 tablespoons unsalted butter, at room temp
1 teaspoon kosher salt
1/2 teaspoon garlic powder
1/2 teaspoon onion powder
1/2 teaspoon cumin
1/4 teaspoon chili powder
1 cup barbecue sauce (I use a brand called Head Country)
4 brioche or bakery quality burger buns, toasted
Preheat your oven to 375 degrees.
Next make your flavored butter for roasting your chicken. In a small bowl add the softened butter, salt, garlic powder, onion powder, cumin and chili powder. Evenly mix the spices into your butter using a rubber spatula or spoon.
Line a roast or sheet pan with aluminum foil, for easy clean up. Then place your chicken breasts on the pan. Take your flavored butter and place one third of the mixture under the skin of each chicken breast. To do this you need to carefully lift up the skin and create a little pocket to spoon in your flavored butter. You want to avoid making a whole on the bottom or sides.
Roast your chicken for 45 to 50 minutes depending on the size of your chicken breasts. A very large chicken breast could take up to 55 minutes.
Let you chicken cool in the pan for about 5 minutes until it is cool enough to handle. Next peel off your skin and while holding your chicken over a medium sized bowl to catch all the flavorful drippings. Then discard the skin and shred your chicken off the bone using a fork. Once you have shredded all of your chicken take about 1/4 cup of the pan drippings and mix it into your chicken along with 1 cup of barbecue sauce. (The chicken pan gravy is what makes this chicken so delicious.)
Southwestern Carrot Slaw
3 cups of shredded carrots (You can save some time by using a bag of pre-shredded carrots from the store)
1 cup shredded red cabbage
3 green onion sliced on the diagonal
1/4 cup cilantro leaves
1 lime zested
1 tablespoon of lime juice
2 tablespoons apple cider vinegar
1 tablespoon of honey
1/2 teaspoon cumin
1/2 teaspoon kosher salt
In a medium sized bowl mix together your carrots, red cabbage, green onions and cilantro.
In a small mixing bowl whisk together the lime zest and juice. Add in the apple cider vinegar, honey, cumin and salt. Whisk until it is well combined. Then add your dressing to your carrot slaw and toss to combined.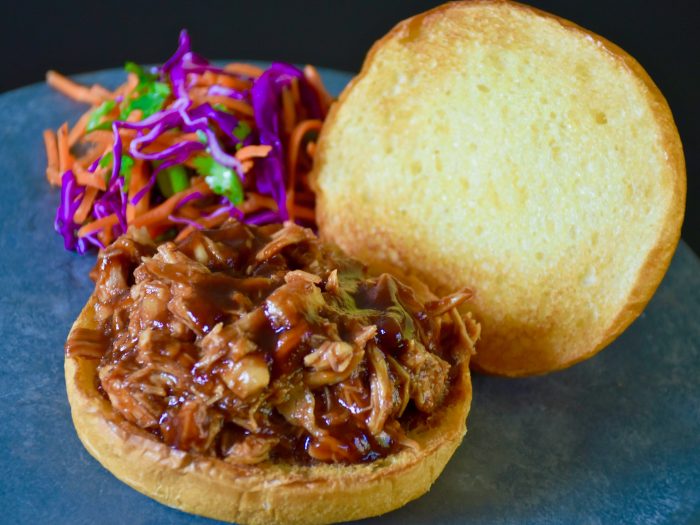 To assemble your sandwiches spoon some shredded barbecue chicken on the bottom of each bun and top with a spoonful of the Southwestern Slaw.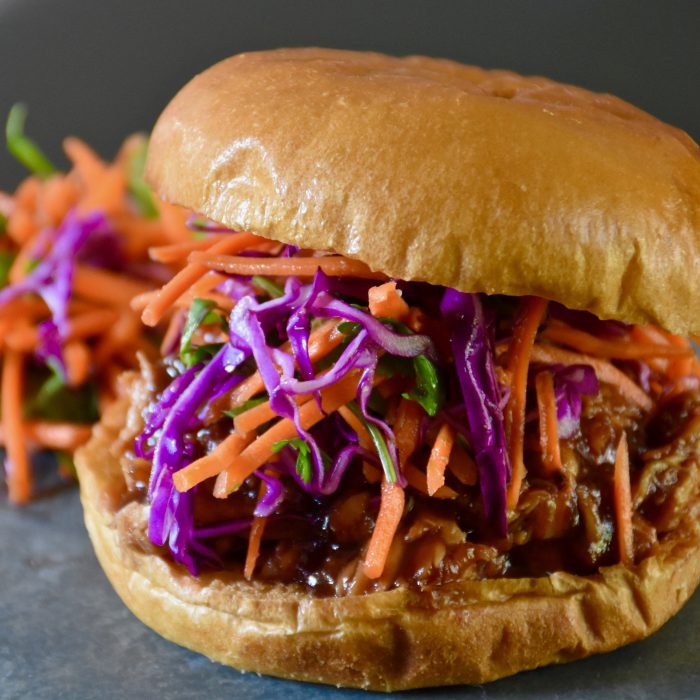 Outrageously delicious these big mouth sandwiches were a hit in our house. They would be a great dish to share with friends because you can make the pulled chicken ahead of time, even the day before. They would also work well as sliders for a tailgating party. The big flavors and crunchy slaw make theses a swoon-worthy sandwich and supper.