Grilling is great for more than just savory meats and vegetables. It also happens to be a fun way to cook dessert. So after sharing a dinner that was all on the grill I though I would add a dessert to the menu: grilled poundcake with Grand Marnier strawberries.
A few years ago my husband and I went to one of Steven Raichlen's grilling courses where he created a grilled pound cake with a strawberry, lime and jalapeño salsa.  After experimenting with pound cakes, including a homemade version or two, he found that the texture of Sara Lee cake (from the frozen dessert section) stood up best when grilled.
Wanting a slightly sweeter dessert I decided to create my own strawberry shortcake like topping. The warm cake with the creamy ice cream and the orange strawberries is magic. I made this one up on the fly a couple of weeks ago and my husband was wishing I had made more. So here is a simply delicious summer dessert perfect for any dinner on the grill.
Grilled Pound Cake with Grand Marnier Strawberries – Serves 4
2 cups fresh strawberries stemmed and halved
1 tablespoon orange zest
1 tablespoon sugar
1 tablespoon grand marnier
8 approximately ½ inch slices Sara Lee pound cake (thawed)
2 tablespoons melted butter
4 scoops vanilla ice cream (My midwest favorite is Hudsonville creamy vanilla)
First prepare the macerated strawberries. In a small bowl mix together the strawberries, orange zest, sugar and grand marnier. Let them sit in the fridge. They will create their own delicious sauce.
Next prepare you grill and pound cake. Set your grill up for direct grilling at a medium heat. Brush each side of the pound cake slices with the melted butter. Then grill the cake slices for 1 to 2 minutes a side.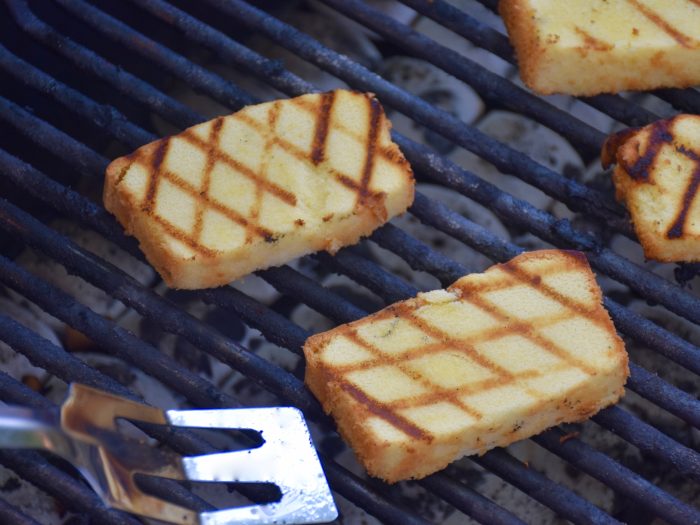 Finally, assemble the strawberries and cake. Place one to two cake slices on a small plate or in a bowl. Then spoon ½ cup of the strawberries on each dish. Top it with a scoop of vanilla cream and spoon a little of the strawberry sauce on top.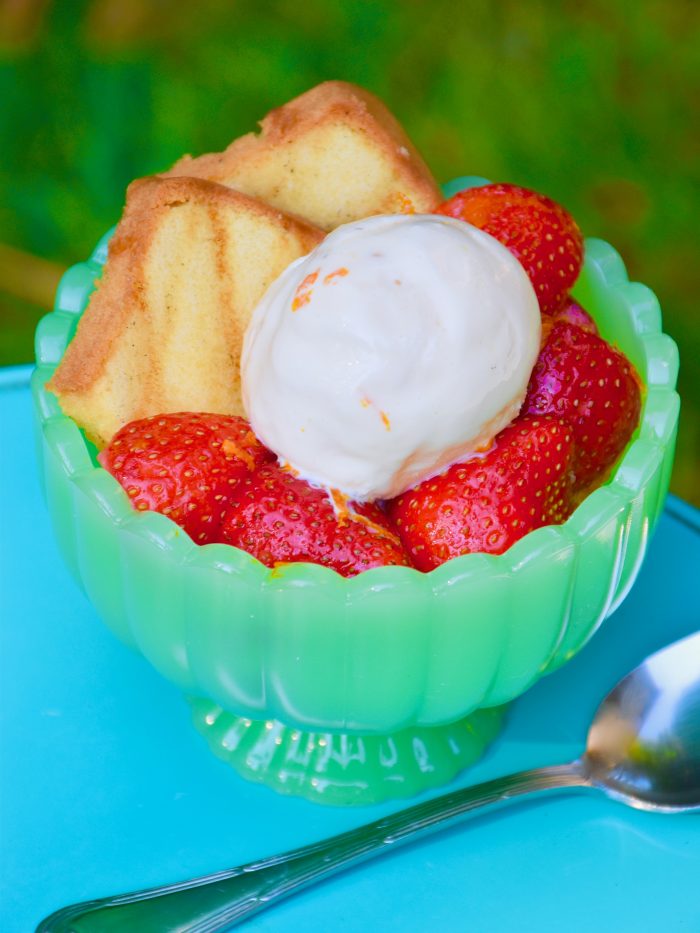 This dessert may be simple but the flavors are extraordinarily good. So this holiday weekend leave the grill going for a memorably delicious finish to your meal.