This past week has been a tough one in the McCauley kitchen. Last Thursday I was on the phone with my mom when my preschool aged daughters came hand in hand to whisper to me that something was broken. I was in the next room and I hadn't heard a tell tale crash or noise so I thought how bad could it be, that was until my youngest motioned towards the stove top. Then I looked down at my ceramic top and saw a long crack all the way across the glass. How did this happen? My oldest was silent and then pointed towards her foot. I was still in shock trying to figure out how her foot could have done this. There was no way she could kick it hard enough, but then I finally got my little one to spill the truth. My oldest had climbed on the counter and stepped on the edge of the stove that had a small chip in it and that was all it took.
My slide in electric stove is, truth be told, not my favorite. My oven and I have a bit of a love hate relationship. It has a burner that hasn't worked quite right since we moved in and the oven has issues baking any cakes or bread that take longer than 30 minutes. It leaves things like banana bread or bundt cake raw in the center with crispy edges. This would not be a problem if I was the type of person who used my oven for tupperware storage, but for me it's something I use everyday. So when the stove top crack happened, I began to think it might be time to move on.
I quickly began researching my options knowing that it could be a challenge since the previous homeowners cut a hole in the hardwood floor to accommodate the current slide in. I looked up the old owners manual for my existing stove to get the measurements and I spent hours reading oven reviews and their measurements. I had to use an electric slide in since I don't have a gas line. This limited my choices, but I finally found a professional grade electric range made by Frigidaire. I compared prices online and took lots of pictures of my current slide to the showroom to explain all the potential installation issues.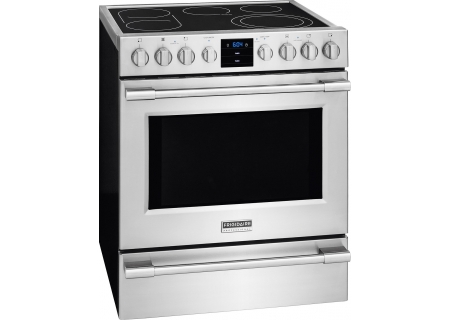 Here it is the oven that everyone raved about and I was lucky the store had one on sale and in stock. Delivery day came and I was so excited. I was finally going to have a great oven. It all seemed to be going to plan until I had to face the sad reality that our kitchen counters and floor had been built around the existing oven. There were specially carved out holes in the wood to accommodate its exact dimensions and a new slide in no matter what brand was not going to work without hiring a contractor. I realized that the newer slide in ranges were going to be a little too deep for my existing cabinetry.  No matter how much I wanted it to work, the handles and lower drawer blocked access to the cabinet next to it. The installer and I thought we could potentially solve the issue by getting the granite counter top behind it trimmed back. After carefully measuring the overhang it was clear that cutting the granite wasn't going to be enough to solve the issue. So for five minutes my kitchen had an amazing stove in it before I had to made the sad decision that it wasn't meant to be. The new stove simply had to go back.
So I am now going to have to spend more than I wanted to fix my old stove, but it's less than the cost of remodeling my kitchen. So for now it's the practical thing to do. While I was on hold with customer service getting my stove officially returned, I began thinking as much as I would like this new stove, I am not sure that it's the stove I am so head over heels for and that I would remodel my kitchen around it. Trying to think more optimistically I began to let myself daydream, while listening to the hold music, about the type of stove that would make a statement. The stove that as a foodie you would want to build a kitchen around.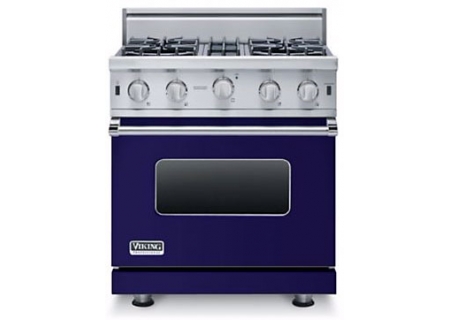 Kitchen design is beginning to change. Over the last fifteen to twenty years, Kitchen trends have been leaning towards clean lined stainless steel appliances, but now you are beginning to see more colorful options available. I happen to love the look of these newer stoves and appliances. It's a way to add a bit of color and personality to your kitchen. Viking Appliances is one of the companies that is leading the way with its line of professional grade stoves in 24 different colors. My only real hesitation with building a kitchen around a Viking stove would be the cost, but if you are going to make your stove the centerpiece of the kitchen this is certainly a pretty one. Thom Felicia recently decorated a Colorado home around this cobalt blue Viking stove and his work was recently featured in the Wall Street Journal and House Beautiful Magazine. Here is the link so you can see his modern yet rustic kitchen and the blue stove that inspired it all . Even if you are not to type to paint your cabinets a bold blue, there are certainly lots of options and ways to incorporate a little color in your kitchen.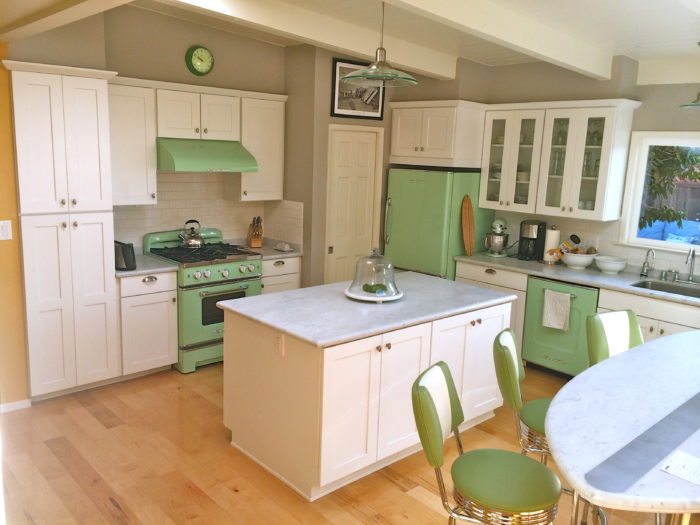 If you love the look of the colored gas stoves made by Viking, but you need an electric cooktop then Big Chill Appliances has a collection of colored electric induction ranges or induction cook tops you can stack with an electric oven to create your own custom look. I have always loved the retro look of Big Chill Appliances. This kitchen above has a clean modern look with a whimsical twist. The retro inspired jadite green appliances make this a memorable kitchen. However as much as I love the color I think I would choose their white appliances with custom colored knobs.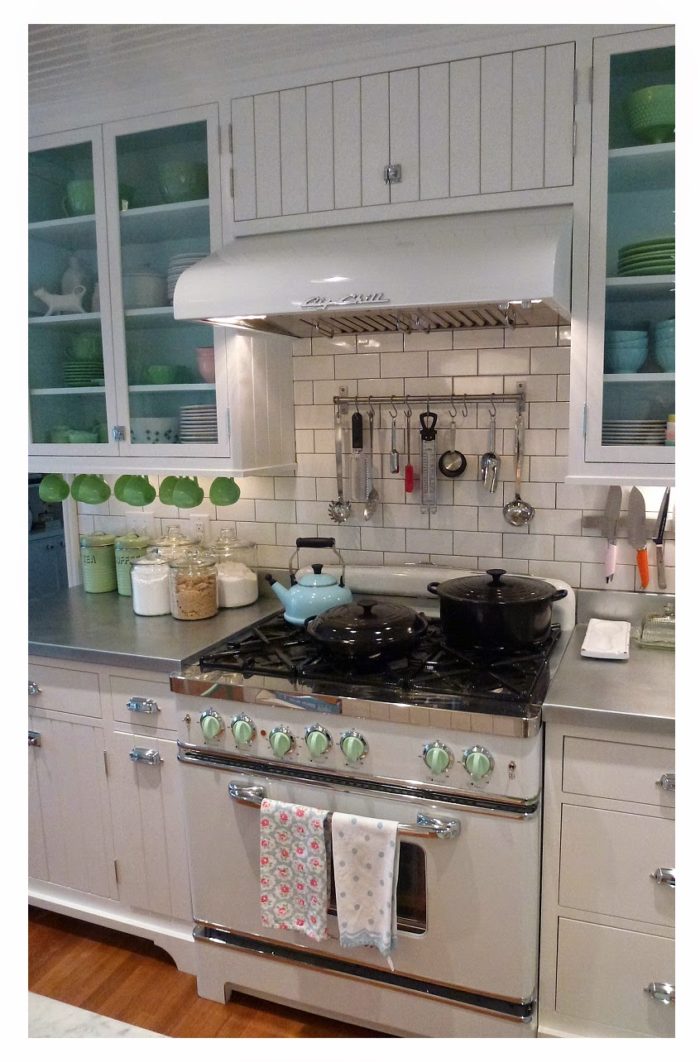 I like the look and lines of the white stove with the white cabinetry. However the small detail of the soft green knobs is really what makes this kitchen. I love how they add a fun touch of personality without it dominating the room.
Want all the fun of bright colors with more of a contemporary look then check out their professional line, which has cleaner lines in the colors Big Chill is known for.
However, the company with the most amazing array of custom color combinations is Blue Star.  Blue Star specializes in making custom colored stoves and oven and with over 750 different colors and textured finishes to choose from you can definitely find a statement piece for your kitchen. If a purple or pumpkin colored stove has you worried about the future resale value of your home or if you are afraid you will tire of the look, then one of feature I would consider is their customizable appliance knobs, They come in an amazing array of shades and its a way to add a little color to a stainless steel appliance. The light pink knobs on the Blue Star range below and in the ovens featured at the top of this post add just the right touch of fun to this stainless steel range.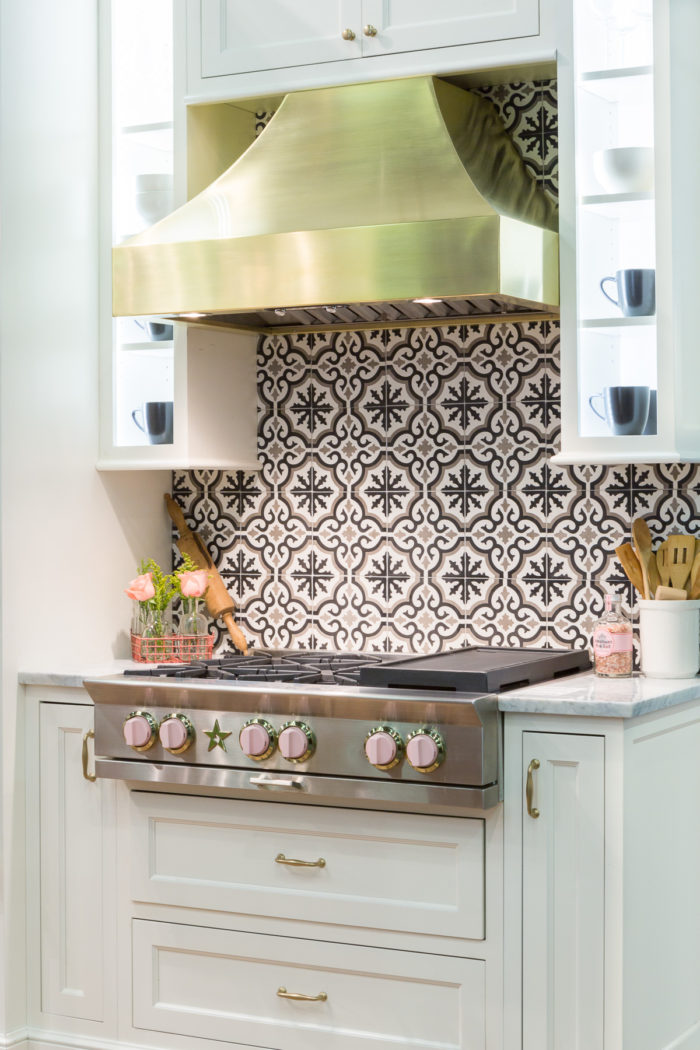 Here is another one of Blue Star's Stoves in a very contemporary black finish. These stoves are a major investment, but the wide variety of customizable details on all of their products is impressive.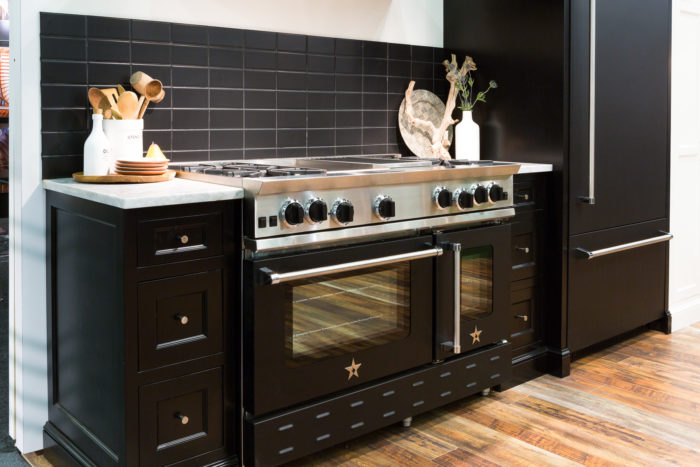 Now if you are like me and one of these gorgeous stoves isn't going to find their way into your kitchen anytime soon then here are some fun smaller appliances that would certainly give your kitchen an update and add a little color and personality.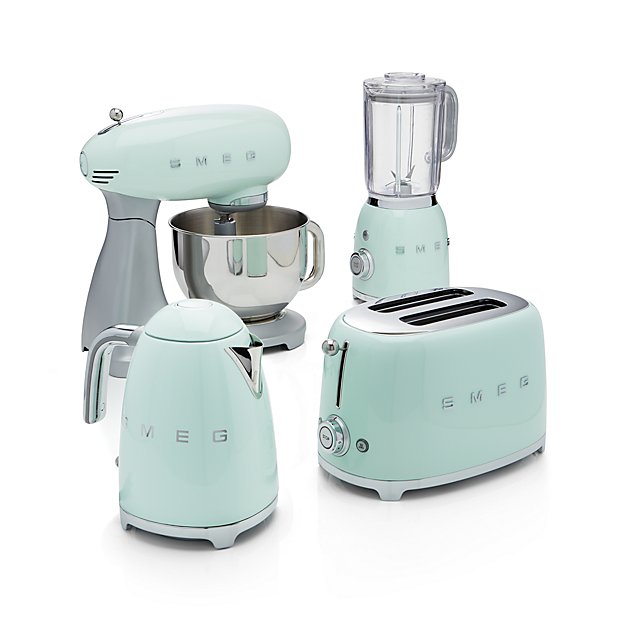 Love the look of the Big Chill Appliances then check out these smaller colorful and retro inspired toasters and small appliances from Smeg. I have a picture of the mint green collection, but they come in other colors as well.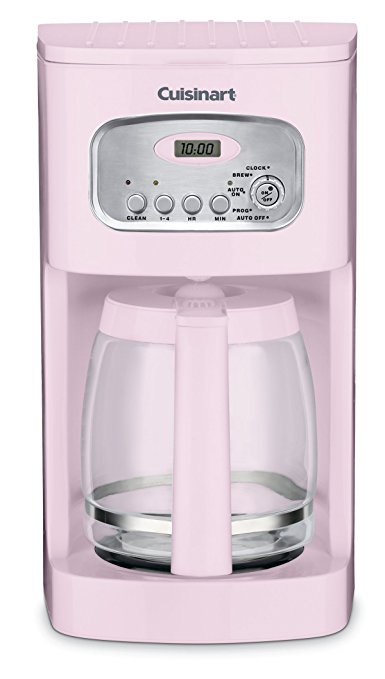 Did you love those fun pink knobs on the Blue Star Appliances? Then this pink coffee pot from Cuisinart  would add a little personality to your kitchen at a fraction of the cost. You can find this pastel pink coffee pot here on Amazon.
Finally if you like the look of a more professional Viking stove then check out this counter top smart oven from Breville. I have this oven in stainless steal and I absolutely love it. This small convection oven is where most of the baking happens in my kitchen. It bakes so evenly that I like to use it to bake bread and other cakes that are more difficult for me to make in my larger oven. It also makes a fabulous toast and I even use it to make grilled cheese. Here is a link so you can see it at Williams Sonoma. So if you too have an oven with a few issues or you would like a second oven without remodeling then I highly recommend this versitile Breville smart oven.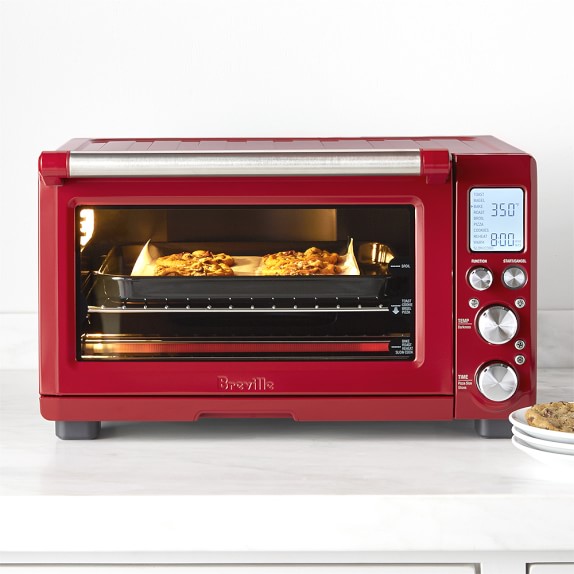 If red isn't your color and you are dreaming of Thom Felicia's cobalt blue stove then check out Kitchen Aid's line of small appliances including this bold blue toaster oven.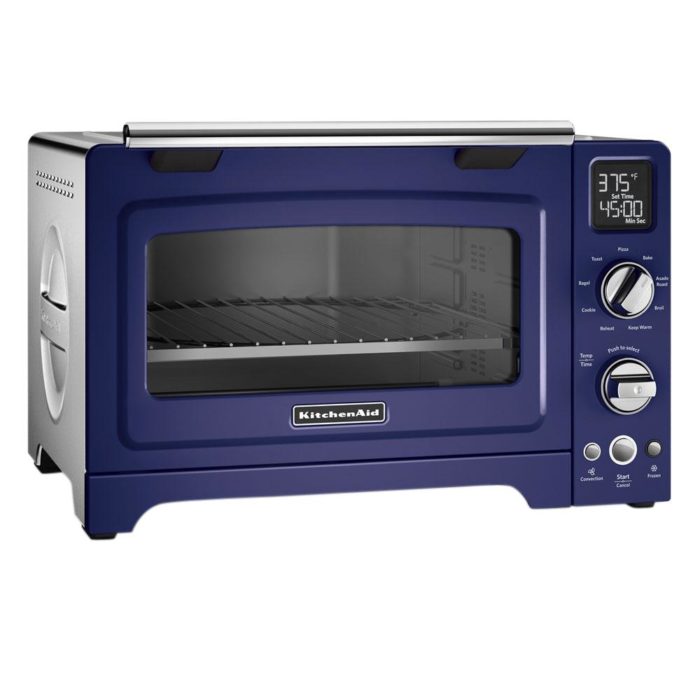 A week later, I can laugh about the stove incident. I am also grateful that although my stove has been discontinued, they still make parts for it. I am now crossing my fingers and hoping my new glass cook top comes in soon, so cooking can get back to normal around here. In the meanwhile, the baker in me is still dreaming about that oven and the ultimate stove that someday might be worth remodeling for.