"Anything is possible with sunshine and a little pink."  
Lilly Pulitzer
This year my summer garden has gone pink. Looking for a pop of cheerful color, I decided to go all in with a happy mix of fuchsia, flamingo, coral and blush. Pink in every shade imaginable. I have lots of pink perennials like peonies and hydrangeas. However this is the first year that I have used so many pink annuals.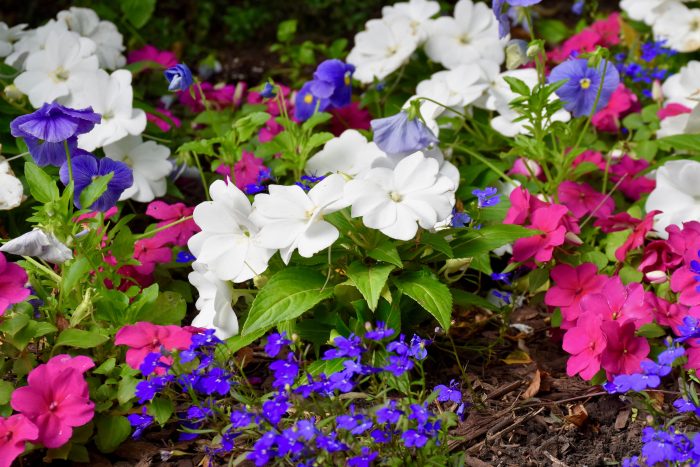 The front flowerbeds are filled with a mix of hot pink impatiens, white new guinea impatiens, true blue pansies, and blue lobelia.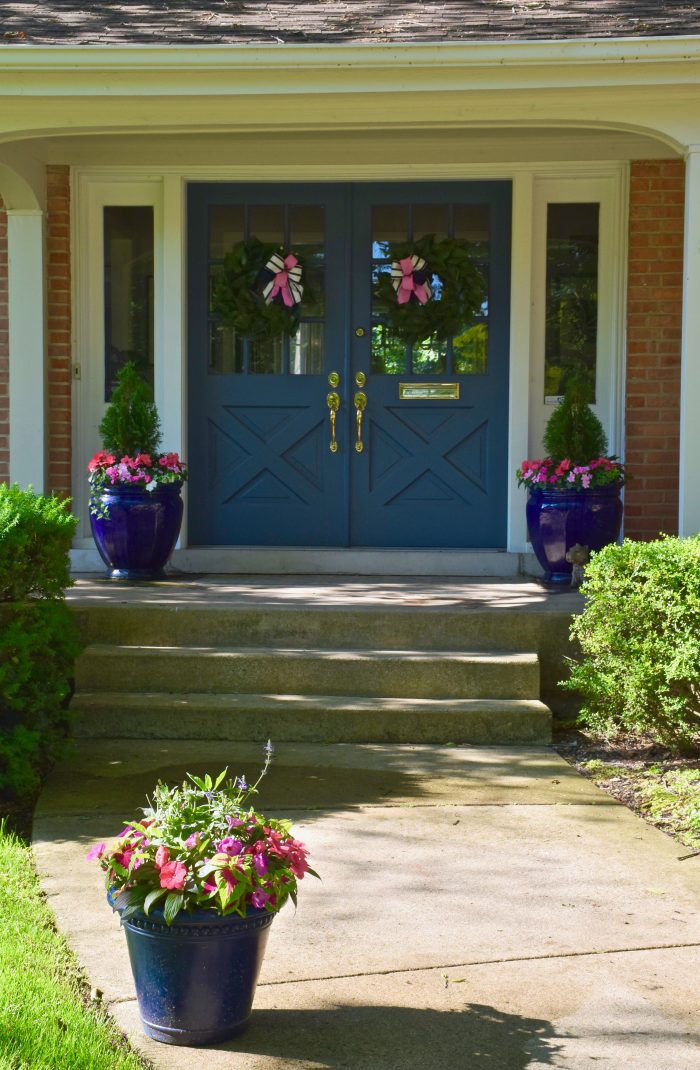 Even my front doors a got a touch pink with some new magnolia wreaths and bows. My large blue pots have cypress bushes with trailing English ivy and a pink impatiens. This year I mixed up the varieties of impatiens that I used. The new guinea impatiens typically last deeper into the fall than my traditional impatiens, but the smaller impatiens have more consistent blooms.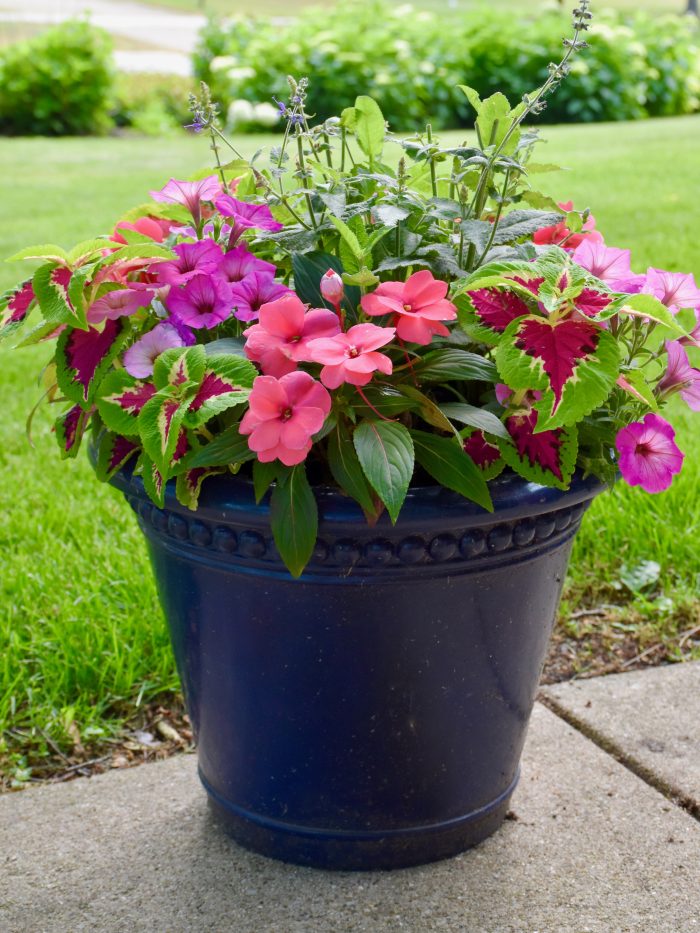 The front walkway pots have blue salvia in the center. Then I added some flamingo pink petunias, wizard rose coleus and coral impatiens. An admittedly, crazy mix of colors, but they make me smile.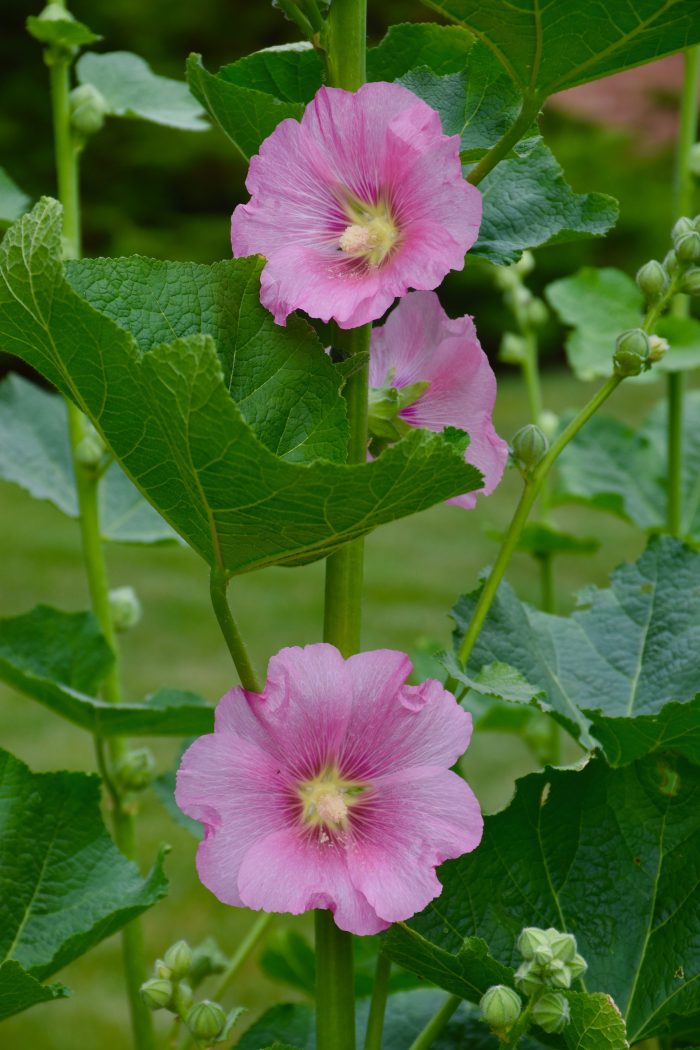 The newest blooms to my garden are the pink hollyhocks. I planted them in a sunnier spot on my side yard. Their tall stalks are filled with buds so I am looking forward to watching their show enfold.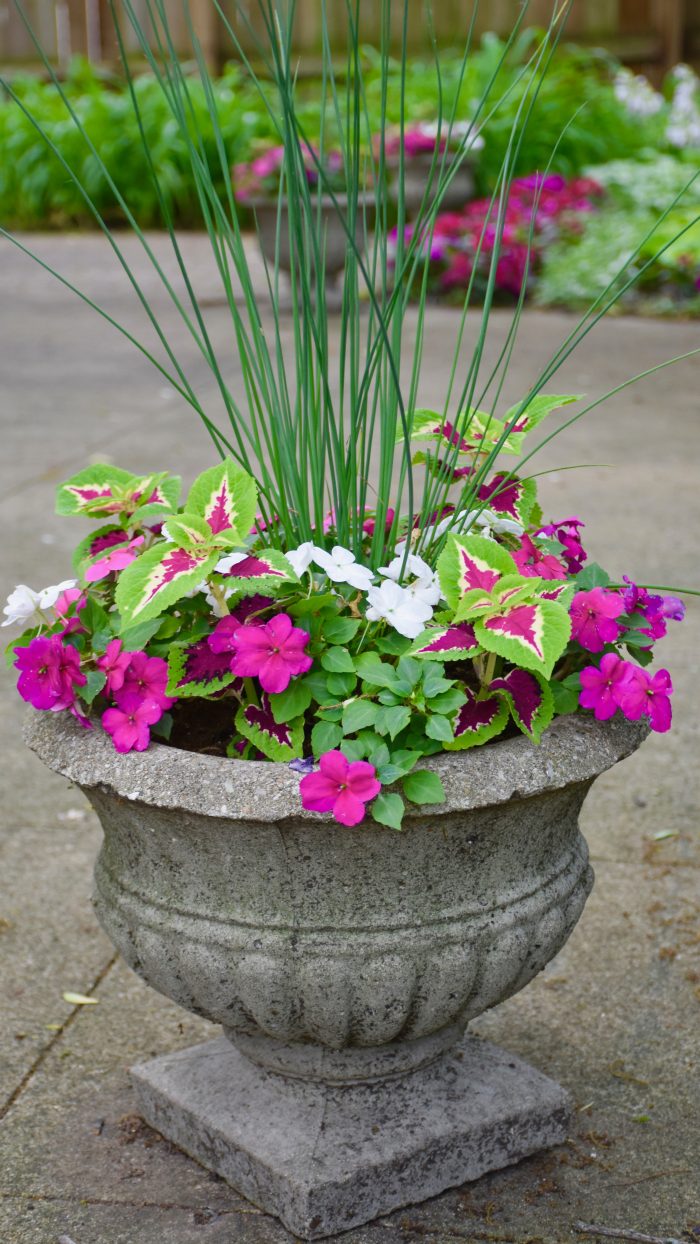 The back patio has a bright pink and green mix. The little spike plant adds some height to these small planters. I love the chartreuse green and hot pink on these coleuses leaves.
The new guinea impatiens in a deep rose and violet add some much needed color to my heavily shaded back yard.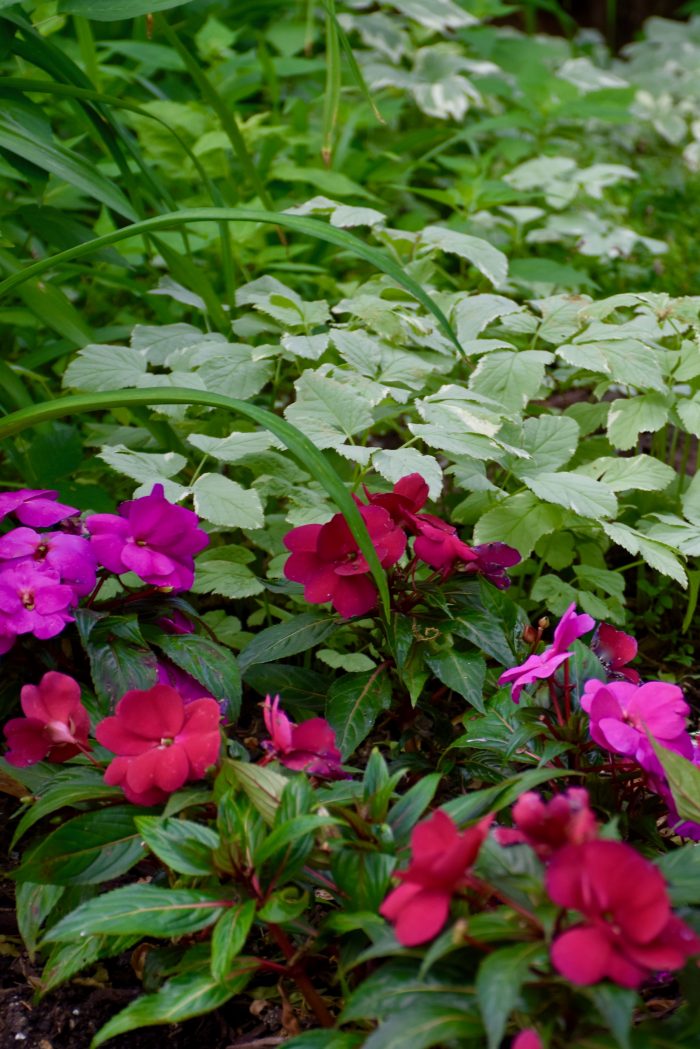 When I was planting all of these pink flowers I wondered if  I had taken this whole pink thing too far. However now that everything is blooming, all those pink flowers are so contagiously bright and optimistic that I just might have to do it again. Gardening brings me such joy. I love watching glorious summer show. My girls and I have been spending lots of time outdoors enjoying the view and savoring the sunshine.
Want a little more pink inspiration? Then here are a few summer gardens with pretty pops of pink.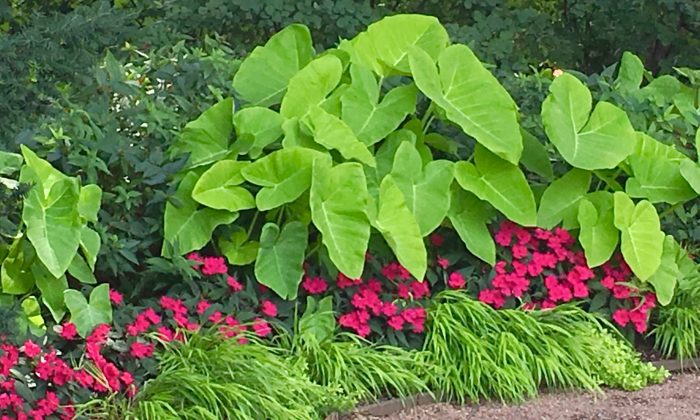 I love this flower bed at the Morton Arboretum lime green elephant ears and the Japanese forest grass are perfectly offset with the fabulous fuchsia impatiens.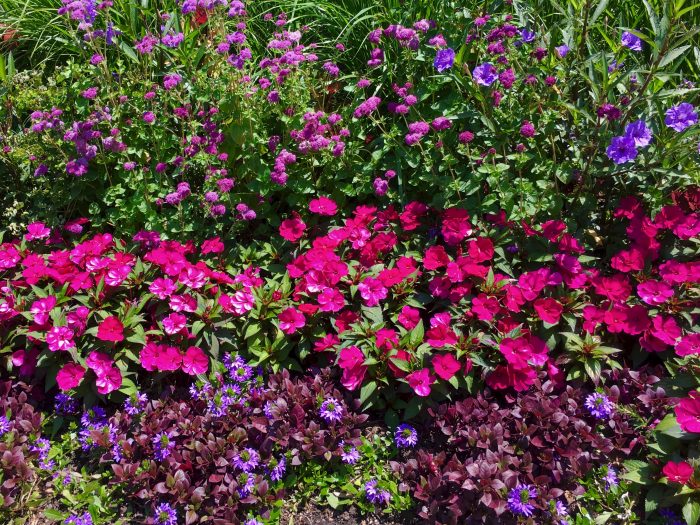 The pink New Guinea Sun Patiens are the stars of this striking pink and purple combination. I like how they look against the taller purple bachelor buttons.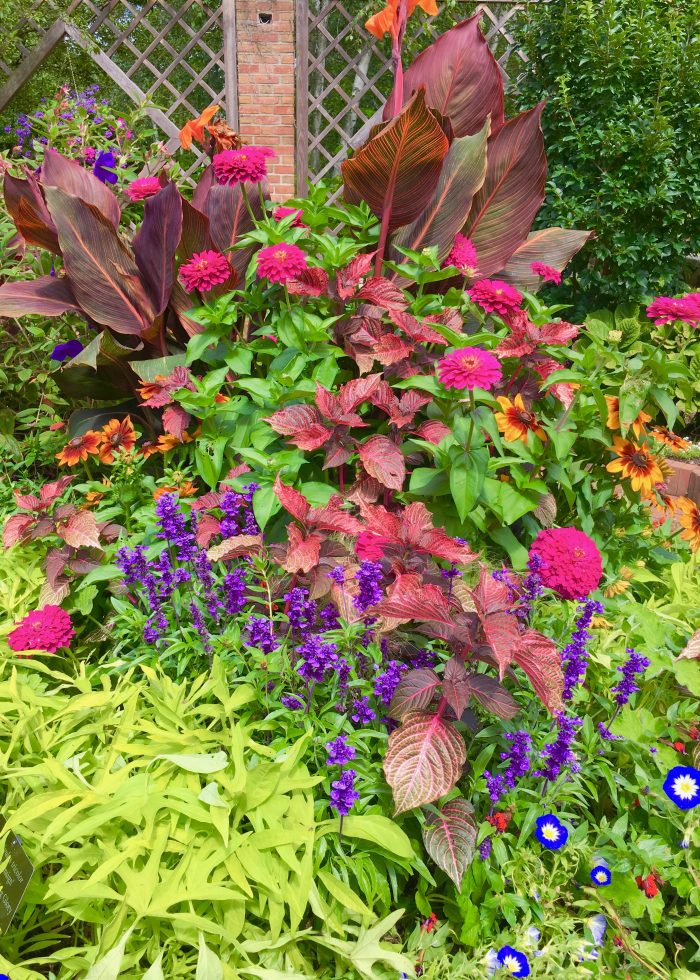 A planter at the Chicago Botanical Gardens overflowing with gorgeous summer flowers. Pink zinnias, purple salvia, orange rudbeckia and red canna leaves make for a stunning design.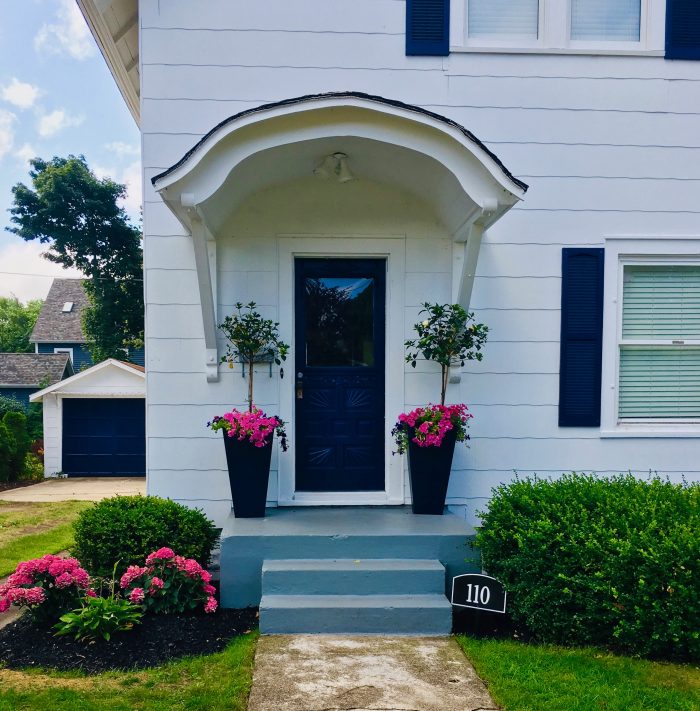 I love getting ideas from large gardens, but sometimes a few colorful plants is all you need. This is such a cute little black and white house I saw on a trip to Michigan. All the pink petunias spilling over the edge of the topiaries brightens this front door. It gives this house such a cheerful and welcoming feeling.
The saying "in the pink" means to be in good health. The summer sunshine, gardening and all these pink flowers are definitely lifting our spirits. So I hope that you are finding ways to stay in the pink too.