When we were looking at homes in Chicago there was one that we named the "happy house." It was a 1929 red colonial with black shutters, white trim and a bright kelly green front door. There was just something about that door that made you smile and want to look inside. The house was colorful and thoughtfully decorated, but alas it had just one garage and absolutely no room for a second. As Southerners, we were not so sure about having to de-ice one of our cars each winter morning. Sadly, we had to walk away from that one, but I still think about that painted door.
One of the keys to great curb appeal is to work with your home's unique features. Every house has its own personality shaped by its architecture, location and how it is built. However, sometimes it's the paint and finishes on a home that really set a house apart and give it a destintive style. Front doors are usually one of the biggest focal points on the exterior of your home. So choosing a color or finish that works with the personality of your house can make a big difference.
If you have what I would call an "ordinary" front door. A wooden door without a lot of detail or glass art then painting your door can really give your curb appeal a boost and add some personality to your house. When it is done right a painted door always makes me smile. So today I thought I would share of my photographs of pretty painted doors.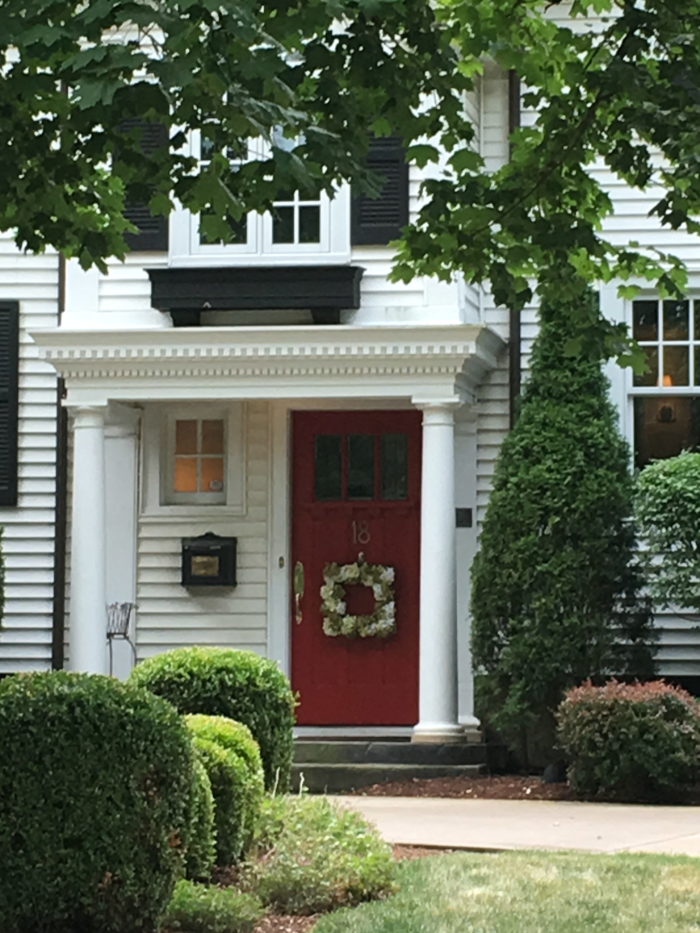 I absolutely love a good red door. Red happens to be my favorite color, but I have yet to own a home where I thought a red door would look right. A very popular and pretty shade of red is Benjamin Moore's Heritage Red. It's not too orange and not too blue, its just the perfect shade. I love a classic white home with black shutters. Just look at the details on the house above. The black window boxes and the pretty brass door number and mail box.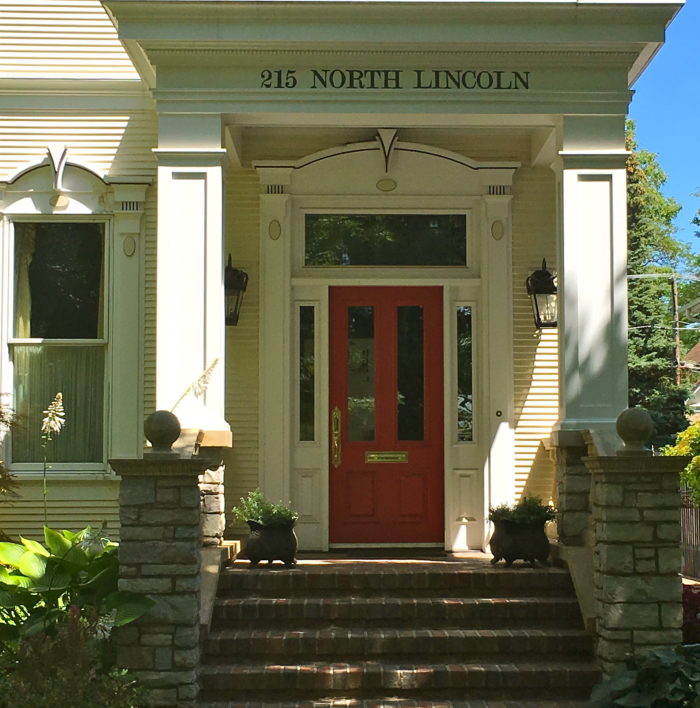 Here is a classic older home with a gorgeous red door. I love the painted details and lettered address.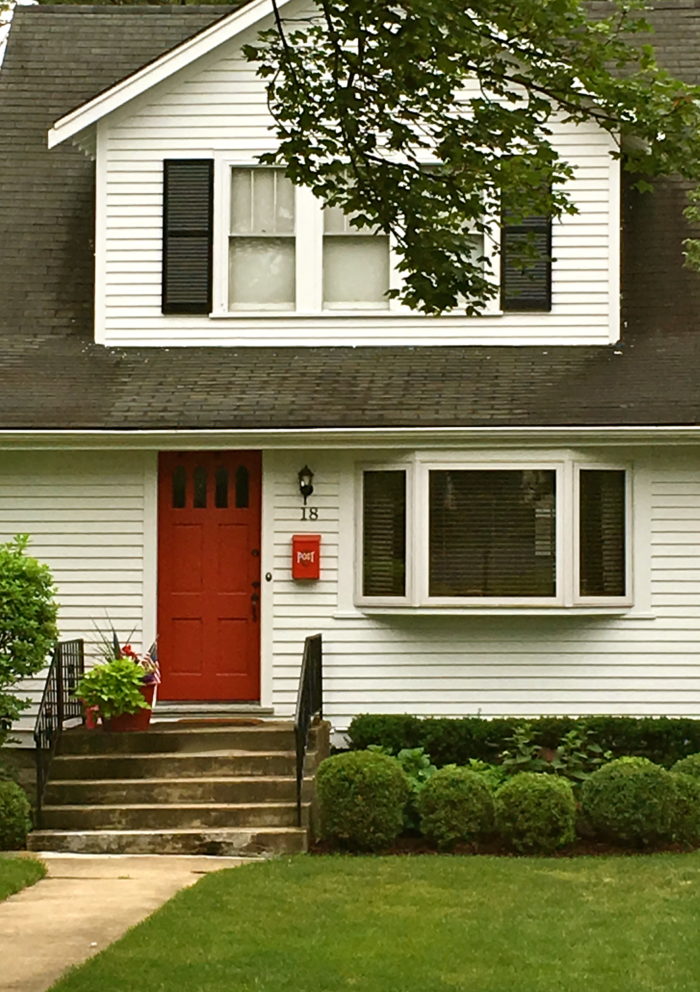 This is a small and fairly simple home, but the the red door and matching mail box really make it stand out.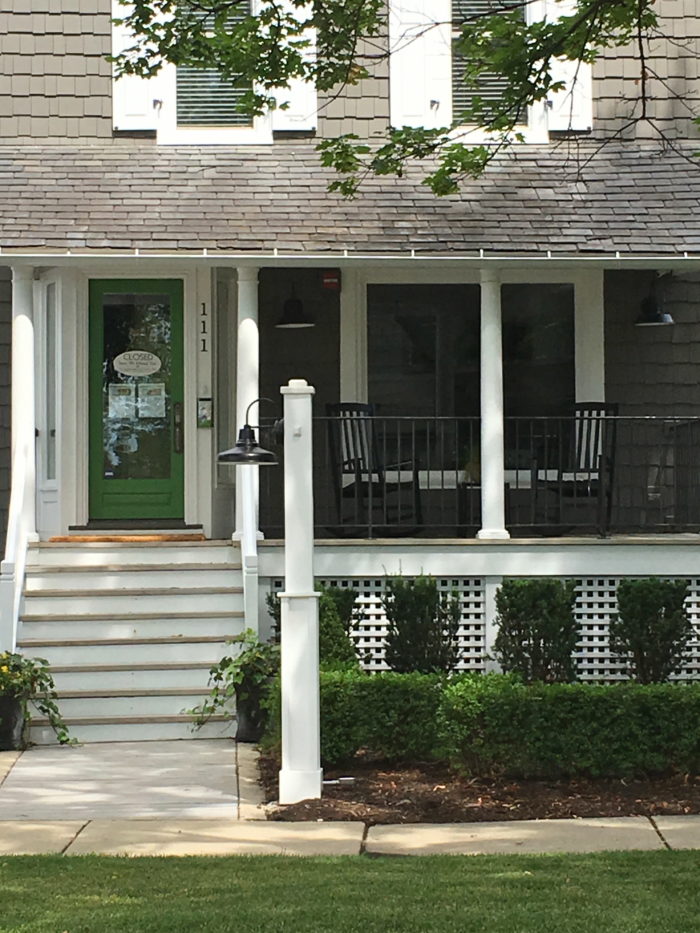 This spring green door is gorgeous. I love the energetic green against the gray and white shingled home. This isn't a fancy or ornate door so the green is what makes this house special. It's what the eye goes to when you see it from the street.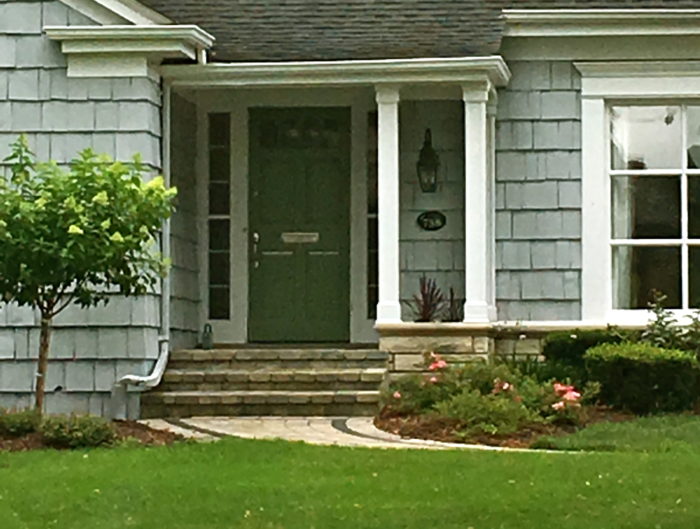 Here is another softer apple green. I like the look of this green against the light blue grey exterior and the stone steps.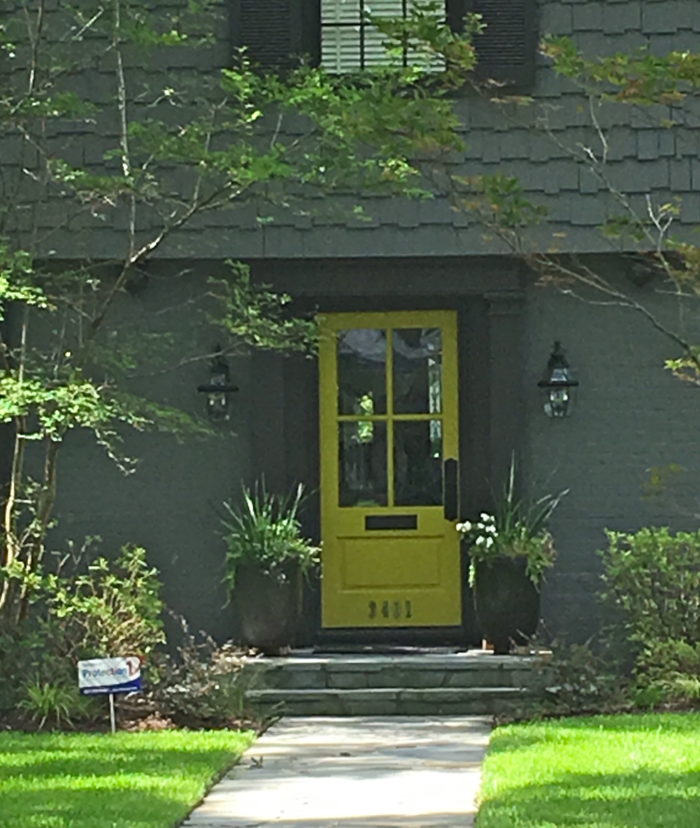 This traditional shingled house has a very modern paint scheme. I like the edgy dark grey exterior and black trim, but it definitely needed a brighter door. The lime green on this more modern door really pulls this look together and it keeps the house from feeling too dark.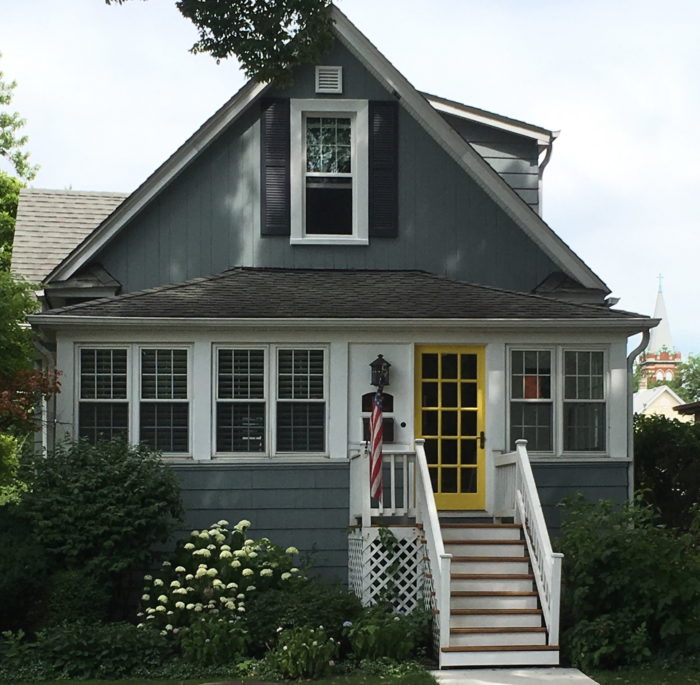 There is something about the combination of yellow and grey that I like. Here this happy marigold yellow makes the french door stand out and it gives it some presence, which this house needs since there is a uniform row of windows across the front. I like the white trim, but I wish they had painted the area around the door and windows grey as well.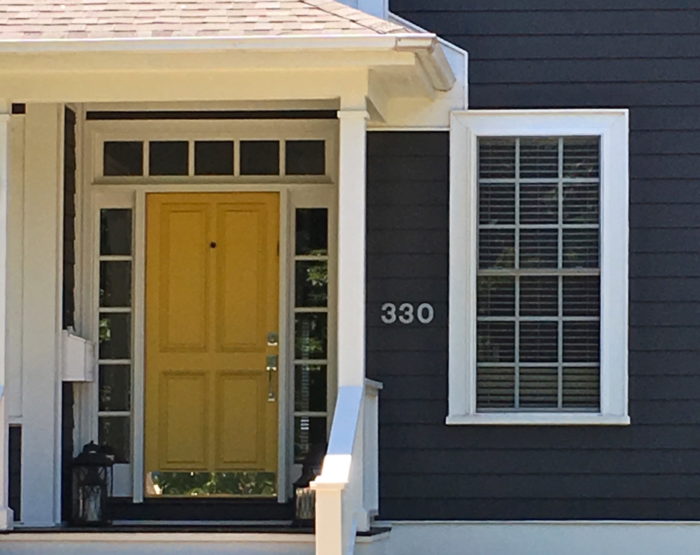 Here is a newer construction with a deep charcoal grey and a bright yellow door. I like that they kept the sidelights white but I wish they had matched the metals on the door numbers and the hardware.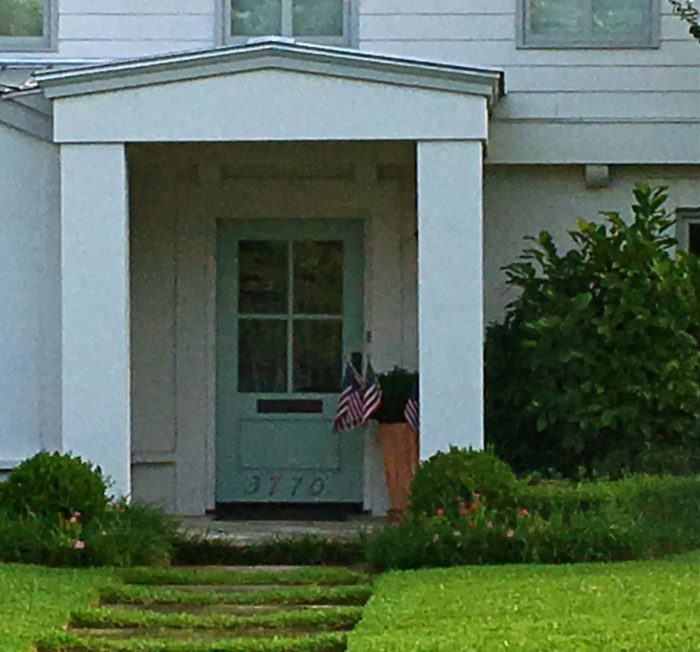 This is another one of my favorite door colors. The beautiful blue green door looks similar to Benjamin Moore's Wythe Blue. I love the creamy white paint with the light grey trim and this blue door. It creates this tranquil and beautiful look.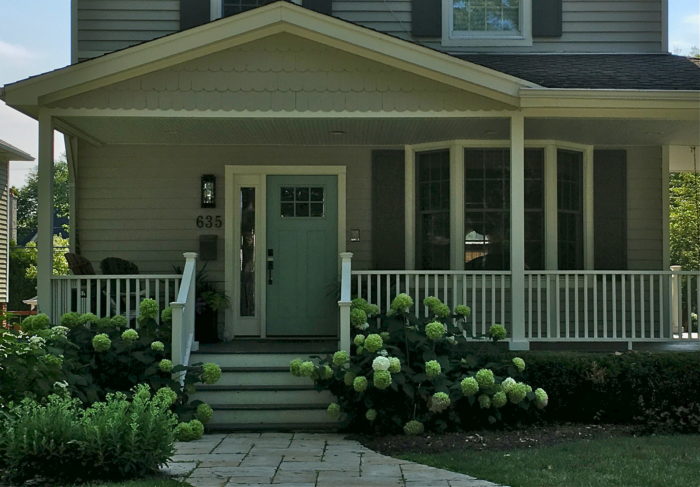 Here is another blue green door. The light color is a bit more subtle against the grey siding, but it still brightens the look of this house.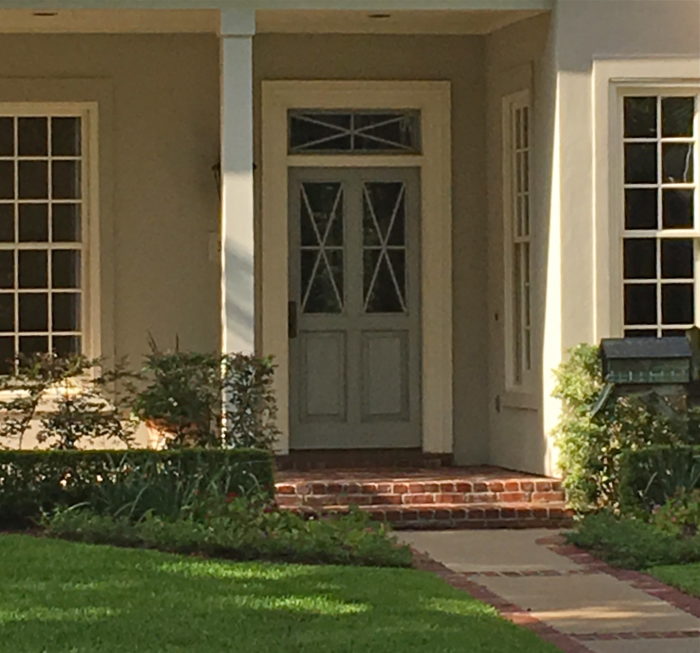 This French blue door has a bit of grey in it which makes it work with the grey stucco exterior and the brick detailing on the front walk and porch.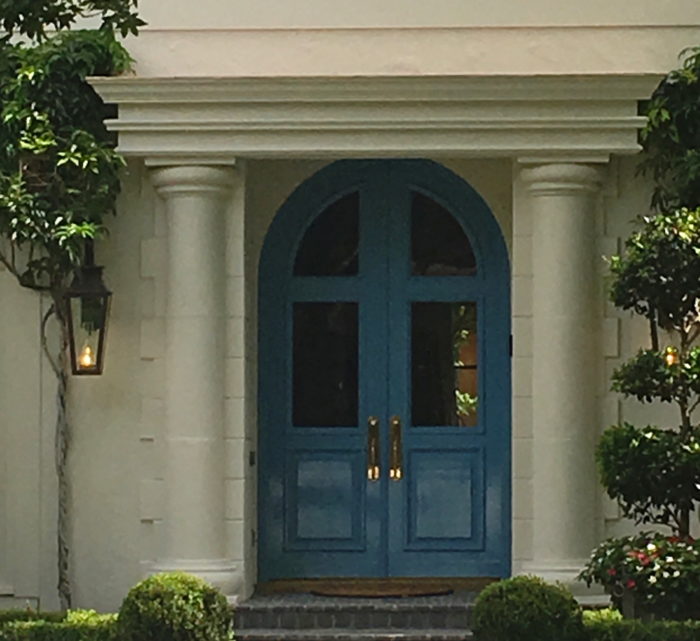 Then there is this brilliant blue lacquered door that is just perfection. The deeper blue makes you notice the arch of the doors and the the carved details. I love the blue with the weighty brass handles and the hanging gas lantern. This door really has a presence.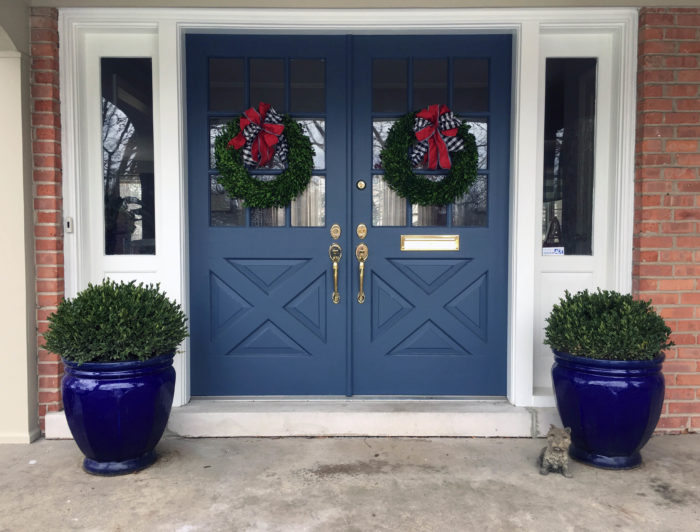 Since I love a painted door, I decided to paint my front doors a steely blue. Even when it gets a bit gray in winter the blue doors add a bright spot to our home. You can read more about my travels and what inspired me to chose this color here.
This has been a fun post to photograph and put together, but I know I am not the only one who loves painted doors. The Wall Street Journal reported that painted front doors were some of the most searched for images on major home websites like HGTV and Houzz. People are looking to make their homes feel personal and a bright painted door is wonderful way to give your home some style. I believe a great door says something about a house. When I see a painted door it makes me stop and wonder what a home is like, because color is deeply personal. It's one of those things that catches your attention and creates an immediate emotional response and it's why a beautiful painted door just makes me happy.