What makes the perfect biscuit?
There is lots of debate about this topic and so many recipes that claim to have the answer. Is there a secret to making a better biscuit? What about the type of flour you use? Do you have to have the much talked about White Lily Flour to make a good biscuit?
These are the questions I have been pondering since April when lo and behold the pandemic flour shortage caused my suburban Chicago grocery store to miraculously have a bag of White Lily Flour. Although the traditionally Southern White Lilly flour has been milled in the midwest since 2008, it is rare to see it up North. I was thrilled! I was so excited to be able to bake a batch of biscuits and taste the difference for myself.
That Sunday morning I pulled out my favorite recipe and made a batch. The biscuits were tender and I liked the taste. However, they didn't have quite the height that I was hoping for. So, I began to read everything I could find about the science of making a great biscuit. It turns there is something special about White Lily flour. The protein content in White Lily Flour is much less than other all purpose flour brands. White Lily is made from a softer wheat which gives it a lower protein content. I have found that this lower protein flour does have a more tender taste. However less protein can mean less rise when it comes to bread, which is why most all purpose flours have a higher protein content.
The Great Biscuit Flour Debate

I then began to wonder how do I get the taste of the low protein flour without loosing the rise? Furthermore, how could I regularly recreate this recipe up North where White Lily Flour is scarcely seen? The answer came to me as I was reading Thomas Keller's Ad Hoc at Home cookbook: cake flour. Cake flour has a low protein content, which with the right baking techniques makes an amazing biscuit.
After lots of batches and testing I created a delicious southern styled biscuit: light, fluffy and sweet. I added just enough buttermilk to give an added rise, but not so much that it overwhelms you with its tangy taste.
The Real Secret to Baking Biscuits
However, the most important part of baking a good biscuit is how you handle the dough. Grating the butter keeps it from getting overworked and folding the dough over itself adds the layers. These small details are the sometimes unspoken secrets of great biscuit bakers. No one wants to go to all the effort of making homemade biscuits only to have them turn out like hard little hockey pucks. So, here is my recipe for my light as air, melt in your mouth southern biscuits.
Rise and Shine Cake Flour Biscuits – makes 1 dozen
3 cups cake flour (or White Lily Flour if you can find it), plus more for rolling
1 teaspoon sugar
1 tablespoon baking powder
1 teaspoon baking soda
1 teaspoon salt
1½ sticks (12 tablespoons) cold butter
3/4 cup milk
1/2 cup buttermilk
1 egg
1 teaspoon water
Preheat the oven to 425 degrees
In a large mixing bowl mix together the dry ingredients: flour, sugar, baking powder, baking soda and salt.
Next, using a box grater or the grating attachment on your food processor grate the butter. This will ensure that that dough is not overworked.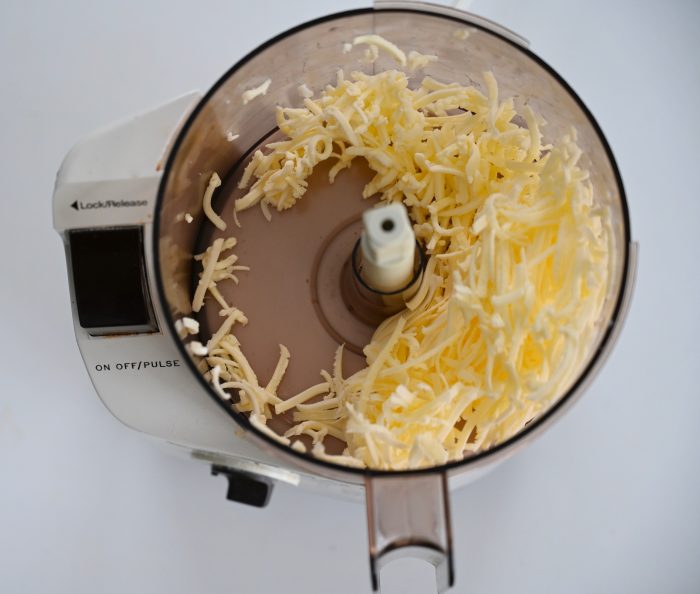 Add the butter to the flour mixture blending it in with your fingers or a fork.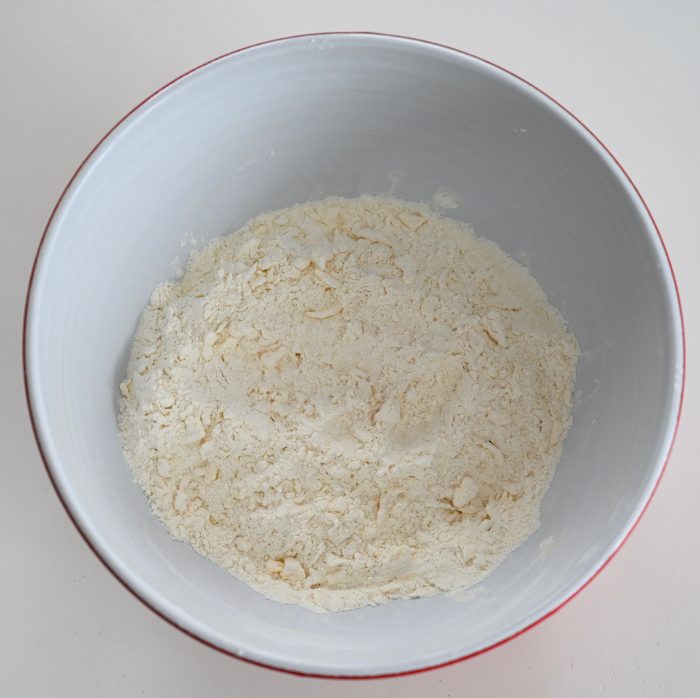 Next, add the milk and buttermilk and stir until dough begins to form.
Knead the biscuit dough lightly on a floured surface. Using a rolling pin roll out the dough out to about ½ inch thick rectangle. Then fold the dough over to make a double thickness. Roll the dough out until it is 1/2 inch thick. This double layered dough will allow you to get a taller biscuit. Cut the biscuits out using a 2½ inch circular cutter (you could also use a lightly floured drinking glass end if your don't have a cutter). Push the cutter straight down, but do not twist it or it will pinch the rise of the dough. Make as many biscuits as you can out of each roll out of the dough. Then repeat the steps with the remaining dough until you have 12 biscuits.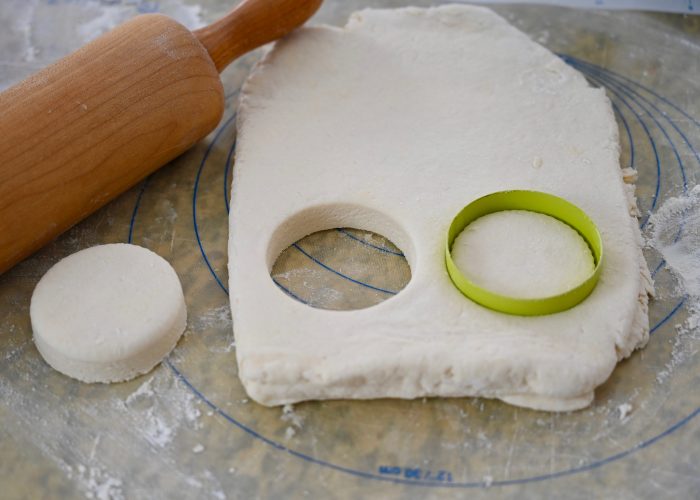 Now make an egg wash by whisking together the egg and water together in small bowl. Brush the tops of the biscuits with the egg wash right before baking them. This is what gives them a shiny golden top.
Bake for 8 to 10 minutes until light, fluffy and golden on top.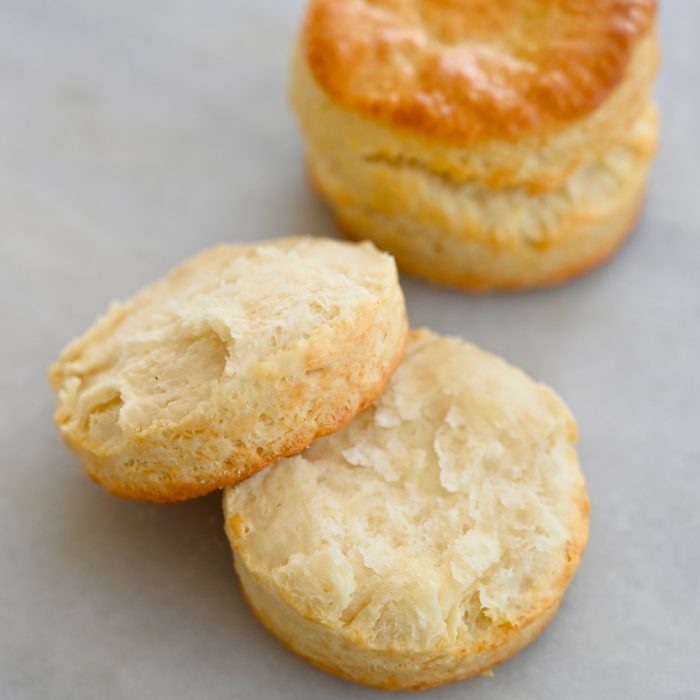 These biscuits are great with a little butter and jam. However, if you are looking for brunch or breakfast for dinner ideas then I have a couple of biscuit sandwiches that I love to make. In our house, I like to set up a biscuit sandwich bar so everyone can create theirs own perfect biscuit sandwich. Make a side of berry and yogurt parfaits or a fruit salad and you have a fun breakfast for dinner night that everyone will enjoy.
The Classic All American Egg and Cheese Biscuit Sandwich
Split your biscuit in half and fill it with scrambled eggs, grated cheese and bacon, Canadian bacon or ham.
The Biscuit Sandwich with A Chicago Twist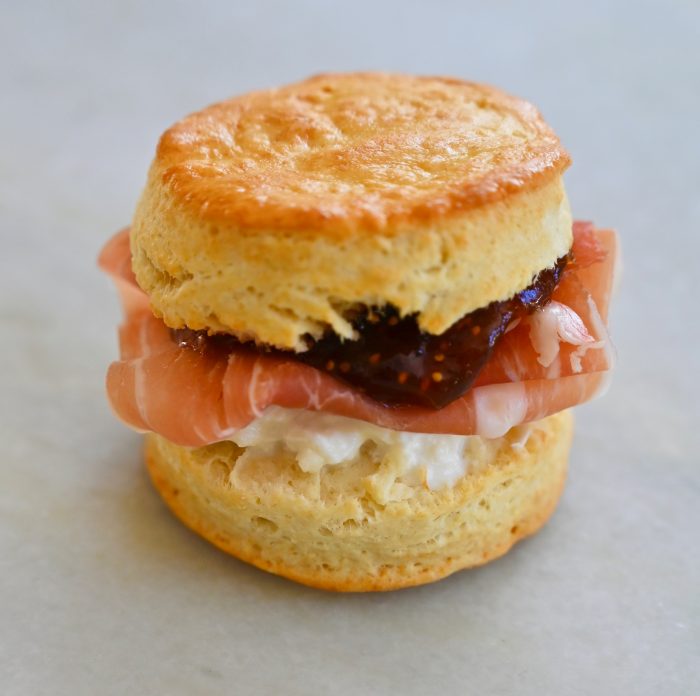 Want a delicious Chicago Italian style sandwich? Then try one of our favorite biscuit combinations: fig jam (I like the Divina brand,) prosciutto and Burrata cheese. So ridiculously good!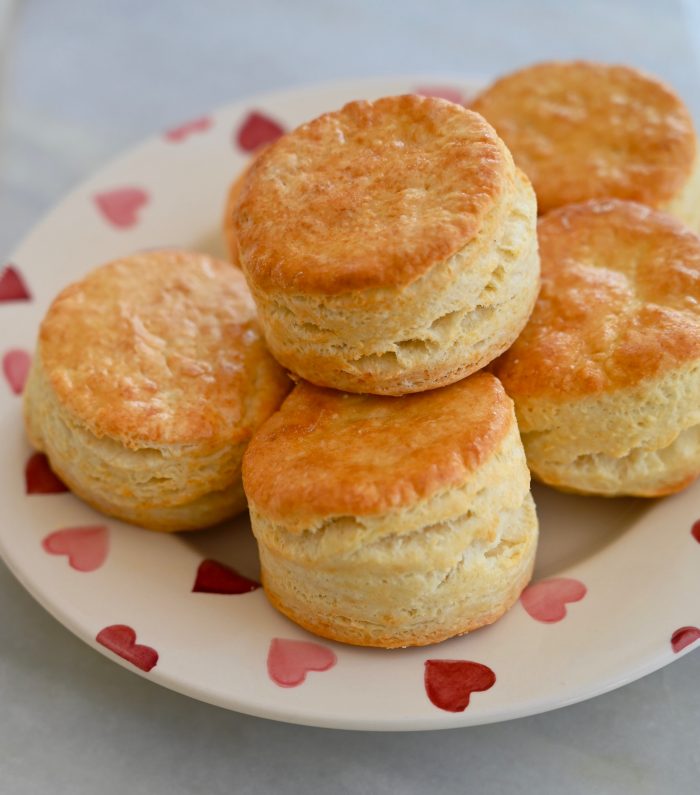 The famous Marie Antoinette quote may have been talking about cake or brioche, but cake flour has a way of making delicious biscuits too. So cake flour biscuits for everyone! Because no matter how you serve them, these rise and shine cake flour biscuits are everything a good biscuit should be: light, fluffy and melt in your mouth good.