Good cooking is all about love. Food has a unique ability to bring people together. It's an important part of our lives that is often enriched by the experiences we have shared with others. What I love about the cooking community is its generosity. I believe that good cooks are always learning from others.
Food and recipes are better when they are shared. Cooking at its best is a great act of generosity and soulfulness. This week I have been watching the new episodes of Somebody Feed Phil on Netflix. Phil Rosenthal the writer and creator of the sitcom Everybody Loves Raymond, created this new show where he travels to cities across the world to taste and share what makes these places so wonderful. I particularly wanted to see this new season because he had an episode on Chicago.
Chicago has amazing food and chefs. But what inspired me most was Rosenthal's connection to the people and the stories behind this city's unique melting pot of cuisines. It was an especially good reminder of the power of food and its ability to bring us together.
I have been amazed at how many new readers have found my blog over that past three months. People from all over the United States and the world which speaks to the power of food and its ability to connect and comfort us in hard times.
Nothing lifts my spirits like making and sharing something sweet. So this week I am sharing my recipe for a summer inspired strawberries and cream cake. A delicious cake that brings together some of my baking favorites .
This cake has light layers of lemon cake filled with a sweet cream cheese icing and fresh strawberries. It's a simple summer cake that's fun to bake and share.
Strawberries and Cream Cake- makes one 10-inch cake
1 1/2 cups sugar
3 eggs
2 teaspoon lemon zest
1 1/2 teaspoon vanilla extract
1 3/4 cups cake flour (if you can't find it in the stores at the moment then all purpose flour will work)
1/4 cup potato starch
1/8 teaspoon kosher salt
1/2 cup canola or vegetable oil
2 teaspoons baking powder
1/4 cup milk
1/4 sour cream
1 pint of strawberries
1 bunch of fresh mint or strawberry blossoms (optional)
Cream Cheese Icing
1 Stick of Softened Butter (I usually let it sit out of the fridge for at least an hour)
1 (8oz) Softened Brick of Cream Cheese (I let it sit out with the butter)
1 Tsp Vanilla
5 Cups of Powdered Sugar
2 Tablespoons of Milk
Preheat your oven to 350 degrees
In a large bowl or the bowl to your standing mixer add your sugar, eggs, lemon zest and vanilla. Mix about a minute on medium speed.
Add in the potato starch, salt, baking powder and half of your flour with your milk and oil. Mix on low speed until just blended then add in the last part of your flour and mix until the flour is incorporated.
Line the bottom of your your 10 inch round cake pans with parchment paper and then spray your pans with baker's joy or alternatively butter and flour the pans
Pour your cake batter evenly between the two pans.
These are thin cakes so bake them for 20 to 25 minutes until the tops are golden and the cake is just cooked through. Let them cool completely before you frost them.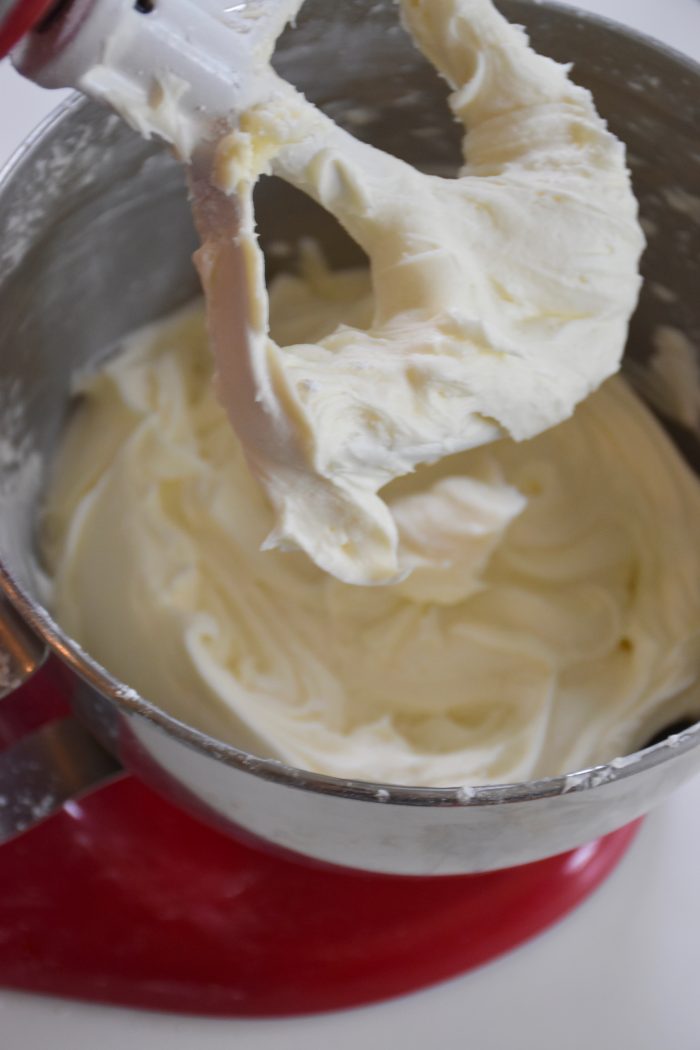 Now make the frosting. In the bowl of a mixer cream the cream cheese and butter. Add the powdered sugar vanilla and milk. Mix on high-speed until the icing is smooth and fluffy.

To assemble your cake place a small spoonful of icing on the base of the plate and spread it slightly. This will hold the bottom layer of the cake and keep it from sliding.
Then place the first cake layer flat or bottom side up and then pipe or spread half of the cream cheese frosting over the top. I like to use a large star shaped tip to pipe small dots of frosting. This gives the center layer a pretty finish.
Add a thin layer of cut strawberries on top.  If you are using a piping bag then pipe and extra swirl or dot of frosting between the strawberries on the outside edge.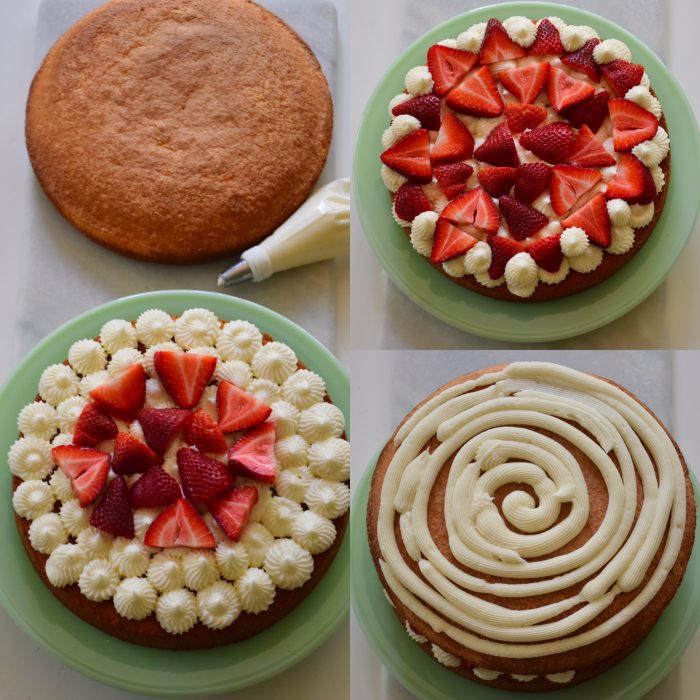 Place the second cake layer on top. Then pipe swirl of icing to cover the top or spread enough icing on top to fully cover the top layer. Use a separated spatula or butter knife evenly cover the top of the cake.
My trick for an extra smooth top frosting layer is to use a Viva paper towel (this brand is particularly smooth so it needs to be a Viva). Place the frosted cake in the fridge for 5 to 10 minutes. Then take it out of the fridge and lay a Viva paper towel on top and lightly smooth the top of the cake by lightly pressing your hand against the paper towel. Reposition the paper towel if needed to smooth away any knife or spatula marks.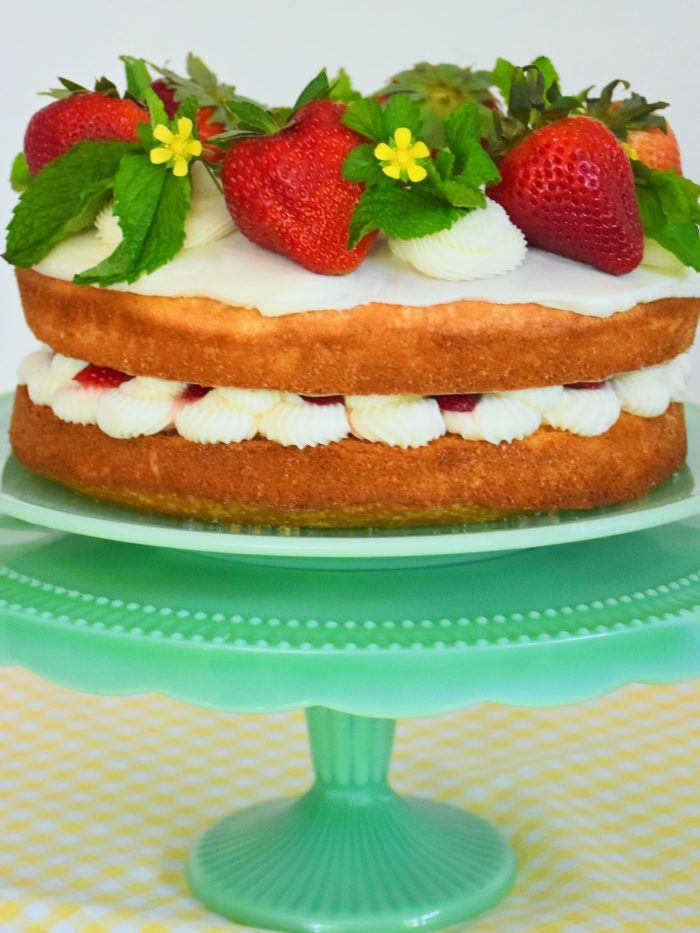 Finally top the outside edge of the top of the cake with some extra swirls of icing with a mint spring and some whole strawberries to add pretty finish.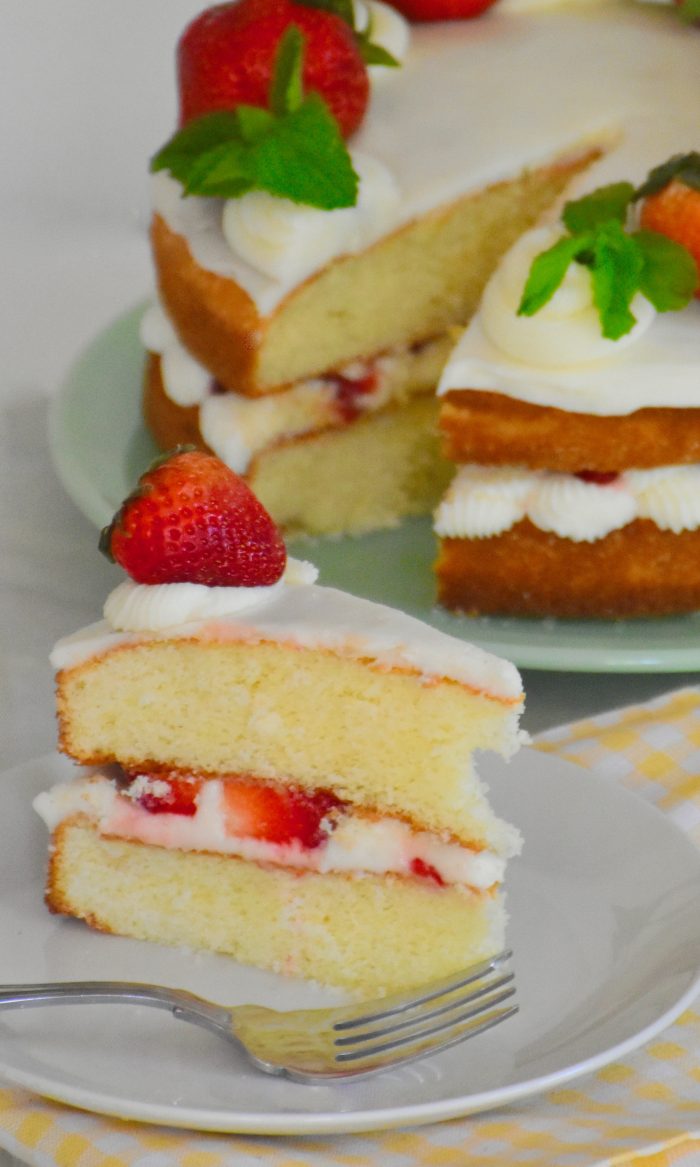 The cake is light and tender. The slight tanginess of the cream cheese icing pairs well with the sweet strawberries. It's a great way to celebrate the flavors of Chicago's most glorious summer season.