Growing up on the Gulf Coast meant I ate lots of fish. I love it and my family loves fish too. It's on the menu at our house at least two to three times a week. I like a salmon, sole, snapper and swordfish. My daughters who can be picky eaters happen to like fish, too. Especially grilled tuna which has a nice mild flavor.
The Mayo Clinic suggests that one or two servings of fish each week, can significantly reduce your risk of heart disease. So the health benefits are good too. Although fish can sometimes be a little more expensive I think it's worth it.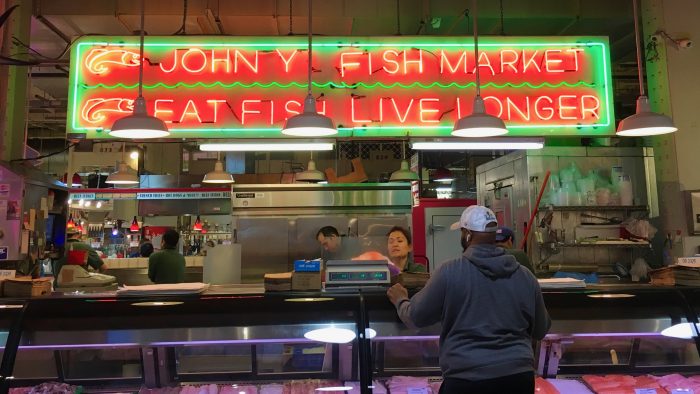 Fish also tends to be quick cooking so it's a great way to get dinner on the table. My grilled Tuscan tuna happens to be one of my husbands favorite meals. Anytime I can get outside and grill it makes cooking dinner fun. The pasta salad uses fresh tomatoes and cucumbers which are wonderful this time of year.
Grilled Tuscan Tuna with Cannellini Bean Pasta Salad – Serves 4
3 to 4 Tuna Steaks cut 1 ½ to 2 inches thick (sometimes if the steaks are large then one steak might be enough for 2 people)
1 (15 oz) can cannellini beans, rinsed and drained
1 medium sized cucumber, quartered lengthwise and cut into bit sized pieces
1 cup heirloom or on the vine tomatoes diced into small pieces
½ pound fusilli or any short curly pasta
2 cups fresh baby spinach leaves
2 tablespoons of capers
4 small rosemary springs for garnish (optional)
Salad Dressing and Marinade
2 garlic cloves
1 teaspoon kosher salt
1 tablespoon fresh rosemary leaves
½ teaspoon oregano
Zest from one lemon
¼ cup fresh lemon juice
½ cup extra-virgin olive oil
Prepare your grill and marinade
Preheat the grill for direct high heat grilling.  Alternatively you could use an indoor grill pan as well.
Rinse the tuna steaks with cold water and then pat them dry with paper towels. Place the steaks in a large gallon sized zip top bag.
Next, make your salad dressing and marinade. Press the garlic cloves or alternatively mash them with the salt to make a paste. Place the garlic in a bowl or glass measuring cup. Add in the rosemary, oregano, lemon zest and juice. Whisk to combine. Then add your olive oil in a slow stream while whisking. Keep whisking until the dressing emulsifies and comes together.
Pour half of the dressing over the tuna in the bag and place them in the fridge to marinate for 15 to 20 minutes. Reserve the rest of the dressing for the pasta salad.
Make the warm pasta salad
While the tuna is marinating, cook the pasta in a large pot of boiling salted water for about 10 minutes. Get the tomatoes and cucumber chopped. Then drain your pasta.
In a large bowl mix together your pasta, cannellini beans, cucumber, tomato and the remaining half of the salad dressing.
Grilling the Tuna
Now grill the tuna steaks. The olive oil in the marinade will keep your tuna from sticking to the grill. Grill your tuna steaks until cooked to taste, 2 to 3 minutes a side for rare and 5 to 6 minutes per side for medium. Want to look like a grilling expert? Then rotate the the steaks 45 degrees after the first 2 minutes of grilling to create crosshatch of grill marks.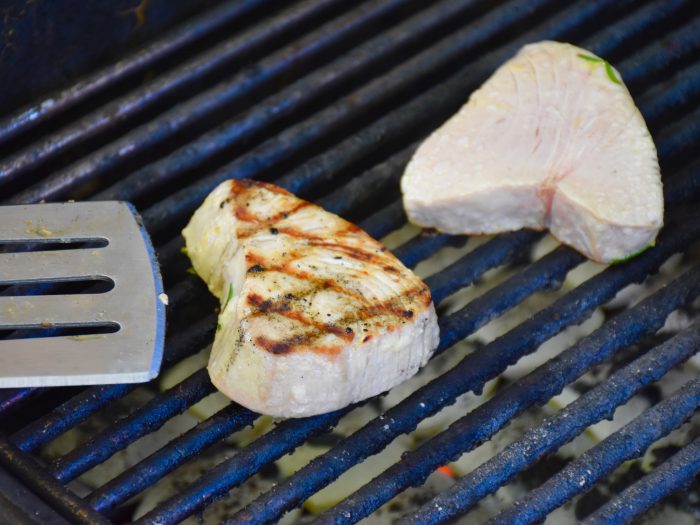 Take the tuna off the grill and let it rest on a plate or platter for 2 to 3 minutes. Finally, add in your baby spinach and capers to the pasta salad and mix.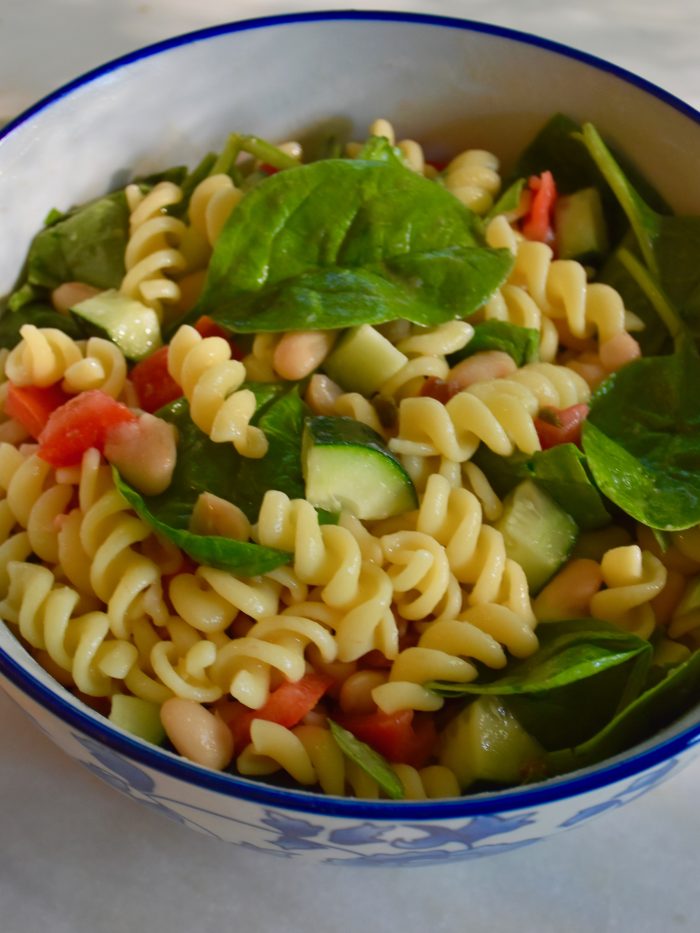 My favorite way to create fast summer meals is to use fresh, quick cooking ingredients. This grilled Tuscan tuna with cannellini bean pasta salad is simple, flavorful and delicious. So fire up the grill and enjoy one of our favorites.