Father's Day is coming this weekend. So this week I am sharing a new recipe for a key lime pie. It's a favorite of both my dad and my husband. My recipe puts a summer twist on this classic pie, because the filling is made with ice cream. Its easy to assemble and if making homemade lime curd sounds like too much then you can take a little help from the store. My local grocery store carries Stonewall Kitchen's key lime curd, but Williams Sonoma and other gourmet stores have it as well.
The crispy graham cracker crust with the creamy key lime filling is so delicious! Its a wonderful treat to make and share.
Key Lime Ice Cream Pie- Makes 1 (9 inch) Pie 
2 pints (4 cups) Creamy Vanilla Ice Cream, softened
1/2 cup key lime curd (see recipe below or use store bought)
1 graham cracker crust
Whipped cream topping
2 limes sliced in thin rounds
Homemade Lime Curd -makes 1½ cups
4 tablespoons butter, softened
1 cup sugar
2 eggs
1 egg yolk
2 teaspoons lime zest
1/2 cup fresh key lime or regular lime juice (Key limes can be hard to find so regular limes will work too!)
Graham Cracker Crust
1 sleeve (9 whole) graham crackers, crushed into fine crumbs
1/4 cup sugar
6 tablespoons butter, melted
Whipped Cream Topping
1 cup whipping cream, cold
3 tablespoons powdered sugar
1 teaspoon vanilla extract
For the homemade lime curd, cream the butter and sugar with a mixer on medium speed until light and fluffy. Add the eggs and one egg yolk one at a time and mix until incorporated. Then with the mixer on low speed slowly pour or stream in the lime juice and mix until just incorporated. Now place the curd mixture in a small sauce pan over medium low heat. Whisk the lime curd until it thickens about 10 to 12 minutes. Pour the curd into a small jar or bowl. Cover and refrigerate the lime curd. The key lime curd will keep in the fridge for two weeks. This recipe makes more than you need for this pie, but the sauce is so yummy that it would be great to swirl a little extra on the dessert plates.
*Note: The whipping of the eggs and slowly adding the lime juice to the mixture is key because it tempers the egg mixture. This method is an easy way to keep your sauce from breaking or curdling.
For the crust, preheat your oven to 350 degrees. Then in a medium sized bowl mix together your graham cracker crumbs, sugar and melted butter. Evenly press the crumb mixture into a pie plate that is sprayed with butter flavored cooking spray. Use a small cup to help press the crumbs along the sides. Bake for 10 minutes and let it cool before filling it with your key lime ice cream.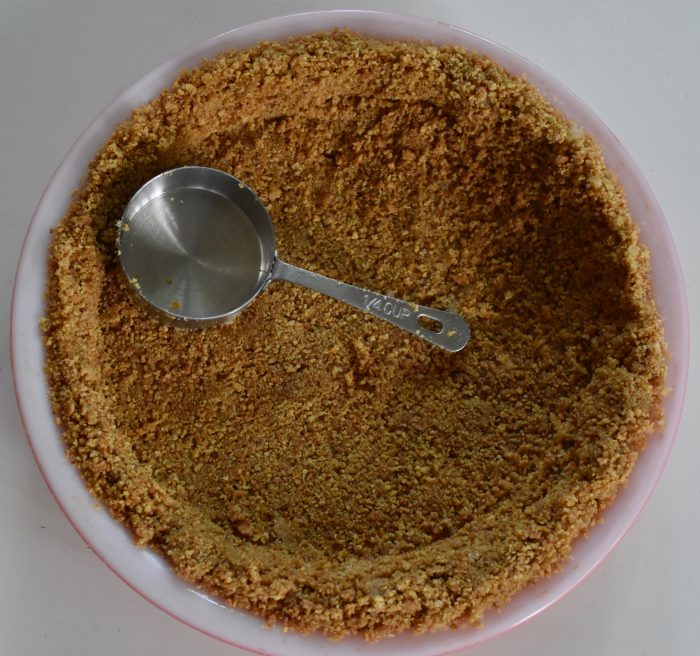 For the pie filling, in a large bowl mix together your softened ice cream and lime curd. Then pour it into the prepared graham cracker crust and freeze. Don't worry about any tiny air bubbles they can be smoothed out after your pie has set and frozen in the freezer.  Use a butter knife or separated spatula that has been warmed by dipping it into some hot water and then smooth away any tiny imperfections on the top.
For the decorative topping, beat the whipping cream with the powdered sugar and vanilla using a mixer on high speed. Beat until you get firm peaks (about 2 minutes). Then spoon or decoratively pipe it onto your frozen pie and decorate with fresh lime twists or wedges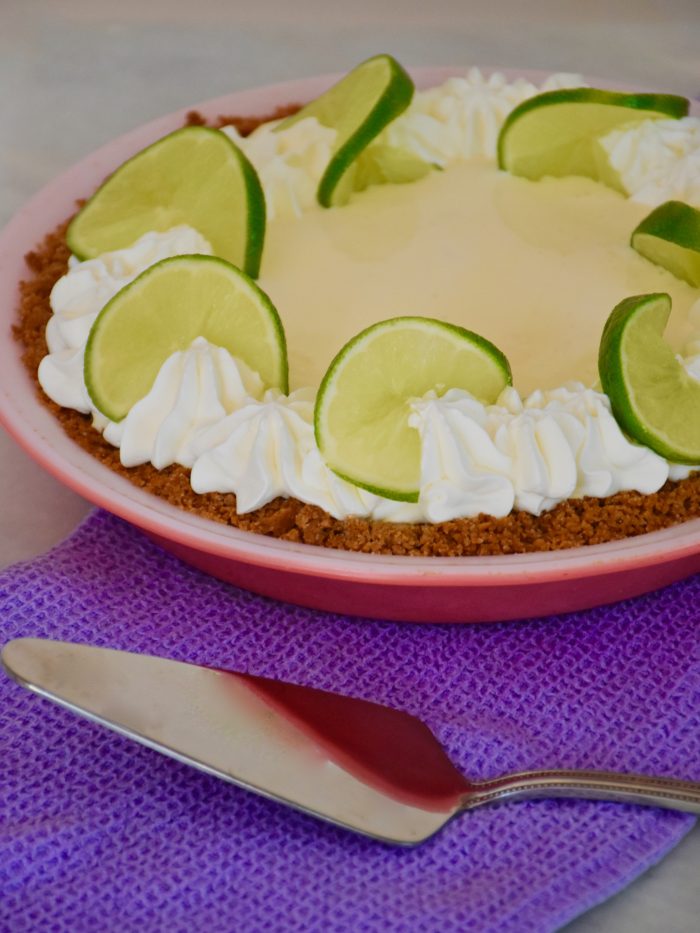 This key lime ice cream pie is so good that the day after I made it my husband even had a slice for breakfast! It's all kinds of wonderful. It's the perfect summer dessert to share with the dads in your family.