The days of snow and frost are gone and everything around me is blooming. The trees once bear just weeks ago are now fully dressed in their bright green leaves. There is nothing that makes you appreciate spring more than a cold and snowy winter. There are some beautiful benefits to all those chilly Chicago days and I am reminded of that most  when the tulips begin to bloom. Tulips bulbs require freezing temperatures before they flower, so I only planted tulips once when I lived in Texas because they had to take up precious real estate in my refrigerator for several months before they were ready to plant.
Tulips are one of my favorite flowers, so after seeing so many beautiful tulips in our neighborhood last year I decided to plant some in our yard this fall. Although popular in Europe and most closely associated with the Netherlands, tulips actually originated in Persia and Turkey. The Europeans gave the flower the name "tulip" because the flower was often worn in Turkish turbans as a decoration and the word tulip was derived from the Persian word for turban. Tulips are a beloved flower that is said to symbolize true love. Taking in all the beautiful tulips around me, it's clear why gardeners everywhere love these flowers. 

The red tulips that filled the garden beds around this Tudor style home in my neighborhood made me feel like I was visiting an English Garden.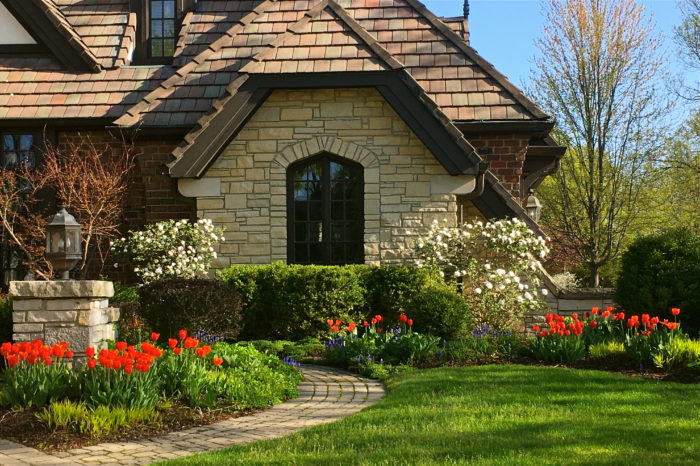 I love to contrast of vibrant red tulips against the purple flowers and the red bud tree.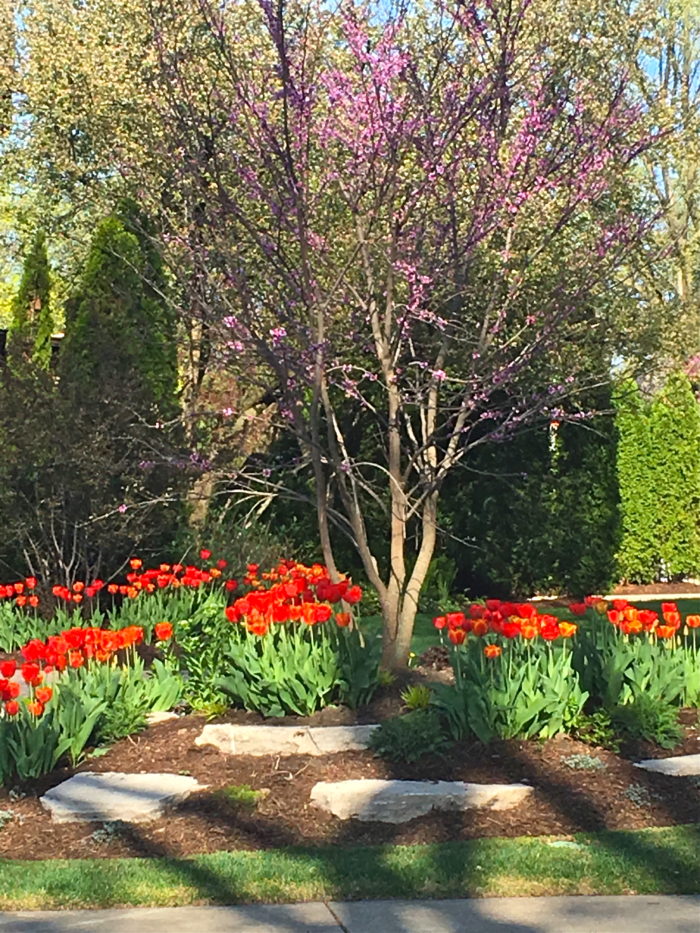 Here is another view of the gorgeous side yard.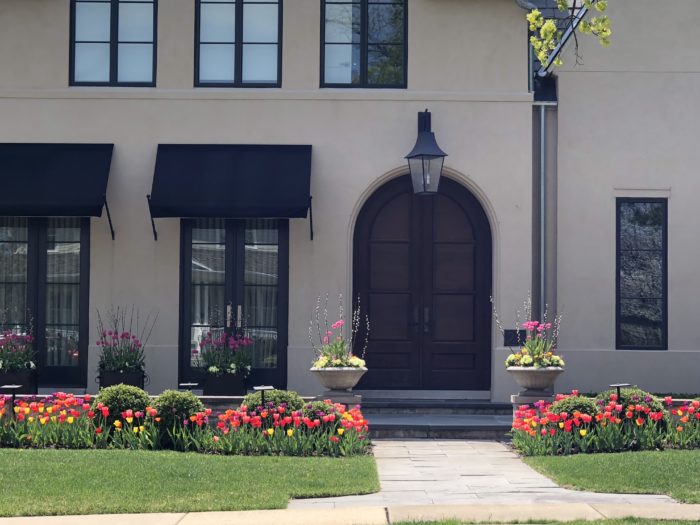 Tulips' sculptural silhouette also make them a stunning flower in a more modern garden and home. I love bright mix of colors used as a boarder around these flower beds and the pink tulips in the planters are perfection.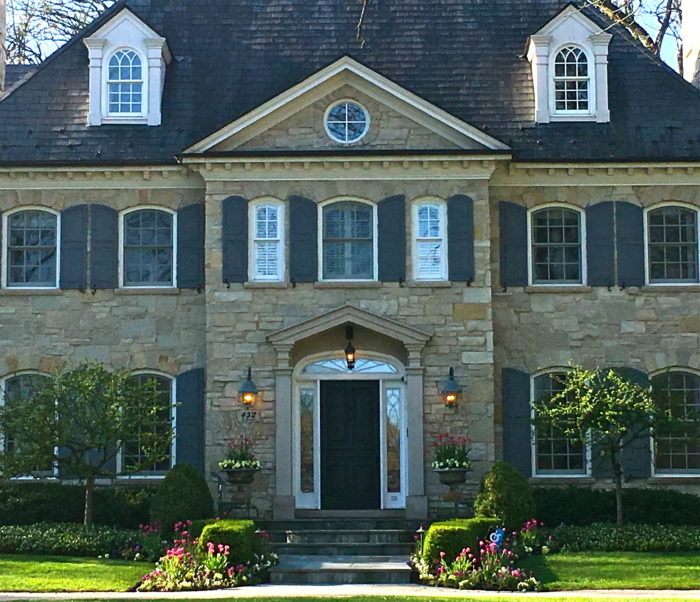 The pink tulips make a pretty spring statement in small bunches around the front walk of this home.
A classic colonial all decked out with blue muscari border in front of a dazzling array of tulips in red, yellow, white and orange.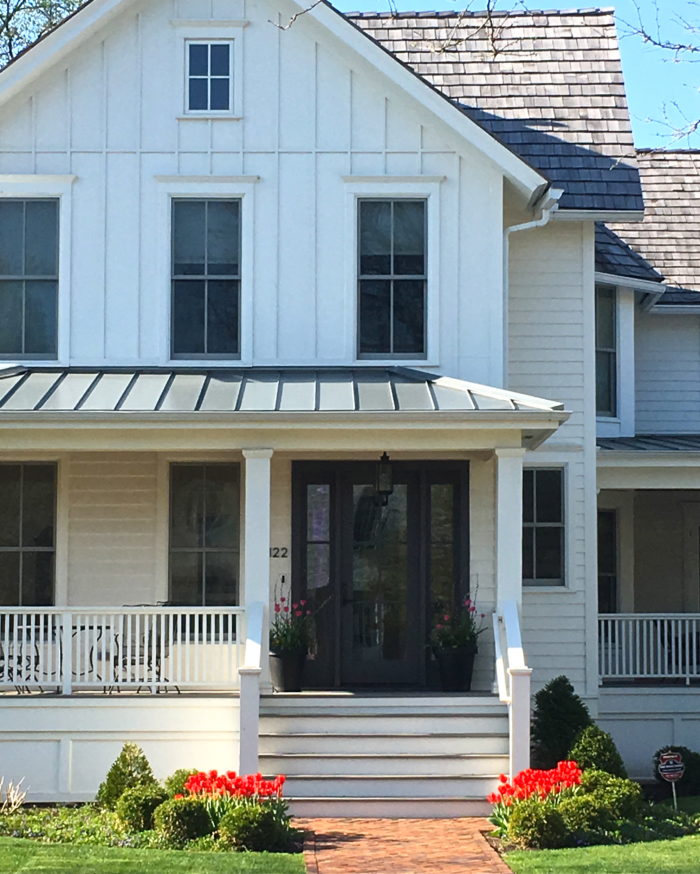 Just a small bunch of red tulips gives this yard a pop of color and it creates a welcoming entrance to this modern farmhouse.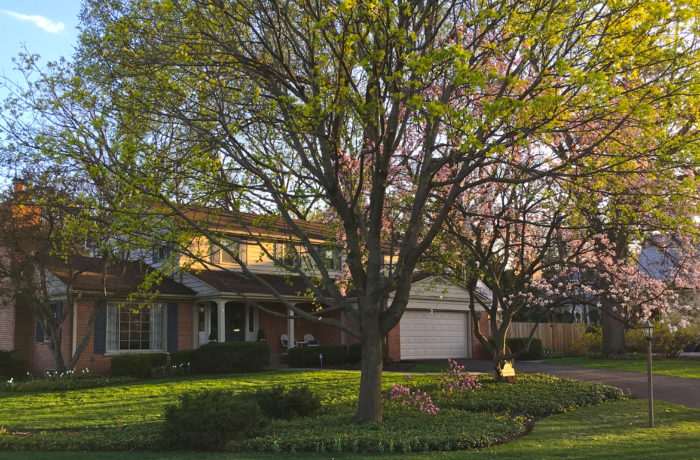 Finally, I thought I would share a few pictures of our spring garden. Our magnolia tree in bloom and white tulips in the flower beds. A close up of our crab apple tree with its pink blossoms and the pink and white tulips that surround it.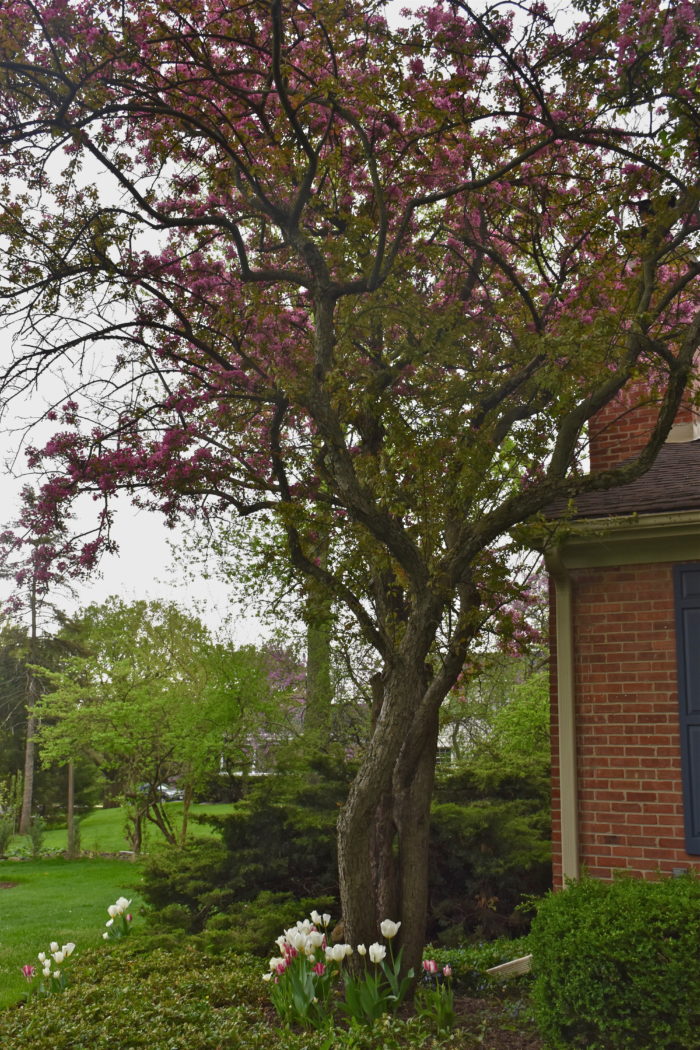 However, my favorite part of our yard is our back patio. My girls and I planted over 200 bulbs this fall. The tulips and blue muscari have made our back yard feel like a special garden getaway.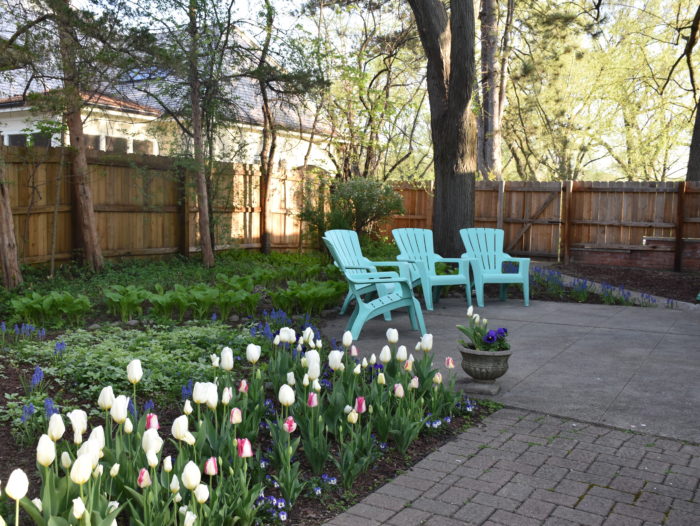 We have loved spending as much time as possible soaking in the warmer weather and taking in the beauty of these gorgeous flowers. Trying to enjoy the tulips for as long as possible I planted two different varieties.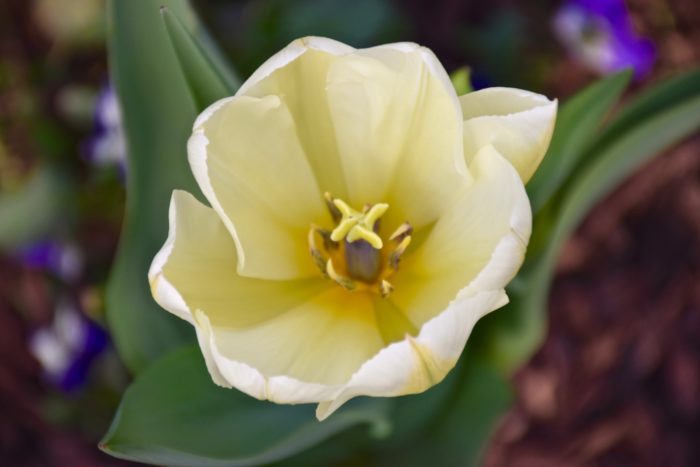 The white emperor tulip is an early bloomer so it was the first to flower.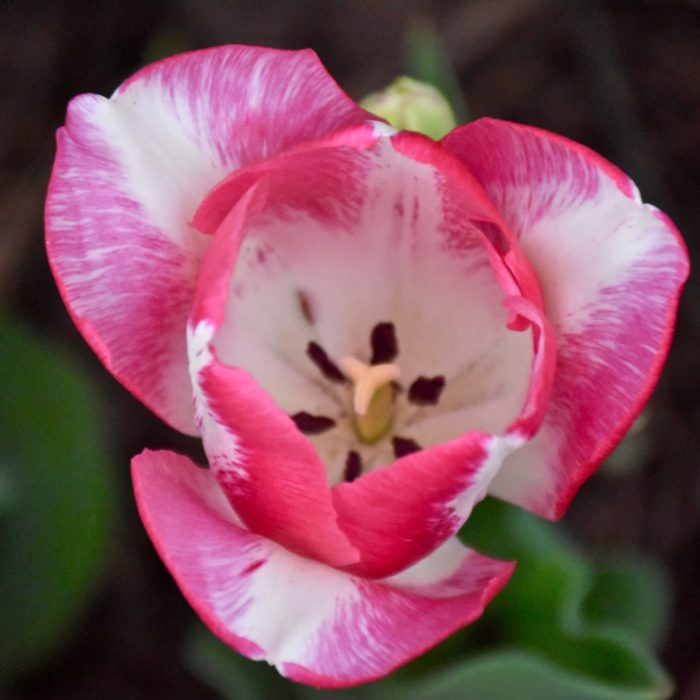 Followed later by the pink striped salvo tulips which are in full bloom now as the white tulips have begun to fade.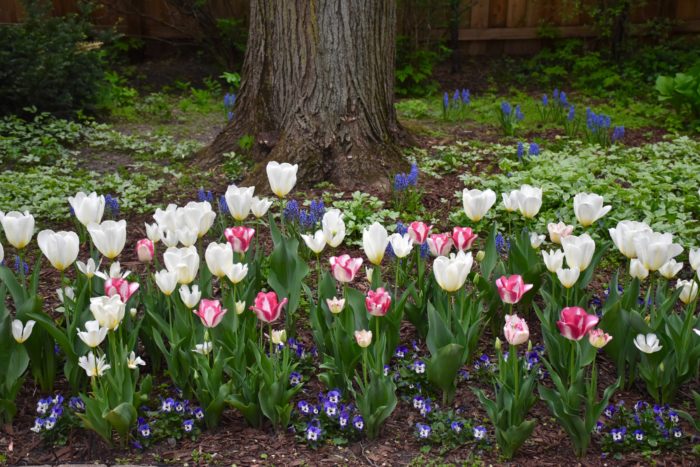 I added some early spring color before the tulips bloomed with some purple violas and pansies.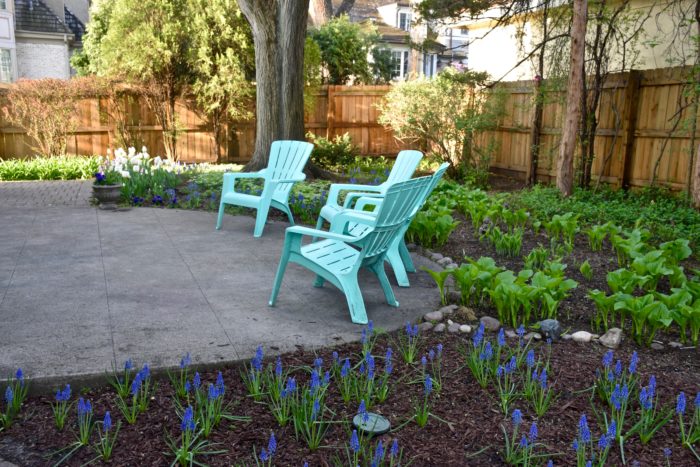 The blue mascari gives some color to a more shady spot in the yard, as the hostas begin to fill in for the summer. Spring has been glorious here, so I hope you enjoyed a small tour of the beautiful tulip season here in Chicago.