I love cookbooks and I tend to read them like novels. I like reading all the thoughts and notes behind a dish. It gives you a sense of the history of the recipes and creative thoughts of the author. My mother in law gave me a copy of Magnolia Table, the new cookbook by Joanna Gaines for my birthday and I have had enjoyed reading about the Gaines family and learning about their family's favorite recipes. I must admit it was fun to see all the Texas styled dishes that our family loves, like King Ranch Chicken, Fish Tacos, Sour Cream Enchiladas, and Grilled Peaches. Are you hungry yet? Then there are some special family recipes like Joanna's mom's Bulgogi (Korean beef) with a Cucumber Kimchi Salad. This isn't a fancy cookbook, but it's one that clearly has lots of heart. It's filled with memories and stories of great meals and times together at the dinner table.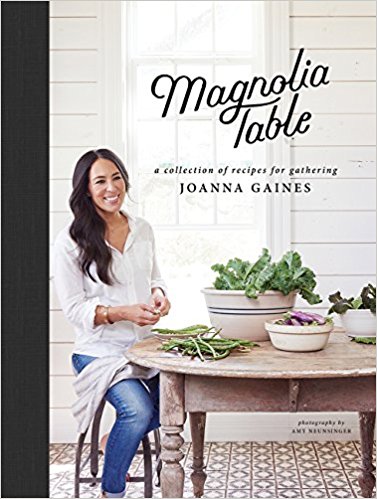 So this week I thought I would share JoJo's Biscuits. Joanna says these biscuits are her family's favorite. It's a recipe she worked on "for a year of Saturdays" to get the biscuits just right. They are on the menu at their restaurant and the first recipe she knew she wanted to include in her cookbook.
JoJo's Biscuits (Makes 24)
4 cups self rising flour (see this link to King Arthur Flour on how to make your own if you don't happen to have some in your pantry)
2 tablespoons baking powder
1 teaspoon baking soda
3/4 pound (3 sticks) salted butter cold cut into small 1/2 inch pieces or grated
2 large eggs beaten, plus 1 additional egg for creating an egg wash
1 1/2 cups buttermilk, plus an additional 1 tablespoon for the egg wash
Preheat your oven to 400 degrees.
In a large bowl whisk together your flour, baking powder and baking soda.
Then Joanna calls for using a pastry blender to blend the grated butter into the flour mixture until the butter pieces are about the size of small peas. This was a large recipe so I went for my favorite method of cutting in butter into flour. I used my food processor, which happens to do a great job of cutting the butter in very quickly and evenly.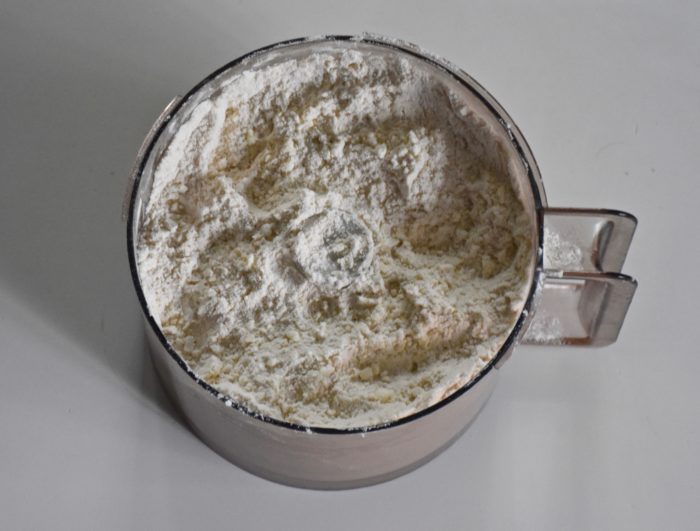 Then in a large bowl stir your beaten eggs into the flour mixture. Then stir in your buttermilk until the dough comes together into a sticky ball. Then cover your bowl and refrigerate for at least 30 minutes or overnight in you are making these biscuits ahead of time.
Line a baking sheet with parchment paper (these biscuits are soft and you need the parchment paper to keep them from sticking.) Joanna doesn't specify a baking sheet size but I used a medium-sized baking pan that was 10 x 16 inches and the full batch of  biscuits fit perfectly.
Next on a well floured surface roll or press your biscuits out to 1/2 inch thickness. Then cut your biscuits using a 2 3/4 inch round cutter or if you don't have a cutter you can use a similarly sized glass. Once you cut a your first round of biscuits you will need to press or roll the scraps together to cut the remaining biscuits.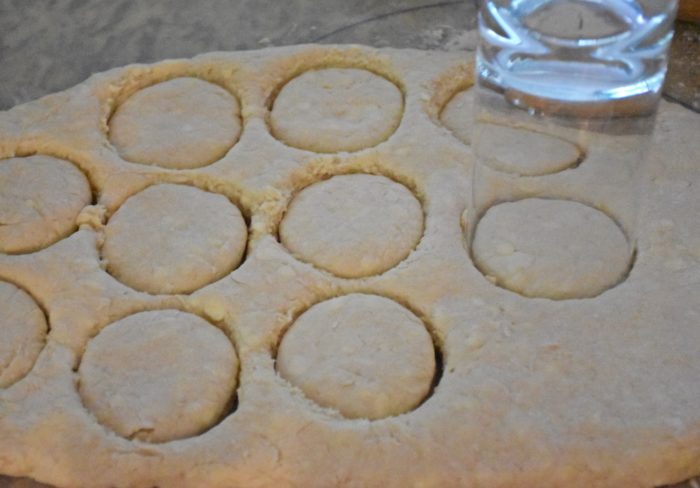 Now place your biscuits on the baking sheet arranging them so they are close and the sides are touching each other.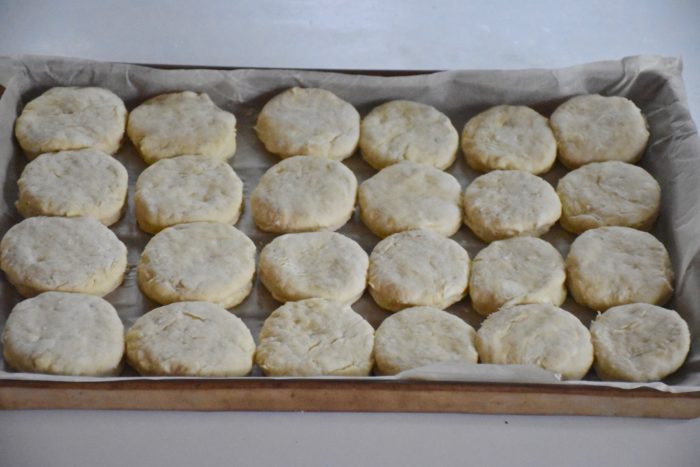 In a small bowl whisk together your remaining egg an 1 tablespoon of buttermilk. Then brush that wash on top of your biscuits.
Bake for 15 to 20 minutes until golden.
NOTE: This makes a large batch of biscuits so if you are cooking for a smaller number of people, then you can freeze some of your cut biscuit dough by arranging them 1/2 inch apart on a parchment lined baking sheet and then once they are frozen you can place them in a ziplock bag and bake them later. There is no need to thaw your frozen biscuits before baking. They may take a few minutes longer to bake, but frozen biscuit dough does bake well.  Joanna recommends using your frozen biscuits with in two weeks of making them.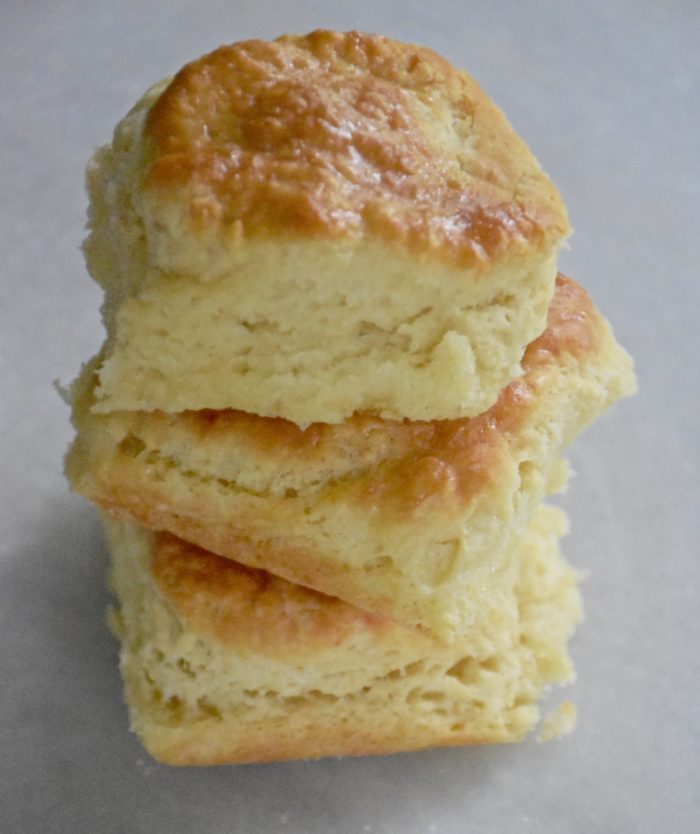 Now all you need is a little, butter, jam, honey, gravy or whatever you love to serve with your biscuits. I made these biscuits for dinner and then we had leftovers the next morning that were perfect for making little scrambled egg sandwiches (my husband's favorite.) So no matter how you serve yours, these soft southern style biscuits were good and fun to make with my daughters.