My first newspaper column ran last week, which was exciting to see. My  assignment was to introduce myself to my local readers, so I decided to do it through food. Because food has a language of its own and it is one of my favorite ways to get to know a place. You can read my column here, but this week I thought I would share my recipe for King Ranch Chicken. If you are not familiar with this casserole then think of it as a Texas styled lasagna. So, if you have ever been homesick for a taste of Texas or just want to try a signature dish from the Lone Star State then you are in for a treat. This recipe is one of my all time favorites.
King Ranch Chicken -Serves 8 to 10 people
1/2 cup (1 stick) butter
1 medium yellow onion, diced
1 red bell pepper, seeded and diced
4 cloves of garlic, minced
1 cup flour
3 cups chicken broth, warmed
1/2 cup cream, warmed
1 teaspoon kosher salt
1 tablespoon chili powder
3 teaspoon cumin
1 teaspoon coriander
1 (10 oz) can Rotel tomatoes, drained
4 cups shredded rotisserie chicken or roast your own
18 corn tortillas or if you are not a fan of the traditional corn you can substitute flour
5 cups of a blend of shredded cheddar a Monterey Jack cheese
1 cup sour cream for garnishing
Avocado Pico de Gallo (see recipe below)
In a large skillet or dutch oven melt your butter over medium heat. Sauté your onion and bell pepper until they are tender about 6 minutes. Then add in your garlic and cook it for an additional minute.
Next sprinkle in your flour and stir it into your onion mixture until it is no longer white. Then slowly add in your warm chicken stock about 1/2 cup at a time until it is all added. Then add your cream. Adding warm stock and cream is the key to having a creamy chicken base.
Then add in your seasonings including your salt, chili powder and coriander. Finally stir in your Rotel tomatoes. (If you like things on the less spicy side they make a mild version of Rotel that has fewer chilis.)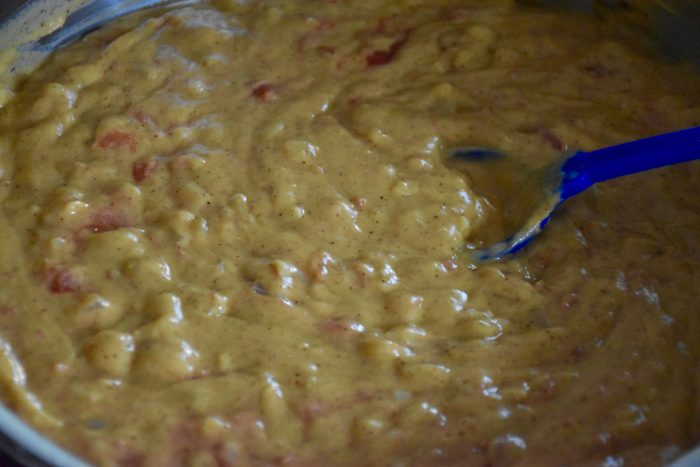 Now that your sauce is finished you are now ready to start assembling your casserole. Spray a 9×13 inch dish with cooking spray and then speed a very thin layer of sauce on the bottom. Next add a layer of your torn tortillas to cover the entire bottom of your pan. Layer on half of your chicken and 1 1/2 of your shredded cheese then cover that with a thin layer of sauce.
Continue with a second layer of chicken, tortillas, cheese and sauce.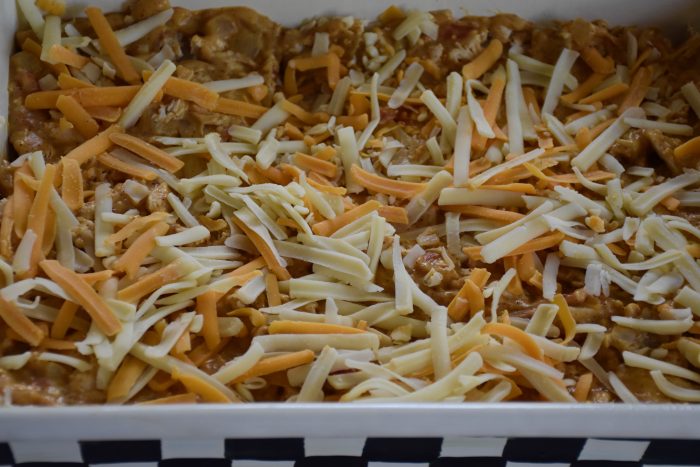 Finally make a third and final layer of tortillas and cover that with the remaining sauce and sprinkle the top with the remaining 2 cups of cheese.
Bake at 350 degrees for 45 minutes or until the top is gold and bubbly. You can also make this ahead of time, but it you are baking it straight from the fridge you may want to adjust your cooking time.
I like to garnish mine with a dollop of sour cream and a little avocado pico de gallo
Avocado Pico de Gallo (I sometimes double this pico de gallo if I am making this dish for a crowd)
1 avocado chopped into bite sized pieces
1 large tomato, chopped
2 green onion tops (just the green part) sliced thinly on the diagonal
3 tablespoons cilantro, chopped
1 TBSP lime juice
1/2 tsp kosher salt
1/4 tsp garlic powder
Mix your ingredients in a medium sized bowl and add a  spoonful or two on top of your casserole.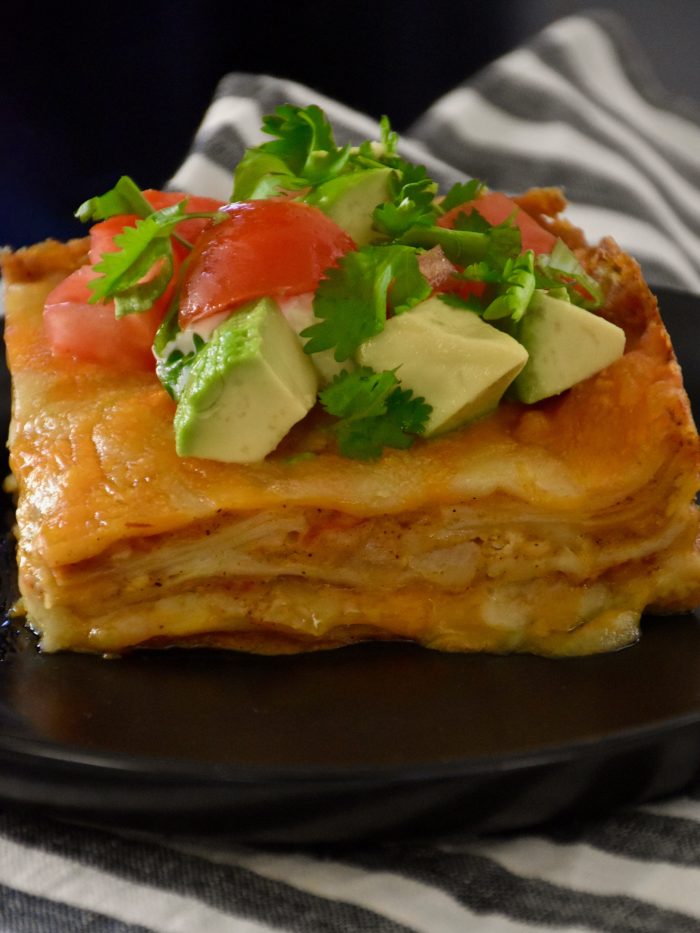 Texas Monthly Magazine said it best, if Texas "were to declare a state casserole then it would have to be King Ranch." The spicy Tex-Mex flavors of this dish are what makes it so memorably delish. There are versions of this recipe with cream of mushroom soup, but this from scratch version is much better. There is just no comparison when it comes to taste. The other thing I love about this dish is how easy it is to make ahead of time and if you have leftovers it freezes well too. I hope my King Ranch Chicken aka "Texas Lasagna" brings your taste buds as much joy as it does mine.