Cupcakes are big deal in our house. They are the most requested item that my young daughters routinely want to make. So when we were in the car last weekend and I mentioned making carrot cake cupcakes there was a chorus of "Yes! Yes! Yeeeesss!!!!" coming from the back seat of my car. This carrot cake recipe is one of my family's absolute favorites. It's a family recipe that I have tinkered with over the years to get just the right balance of sugar and spice. I also love it because the cake itself is particularly good. The oil and carrots make it a very tender and moist cake. Then top it off with some cream cheese icing and candied carrots curls and you have something wonderful.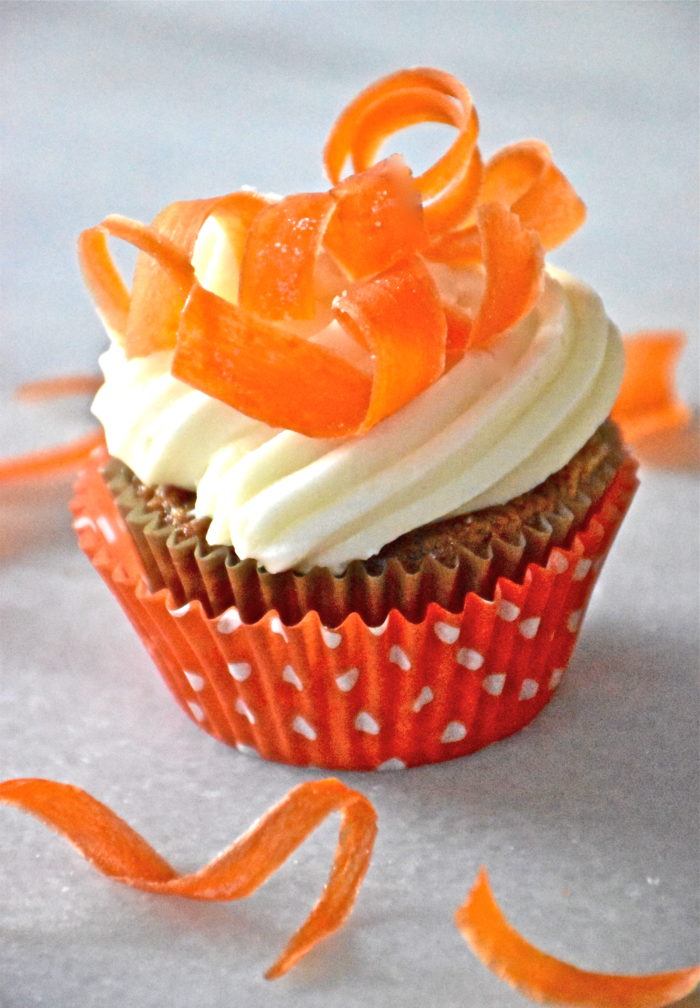 I recently helped a friend with a special occasion cake she was making for her mother's birthday. She wanted to follow some meaningful family traditions, but she also wanted her cake to have a bit of that wow factor since it was going to be a big part of their celebration. I love cakes and baking, so I was thrilled to help her. The only trouble was there was literally a thousand miles between us so I was going to have to coach her through this over the phone. What I found is that text messages and descriptions of what to do are good, but they are not nearly as helpful as videos. So I sent my friend some video clips so she could see the techniques I was describing. The videos helped her visualize what I was talking about and made her feel more confident about trying something new. In the end my friend's cake looked gorgeous and I was so excited that she was able to confidently put it all together.
Helping my friend made me realize that it might be good to share a few video segments on the blog from time to time. So I am getting over my anxiety of seeing myself on video and sharing with you a few tips on how to give your cupcakes that wow factor that is sure to make them a hit with family and friends.
Carrot Cake Cupcakes (Makes 12 Cupcakes)
1 cup of Sugar
1 cup of Flour
2 teaspoons Cinnamon
1/4 teaspoon Nutmeg
1/4 teaspoon Ground Ginger
1/2 teaspoon Salt
1 teaspoon Baking Soda
1/2 cup Canola Oil
2 Eggs
1 1/2 cups Grated Carrots
Preheat your oven to 350 degrees. Prepare your cupcake tins by placing a cupcake liner or cupcake baking cup in each well and lightly spraying the insides with cooking spray.
Next peel and the grate the carrots. I use a food processor with a grating blade to make it faster.
Then in the large bowl of a mixer mix together the dry ingredients: the sugar, flour, cinnamon, nutmeg, ginger, salt and baking soda. Then mix in the oil and eggs till they are fully incorporated. Then add the carrots and mix. Place an even amount of the batter in each cupcake liner.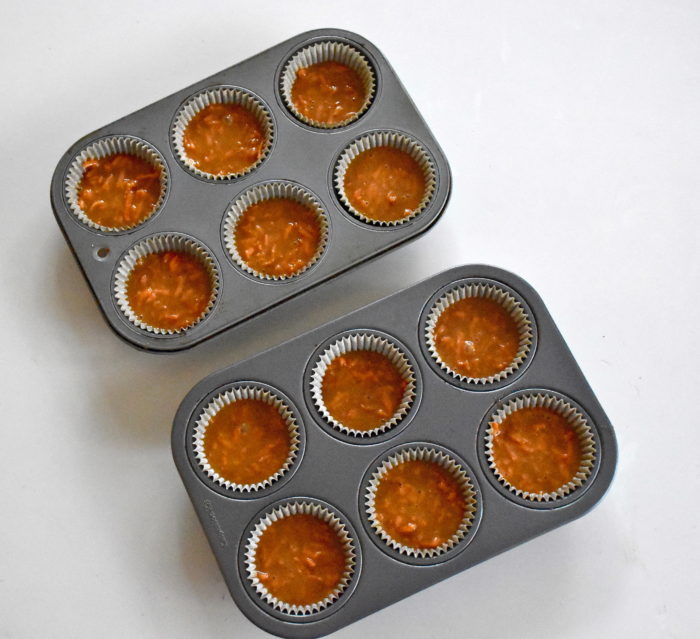 Bake for 20 to 25 minutes. In my oven they took 22 minutes. Allow the cupcakes to cool in the pan for  5 to 10 minutes, then take them out to cool and decorate.
When the cake is completely cooled they are ready to frost.
Cream Cheese Icing
1 Stick of Softened Butter (I usually let it sit out of the fridge for an hour)
1 (8oz) Softened Brick of Cream Cheese (I let it sit out with the butter)
1 Tsp Vanilla
5 Cups of Powdered Sugar
2 Tablespoons of Milk
In the bowl of a mixer cream the cream cheese and butter. Add the powdered sugar vanilla and milk. Mix on high-speed until the icing is smooth and fluffy.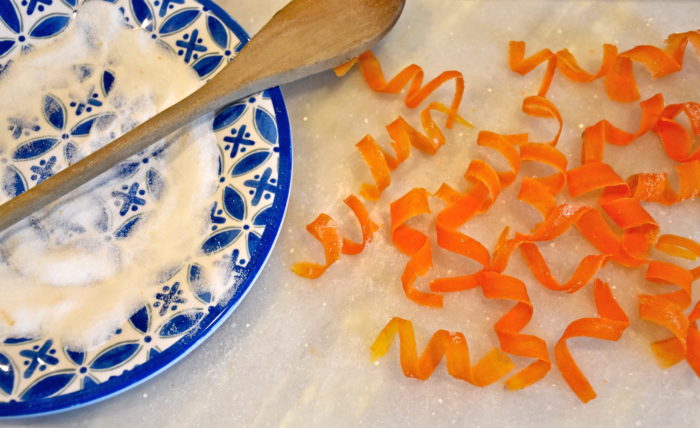 Candied Carrot Curls
1 cup granulated sugar
1 cup water
2 to 3 carrots
Extra granulated sugar for sprinkling on carrots
Preheat the oven to 200 degrees
To make the carrot peel curls take a vegetable peeler and peel 15 to 20 carrot strips or ribbons.
Then bring the sugar and water to a boil in a small sauce pan. Add the carrots and turn the heat down to medium low and cook for 15 minutes. Remove the peels from the pan with a slotted spoon.
Then place the carrots ribbons out straight on a parchment paper lined baking sheet or jelly roll pan. Bake for 25 minutes. The carrots will begin to look translucent and be firm enough to hold a shape.
While the carrots are still warm work quickly to curl the carrot ribbons around a wooden spoon handle. You can adjust how tight you want the curls and sprinkle them with granulated sugar.
Now if you have never candied carrots before or you want to see how these cupcakes come together, then here is a short video clip that will make it easy for you to see how I decorated these cupcakes with a bakery styled finish.
So my hope is that when you cook or bake one of my recipes that you feel like you have a good friend in the kitchen cheering you on all along the way, whether you are an experienced baker looking for a new recipe or a new cook, who is wanting to learn baking techniques. I try to carefully write and photograph each recipe so you can confidently make any dish I share, but if you ever have a question just leave me a comment because I am always happy to hear from you and help you through any kitchen question.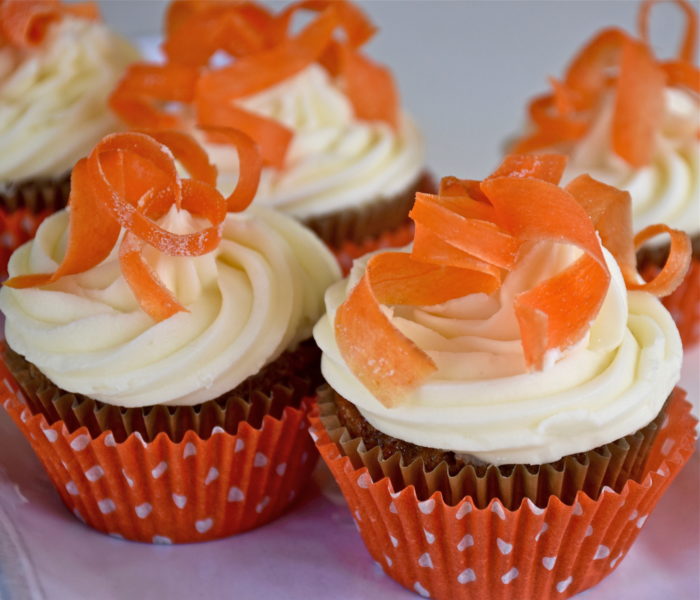 I would also like to thank my Instagram friends, who helped me select the best picture to use this week. Sometimes a girl can get overwhelmed with too many photographs of cupcakes and it helps to get some outside perspective. Happy baking my friends!
You can find a printer friendly version of my cupcakes at this link to Tasty Kitchen.