Spring brings a host of fun holidays and events from Easter to Mothers Day to graduation celebrations. So, I thought I would start a small series on great entertaining dishes. Usually, I share just one stand alone recipe a week, but this time I have decided to put together a series with a full spring inspired menu. So whether you are hosting the dinner party or just bringing a dish or dessert to share you have an entire meals worth of recipes that are easy to cook and share. Over the years I have found that one of the key to entertaining is to plan a menu you can prepare and assemble ahead of time. I like to have everything ready with dishes that are easy to assemble right as your guest arrive. If I am having company I want to enjoy my time and be a part of the festivities.
Today I am starting my spring entertaining series off with a classic French inspired dish that I love to entertain with Herbed Goat Cheese Chicken. This recipe is one my mom got from a friend years ago. I have modified it a bit over the years, but it is hands down one of my favorite main courses for entertaining, because chicken is something most guests enjoy and you can assemble your chicken before your dinner guests arrive.  Then the evening of the party all you have to do is pop them in the oven to roast and you are ready to go. The onions, cheese and herbs also happen to create a delicious aroma in your kitchen as your chicken roasts.
Herbed Goat Cheese Chicken (Serves 4 but the recipe can easily be doubled or tripled)
4 medium sized bone in skin on chicken breasts
4 ounces of goat cheese
1/4 cup of finely chopped yellow onion
2 finely minced garlic cloves
1/2 cup grated parmesan cheese
1 egg
2 teaspoons of Herbs de Provence (There is something magical about this French spice blend of rosemary, thyme, tarragon and lavender.)
1/2 teaspoon kosher salt
1/4 teaspoon ground pepper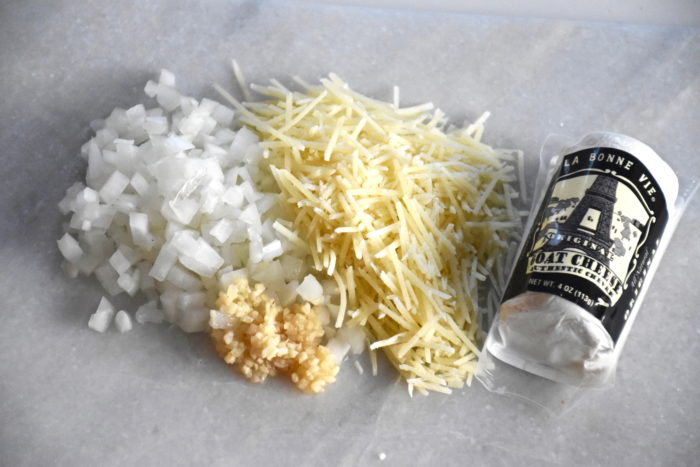 First prepare your ingredients to make the goat cheese stuffing. Finely chop your onion and mince your garlic. Then in a medium sized bowl mix together your, goat cheese, onion, garlic, parmesan cheese, egg, herbs, salt and pepper.
Then take your goat cheese and carefully stuff 2 to 3 tablespoons of cheese under the skin of your chicken breasts. You want to avoid tearing holes in the skin as it keeps your stuffing in as the chicken roasts.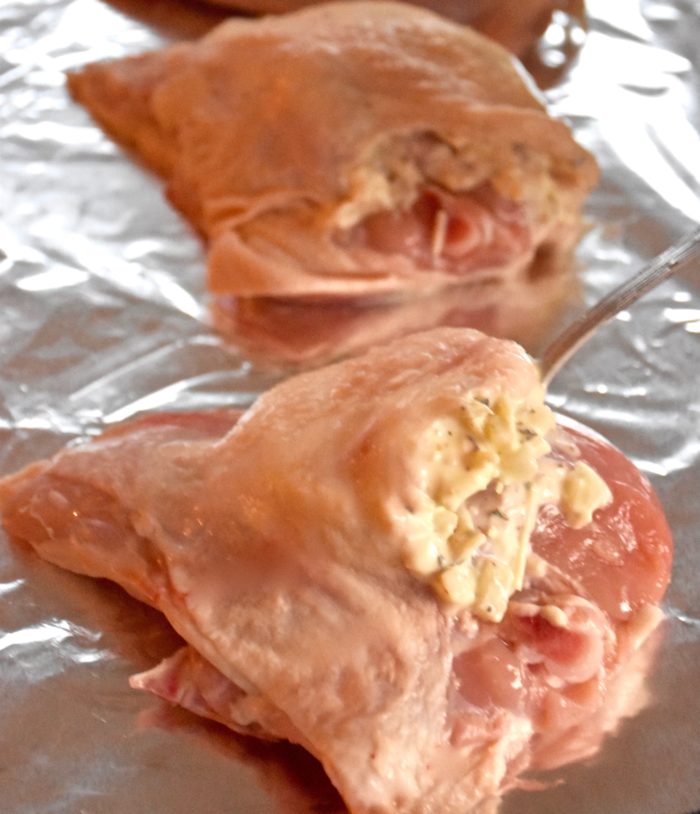 You can pre-assemble your chicken breasts a few hours before your dinner and just have them covered and ready to go in the refrigerator.
Then before you are ready to roast them preheat your oven to 375 degrees. Place your chicken breasts on a roasting pan or a jelly roll pan that has sides. Then roast your chicken for 40 to 45 minutes if you have medium sized chicken breast or if all you can find are the larger variety then adjust you cooking time to 50 minutes. If you happen to live in the Western Chicago suburbs, Kramer's Foods in Hinsdale has a great butcher and they regularly have these smaller bone in skin on chicken breasts that are great for roasting.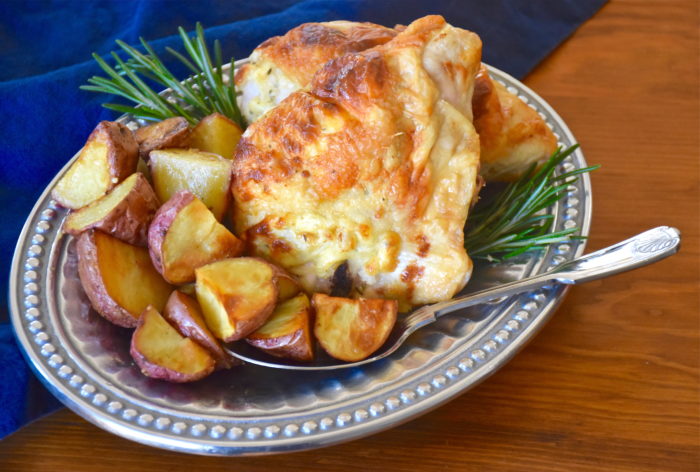 This chicken is easy so although I love to make it for friends, I also make it for week night dinners with my family. I served mine with some oven roasted potatoes, but I  also like it with mashed potatoes or wild rice. I am serving up some sides dishes next so come back for more spring entertaining recipes and tips.