Fresh tomatoes are one of summer's great gifts. One of my favorite ways to eat them is in a sandwich. This past weekend I set out to create the ultimate BLT sandwich. This fried green tomato BLT is crusted in crispy corn tortilla chips and served with a tangy sriracha lime mayonnaise. It's absolutely scrumptious and substantial enough to make a wonderful summer supper.
These fried green tomatoes cook in just minutes. So, it's a good meal to serve on a night when you want a delicious dinner, but you don't want to be in the kitchen for too long. The flavors and textures on this sandwich make this anything but your ordinary BLT.
Tortilla Chip Fried Green Tomato BLT– Serves 4
2 medium sized green tomatoes (If you are in the Chicago area where green tomatoes can sometimes be a little trickier to find then try Pete's Fresh Market)
1/2 cup flour
1/2 cup corn tortilla chips finely crushed (about 2 cups whole)
2/3 cup fine yellow cornmeal
2 eggs
2 tablespoons of milk
canola or vegetable oil
8 slices of good quality French or Italian bread, toasted
1 small head of butter lettuce
8 slices of bacon, cooked
Sriracha Lime Mayonaise
1/3 cup mayonnaise
1/4 teaspoon of sriracha
1/4 teaspoon honey
zest of 1/2 of a lime
1 teaspoon of fresh lime juice
First slice your tomatoes into about 1/3 inch slices. I got about 5 slices from each medium sized tomato.
Next crush your tortilla chips in a food processor or alternatively you could crush them in a large zip top baggie.
Then prepare your three breading bowls for the tomatoes. In one bowl add 1/2 cup of flour. In the second whisk together your eggs and milk. Then in the third bowl combine your cornmeal and crushed tortilla chips.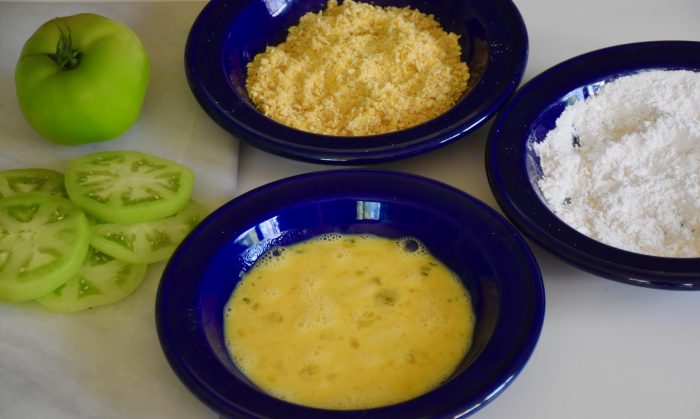 Dredge the sliced tomatoes in the flour making sure that they are evenly coated. Then dip them in the egg mixture. Finally make sure they are well coated in the cornmeal-chip mixture.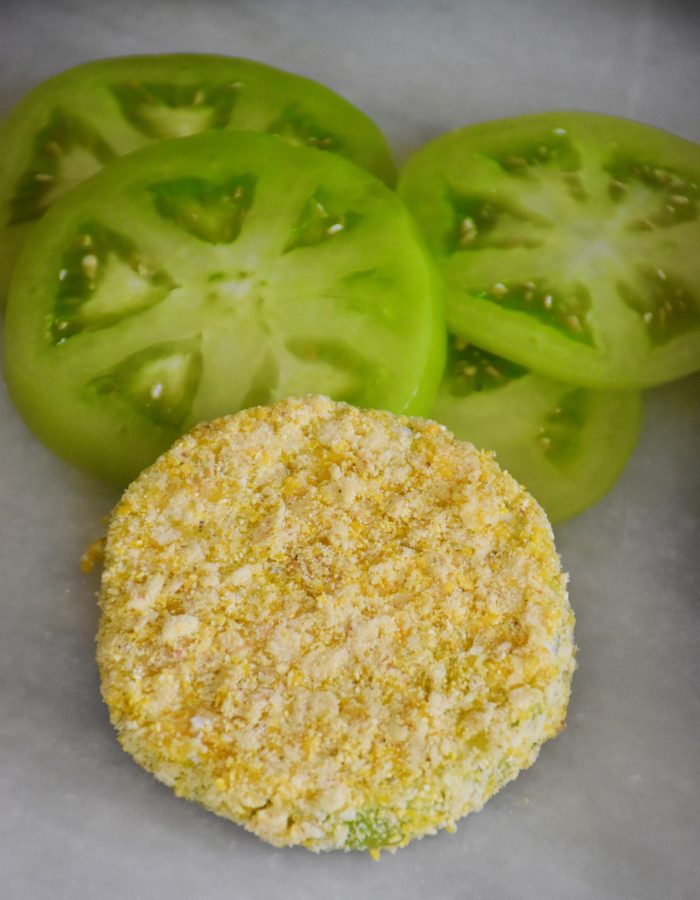 Over place a sauté pan or a cast iron skillet over medium to medium high heat fill it with about 1/4 inch of canola or vegetable oil so it fully covers the pan. Allow the oil to heat until it just begins to sizzle. You will know it is ready when place a wooden spoon or spatula handle in and it begins to form bubbles around it.
Now fry your tomatoes in batches cooking them for 2 minutes a side until they turn a golden brown color.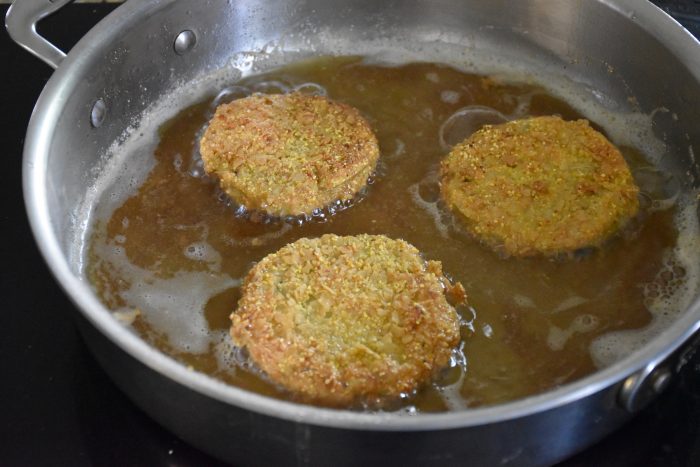 Then let your cooked tomatoes drain on paper towel while you finish the rest of your tomatoes.
Next you want to mix together the sriracha lime mayonnaise. In a small bowl mix together the mayonnaise, sriracha, honey, lime zest and lime juice.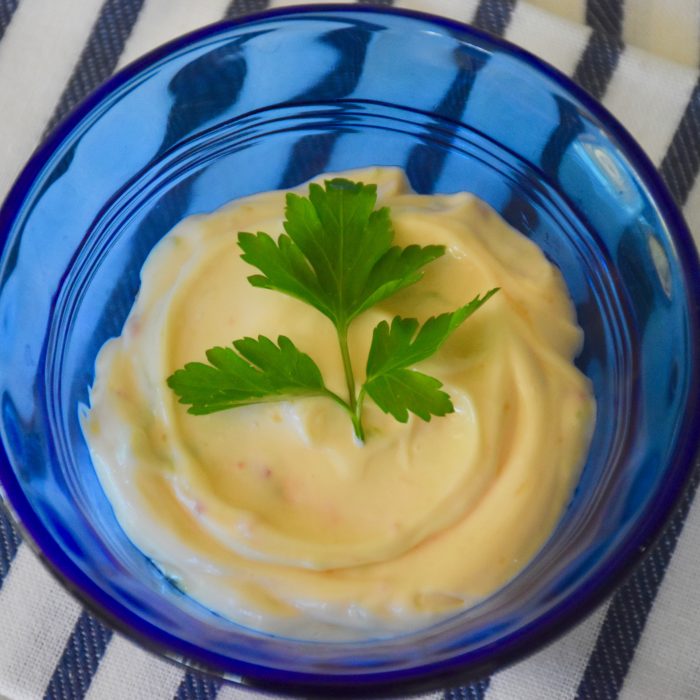 Now assemble the sandwiches, by spreading the sriracha lime mayonnaise to taste on each side of the bread. Place several lettuce leaves on the bottom piece of bread then top it with your fried tomatoes, bacon and the remaining piece of bread. The sandwiches are wonderful when served warm, but they are also surprisingly good as leftovers the next day too. I like to serve my sandwiches with a side of fresh fruit.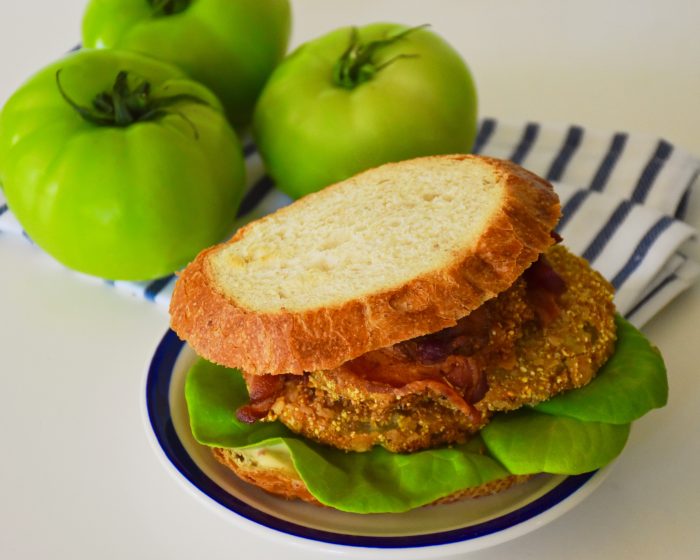 The the crispy texture of the tomatoes with a touch of saltiness form the bacon and the crunch of the lettuce make this one outrageously good bite. So if you are looking for something new for dinner then try my tortilla chip fried green tomato BLT.