Summer is here and with it comes gorgeous seasonal fruits and vegetables and hopefully some time to relax just a bit. When it comes to summertime cooking I love an easy recipe that gets me out of the kitchen, so I can enjoy my time outdoors. This is also a dinner that you can prep completely ahead of time since you use the crockpot which makes it great for entertaining or for any busy day.
Brisket is a Texas favorite, that I sometimes have to order from the butcher's counter here in Chicago. However, there is a reason Texans love it. It's a great cut of meat that lends itself well to lots of dishes including brisket tacos. The slightly salty brisket with the sweetness of the mangos and just a touch of acidity from the lime juice and tomatoes definitely makes this one incredible bite. So here is one of my all time favorite dinners: brisket tacos with mango salsa.
Crockpot Brisket Tacos – Serves 4 to 6
1  2 1/2 pound brisket
2 Tablespoons brown sugar
1 Teaspoon kosher salt
1 Teaspoon of garlic powder
1 Teaspoon cumin
1/2 Teaspoon pepper
1 Teaspoon chili powder
1 large sweet yellow onion sliced into long strips (about 2 cups)
2 tablespoons canola oil
2 (12 oz) bottles of beer (I like to use Shiner Bock or Samuel Adams)
2 (20 oz) bottles of your favorite BBQ sauce (With these Tacos my favorite sauce to use is Head Country)
2 Tablespoons worcestershire sauce
12 flour tortillas
Sour Cream (optional)
Shredded Cheese (optional)
First in a small bowl mix together your brown sugar, salt, garlic powder, cumin pepper and chili powder. Then rub the sides of your brisket with this spice rub. Then in a large skillet heat 2 tablespoons of oil on medium high heat. When the oil is hot add the brisket and sear it until each side gets golden brown about 2 to 3 minutes a side.
Then get your cock pot ready and pour in your beer, 1 bottle of your BBQ sauce and the Worcestershire. Next add in your seared brisket making sure it is fully covered by the liquid. Then finally add in your sliced onions. Place your crock pot in a safe area. Put the lid on it and turn it on to the low setting. Let it cook on low for eight hours.
Then once your brisket has cooked carefully move it to a large cutting board and discard the onions and cooking liquid. Then slice your brisket on the diagonal against the grain removing any extra fat. Then chop those slices into small bite sized pieces. Pour about 1/2 of a cup of your extra barbecue sauce and mix it together with your chopped brisket.
Then take your tortillas and add in a couple of spoonfuls of the chopped brisket top it with the mango salsa and if you want add some shredded cheese or sour cream.
Mango Salsa
1 mango peeled and diced
3 medium vine tomatoes diced
1/2 cup of finely diced sweet yellow onion (I like Vidalia onions or Texas 1015s)
1/4 cup of cilantro finely chopped
1 lime, juiced
1 teaspoon kosher salt
1/2 teaspoon garlic powder
First dice your mangos. If you haven't cooked with mangos before then there are a few tips that you should know. You want to pick a mango that is ripe. You will know it's a good one by its color. You want to find one that is red and yellow and you want it to be soft to the touch, but not overly mushy. The main thing is stay away from the hard green ones; they aren't ripe yet. Then you need to peel them before you slice them. The other thing you need to know is that mangos have a hard pith or core that you will not be able to eat or cut through, so I slice around it on all four sides and then dice those large pieces.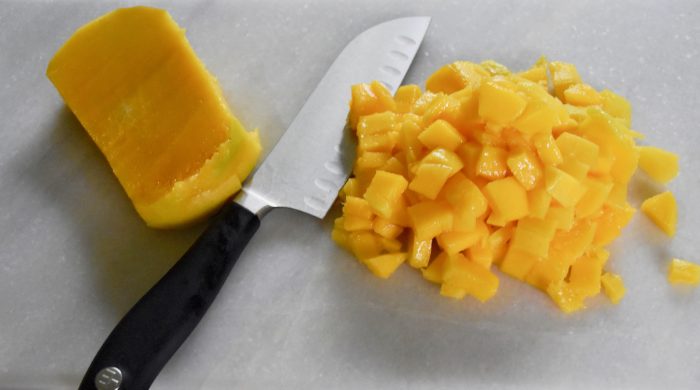 Next chop your tomatoes, onions and cilantro and mix them together in a medium sized bowl.
Then stir in your lime juice, salt and garlic powder. You can make your salsa ahead if you like and then store it in your fridge until you are ready to serve.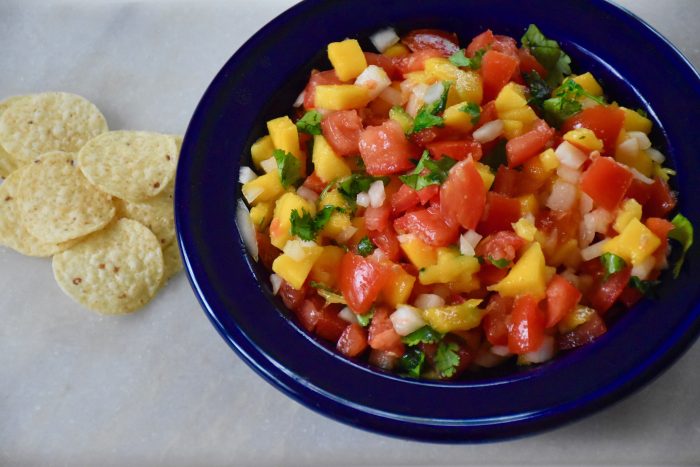 This salsa is so good that I make it as a stand alone dip or I also love eating it as a topping on my Black Bean Soup.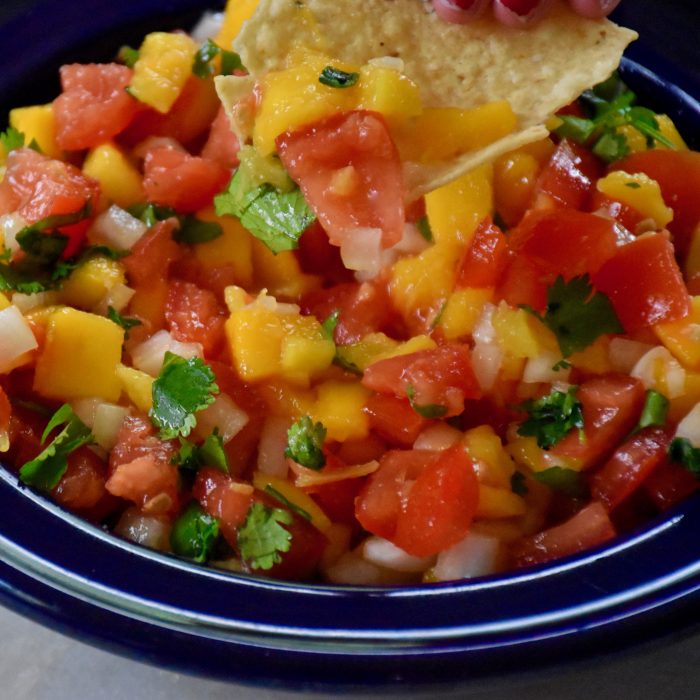 So dive into the fresh flavors of summer with this recipe for brisket tacos and add a quick side of black beans or if you want something more then try my Avocado and Black Bean Salad.  Add some tortilla chips and some Mexican beer or margaritas and you have all you need for an easy summer party.