A few years ago when the Duke and Duchess of Cambridge (Will and Kate) were married a couple of my coworkers celebrated in the wee hours of the morning as they watched all the live television coverage of the wedding. In keeping with the royal wedding fun they decided to have scones and tea. All of that 3 a.m. royal wedding watching can leave a girl hungry. So in honor of the royal wedding of Prince Harry and Meghan this weekend I thought I would share my recipe for scones. The British love their scones and for good reason these flakey butter pastries are delicious and fairly simple to make. Many British recipes for scones tend to be more understated because they serve their scones with clotted cream and jam or lemon curd. More traditional flavors tend to include currants or dried fruit.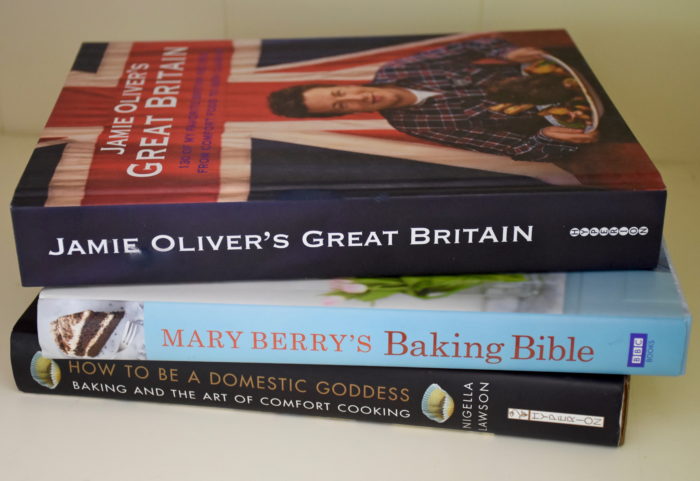 So after I spent sometime researching classic recipes and I decided to create my own scones. Remembering some delicious strawberry scones I had years ago on a trip to San Francisco, I decided to use strawberries instead of the usual currents or dried fruit.
Strawberries can be tricky to use in muffins and baked goods because they have a high water content and they tend to turn everything pink if you over mix them. So instead of using dried fruit, I decided to use freeze-dried strawberries. These dried strawberries are sweet and they become soft when you bake them. They also preclude some of the moisture issues that can come when you bake fresh strawberries. These freeze-dried strawberries are usually found in the dried fruit aisle, but in one grocery store I found them on the baking aisle. These scones are buttery and flakey on the outside with a tender and sweet crumb on the inside. They easy to make. If you have ever made homemade pie dough or biscuits the technique is similar.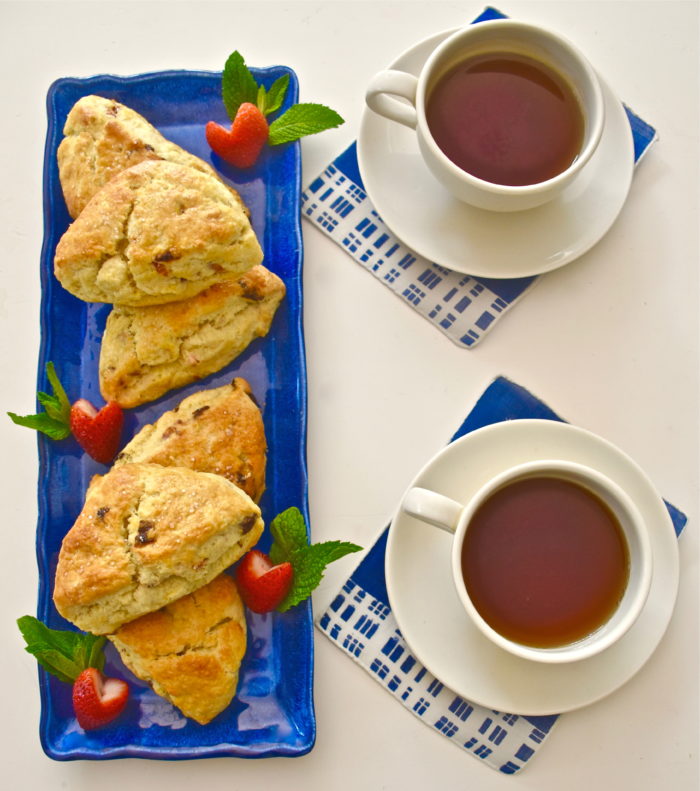 Strawberry Scones- Makes 8
2 cups flour
1 tablespoon baking powder
1/2 teaspoon salt
2 tablespoons sugar
1 1/2 sticks of cold butter,cut into small pieces
1 teaspoon fresh orange zest
2 eggs, lightly beaten
1/2 cup heavy cream
1/2 cup freeze-dried strawberries broken into small pieces
1 egg mixed with a tablespoon of water for an egg wash
2 tablespoons of white sanding sugar, optional
Preheat your oven to 400 degrees
In the bowl of your food processor mix together your flour, baking powder, salt and sugar. If you don't have a food processor then you can use a large bowl and then cut your butter in using a pastry blender or your fingers, but the food processor make it much quicker.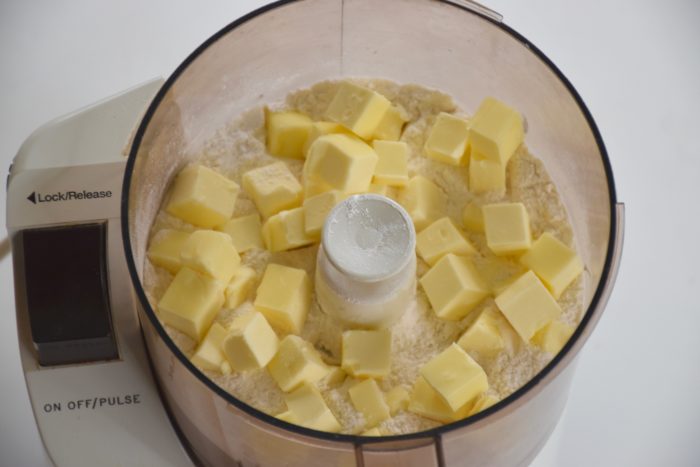 Cut your butter into small pieces. Then on a high-speed pulse your food processor until the butter is cut into tiny crumbs. It took me less than 30 seconds. You don't want to over do it because you want to have little bits of butter evenly distributed in your dough.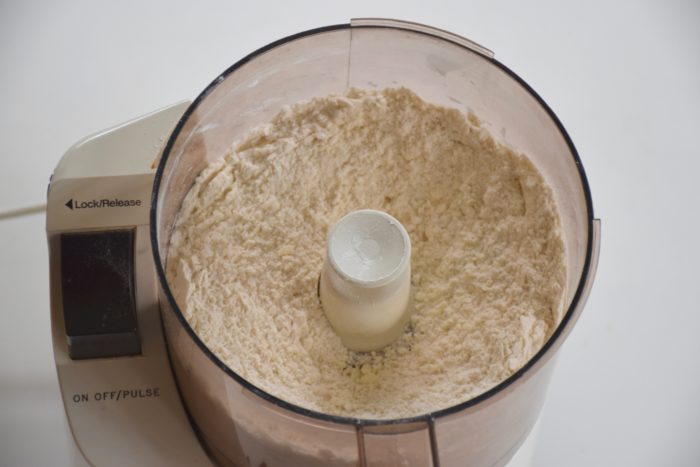 Next add your orange zest by evenly coating it in your butter and flour mixture. The flour will keep the zest from sticking together in one big clump.
Then lightly whisk together your egg and cream and slowly pour them through the chute of your food processor while you mix it into the flour. Be careful not to over mix. As soon as your dough comes together stop mixing.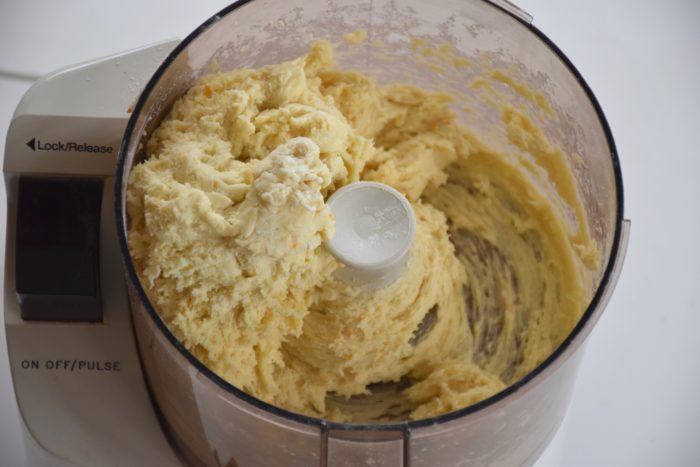 Next if you want extra flakey scones then take your pastry dough and chill it in the fridge for 15 minutes. I just take the bowl of my food processor and stick it in my fridge.
Then after your dough has slightly chilled you are ready to add in your strawberries. On a lightly floured surface, carefully knead in your strawberries. Then roll your dough out into an even log and cut it into four equal portions.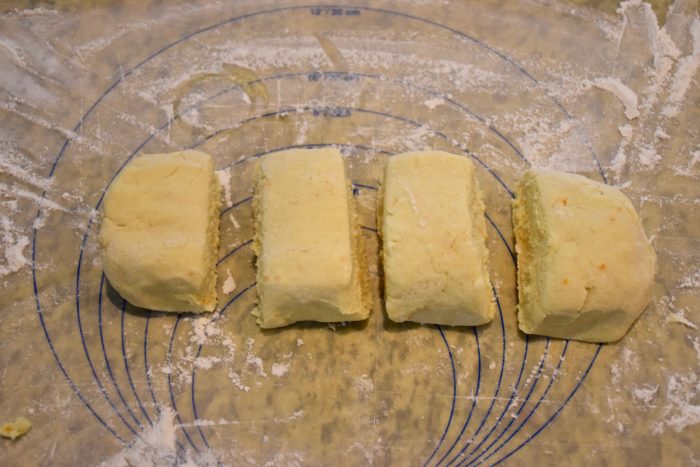 Next using your hands or a rolling pin shape each portion of dough into a 4 inch square. Then use a serrated knife to cut each square diagonally into even triangles.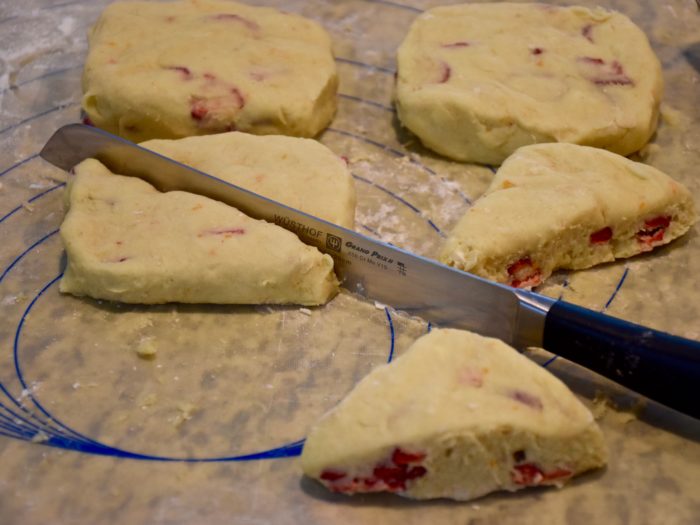 Finally in a small bowl whisk together one egg and one tablespoon of water to make an egg wash. Then brush the tops and sides of your scones so they get a pretty golden finish when they bake. If you are feeling fancy, you could also add some decorative white sugar sprinkles.
Then because I have a convection oven that runs a little hot I turned my oven down to 375 degrees and baked my strawberry scones on a hot baking stone for 15 minutes. If you don't have a baking stone you could just line a baking pan with parchment paper to keep your scones from sticking when they bake. Keep an eye on your scones you want them to turn a golden brown color on top. Depending on your oven it could take 15 to 20 minutes to bake.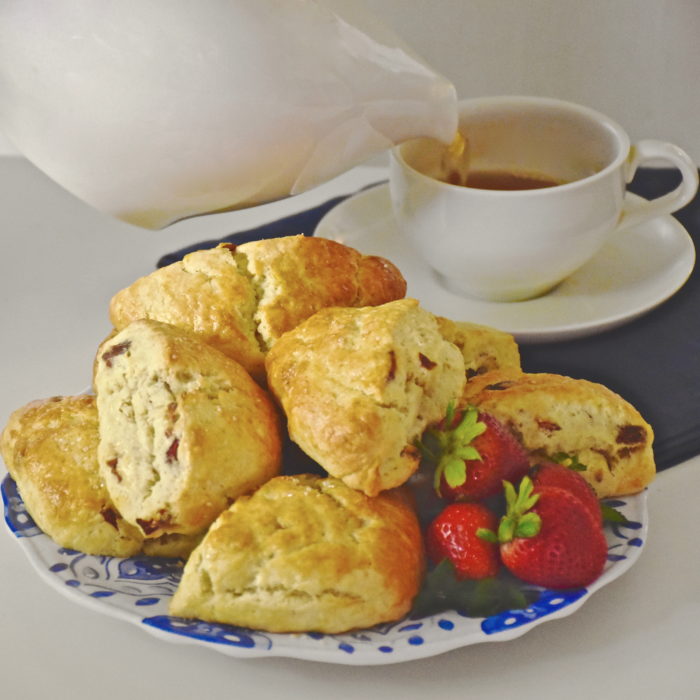 So pour yourself a cup of tea and enjoy watching all the festivities, fascinators and fashion statements at the royal wedding. These strawberry scones are a delicious way to celebrate any morning.