"When you are brought up in a home where beautiful things are appreciated it encourages your own life long pursuit."
Charlotte Moss
My love for decorating and creating beautiful things is something that was nurtured and learned from my mother. I grew up watching her arrange flowers and creating new holiday decorations and I loved the joy and difference it added to our house. However, one of my favorite projects was my high school bedroom. My mom helped me redecorate my room in my own style. An earlier lover of all things blue and white and Ralph Lauren I decided I wanted a country styled room with an iron bed and painted furniture. My mom and I picked out an unfinished dresser and nightstand and she helped me paint it in a shabby chic blue crackle finish with a blue floral stencil. It has been years ago since we took on that project, but it instilled in me a love of painting and decorating. I was inspired as I saw the things I imagined come together to create a beautiful room. I had a place that was mine and I could see and feel the difference it made to live in a room you loved. That bedroom was my first decorating project and I still have the furniture we painted together. I still love the dressers and nightstand we painted and those pieces are in my daughters' rooms now.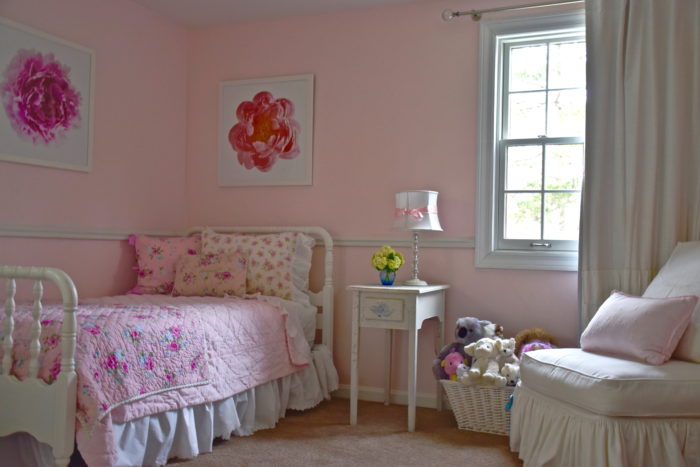 This past week my mom came to visit and to help me with another special project. This time we were painting an old bed and decorating my oldest daughter's "big girl" room. We had fun chalk painting the bed frame in the backyard (I will have to write another post about chalk paint later) and creating a garden inspired bedroom filled with all the pretty pink and white details that my daughter loves. We rearranged the furniture and art. We also made room for the new art board I created to showcase my daughter's love of drawing.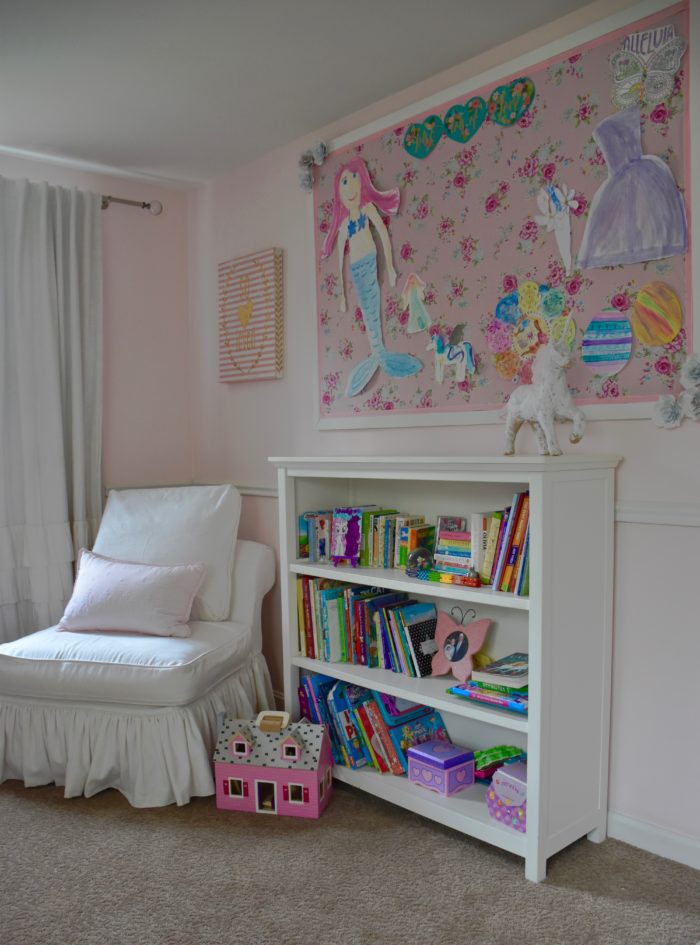 We shopped at Target and Home Goods for the new bedding and accessories that would add just the right shabby chic touch. The finished room is now filled with special memories of our fun together.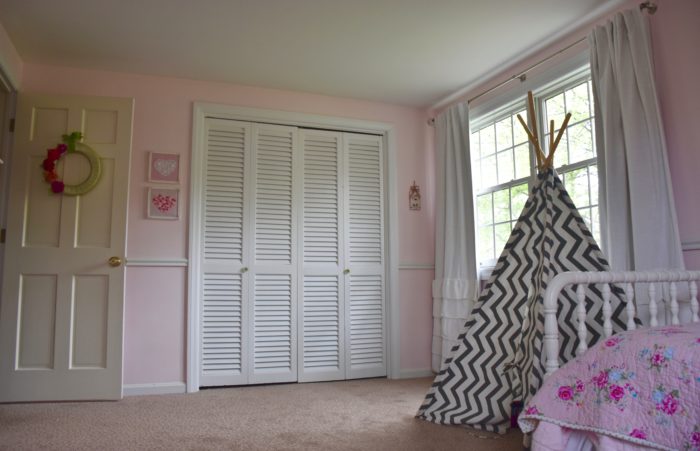 There is a small needlepoint picture stitched by my mom and button artwork and a ribbon flower wreath that I made. Small but personal touches made with love. One of the great decorating lessons I have learned from my mom is that thoughtfulness in the details is what often makes a room truly memorable and special.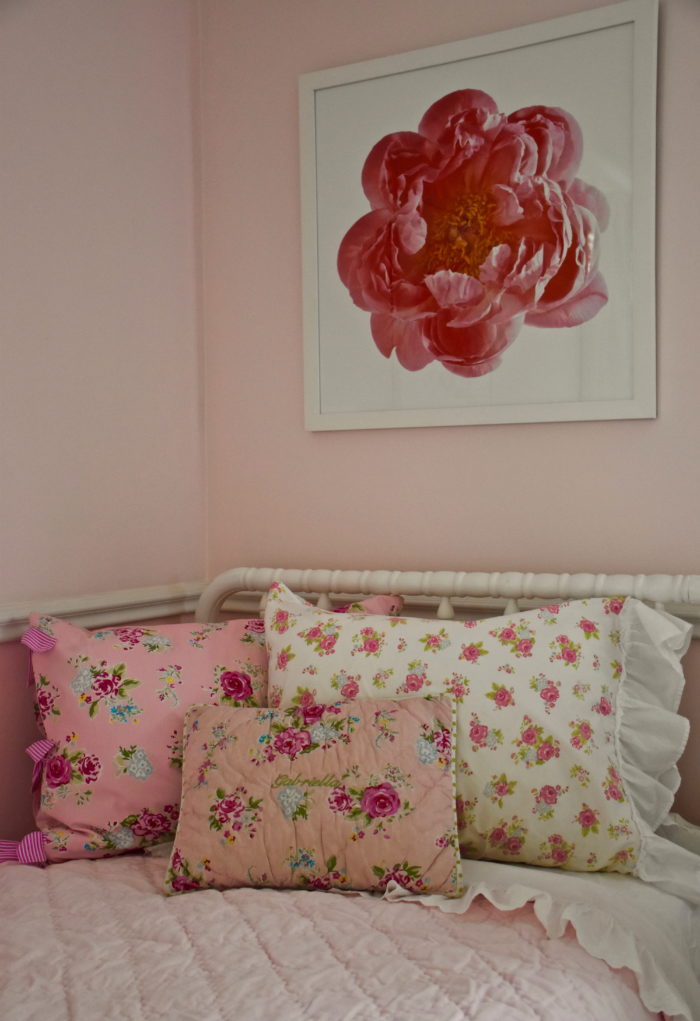 The pink bedspread came from Rachel Ashwell's Shabby Chic line at Target. The two bed pillows were something custom I made from the remains of the extra duvet cover that I used to upholster the art board and the old crib sheet from my daughter's toddler bed. My sewing skills are fairly basic, but I got creative to add a few dressmaker like details. I used a simple pillow case as my pattern. Then I used the ribbon tied edges from the duvet on the side opening of my pillow.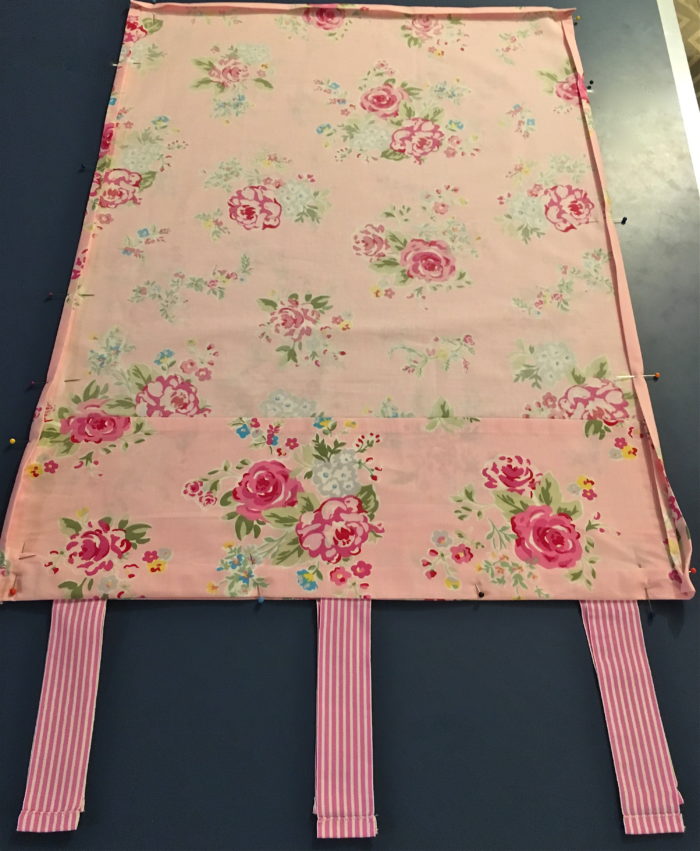 This gave me a pretty and professional looking edge without lots of extra work.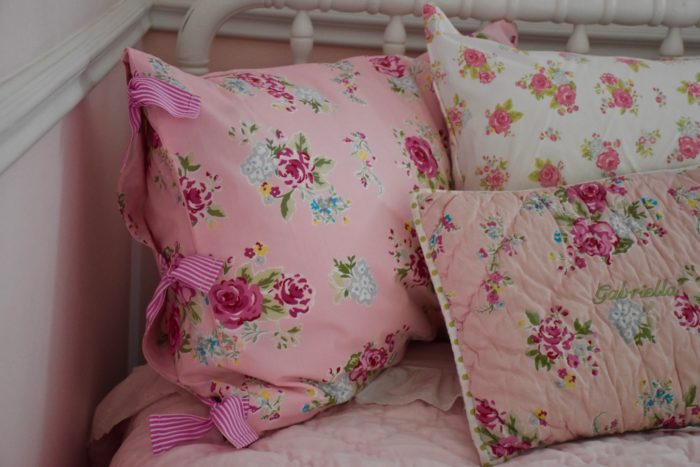 Then because the white crib sheet had less fabric to work with I decided to add a ruffled edge using an old summer dress my daughters had outgrown.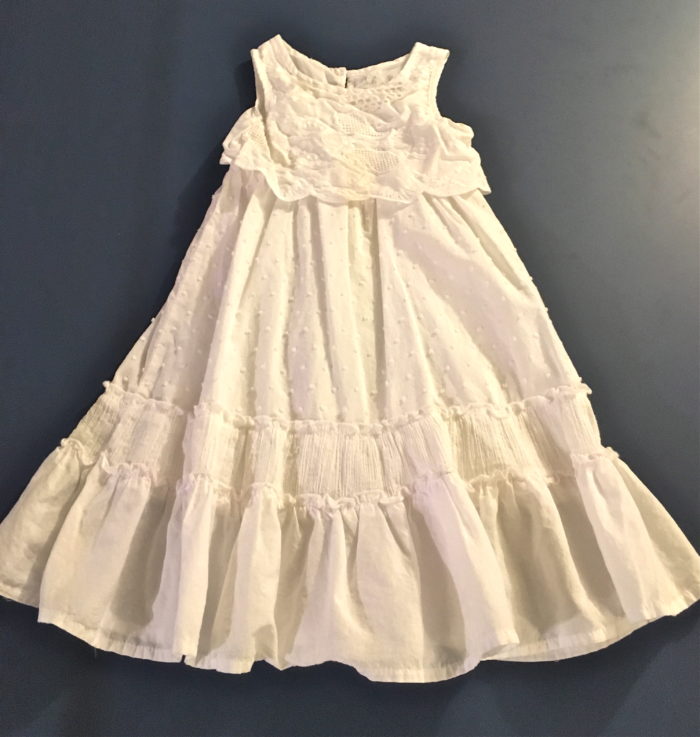 I carefully cut off the bottom ruffle and sewed it around the opening of my pillowcase.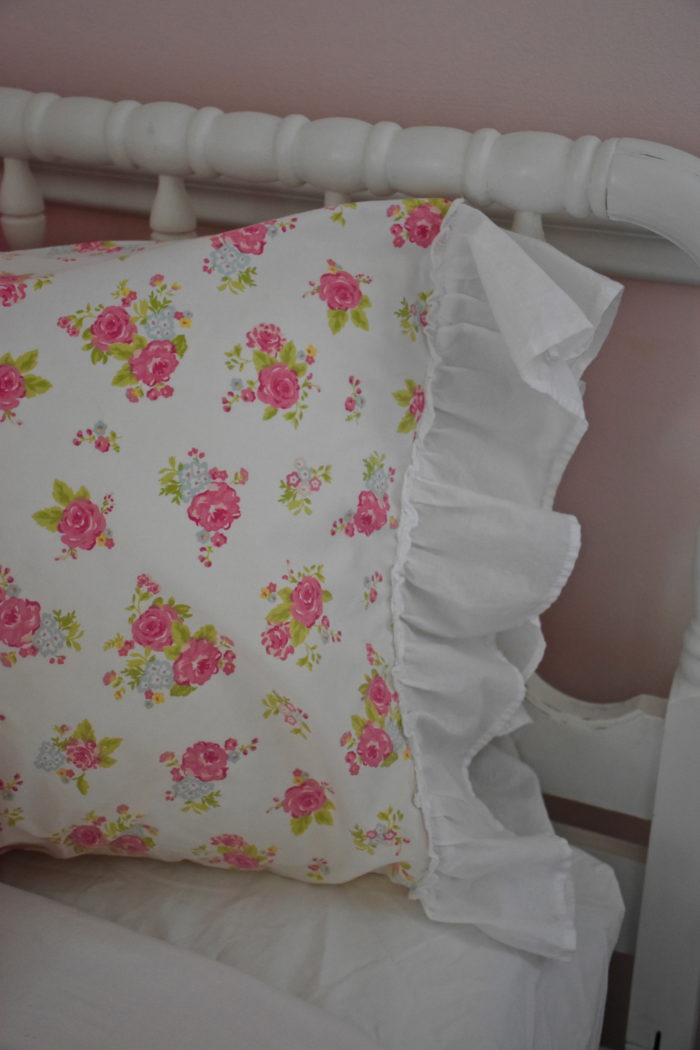 This finishing detail gave the pillow just the right shabby chic look that I wanted.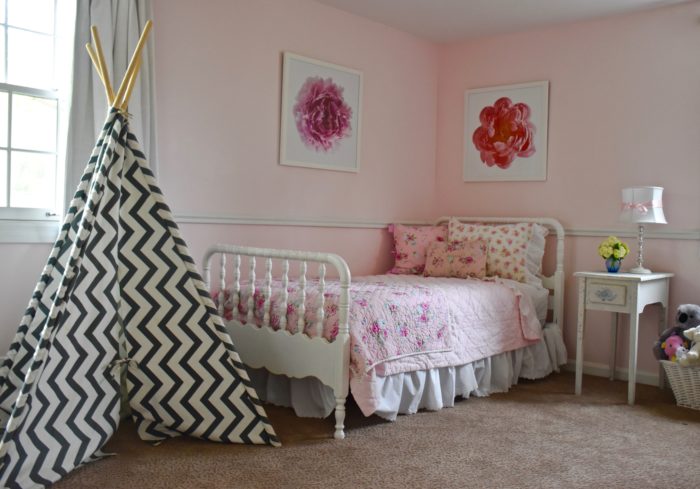 My daughter who was worried about giving up her old toddler bed, now loves her new room. It's filled with all the magical cottage garden details she likes and I can't wait to see how she continues to personalize it by adding her own artwork and treasures.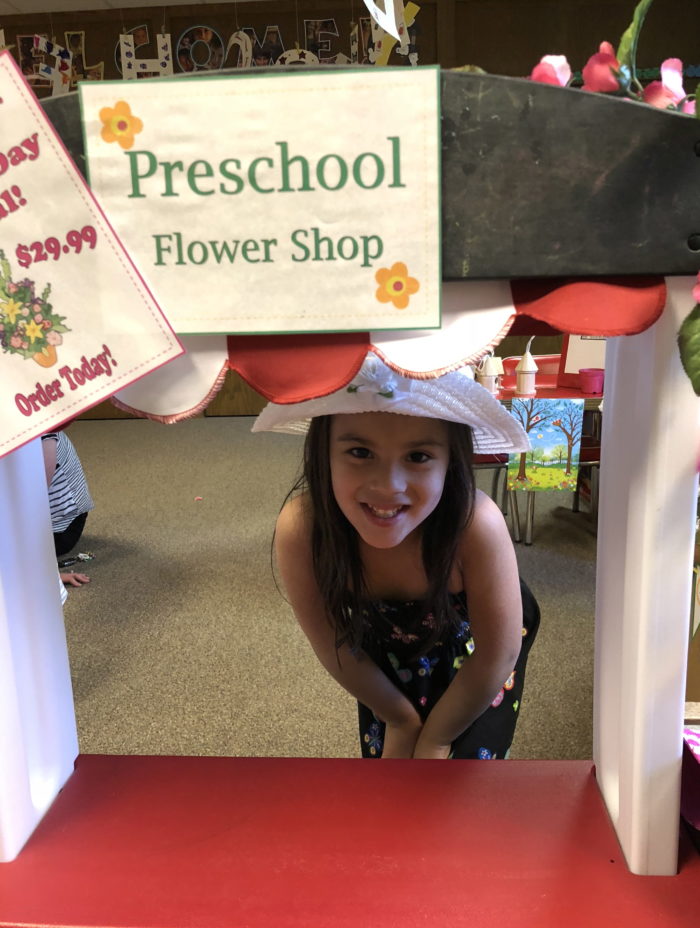 It's a great gift to have the opportunity to choose what your room looks like and to fill it with things you love. My mom's love of beauty and creativity helped shaped who I am today and I hope that my daughter feels that same joy in her new room.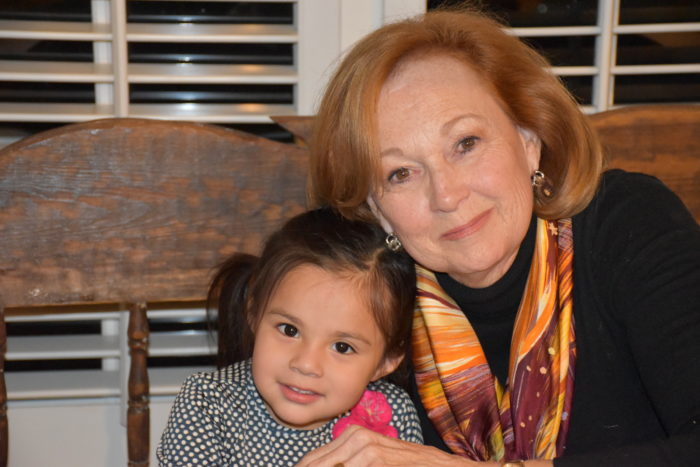 Now stay tuned, I am going to have to gear up for my next project this summer, because watching this room transformation has caused my three-year old to declared herself "BIG." My youngest daughter now has a vision of her very own "big girl" room with hot pink and purple. So the fun and the decorating continues.
Happy Mother's Day!