When we traveled to Italy last summer it was clear that not only did the Italians love their food, but they really cared about whether you the diner were enjoying what they made. What I love about Italian cooking is that it tends to be less fussy, because the food is so flavorful that there is beauty in that simplicity. While we were there we had these amazing mozzarella, prosciutto and tomato sandwiches. The flavor of the slightly salty prosciutto with the creamy mozzarella, and the bright tomatoes and basil made even a simple sandwich wonderful. So this week I decided to share a recipe for these brilliantly simple and delicious Italian caprese and Prosciutto sandwiches.
Italian Caprese and Prosciutto Sandwich -Serves 4
1 French baguette (the better the bread the better the sandwich so go for the best and crispest baguette you can find)
3 tablespoons extra virgin olive oil
1 package (4oz) of thinly sliced prosciutto
 2 to 3 heirloom tomatoes or beefsteak tomatoes, sliced
2 teaspoons of balsamic vinegar
1/2 teaspoon kosher salt
1/4 teaspoon black pepper
1  package (8oz) of fresh mozzarella, sliced into thin rounds
3 tablespoons of fresh basil pesto (I happen to love the Giovanni Rana brand)
8 fresh basil leaves
First slice your baguette into four even pieces then cut each section in half horizontally. Next you want to spread a little olive oil on each side of your bread. Then toast your bread in a toaster oven or put your bread on a sheet pan and place it under your oven broiler, but keep a close eye on it. Just a minute or two under the broiler will be enough. You want to lightly toast your bread so it is warm and is just beginning to get golden brown edges.
Next get your tomatoes sliced. I find it's easier to slice my tomatoes with a serrated bread knife. Cut your tomatoes into thin round slices and then cut those slices in half. Then you want to season your tomatoes by sprinkling them with salt and pepper and drizzling just a touch of balsamic vinegar on top.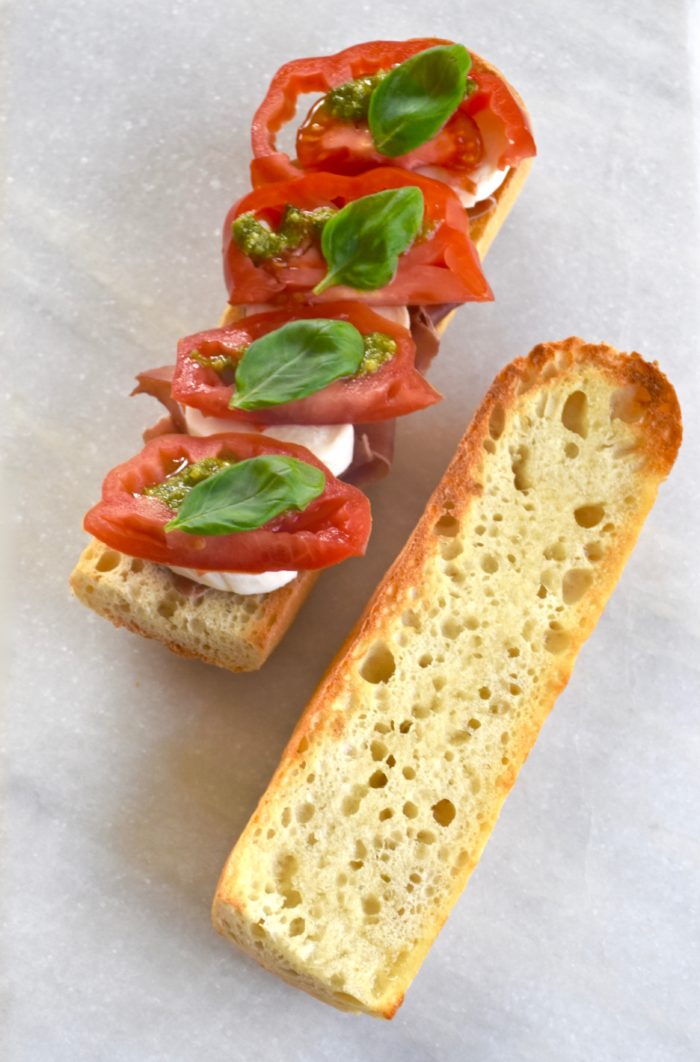 Now you are ready to assemble your sandwich. Layer on your prosciutto slices then top them with your sliced fresh mozzarella. Then top your cheese with your tomato slices and a drizzle of fresh basil pesto. Add a few fresh basil leaves on top and there you have it.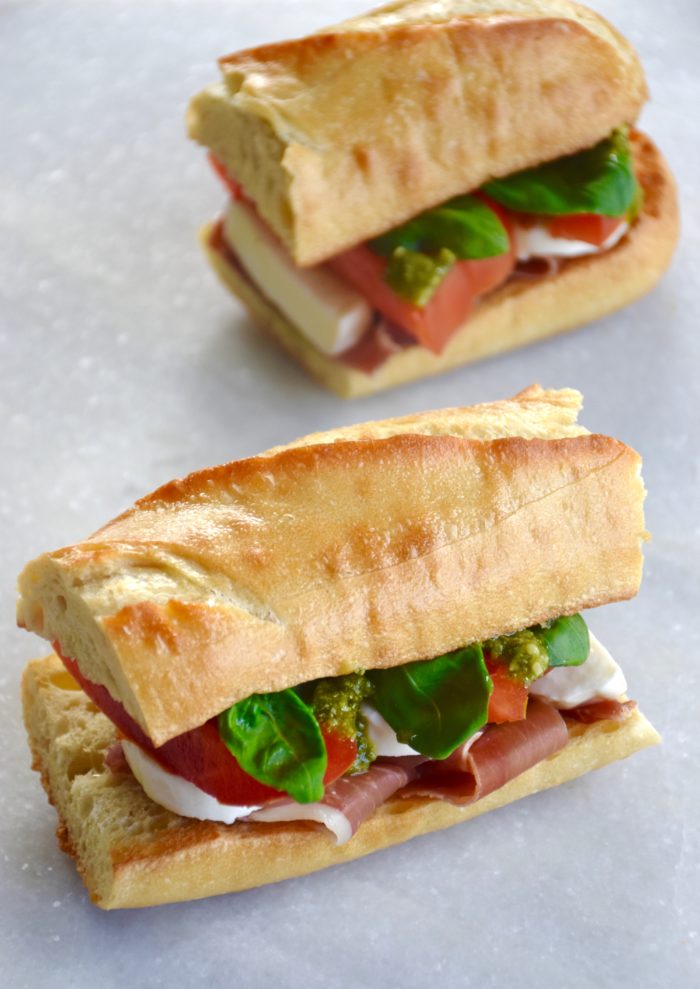 The best part about this recipe is that you can make it in less than ten minutes.  How easy and delicious is that? Want to serve it the Italian way then get some Pellegrino sparkling water.  Then add a side of some gourmet veggie chips or some fruit and you have a simple but flavorful Italian meal. Sometimes sandwiches get overlooked when it comes to dinner, but a substantial sandwich like this Italian Caprese and Prosciutto Sandwich makes a great quick and easy weeknight meal.