Spring like weather is finally here, well at least for now. It's Chicago so you never know it could snow again, but the promise of warmer weather means I can finally get outdoors to tackle some painting projects. I have plans to paint a "big girl bed" for my oldest daughter's room, but before I start making few changes to her room I thought I might be fun to share a few before and after photos.
Here is the room when we first moved in.  It was painted in two tones of yellow, so the first thing I did while we were waiting on the moving truck was to paint her room a soft pink from Benjamin Moore called Pink Cadillac. True to the name the color looks like Mary Kay Cadillac pink. I used the color at 75 percent strength so it would be just a bit softer.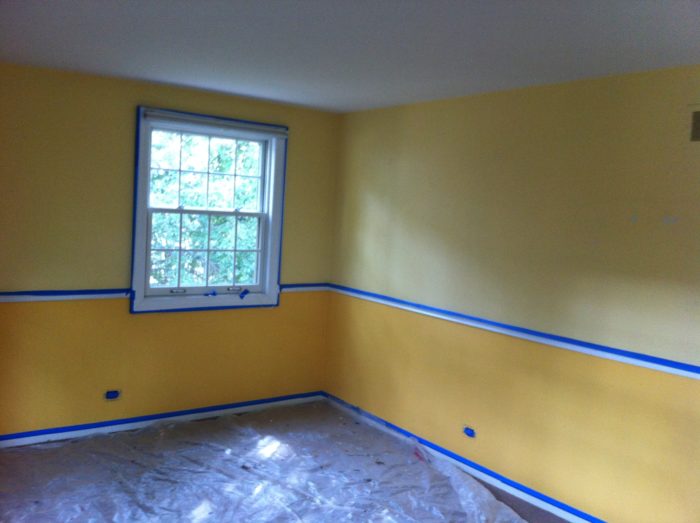 My oldest daughter loves flowers and being outdoors. She is the kid who from a very early age would beg for flowers from the grocery store. Forget the candy at the checkout lane, the floral department seems to be calling my daughter's name every time I take her to the grocery store. It's her favorite part of the store and there have been many a tear over some lovely flowers that we just couldn't purchase.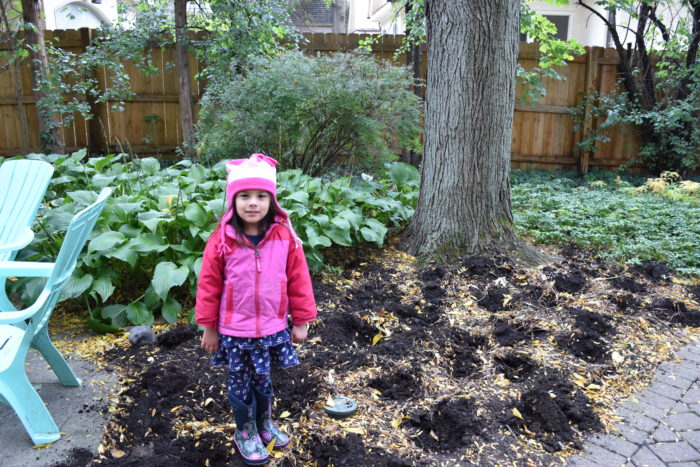 Gabby loves to be outdoors in the garden. Here she is helping me plant tulip and muscari bulbs in our yard this fall. It was a cold day, but that didn't stop her from spending hours helping me. When I met with her teacher for parent teacher conferences she shared with me that it was clear Gabby just loved anything to do with gardens and being outdoors. Here is an assignment she had at school where each child was asked what rule they would create if they were president. No surprise, Gabby drew a picture of herself in the garden.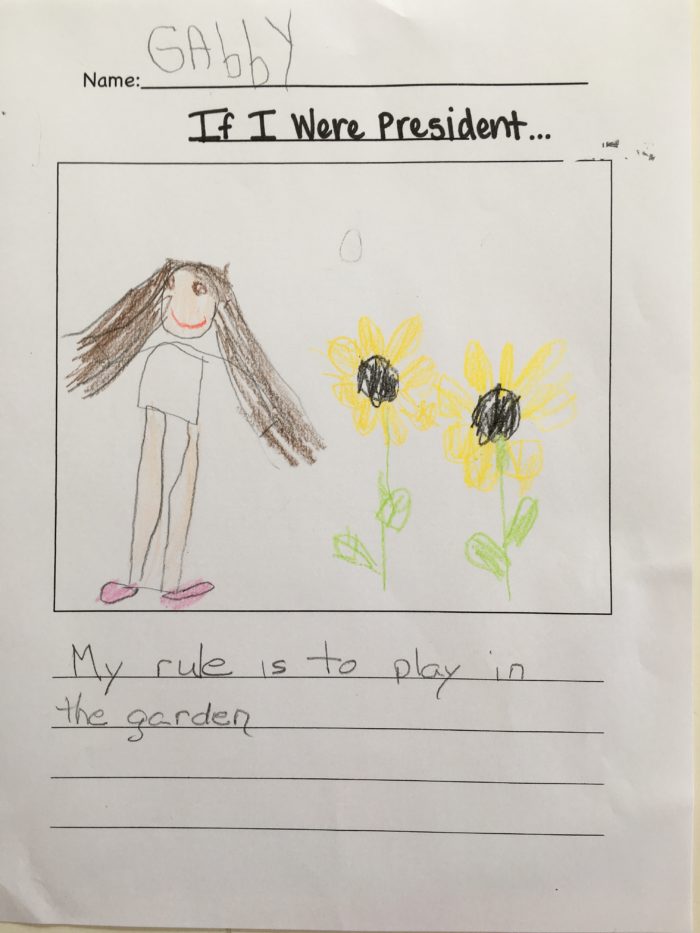 So this love of flowers inspired her room. I wanted her to have a room that she loved that was filled with things that made her happy.  Before we moved from Houston I began making plans for her new room. Pottery Barn Kids had a Savannah floral pattern that reminded me of an English cottage garden. The pattern was being discontinuing so I decided to go ahead and get toddler sized bedding along with a twin sized duvet that I could use later as the starting point for the room.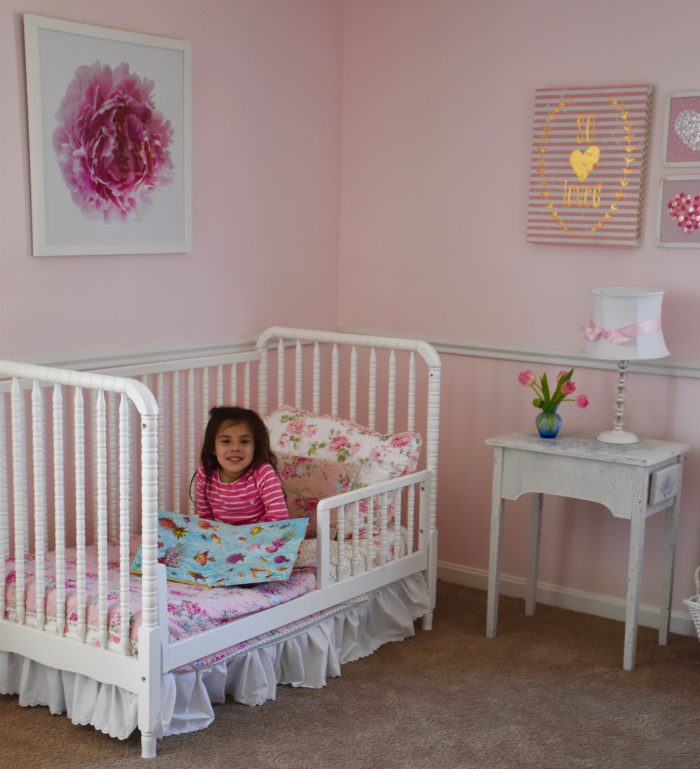 Here my garden loving girl in her bedroom.  I used a twin bed sized dust ruffle that I had from college and pinned it so it fit her toddler bed and then layered in some more floral patterns from Rachel Ashwell's Shabby chic line at target. The picture of the pink peony is from Wisteria and it's my favorite part of her room. When I added that photo to her room she said "mom how did you know I needed a magical flower?" Needless to say she loved it and I think it adds a more sophisticated floral touch.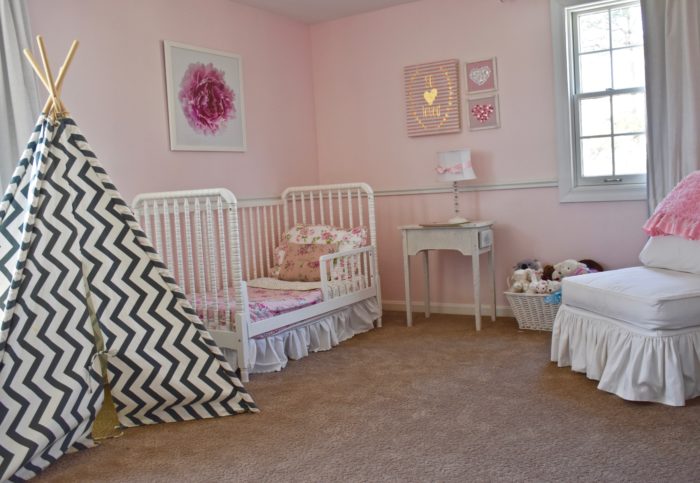 Every garden needs a little summer home, shed or tepee so I found this grey chevron tepee at Hobby Lobby. Both of my girls love hiding away in there with their blankets and pillows.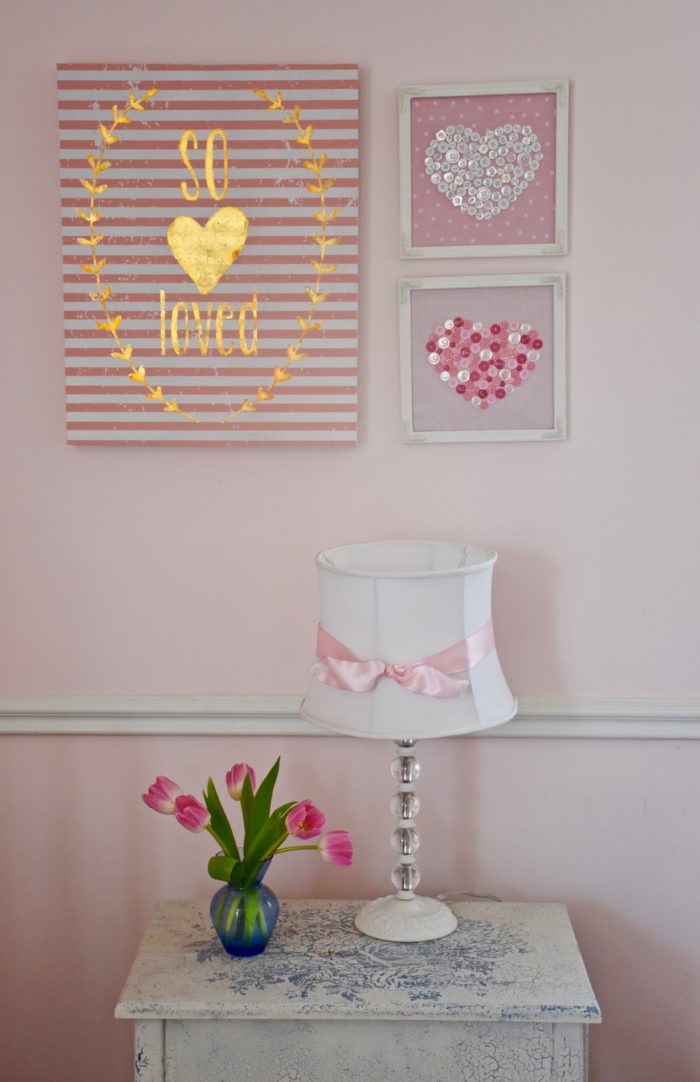 Art doesn't have to be expensive. The "So Loved" picture was from Hobby Lobby and the button hearts are something I made to add something special to her room. Then to dress up a plain white lampshade I added some pink ribbon around it.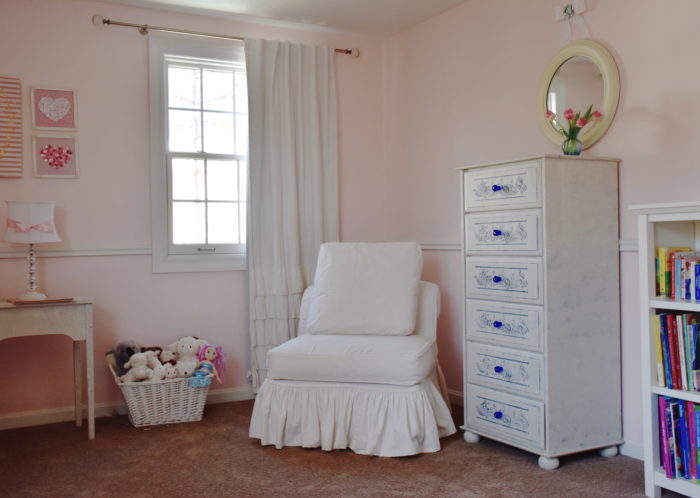 A view of the side of the room with a dresser that my mom and I had painted years ago with stenciled flowers. Then a sweet little slipper chair perfect for reading. Even the chair got a makeover for this room see the before picture below.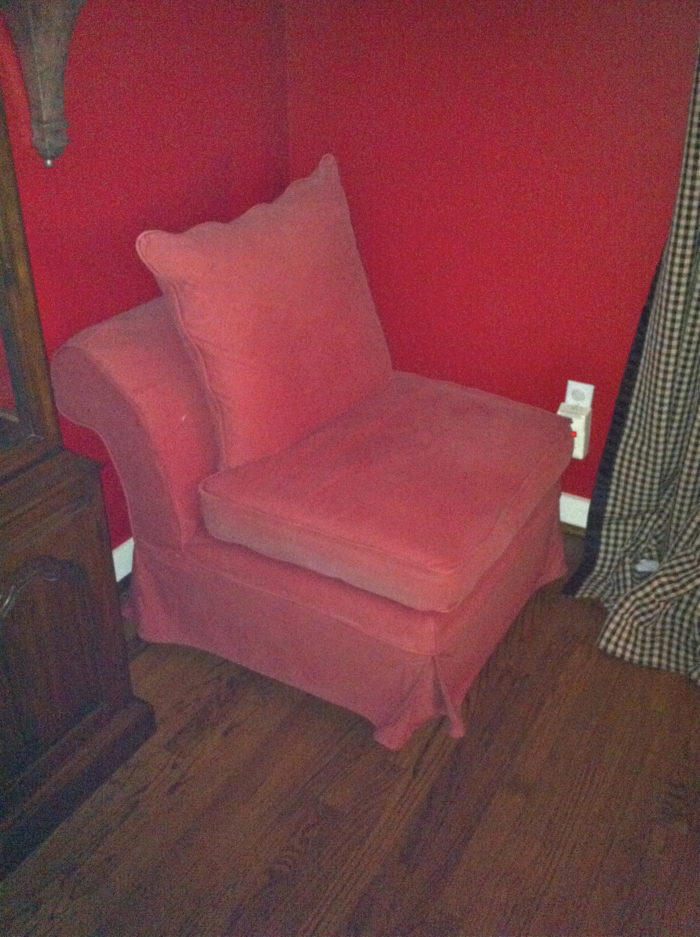 It's amazing what a new slipcover can do. I found some white draperies that had a similar ruffle detail for the windows. Then in the corner I added a second peony photograph above her bookcase.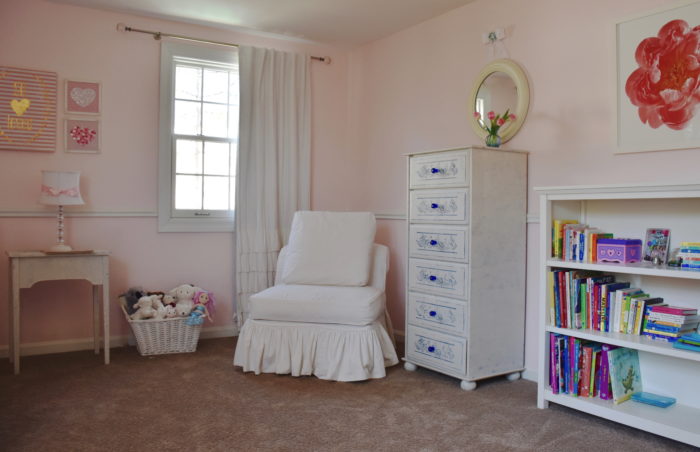 A garden styled bedroom perfect for my little flower loving daughter. A few more shabby chic changes are coming but before they do I wanted to remember the sweetness of this little girl's room.