What in the world am I going to make for dinner tonight? Dinner is so daily, that it's easy to fall into a pattern and get bored with the same old rotation of dishes. So what do you make on those days when you need something quick, but more exciting to eat? My answer: the substantial sandwich. Filled with flavor, but perfect for a weeknight dinner, substantial sandwiches are some of the best-loved meals in our house.
One of my favorite substantial sandwiches is the Vietnamese Banh Mi. A crispy french baguette filled with sweet but tangy pickled carrot and cucumber with just a touch of heat from the honey lime sriracha sauce. I took a grilling course from Steven Raichlen a couple of years ago, where I made these absolutely delicious grilled lamb Banh Mi sandwiches. However, the problem was that although they were wonderful I absolutely don't have the time to roast lamb on my grill for four hours to achieve the perfect sandwich.
I began thinking about how to create a flavorful version of my own. One that you could make in thirty minutes so I could enjoy it more often. My solution a banh mi meatball sandwich. The ground pork meatballs that are every bit as flavorful, but easy to make while you assemble your veggies and sriracha sauce. One crunchy, crispy, juicy bite and you'll see why I just love this sandwich.
Banh Mi Meatball Sandwiches-Serves 4
4 demi baguettes or one large french baguette, toasted (You want to use a good quality french baguette. I like the La Brea brand that I can find at most grocery stores in my area.)
Meatballs
1 pound ground pork
2 tablespoons soy sauce
1 teaspoon worcestershire sauce
2 cloves garlic, minced
2 green onions, sliced thinly
Pickled Carrot and Cucumber Slaw
1/2 cup carrots julienned in thin strips or you could use pre-cut matchstick carrots
1/2 cup cucumber julienned in thin strips or thinly sliced into rounds
3 tablespoons rice wine vinegar
1 teaspoon granulated sugar
1/4 teaspoon kosher salt
2 tablespoons of cilantro leaves
Honey Lime Sriracha Sauce
1/2 cup mayonnaise
1 teaspoon sriracha
1 teaspoon honey
1 teaspoon lime zest
1 teaspoon soy sauce
Preheat your oven to 350 degrees.
Then in a medium sized bowl mix together your ground pork, soy sauce, worcestershire, garlic and green onions. Then scoop out evenly sized meat balls. I used a 2 tablespoon sized cookie scoop which made the job easy.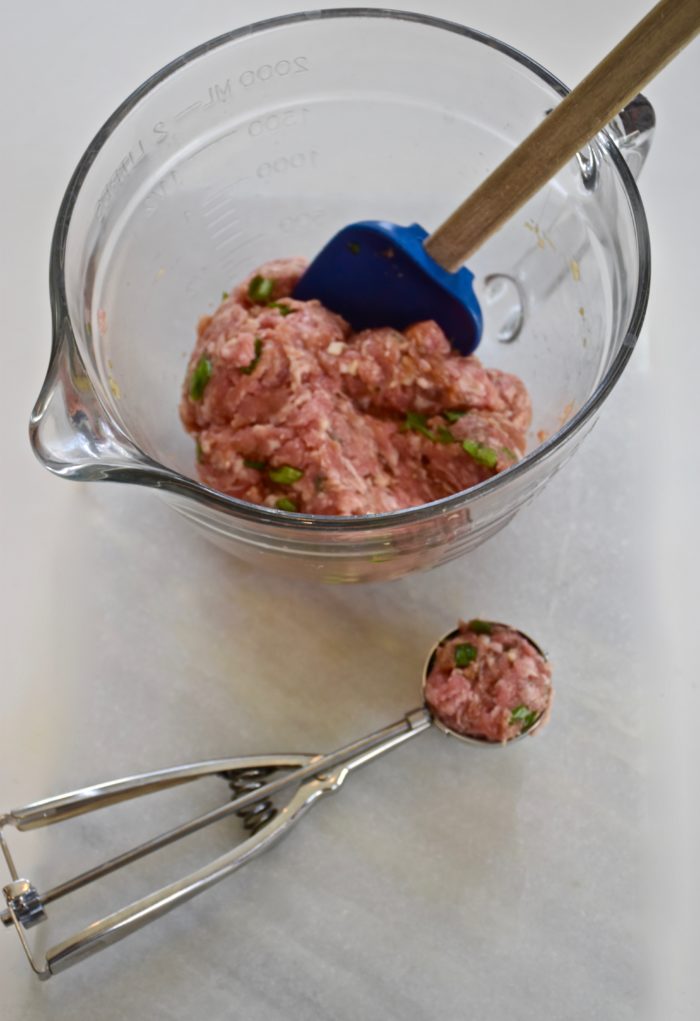 Then place your meat balls on a cookie sheet lined with parchment paper. The parchment paper will keep your meatballs from sticking to your pan and it makes clean up much easier.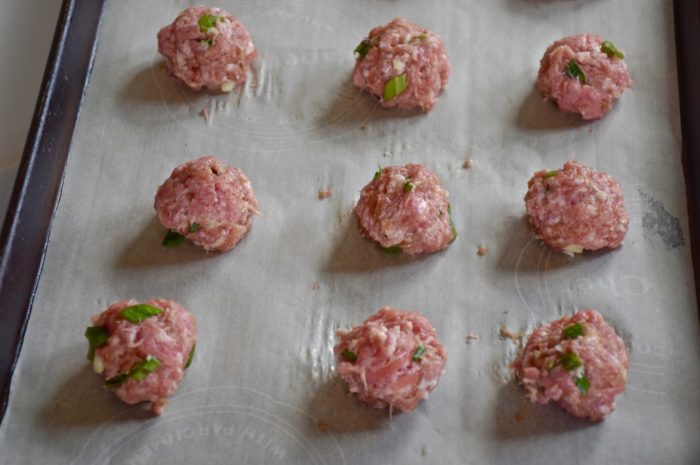 Then bake your meatballs for 30 minutes till they are golden brown.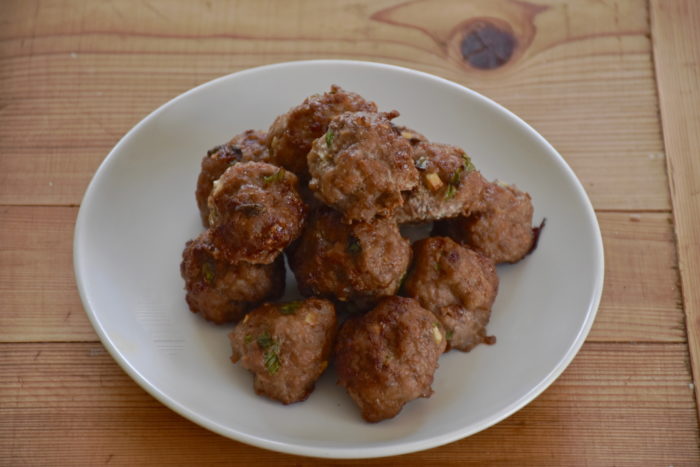 While your meatballs are cooking make your pickled carrots and cucumbers. I have a julienne peeler that makes prepping my veggies simple.You just run the peeler down your vegetable and it will cut thin julienned slices. I got my peeler from a Texas grocery store called Central Market, but I found the same peeler available on Amazon. I love this little kitchen gadget, but if you don't have one then don't let that stop you from enjoying this sandwich. You could use store bought matchstick carrots and just slice you cucumber into very thin rounds.
Then in a small bowl mix together your rice wine vinegar,sugar and salt. Add in your cucumber, carrot and cilantro and let your veggies sit and pickle in the vinegar while you make the sriracha sauce.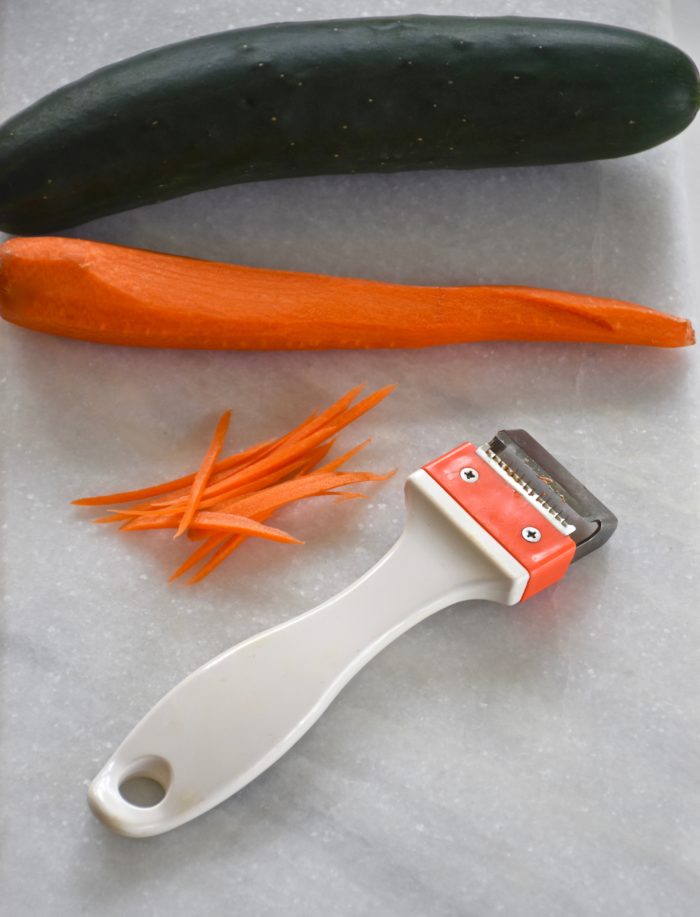 Then make your honey lime sriracha sauce. In a small bowl mix together your mayonnaise, sriracha, honey, lime zest, and soy sauce.
Now you are ready to assemble your sandwiches. You want to slice your baguette into a V-shaped sandwich (think hot dog bun) where you don't cut all the way trough the bread on one side. This makes a perfect pocket to hold your meatballs.  Then toast your bread and spread on your sriracha sauce in each side. Add on your meatballs and top it off with your pickled carrots and cucumbers and that's it.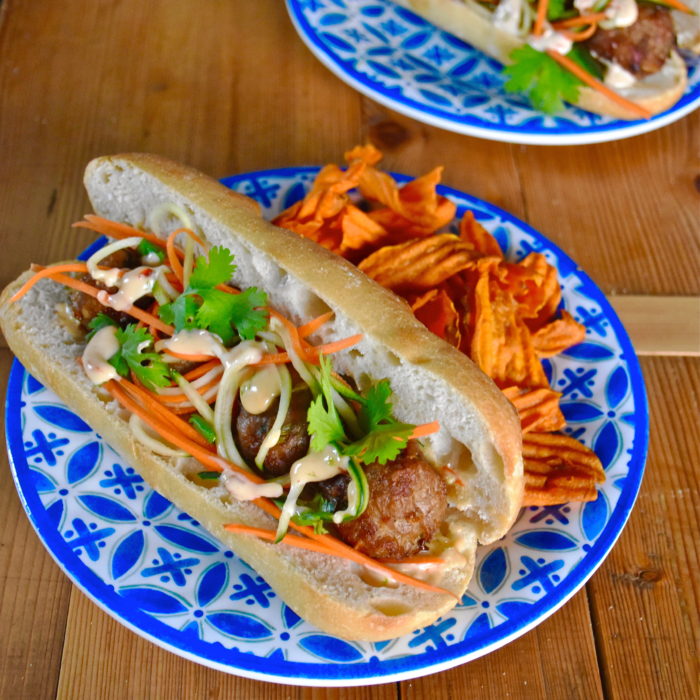 So if you are wondering what should I make for dinner tonight? Then try something different a banh mi meatball sandwich. Serve it with sweet potato chips, crispy oven fries or sliced vegetables and dip and you have a wonderful weeknight meal that is sure to bust any "what should we have for dinner?" rut.