I was driving down 7th street when I saw it leaned up against a big blue trash can. My heart skipped a beat as my mind swirled with the possibilities, but before I could stop to pick it up I had to drop my girls off at school. I quickly made my way back to see if it was still there, the large old picture had perhaps seen better days. The 1950's landscape photograph was peeling off, but the large solid frame was a find. So I decided it was coming home with me, the only trouble was how it was going to fit in the back of my car. I carefully began to slide the five foot long frame into my car. I questioned my own judment as I struggled to load the frame, because it was almost as tall as me, but I was determined. I said a little prayer that the tailgate would close and when it did I was grateful I didn't have far to go.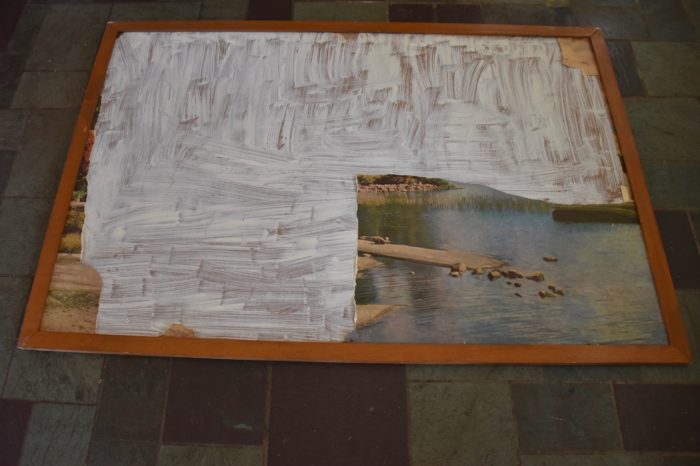 I have been working on a small bedroom remix for my five year old's new "big girl room" and I thought this frame would make a great custom pin board. My young budding artist loves to paint and draw. We enjoy her paintings, but recently the amount of artwork as become a bit overwhelming. So I though a new large cork board would be a great new piece to add over her bookshelf. This way she can create her own gallery of pictures to personalize her room.
I headed out to the craft store to get some supplies to transform this vintage lake house picture into something a bit more shabby chic. I found some cork tiles that I could cut down to fit my board, some heavy duty adhesive tape and white chalk paint. Then while I was getting all the supplies, I found these pretty metal flowers that I thought would add just the right vintage touch to the edges. Then I headed home to begin putting it all together.
A solid roll of cork that was big enough to cover my board was going to cost over $60, so I decided to use less expensive cork tiles. I used a craft knife to cut them to fit. Then I found some clear heavy duty adhesive tape made by Gorilla Glue that is designed to hold up to 15 pounds. The heavy duty tape worked well to hold up the small cork squares.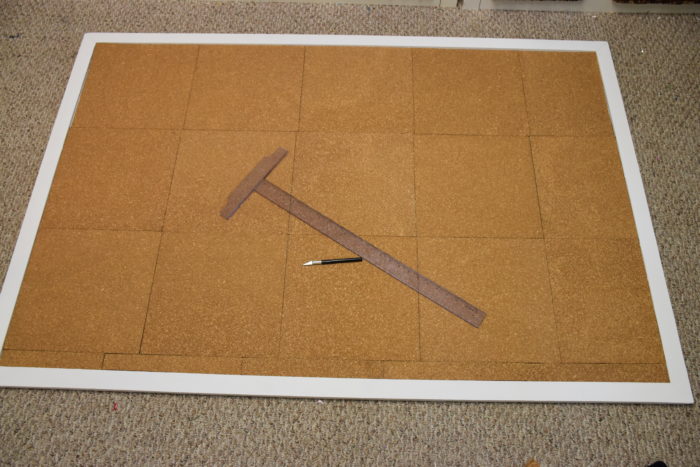 Admittedly the patchwork of cork tiles is not the best look on it's own, so I took some extra fabric I had and I used it to upholster my pin board.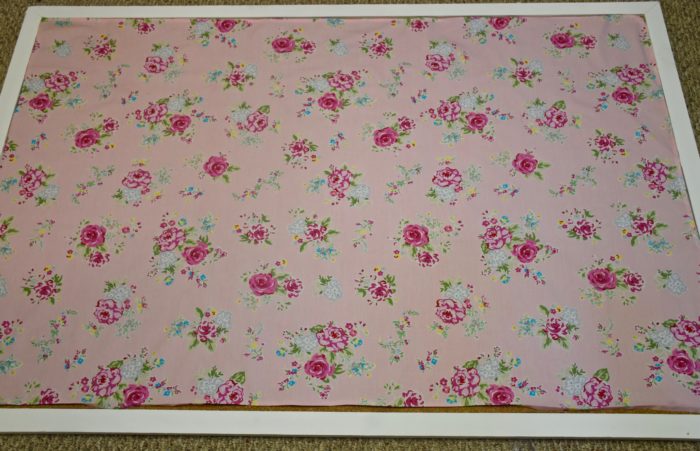 I used a staple gun to pull the fabric tight across my board. Then to cover the edges and staples I glued on some grosgrain ribbon trim.
Then for the final shabby chic touch I added some metal flowers to the corners.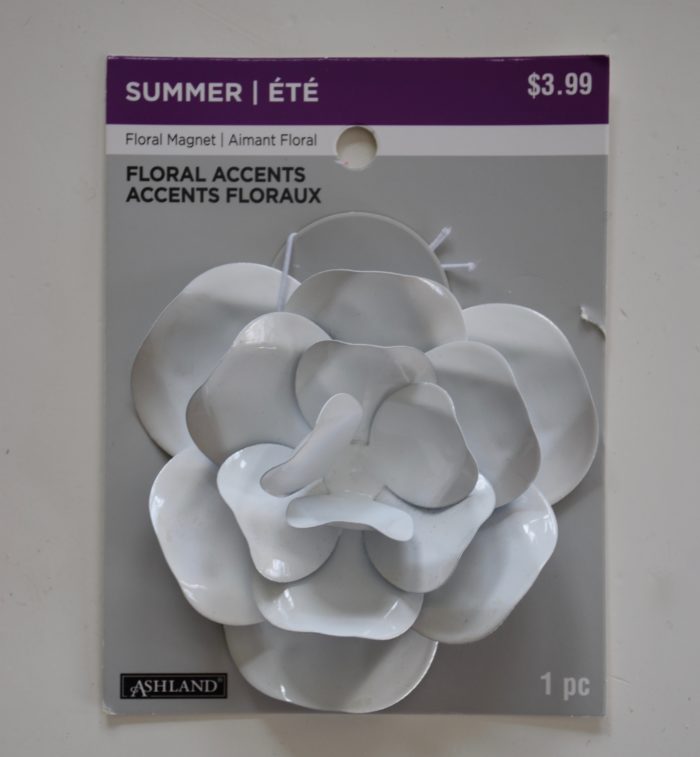 The flowers looked a bit too uniform for me so I took some pliers and bent the centers so they looked like roses. Then I spray painted the flowers since the back sides of the petals were not painted so they would be completely white.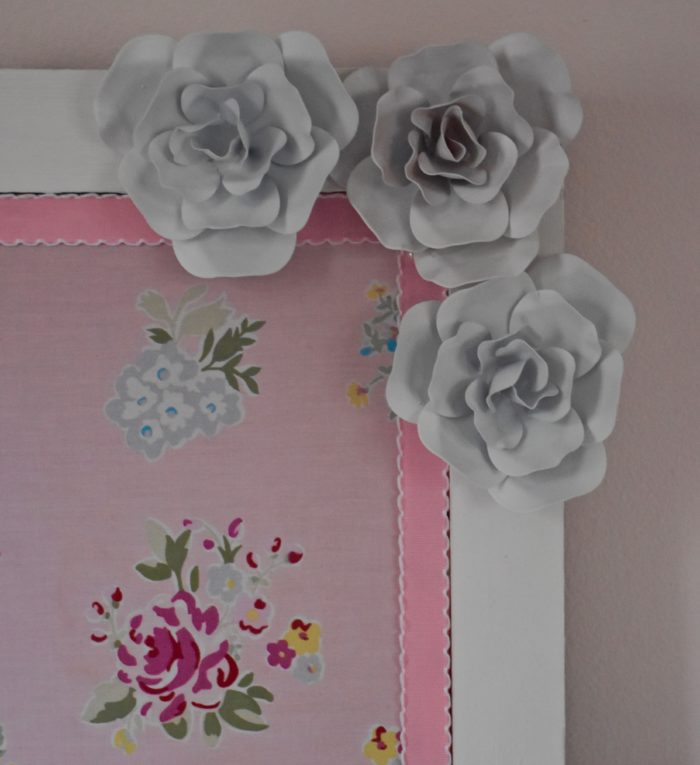 I love the finished look of the flowers and I think they are my daughter's favorite part of the whole project.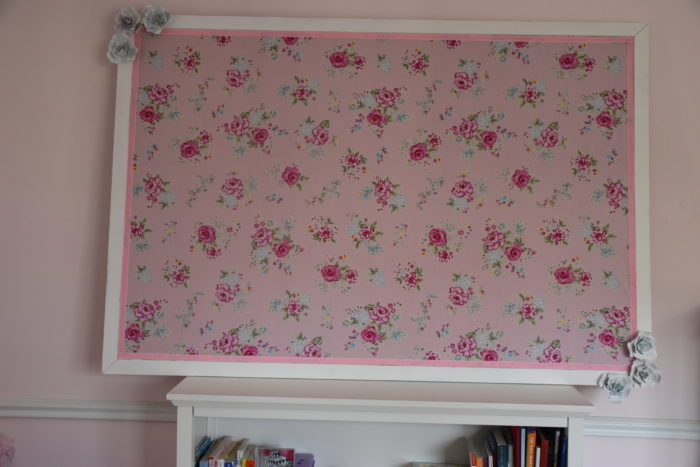 Here is the finished pin board that is ready to be hung on the wall. Now it's my daughter's turn to start personalizing it by adding her favorite pieces of art.
This old picture may have been a little lonely sitting out on that curb, but I am glad I rescued it. I spent $55 in supplies which included the chalk paint, cork and gorilla glue, but to get just a large cork board alone would have been at least twice as much. So it was definitely worth the little bit of time it took to transform this old picture into something new.
This project had a very girly feel to it since it was going in my young daughter's room, but a different fabric choice would give it a completely different feel and make this work in an office as well. It also could have been painted to become a chalkboard for a kitchen or covered in magnetic paper and then wallpapered for a message or photo board. The possibilities are endless.
Have you ever taken a chance on something you found?
Here are a few things I have learned when picking up roadside treasures:
It needs to spark some joy for you. Sometimes you can find something great but if you don't have a place for it then it may be meant for someone else.
Make sure you give it a good cleaning and let it sit in garage quarantine just to make sure there aren't and bugs or unexpected issues with your find.
Never underestimate the power of paint or things like silver or gold leafing. They can completely transform something that has good lines.
Be especially careful with upholstered pieces. They need to pass the smell test and stay away from it if it's wet. However, slipcovers or new upholstery can do amazing things.
If you get home and change your mind then the worst thing that could happen is it goes right back out to the curb
Finally, I find there is a little extra design freedom when you get something for free so take a chance because you have a great opportunity to create something custom and one of a kind.