If I were to have one of those trendy late 80s early 90s bumper stickers on my car, mine would definitely say "I break for pretty houses" or at least that is what my children would tell you. After my blog post on painted doors, there were voices coming from the back seat asking me not to take any more pictures. However, now that it's fall and Halloween decorations are out my girls have somehow had a change of heart. They have actually started pointing out houses they like and asking if we were going to stop so we could "please take a picture." Oh my, I have started something and I am not sure what to say about my three and four year old having old having so many opinions about home decor on the way to preschool. I am beginning to see that this is one of those wacky things that they are going to remember about growing up with me as their mother, the design blogger. So I have been listening to my daughters and the McCauley girls have been out again taking photos of some of our favorites fall decorations.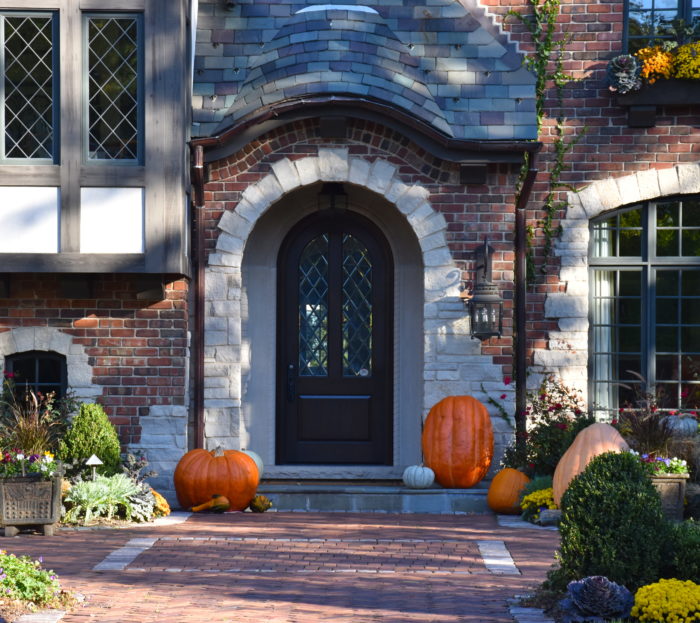 This English style Tudor home is absolutely gorgeous. The large fairy tale like pumpkins and gourds are set against flower beds filled with yellow and rust mums and purple kale. The details like the window box and the planters with the native grasses and pansies are just amazing.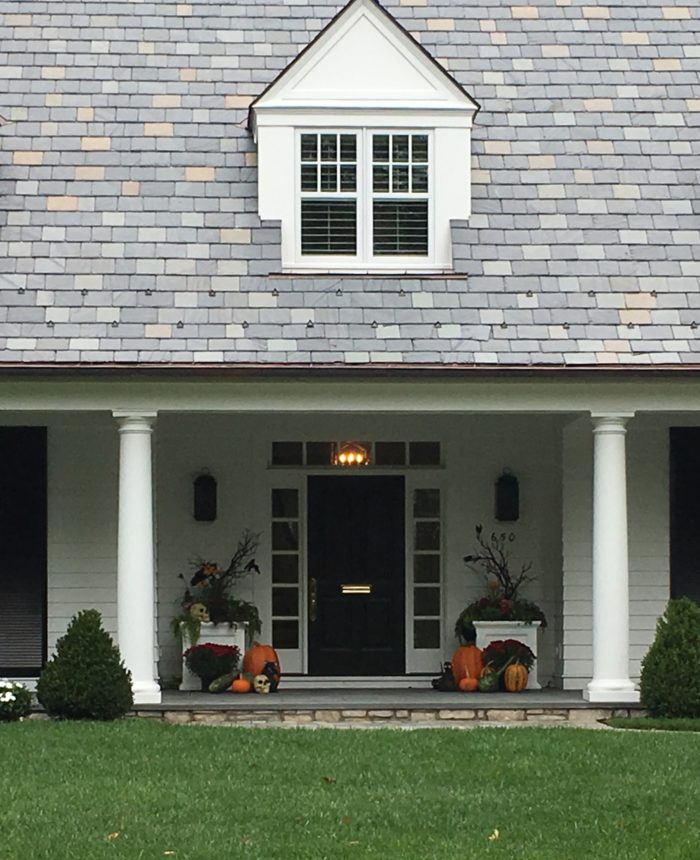 We pass this house on our way to school and I like how they incorporated the pumpkins with a little bit of Halloween fun. However, my favorite decoration is around the side of the house.
Look at this stone wall topped with little pie sized pumpkins. I just love the look of the bright orange against the crisp white siding.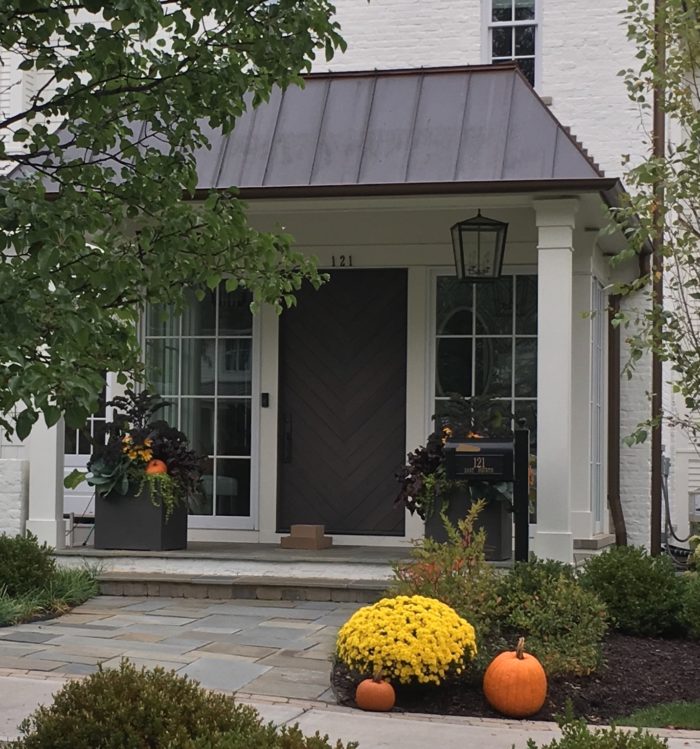 Here is a modern home that has these beautiful planter boxes. I like the contrast of the yellow and purple against the grey front door and I like detail of the orange pumpkins in the planter boxes.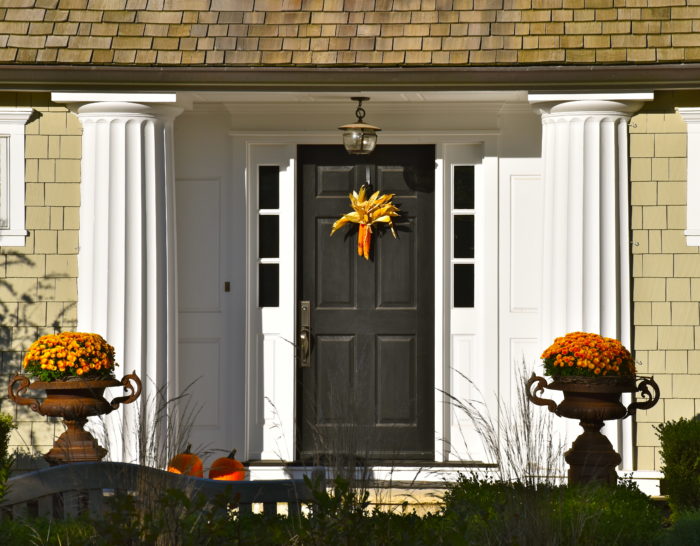 This house is one of my favorites. I love the look of the bundle of dried corn against the black door. It's an easy arrangement that you could make using dried corn that I have even seen at my local grocery store. The rusty orange mums in the black pots pull this simple but stylish look together.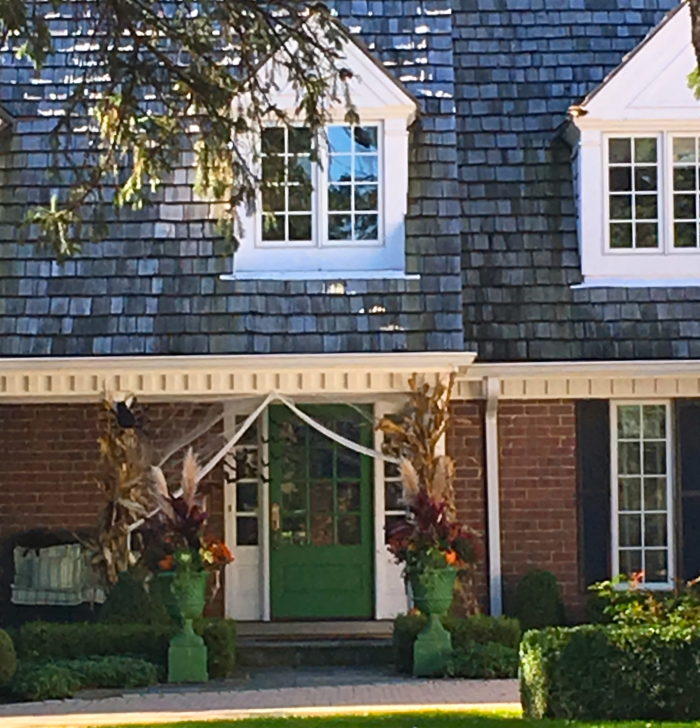 This beautiful green door makes a statement I love how the homeowners painted these planters to match. When you have a bold statement color like this kelly green I think it really pulls the look together when you have a pots or some other detail like a bench that repeats that color. I like the height of the corn stalks and the green kale with the orange pumpkins.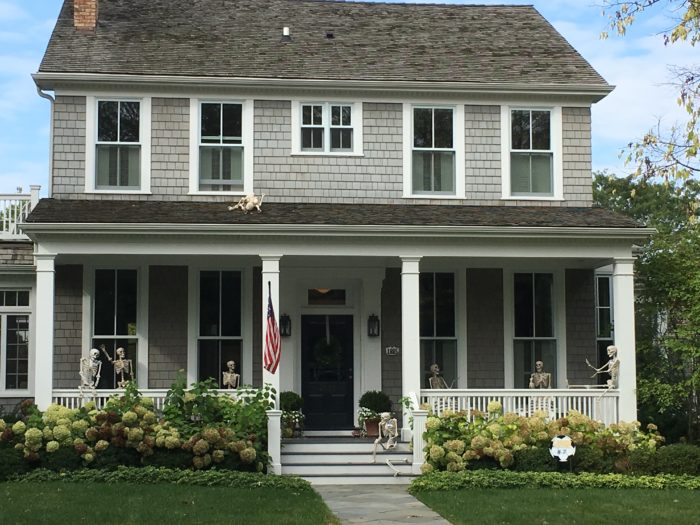 These homeowners have a sense of humor. I love the different posses that they have for their skeleton porch party.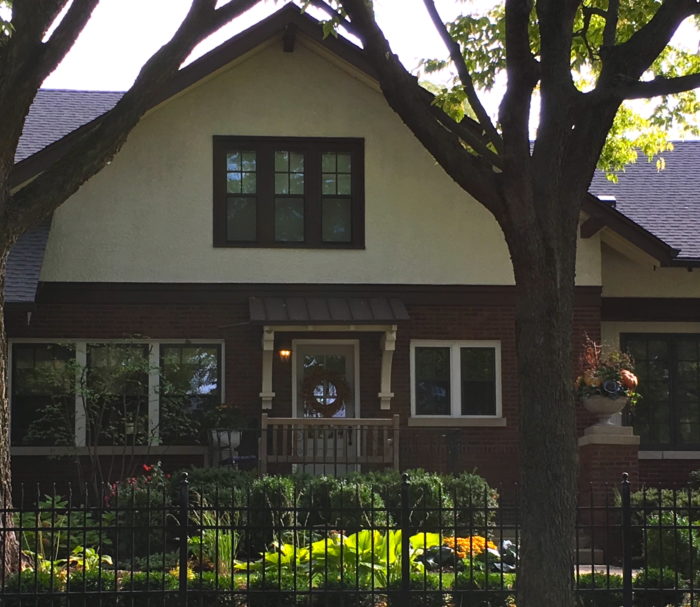 Finally to end this post, here is another beautiful craftsman style home. The garden surrounding this house is lovely. The door is trimmed with a bittersweet wreath and look at that planter with the pumpkins. So many pretty houses all dressed for the season. How fun it has been to stop and enjoy the view.