My husband is traditionally not a huge dessert person, but usually once a week he asks for something sweet. I love baking but even I am not up for a huge baking marathon every week. Sometimes it nice to make something simple. I was in the grocery store a couple of weeks ago when I spotted some Meyer lemons. If you haven't tried one before they have a sweeter slightly orange flavored taste. That's because they are a cross between a lemon and a mandarin orange. I happen to like their flavor in desserts, so I bought a small bag of them and decided bake some lemon bars. My lemon bars have a crisp shortbread cookie base with a sweet and creamy lemon top. I love lemon desserts, but I like mine to not be so sour that it I forget it's dessert.
The key to making lemon bars is to grease and line your pan well with parchment paper. Lemon bars can be notoriously sticky, but the parchment paper handles make them easy to lift from the pan and to cut. If you are feeling fancy then top them with a mint leaf, a berry and a lemon zest twirl and in no time you have a pretty dessert that looks more like a fancy pastry than a simple tray bake.
Meyer Lemon Shortbread Bars (Makes one 9x 13 inch pan) 
Shortbread Base
1 cup butter (2 sticks) cut into small pieces
1/2 cup granulated sugar
2 cups of flour
1/8 teaspoon of salt
Lemon Filling
4 eggs
1 can (14 oz) sweetened condenced milk
1/2 cup of fresh Meyer lemon juice (I have tested this recipe with standard lemons so if you can't find Meyer lemons then I promise it will still be good)
1 tablespoon of flour
1 teaspoon of lemon zest
1 teaspoon baking powder
Mint leaves, raspberries and powdered sugar for decorating the tops
Preheat your oven to 350 degrees.
First prepare your baking pan by greasing it lightly with butter flavored cooking spray then cut two long pieces of parchment paper to fit the width of the pan. Use one to line the pan vertically and fold the excess paper over the sides to make a handle. Then take a second piece and line your pan widthwise again folding the excess paper over the sides. The paper will stick to your sides because of the cooking spray. Then lightly spray your paper lined pan with cooking spray.
Mix together the flour, sugar and salt. Then either using a pastry blender, a food processor or a fork in a pinch blend your butter pieces into the flour mixture until the butter is cut in and the mixture looks like course sand or breadcrumbs.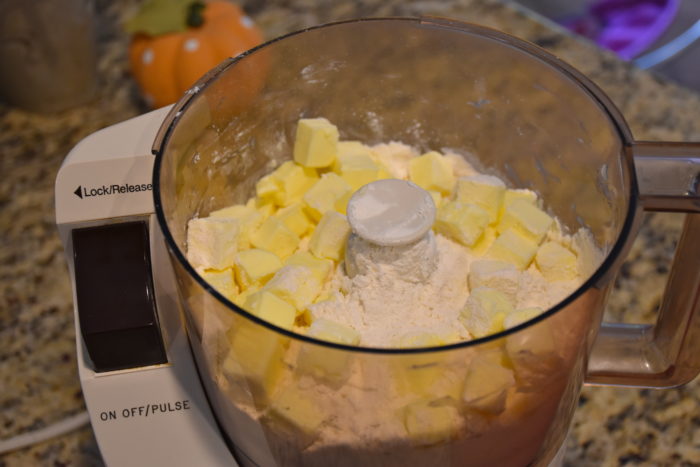 Then pour the the shortbread crumb mixture into you prepared pan and gently press it down evenly in your pan.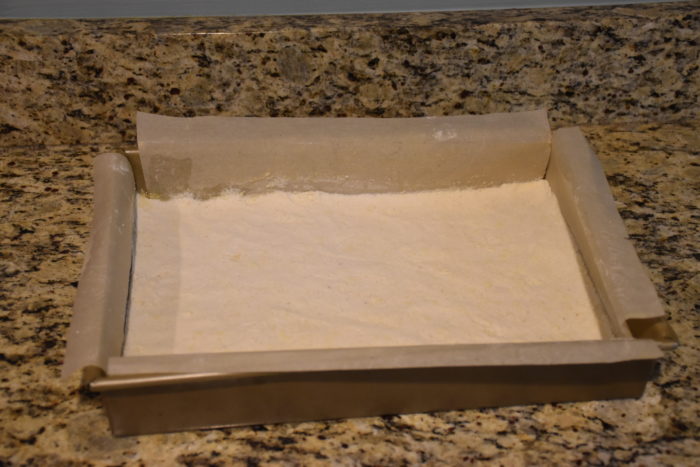 Bake your cookie crumb crust for 20 to 25 minutes. If you like a crispier cookie crust then bake it closer to 25 minutes and if you prefer your cookie a little softer then bake it for 20 minutes.
Then while your shortbread cookie base is cooking make your lemon topping. First using  a mixer whisk together the eggs and the sweeten condensed milk. Mix the egg mixture on high for approximately five minutes until your eggs turn a light yellow color and the mixture is light and a little bubbly. Then mix in your lemon juice, zest, flour and baking powder until they are fully incorporated.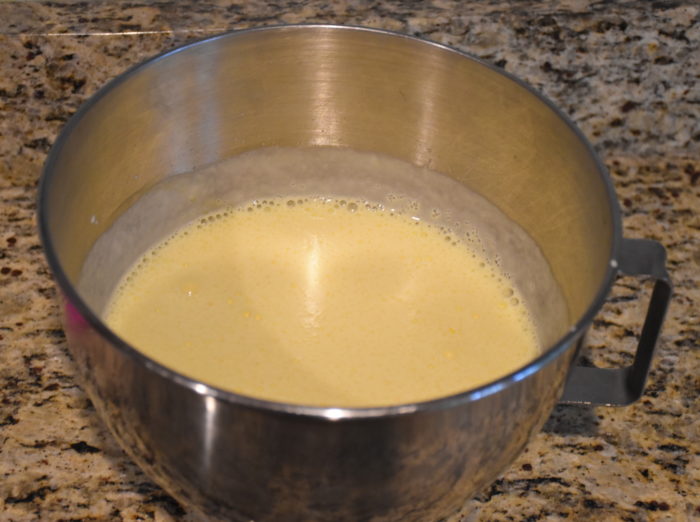 Then when your cookie base has baked and while it is straight out of the oven pour on your lemon mixture and then put the pan back in the oven for 20 to 25 minutes until the lemon bar are just beginning to turn slightly golden.
Then when your lemon bars are cooled you can lift them out of the pan with the parchment paper handles.  These creamy lemon bars are best kept in the fridge. When you are ready to serve them sprinkle the top with a little sifted powdered sugar. To do this I put a little powdered sugar in a metal strainer and then sprinkle it on top. I topped mine with a mint leaf, a curled piece of lemon zest and a single raspberry. I love the flavor combination of lemon and raspberry but it would also taste good with blackberries or blueberries. If I was serving this for guests I would drizzle a little melted raspberry jam on the plate and then place the lemon bar on top. Served with these little extra details they look more like a pretty pastry than a simple tray bake. So here is one of my favorites, a dessert for any occasion.