We were invited to an Octoberfest party at a friend's house and the hosts had everyone bring a German inspired side dish. I decided to sign up to bring German potato salad. I must confess I have made lots of different potato salads over the years, but I had never made German potato salad. So after some research and trying out a few recipes that had a little too much vinegar for my taste, I decided to create my own. Since German potato salad is meant to be served warm, I decided to make a change from all those recipes that called for boiled potatoes. Instead, I let my sheet pan and oven do all the hard work by roasting my potatoes. This saved me from having to cut lots of hot potatoes and the roasting adds its own flavor to the salad. This party dish came out so well that I think it is going to become a regular dish in our house. I love the idea of serving a warm potato salad this time of year. I can see making this salad as a side with grilled chicken sandwiches or if you want to go with an Octoberfest theme then with some sausage or brats. You could even turn it into a main course by adding in a bag of baby spinach and then topping it off with some grilled chicken. The colors and flavors of this salad make it a great party dish, but by using a sheet pan it becomes an easy and delicious weeknight meal.
Sheet Pan Potato Salad- Serves 4 to 6
1 (1.5 pound) bag of small red or yellow potatoes or a mix
1/2 teaspoon of Dijon mustard
2 tablespoons of oil
1/2 teaspoon kosher salt
1/4 teaspoon pepper
3 ribs of celery finely diced
1/2 red onion finely diced
4 green onions sliced
3 pieces of bacon cooked and crumbled
Apple Cider Mustard Vinaigrette
1/2 teaspoon Dijon mustard
3 tablespoons apple cider vinegar
1/4 cup canola oil
1/4 teaspoon kosher salt
1/8 teaspoon pepper
Preheat your oven to 375 degrees. First, I quartered my potatoes so they were a nice bite size. Next in a large mixing bowl whisk together your Dijon mustard, canola oil, salt and pepper. Then toss your potatoes in the bowl and make sure they are well coated in the mustard and oil. Then line your sheet pan with aluminum foil or parchment paper. Then take your potatoes and place then cut side down on the pan. Then roast your potatoes for 40 minutes till they are golden.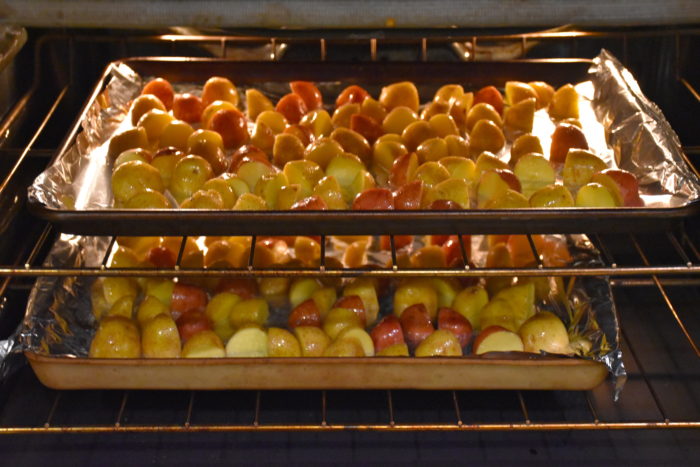 Here you can see my potatoes in the oven I made a double batch since I was bringing this dish to share with a larger crowd.
Then while your potatoes are roasting finely dice you celery, red onion and green onions.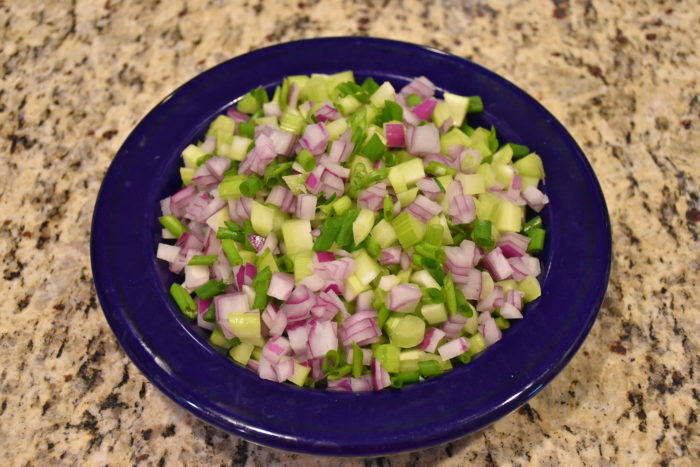 Then to make your dressing whisk together your Dijon mustard, apple cider vinegar, salt and pepper then drizzle in your oil while whisking it together. I used my mini food processor which made making the dressing easy.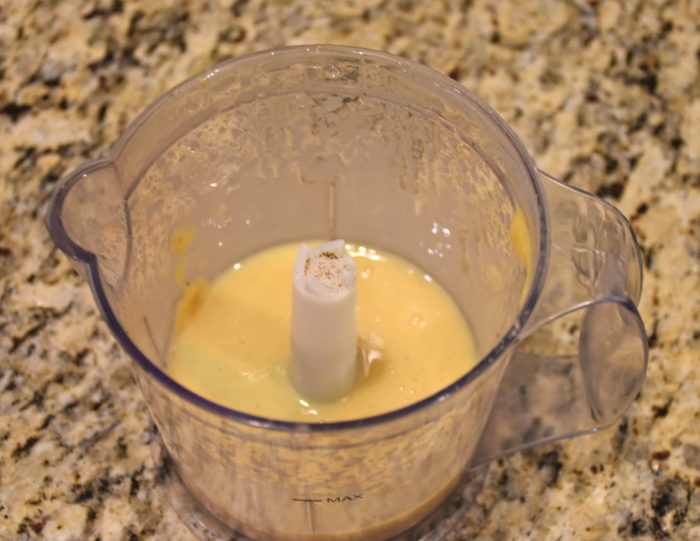 Then when your potatoes are roasted and still warm mix them together with your chopped onions, celery and bacon and coat them with the apple cider mustard vinaigrette.
This roasted potato salad recipe is a game changer for me. I think its going to be hard to go back to regular potato salad after this. After all, what salad isn't better with a little bacon and some roasted potatoes?
I am also happy to announce that some of my recipes are now featured on the Pioneer Woman's site called Tasty Kitchen. It's a great website with lots of recipes and Ree Drummond has cleverly got her site set up where you can easily print the recipe and even convert the ingredient measurements to the metric system if needed. I don't have all of my recipes on her site but I have gone back and placed links on the recipes that are. So if you you have time check it out and if you have made one of my recipes and liked it then help me and head over to her site and give it a good oven mitt rating.