Sometimes running out of an ingredient like cocoa powder makes room for the serendipity of something even better like chocolate fudge frosting. This week I was well into baking chocolate cupcakes with my daughters when I discovered that there wasn't enough cocoa powder left for my traditional chocolate buttercream. The thought of a last minute store run these days comes with so many other worries that I decided to check my baking stash. As luck would have it I found two chocolate bars. I improvised and added the melted the chocolate to my frosting, which created a delicious fudge like flavor. The results of my substitution were so good that it just might be my new go to chocolate frosting.
So I smiled when I read The Wall Street Journal's Saturday food column by Bee Wilson. She too had been improvising from her pantry trying to avoid an unexpected trip to the store. As she was reflecting on her own off the cuff cooking, she made an interesting observation about how these pandemic inspired substitutions just might change how people cook. Maybe she muses it will cause us to experiment more. Maybe we will all become slightly more adventurous cooks who add more of our own personality to the recipes we make. As I found this week, sometimes an unscripted substitution can inspire some surprisingly delicious results like outrageously good chocolate fudge cupcakes.
 Chocolate Fudge Cupcakes – Makes 16 standard sized cupcakes
8 tablespoons (1 stick) butter
1 cup water
1/2 cup canola oil
2 cups sugar
1/2 cup unsweetened cocoa powder
2 cups of flour
2 large eggs
1/2 cup buttermilk (Since I am talking about substitutions, if you don't have buttermilk then don't worry add 1/2 teaspoon of white vinegar to the milk and let it sit for a minute or two.)
2 teaspoons baking soda
1/4 TSP salt
2 teaspoons vanilla extract
Preheat to oven to 350 degrees. Prepare your cupcake pans by lining the cups with cupcake papers and lightly spraying the cups with cooking spray.
Then in a saucepan combine the butter, water and canola oil and set over medium heat until the butter is just melted.
Meanwhile in a large bowl of your mixer add together the sugar, cocoa and flour. Then pour the butter mixture into the sugar and flour mixture and beat until smooth. Whisk in the eggs one at a time then whisk in the buttermilk. Next add the baking soda, salt and vanilla all at once and mix until fully incorporated.
Finally fill the cupcake liners about three quarters of the way full. Use a large cookie  dough scoop to make filling the cups easier.
Bake the cupcakes for 20 minutes and let them cool before frosting them.
Fudge Frosting
3 oz semisweet dark chocolate (My favorite is Scharffen Berger chocolate)
3oz bittersweet dark chocolate
8 tablespoons (1 stick) unsalted butter, well softened
1/4 teaspoon kosher salt
6 cups powdered sugar
1/2 cup milk
2 teaspoons vanilla extract
First break your chocolate in small pieces and place them in medium sized microwave safe bowl. Heat your chocolate for one minute then stir. Then continue heating it at 30 second intervals stirring well in-between until the chocolate is fully melted and shiny. It takes 2 minutes total in my microwave, but microwave strength can vary so keep a close eye on it.
Then in the bowl of a stand mixer or in a large mixing bowl using a hand mixer beat your butter and salt until creamy about one minute. Add in the vanilla, milk and powdered sugar and beat on high speed until light and fluffy. Finally drizzle in the melted chocolate and beat on med high speed taking care to scrape the sides of the bowl a few times to make sure that the chocolate is fully incorporated.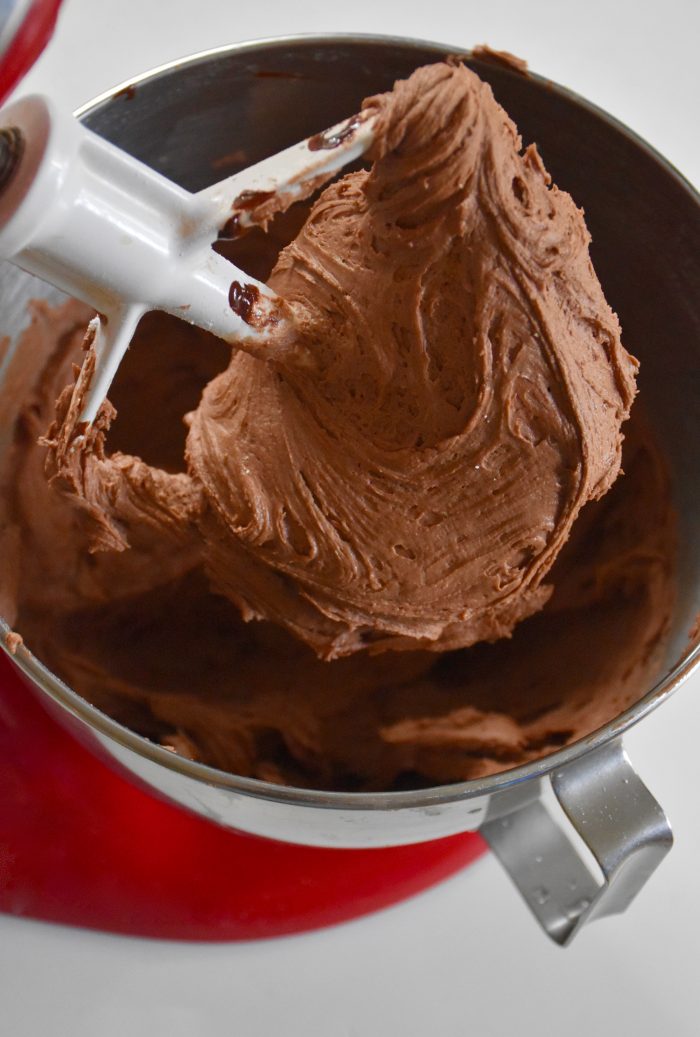 Finally using a pastry bag with a large star tip pipe a circle around the outside edge then create a second swirl in the center.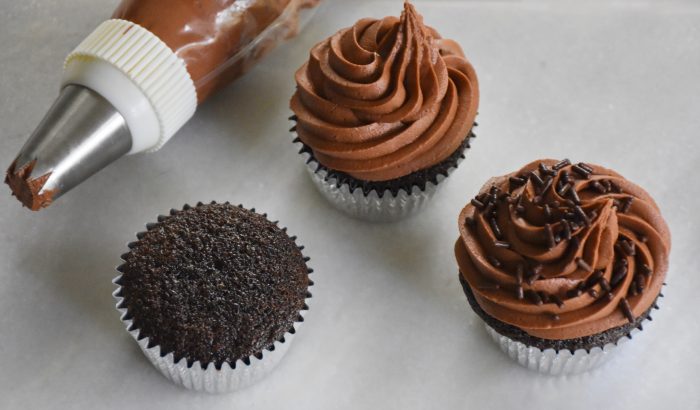 Now the fun part decorating them. Top them off with some chocolate sprinkles or for a festive touch add a mint sprig and a raspberry.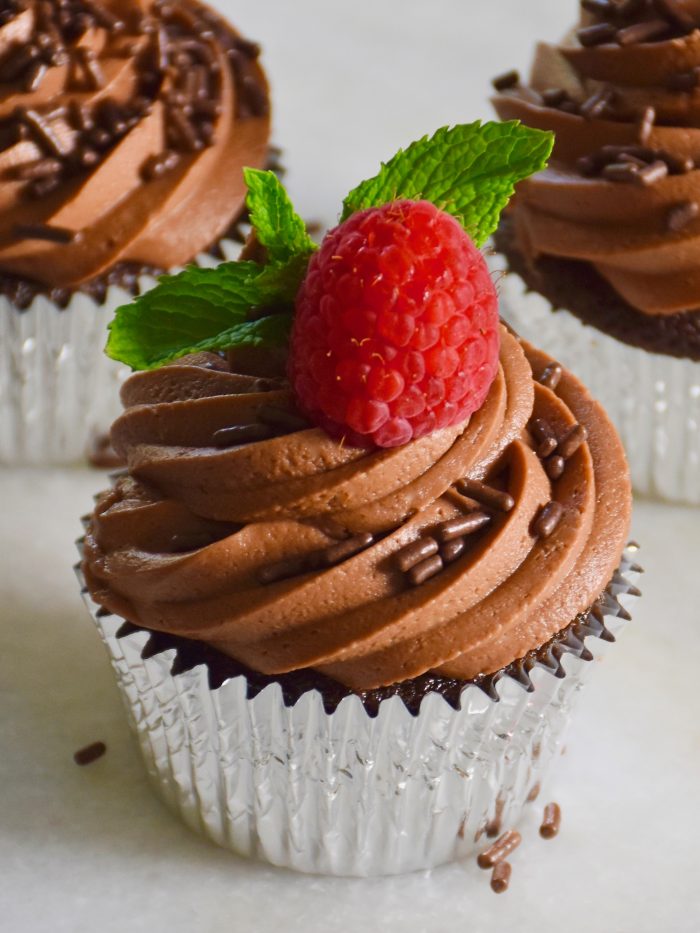 Over the years, I have found that the best kind of kitchen creativity is often inspired by necessity. These chocolate fudge cupcakes are so irresistibly good that they just might eclipse my old standby recipe. The cake is light and moist and the chocolate frosting melts in your mouth.
So have you found yourself cooking a little more off the cuff? I would love to hear how in these uncertain times perhaps cooking has changed for you? Cooking has always been a source of great comfort to me, especially in times of change. Because there is a certain soulfulness in creating and sharing something that is deeply delicious.