I have been fighting the late summer blahs. We've been staying safe and close to home, but as time goes on, I miss the all those small things that added a little spice to the everyday. I know I am not the only one. Maybe you are feeling it too?
I was surprised to read that even people with autobiographic memories, those who can recall what they ate for breakfast on a random Tuesday ten years ago, have found their memories of quarantine life a bit fuzzy. It turns out that our minds thrive with a little variety. So lately our family has been trying to create a little magic of our own.I have been reading the Harry Potter series to my girls. They have been outside on our brooms playing quidditch and turning sticks into magic wands.
I have also been trying to make dinner more of a destination or an adventure. Take out is good, but longing for the days of restaurant dining and travel I have been letting dinner take us places. This week I was inspired by some of my favorite Japanese steak houses. These wasabi beef rice bowls are topped with grilled steak, crisp veggies and a delicious wasabi sauce.
Wasabi Beef Rice Bowls- Serves 4
1 to 1½ pounds of flank steak
Flank steak marinade (recipe follows)
3 cups cooked white or brown jasmine rice
Sesame dressing (recipe follows below)
4 radishes, thinly sliced
1 medium cucumber, thinly sliced or julienned into thin matchsticks
3 green onions thinly sliced
Wasabi sauce (recipe follows)
1. First prepare the steak and marinade.
Using the tip of a sharp knife, lightly score the top of the steak diagonally in a crisscross diamond like pattern. This will allow the marinade to fully infuse the steak with flavor.
Flank Steak Marinade
3 tablespoons soy sauce
2 tablespoons rice vinegar
1 teaspoon Worcestershire sauce
1 clove garlic, grated
1 tablespoon canola or vegetable oil
1 teaspoon sesame oil
Whisk together the ingredients for the marinade. Place the flank steak in a large zip top bag and pour the marinade in. Seal the bag pressing any air out and let the steak marinate in the fridge for at least an hour, but it is especially good if you let it marinate all day or overnight.
2. Preheat the grill and cook the jasmine rice.
Heat your grill to a medium high heat. Then cook the jasmine rice following the package instructions. Place your steak on the grill to cook for 7 to 8 minutes a side for medium grilled steak. I like to cook mine to 140 degrees. Take the steak off the grill and allow it to rest on a plate for 5 to 10 minutes. Then once it has rested, slice the steak thinly on the diagonal.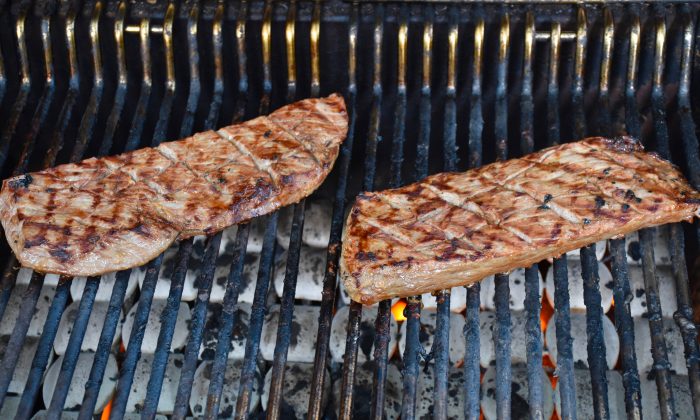 3. Prepare the sesame dressing for the rice and the wasabi sauce.
Sesame Rice Dressing
1/4 cup rice vinegar
1 teaspoon sugar
3 tablespoons canola or vegetable oil
2 tablespoons soy sauce
1 teaspoon sesame oil
Whisk together the rice vinegar and sugar until the sugar dissolves. Add in the soy sauce and oils. Then mix the sesame dressing into the cooked rice.
Wasabi Sauce
1/2 cup sour cream
2 tablespoons mayonaise
2 teaspoons Wasabi Sauce (my favorite brand is Kikkoman)
1 teaspoon soy sauce
1 to 2 tablespoons reserved steak juices
In a small bowl, mix together the sour cream, mayonnaise, wasabi and soy sauce along with approximately a tablespoon or two of the steak juices from your steak plate.
5. Assemble the rice bowls.
Finally, Place a cup of rice in each bowl and top it with the sliced steak, radishes, green onions and cucumbers. Then add generous dollop of the wasabi sauce.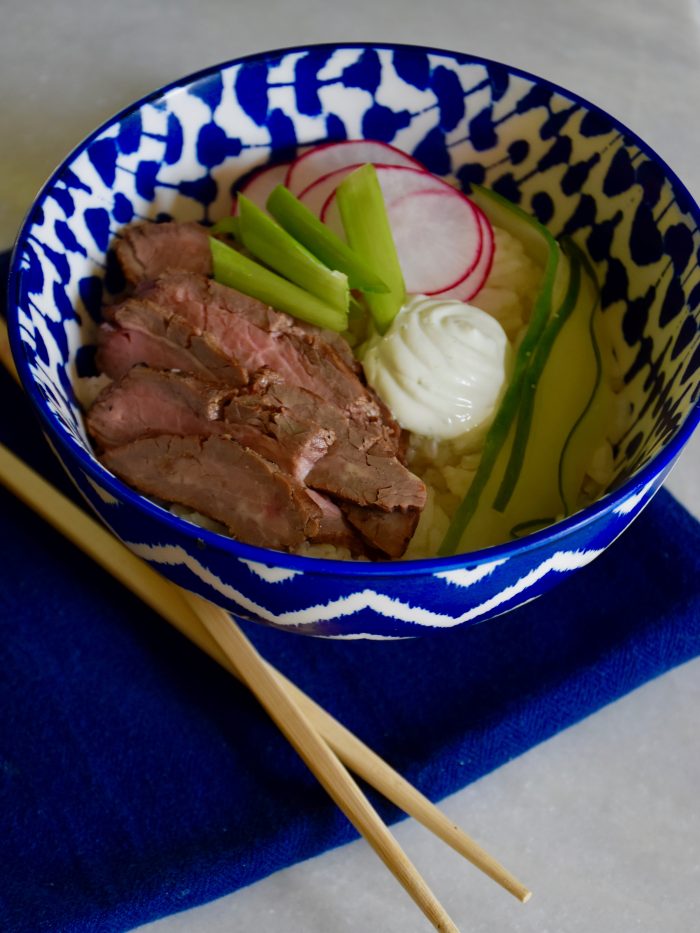 This wasabi beef rice bowl has layers of textures and tastes that make it a one bowl dinner favorite. So if you too have had a case of the 2020 summer blahs then add a little spice or wasabi to your menu.
Want other Maison McCauley destination dinner ideas?