Grilling is one of my favorite ways to cook because it brings everyone together. Head outside to grill and company follows. My husband, my girls and even the dog love to be apart of making dinner when grilling is involved.  The sizzle, the smoke and the smells are exciting. It makes dinner an event that everyone gets to experience and be a part of. So I thought I would share a late summer meal where everything is cooked on the grill. These steak tacos with roasted corn salsa are a quick and flavorful dinner that our family loves.
Steak Tacos with Roasted Corn Salsa -Serves 4
1½ to 2 lbs thinly sliced strip steaks
1 tablespoon olive oil
Spice rub (recipe follows)
3 ears of corns
1 tablespoon butter
1 teaspoon kosher salt
2 green onions
1/4 cup cilantro, chopped
1 ripe avocado, chopped
1 medium tomato or 1 cup of cherry tomatoes, chopped
2 tablespoons fresh lime juice
½ teaspoon garlic powder
½ teaspoon kosher salt
12 flour or corn tortillas, warmed
Preheat the grill for direct medium high heat.
Steak Spice Rub
2 teaspoons garlic powder
2 teaspoons kosher salt
1 teaspoon cumin
1 teaspoon chili powder
1 teaspoon brown sugar
1/4 teaspoon pepper
Create the spice rub and season the steaks. Mix ingredients in a small cup or bowl. Rub the steaks with the olive oil. Then generously season the steaks with the spice rub on each side.
Prepare the corn for the grill.  Rub the corn ears with butter and then sprinkle them with 1 teaspoon of kosher salt.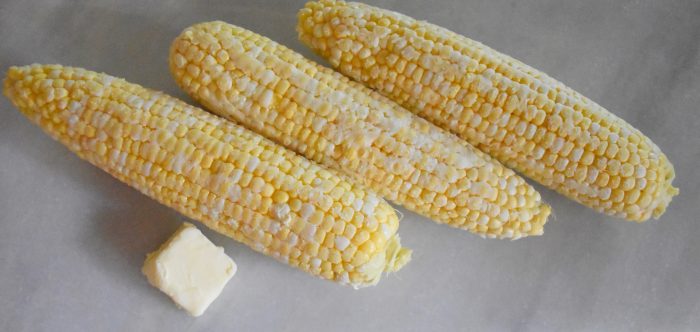 Next get the corn and steaks grilling. Place the corn ears on the grill first because they need to cook for 8 to 10 minutes. Rotate the ears of corn so they cook evenly and turn a bright yellow. Then add the steaks to the grill. Cook the steak for 3 to 4 minutes a side for medium doneness. Finally, open the grill and cook the green onions with the top open until just charred about 2 minutes. Let the steak rest for 5 minutes.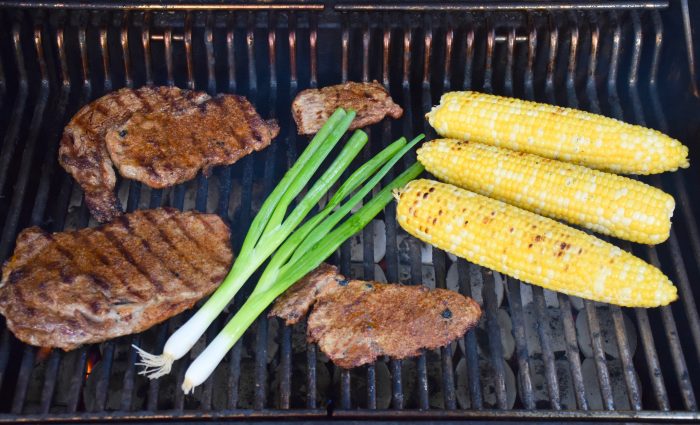 Prepare the corn salsa. Cut the corn kernels off the cob and slice the green onions thinly. Next in a medium sized bowl mix together the corn, green onions, avocados, tomatoes, cilantro, lime juice, kosher salt and garlic powder.
Finally, assemble the tacos. Slice the steak across the grain into thin strips. Place the steak in the warm tortillas and top them with the roasted corn salsa. Add a side of black beans and dinner is served.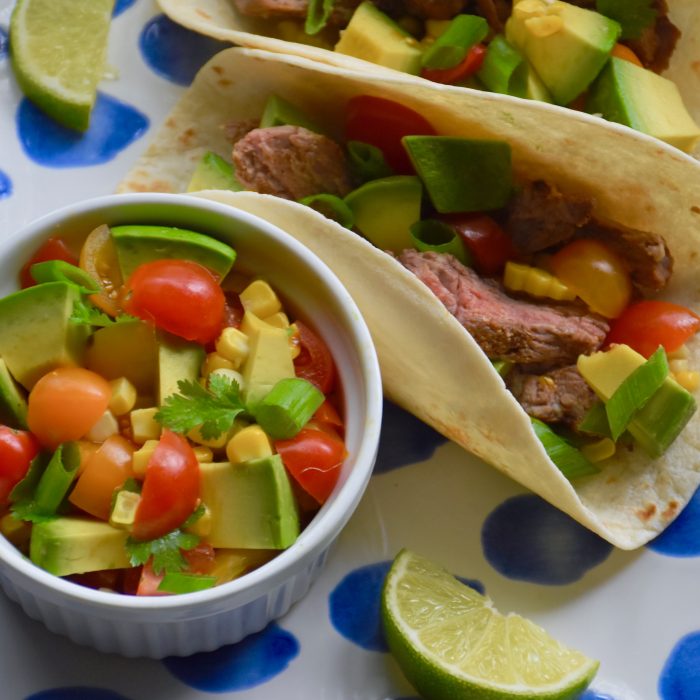 So fire up the grill and make cooking dinner fun! These steak tacos with roasted corn salsa are filled with the fresh delicious flavors of summer.