Salmon is full of flavor and it makes a wonderful meal because it cooks so quickly. So for my second recipe in my series on weeknight dinners, I am serving up a panko and herb crusted salmon with a French twist. The salmon is covered in a Dijon mustard and sour cream base. I like the touch of heat from the mustard, but a little sour cream adds a lighter tangy taste that you find in French recipes for creme fraiche baked fish. Then I layered on more flavor and texture by adding garlic butter and herb seasoned bread crumbs. I love adding Herbs de Provence to flavor fish. It is a mix of chervil, basil, rosemary, tarragon, thyme, lavender and marjoram and it complements the Dijon and fish perfectly.
Panko and Herb Crusted Salmon – Serves 4
1 to 1 1/4 pounds of fresh salmon cut into 4 portions
1 cup panko breadcrumbs
3 tablespoons of butter
1/4 teaspoon fresh garlic either pressed or grated on a microplane (about 1 clove)
1 teaspoon sea salt
1/1/2 teaspoons Herbs de Provence (a spice blend you can find at most grocery stores)
1 tablespoon Dijon mustard
1 tablespoon sour cream
l lemon for a lemon slice garnish (optional)
1/4 cup fresh flat leaf parsley minced (optional)
First preheat your oven to 375 degrees.
Next in a medium-sized skillet melt your butter and add in your grated or pressed garlic. Sauté your garlic for about a minute using a spoon or rubber spatula to break it up and evenly stir it into your butter. Then add in 1 cup of panko bread crumbs. These Japanese styled bread crumbs have a large irregular texture, which means they stay crispy when baked, but the trick to getting a great golden color when adding them to fish is to sauté them in a little butter before you bake them.
Once you add your bread crumbs in stir them well to coat them in the garlic butter then add in your herbs de Provence and sea salt and toast them just slightly for about 2 minutes till they just ever so slightly pick up a bit of color.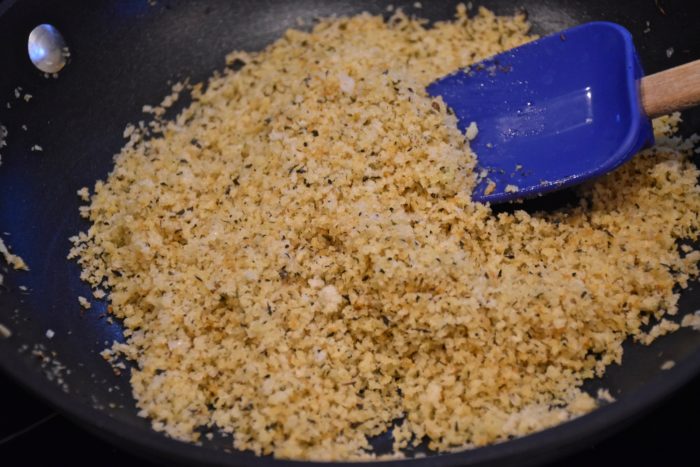 Then in a small bowl or cup mix together your Dijon mustard and sour cream. Cover the tops and sides of your fish portions with mustard mixture keeping the skin side down. Then once they are covered in the mustard mixture take your bread crumbs and sprinkle and press the seasoned crumbs onto the top and sides of the fish.
Then take your salmon portions and place them on a baking sheet lined with parchment paper or foil.
Bake your fish on the center rack so the bread crumbs stay golden. My family likes baked fish to be slightly firm and just baked through which for salmon, that is 1 1/2 inches thick, is about 20 minutes. If you like your fish to be slightly rare and pink in the center then adjust your cooking time to 12 to 15 minutes depending on the thickness of your fish. Then once baked you can sprinkle on some minced parsley and serve with a twist of lemon.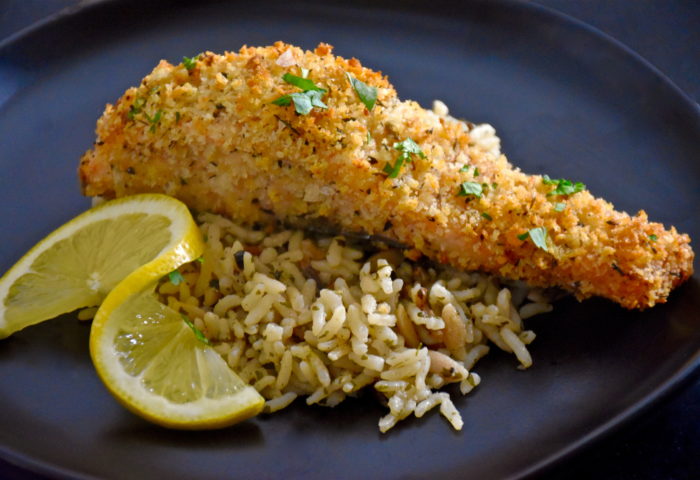 While you fish is cooking you can make a quick cooking side of wild rice (Uncle Ben's happens to be my favorite).  Then add in a green vegetable like my roasted green beans and shallots which can cook on the top rack of your oven at the same temperature and time or try a salad like my pear and cranberry salad. There you have it a quick cooking weeknight meal that is healthy and full of flavor. Salmon's smooth and lighter taste makes it a favorite with my daughters and the French flavors keep this dish delicious. Bon appetit!