Sometimes I daydream about ingredients and these cookies were something I had been dreaming about for a little while. I wanted to use a pretty poured fondant icing, like you use on petit fours, but I wanted it to be simpler. Something that would be much easier to make and share, so then cookies came to mind. However, not any cookie would do. I needed something that would pair well with this sweet icing.  So then shortbread cookies came to mind because they are light, buttery and flakey, but not too sweet. So I set out researching shortbread recipes and then began to pen one of my own.
Then the moment of truth; it was time to get in the kitchen and bake. Sometimes it can take a few rounds before I get everything just right, but these cookies were as amazing as I had imagined. The shortbread was divinely crisp and the pretty pink frosting set beautifully. My girls were in the kitchen with me as we were baking these and they squealed with delight over the pink frosting. They instantly loved them too. Sprinkles were flying everywhere and we were having fun together. They are quick to decorate and you don't need a pastry bag or any special frosting skills. This poured fondant icing was easy to spread and it creates a beautiful shiny finish that will make you feel like a frosting genius. So as Valentine's Day nears I thought I would take a quick break from weeknight meals to share this now favorite cookie recipe.
Shortbread Sweeties– Makes approximately 36 three inch heart cookies
2 1/4 cups flour
1/2 cup sugar
1/4 teaspoon kosher salt
1 cup (2 sticks) butter, at room temperature for at least 1 hour
1 teaspoons vanilla extract
Poured Fondant Icing
3 1/2 cups powdered sugar
1/4 cup plus 1 tablespoon water
1 teaspoon vanilla extract
2 tablespoons corn syrup
2 drops gel food coloring
Sprinkles or colored sanding sugar
First preheat your oven to 375 degrees.
In the large bowl of you mixer combine your flour, sugar and salt. Then cut your butter into small pieces, like you would for pie dough or biscuits. Then add your butter pieces  into your flour mixture and blend on low to start so the flour doesn't come spilling out.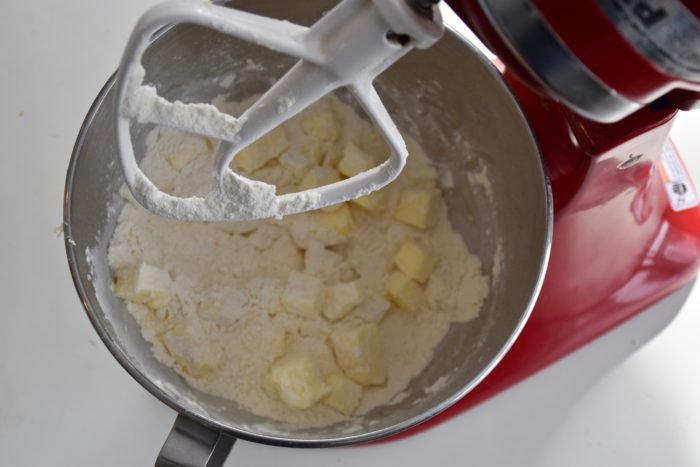 Then as your butter begins to get cut in your flour increase your mixer speed to medium and add in your vanilla. Continue mixing your dough until it just comes together.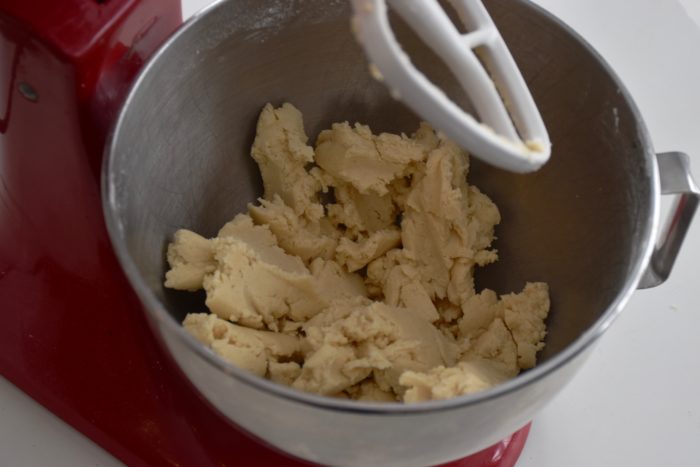 Now roll your dough out on a floured silicone baking mat or use a lightly floured piece of parchment paper. I rolled mine out to 1/4 inch thickness and cut them into three inch heart shapes.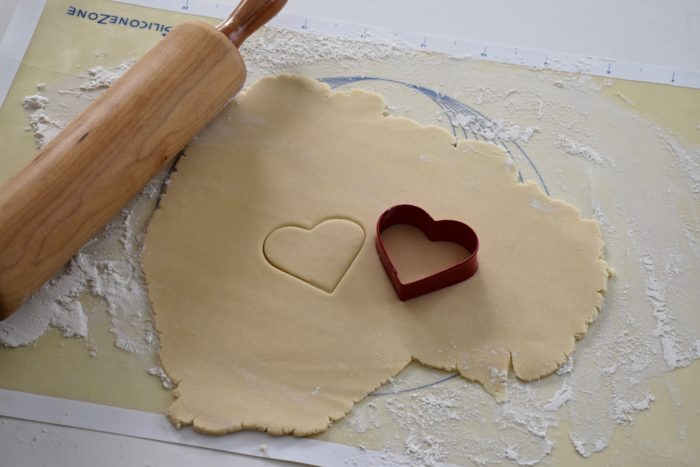 Then I placed them on my baking pans, which I lined with parchment paper. These cookies are flakey and slightly delicate so the parchment paper makes them very easy to handle. It will keep them from sticking to your pan and make them easy to lift up to cool. Bake your cookies for 8 to 10 minutes until the edges begin to turn golden.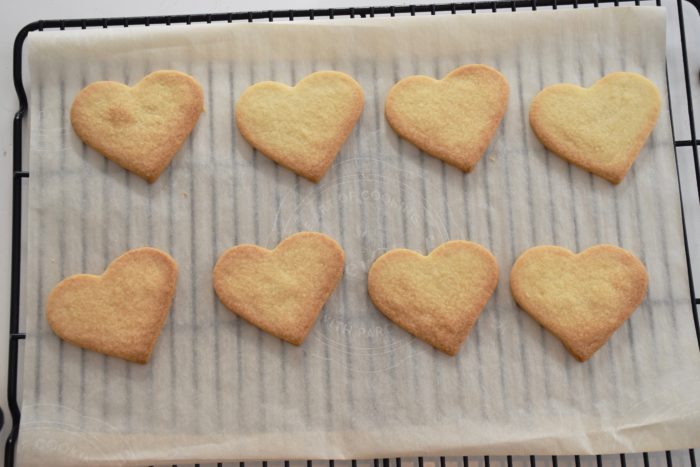 Then once your cookies are cool it is time to make your frosting. In a medium sized sauce pan combine your powdered sugar, water, corn syrup and vanilla. Heat them over medium low heat whisking the sugar mixture until it melts and comes together. Then remove your frosting from the heat. Next add in your food coloring. I find it't easier to control the color if you take a few tablespoons of the white icing out and place them in a small bowl. Then add a drop or two of your desired food coloring.  Once you get this concentrated color add a little of that concentrated icing back to your main mixture until you get the shade you want. Gel food coloring is wonderful but it's very concentrated so I find it easier to see the true color if I mix it into icings this way.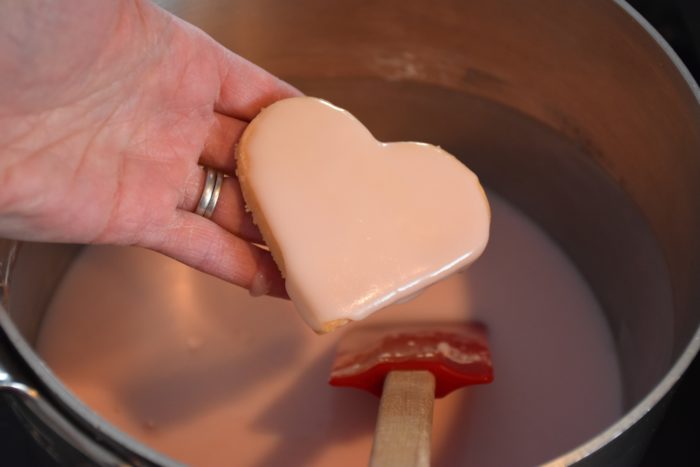 Then once you get your icing mixed it's time to frost your cookies. Take your cookie and hold it over your pan and spoon a little icing on top. Then tilt your cookie slightly to allow the icing to evenly cover the top. Once it is covered well the take the edge of a rubber spatula or table knife and push any drips or excess icing off the sides for a smooth finish.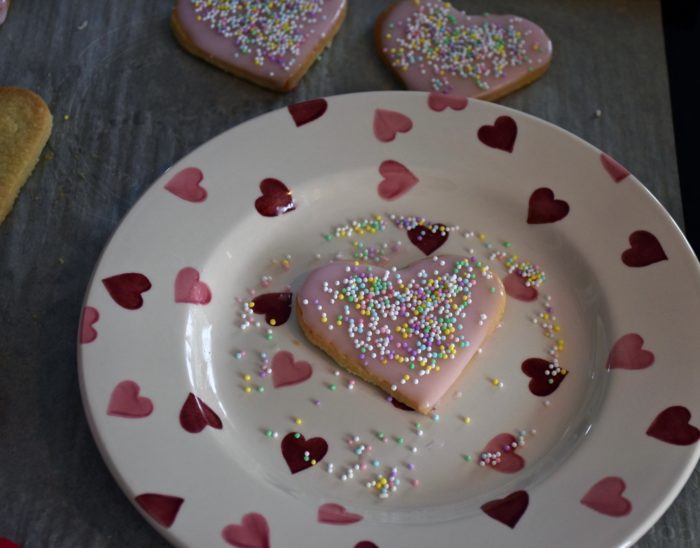 Then immediately add your sprinkles or sanding sugar on top. If you wait then the icing will set and the sprinkles won't stick. So frost and sprinkle one cookie at a time. Stir your icing from time to time and if it starts to cool in the pan you can heat it slightly on low. I used sprinkles on some and hot pink sanding sugar on others. So get creative with your own decorations. The icing will cool and set on your cookies in about 20 to 30 minutes. Once they are set you can stack them and they keep well at room temperature, which makes them great for sharing.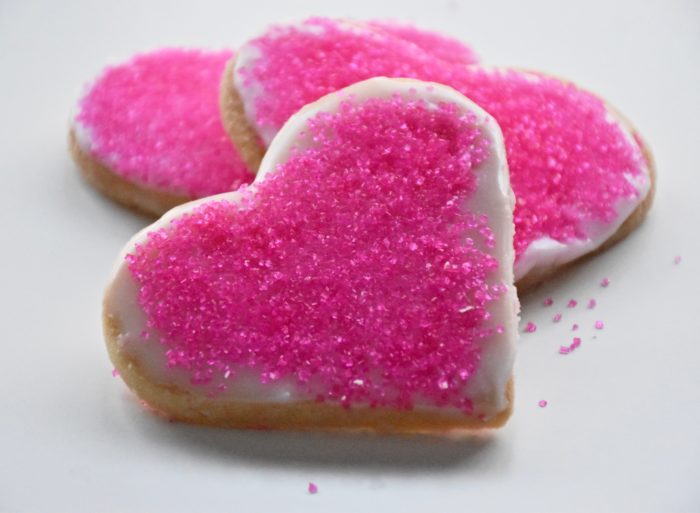 These dreamy cookies are so delicious that they didn't last long in our house. The flakey shortbread will melt in your mouth. So if you are looking for something fun to bake this Valentine's Day these cookies would be wonderful.