Dinner is more than a meal in our house. It's a moment to slow down and connect. It also happens to be my favorite time of the day. Gathered around our little cherry red kitchen dinette set we have shared some amazing tales and meals. Some of my most loved dinners are not always fancy, but they are delicious. So to start off the new year I thought I would share a new series of our family's favorite weeknight dinner recipes.
I try to plan my meals for the week, but sometimes when I get a little "what's for dinner?" mind block I start asking for suggestions. My husband's request is usually chicken piccata. My version of this classic dish has a twist with a crispy parmesan crust. It's a quick cooking meal that even my little picky eaters like.
Parmesan Crusted Chicken Piccata – Serves 4 to 6
4 to 6 thinly sliced chicken breast cutlets (I buy mine pre-sliced which saves time and I happen to like the Purdue brand)
1 1/2 cups all-purpose flour, divided
1/2 teaspoon salt
1/4 teaspoon pepper
1/2 cup finely grated fresh parmesan cheese
2 eggs
1/2 cup milk
4 tablespoons olive oil, divided
4 tablespoons butter, divided
Lemon Wine Sauce
1 cup white wine (I like to use a chardonnay)
1/4 cup lemon juice (about 2 lemons squeezed)
3 tablespoons butter
2 tablespoons capers
1/4 cup of flat leaf parsley finely chopped
lemon slices (optional)
First prepare your breading for your chicken in three separate bowls. In one shallow dish or bowl mixed together 1 cup of flour and the salt and pepper.
Then in a second dish whisk together your eggs and milk until well combined.
Then in your last dish mix together 1 cup of finely grated parmesan cheese and your remaining 1/2 cup of flour.
Now you are ready to bread your chicken. I like to use a double breading technique because it ensures that your chicken is going to be crispy and well coated.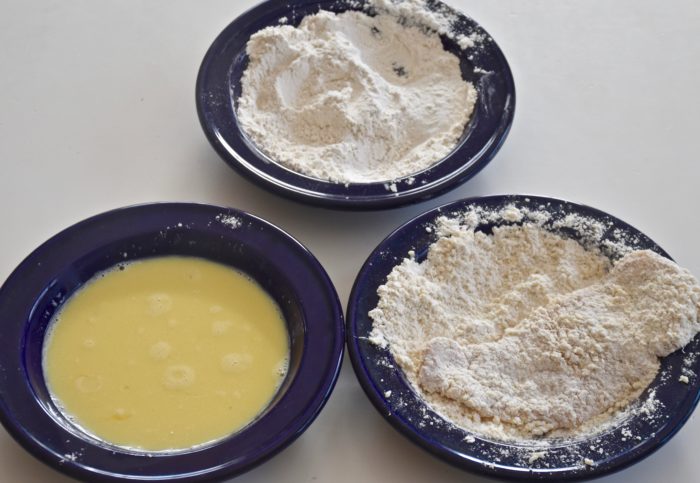 Next individually dip your thinly sliced chicken breasts in the flour, then in the egg mixture holding it up to let the excess drip off. Then pat your chicken in the final parmesan breading making sure it is well coated on both sides.
Then let your breaded cutlets rest about five before you pan fry them. This allows the breading to adhere better and makes for a crispier chicken.
In the meanwhile get a large skillet prepared by melting 2 tablespoons of butter with 2 tablespoons of olive oil on medium heat. When your butter is melted add your chicken in two batches and cook on medium to medium high heat for about 2 to 3 minutes on each side until your chicken is golden brown. Use a fork to turn your chicken because tongs can be tough on breading. Before you add your second batch of chicken add another 2 tablespoons of butter and olive oil to your pan.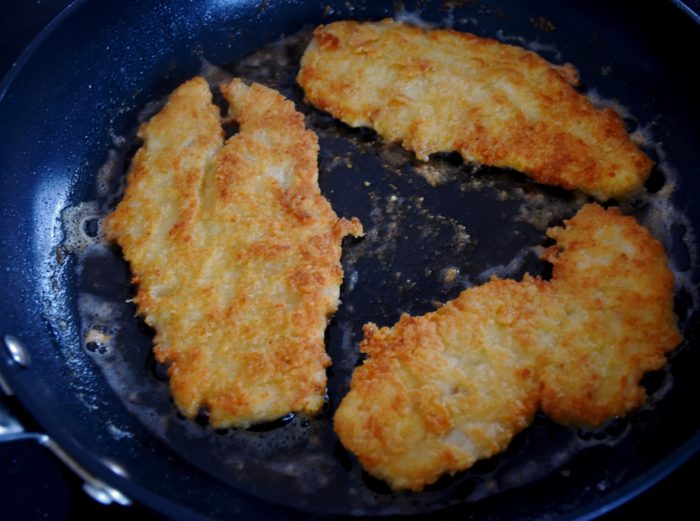 Then remove your chicken from the pan and add in your white wine. Let it reduce down by half and then add in your lemon juice. Next turn down your heat to medium low and whisk in your butter one tablespoon at a time. Finally stir in your capers and your sauce is done.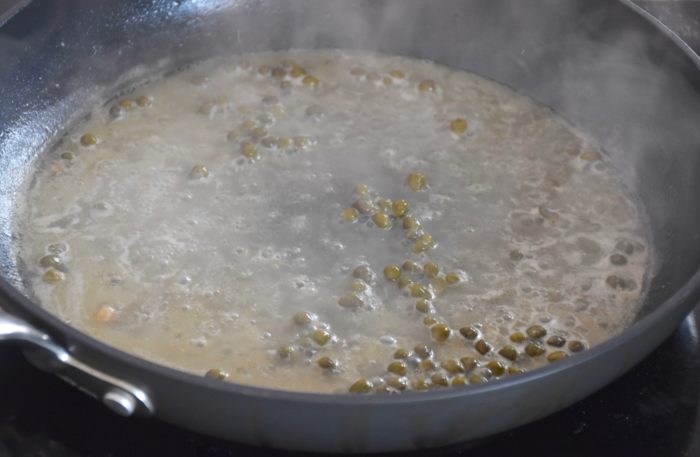 Now you are ready to serve your chicken simply spoon a generous amount of the lemon wine sauce onto each piece of chicken and sprinkle with chopped parsley. I like to serve my chicken piccata with a side of pasta and a side salad or some quick cooking parmesan roasted asparagus.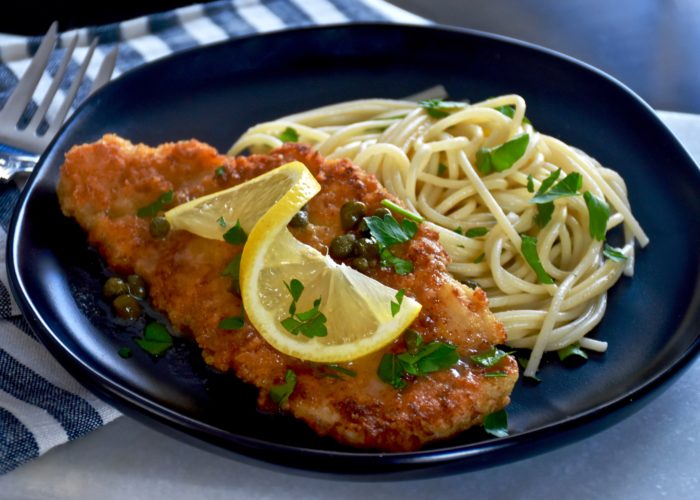 So if you too have ever had the what's for dinner mind freeze, then I have just the recipe for you. These chicken cutlets cook quickly so this whole meal takes less than thirty minutes to make. The crispy parmesan chicken piccata tastes like gourmet chicken nuggets, which is great because my girls will happily eat it. So now you know why this chicken piccata is such a favorite in our house.