Can you really be both a pie and cake person? Some people say you can't really love them both equally, but I think the answer to this great debate is cobbler. Especially this peach cobbler which has juicy sliced peaches baked into a tender buttery cake like batter with a crispy sugar crust. Serve it warm with ice cream and you will see it really is the best of both and to top it all off it much easier to make. It may not be as showy as a pie pastry or a frosted cake, but once you take a bite this recipe will win you over.
When I was in high school my family loved to go to Fredericksburg, Texas to get away for a long weekend or for spring break. It was about a four hour drive from my home and you could rent these cute little farm houses and we used to love to get outdoors and enjoy the hill country. One time we stayed at a place where the homeowners had an old book of family recipes. The baking recipes looked interesting so I wrote out many of them by hand. Once I tried making them I realized what I had found was wonderful. These recipes are some of my absolute favorites. Fredericksburg is known for its peach farms and one the recipes in that family's cookbook was this peach cobbler.
Fredericksburg Peach Cobbler
3 cups peeled sliced peaches (about 4 peaches)
6 tablespoons butter melted
3/4 cup flour
1 cup of sugar
1  1/2 teaspoon baking powder
pinch of salt
3/4 cup milk
1/2 cup sugar for sprinkling on top before you bake it
First preheat your oven to 350 degrees.
Next, get you peaches peeled. If your peaches are ripe it is easier. I used a vegetable peeler to pull up a piece of skin and then I pulled the skin off in long strips. If your peaches are a bit firmer you might need to use some boiling water to help you. Bring a saucepan filled halfway with water to a boil then with a small knife cut an X shape through the skin on the bottom of your peach. Then when the water is boiling add you peach and boil it for 30 or 45 seconds and then remove your peach from the water with a slotted spoon. The boiling water will help loosen the skin. You can begin to pull the skin off from the cuts you made on the bottom of the peach.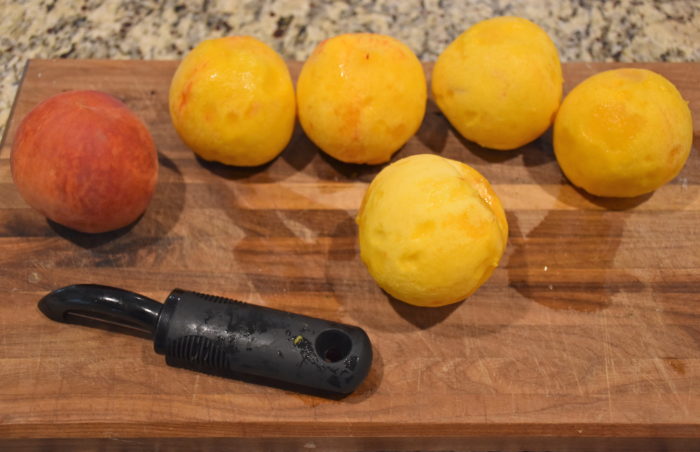 Once your peaches are peeled I slice them off the pit into even slices.
Next take your melted butter and pour it in the bottom of an 8×8 square baking pan.
Then in a medium sized bowl mix together your batter. Using a whisk mix together the flour sugar, baking powder, salt and milk. Then when the batter is well mixed pour it onto of the melted butter. You can spread out the batter a bit by using a rubber spatula, but DO NOT STIR. You are going to layer the ingredients on top of each other.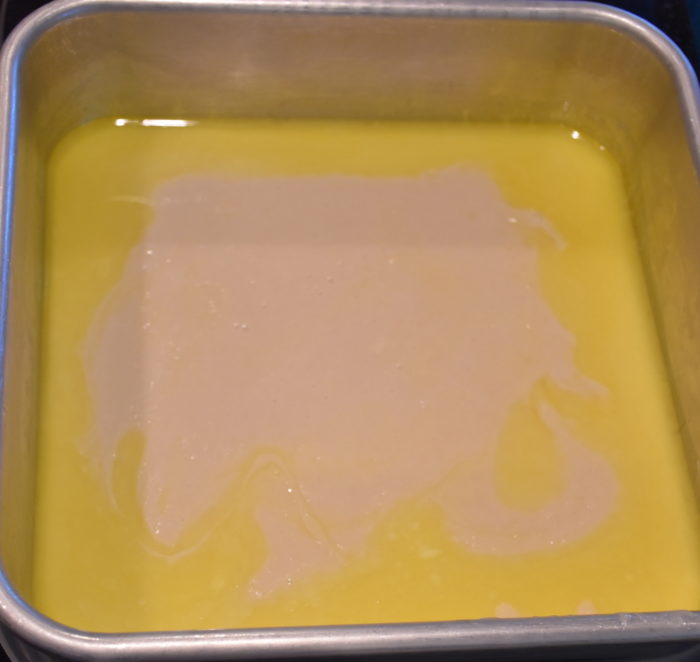 Then arrange or place your peaches evenly on top of the batter some of my peaches are a double layer think. Don't worry about exact placement because the batter will rise and cover the peaches as it bakes. Then before you put it in the oven evenly sprinkle the top with 1/2 cup of sugar.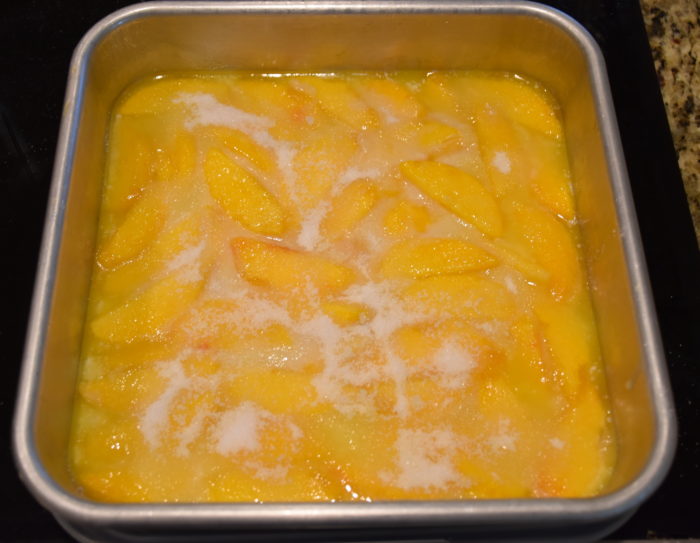 Then bake it in the oven for 40 to 45 minutes or until you see the top turn a golden brown. I like to serve mine warm with a scoop of vanilla ice cream.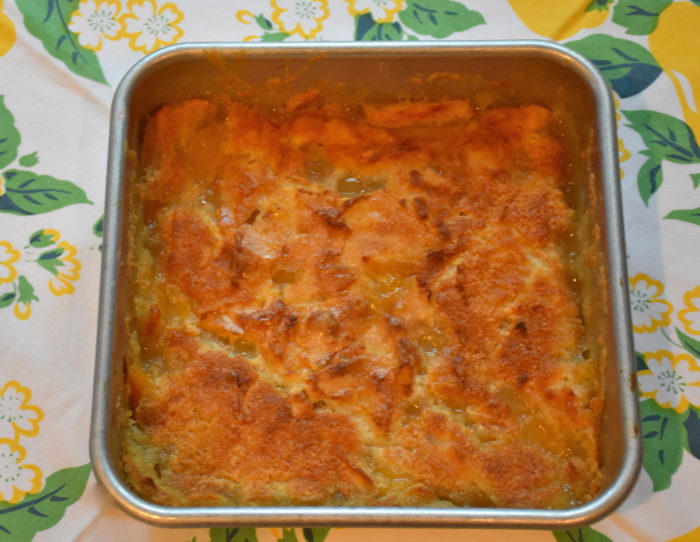 My recipe for Peach Cobbler is featured on The Pioneer Woman's site, Tasty Kitchen, click on the link above for a printer friendly recipe.