What I love about Italian cooking is how it can take a small number of ingredients and celebrate or bringing out the best in each one. Italian cooking creates these seemingly simple but wonderfully flavorful dishes. Chicken Saltimbocca in Italian means "jump in the mouth" chicken. One bite and you will see why this chicken is so appropriately named. My version of this classic chicken dish makes a deliciously simple dinner. Everyone in my house loves this chicken. It comes together quickly which makes it a great weeknight meal. I love to serve it with fresh pasta or if I have a little more time, lemon risotto and an Italian salad.
Chicken Saltimbocca -Serves 4
2 boneless skinless chicken breasts, sliced in half to make 4 cutlets
4 fresh sage leaves
8 slices prosciutto di parma
1/2 cup flour
4 tablespoons of butter
1 tablespoon olive oil
1/2 cup dry white wine
1 tablespoon lemon juice
lemon wedges
First, make your chicken cutlets. Take two chicken breasts and if it has any rib meat on the bottom cut it off so you have an even chicken breast. Carefully place your hand on top of the chicken and cut or split the chicken breasts in half horizontally like you are butterflying them. Each chicken breast should be cut into two cutlets.
Cover the top of the cutlets with a sheet of plastic wrap and pound them to an even thickness.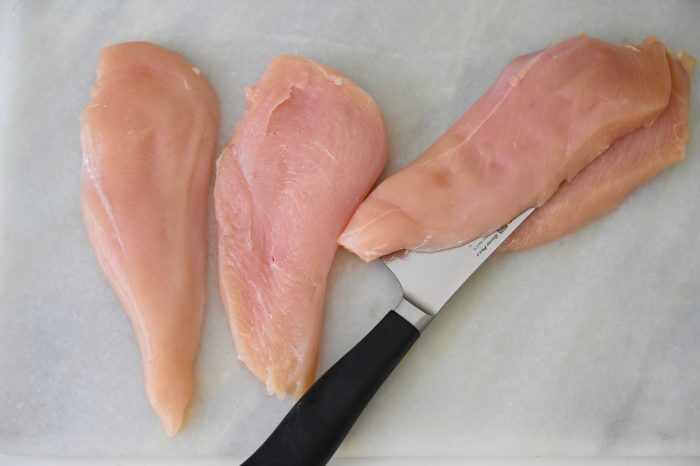 Take the cutlets and place one sage leaf on top each piece of chicken. Then wrap each cutlet all the way around in two pieces of prosciutto.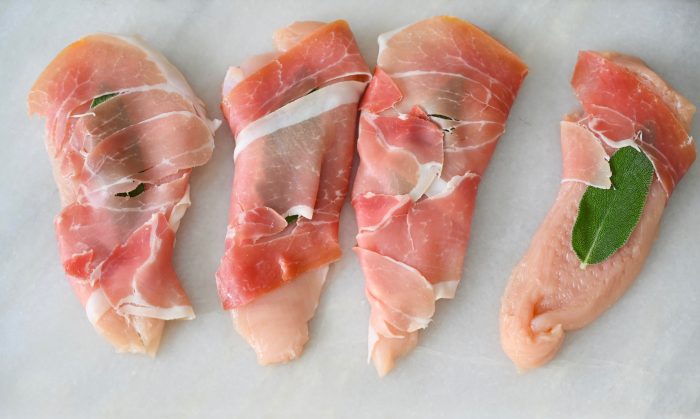 Next, place the flour in a shallow bowl or large plate. Dredge the prosciutto covered chicken in the flour shaking off any excess.
Melt the 2 tablespoons of butter in a large skillet over medium heat until the bubbling subsides. Then add a tablespoon of olive oil. Cook the chicken for 5 to 6 minutes a side until the prosciutto is crispy and the chicken is cooked through.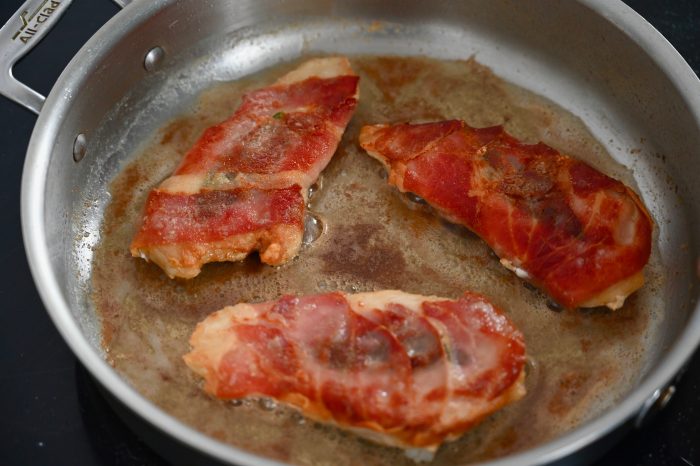 Place the cooked chicken on a plate or platter. Then create your pan sauce. Pour the white wine in the pan and bring it to a boil. I have also used dry sherry if I don't have white wine and it is also delicious. Whisk or stir the wine to pick up the browned bits on the bottom of the pan. Then whisk in 2 tablespoons of butter. Finally, once the butter is fully incorperated, add one tablespoon of lemon juice .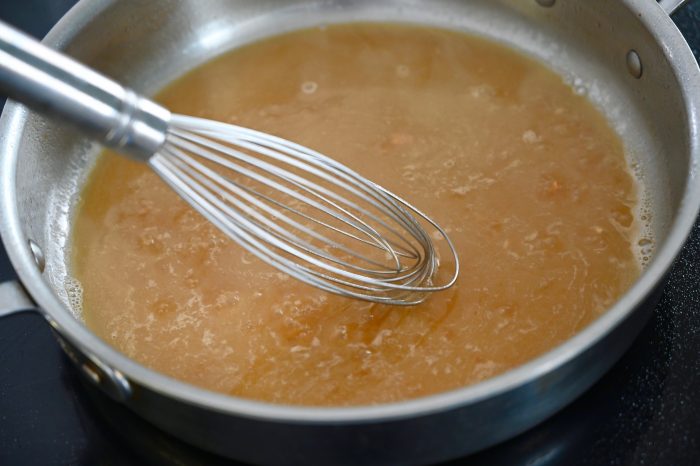 Return the cutlets to the pan to make sure they are warm. Then serve the chicken with the white wine sauce.
A delicious Italian dinner in 20 minutes. I think we all need a few more recipes like this one.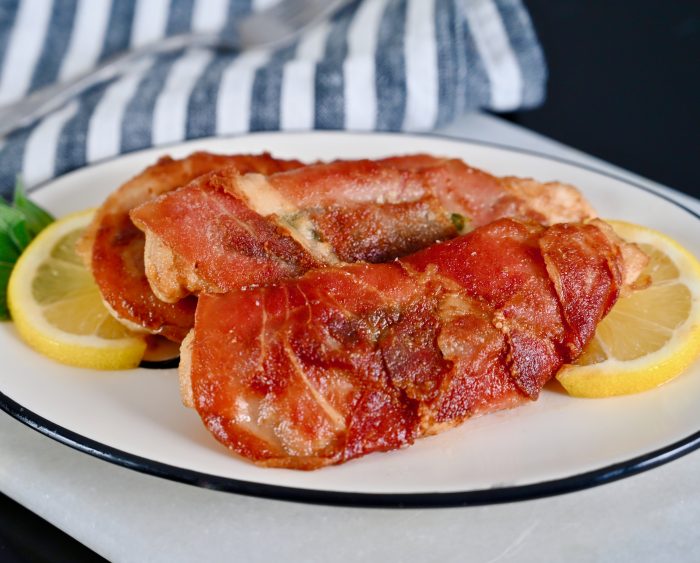 It has been a busy week around our house and winter it seems is getting the best of me. I know it's been an especially tough week for our friends and family in Texas. So, as we all thaw out here is a great dinner to share with the ones you love.