My love of cookbooks has shaped me as a cook and a writer. I have spent countless hours reading and pursuing my library's large collection of cookbooks.  I love exploring new types of cuisine and I am always looking for a new culinary adventure or a great new recipe. However, every once in a while I come across a cookbook that is transformative. A book whose recipes and ideas about food becomes a small part of who I am as a cook. I have been cooking my way through iron chef Alex Guarnaschelli new cookbook Cook with Me for the last few weeks and it has truly inspired me.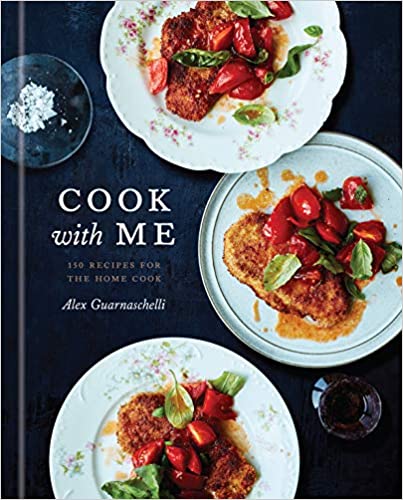 I have loved it because it tells the story of Guarnaschelli's journey to find a sense of home. As she describes it, "This book is who I am now as a home cook- the dishes are a roadmap to who I am today as a cook, parent, and daughter." This French trained chef and food television star takes you into her home kitchen. She shares stories of cooking with her daughter and family recipes. Her mother Maria Guarnaschelli was a noted cookbook editor, so perhaps it should come as no surprise that this is not your ordinary celebrity chef's cookbook. Her recipes and ingredient lists are surprisingly approachable and her techniques will have you thinking differently about how to get the most flavor out of any ingredient.
I have especially loved her approach to vegetables and salads. Her spicy roasted Brussel sprouts were amazingly delicious, as was her carrot salad with miso dressing and I loved her new take on the classic Waldorf salad. However, when I asked my family what their favorite dish was they all agreed-Steak Diane. I made it for our Valentine's Day dinner and it was mouth-wateringly delicious.
This French inspired recipe derives its name "Diane" from the Roman goddess of the hunt. The seared steaks are simple but flavorful and the sauce is indeed divinely good. I served mine with her apple Waldorf salad and my husband's favorite twice baked potatoes.
Alex Guarnaschelli's Steak Diane -serves 4
4 New York strips steaks or rib-eye steaks
kosher salt and freshly ground black pepper
2 tablespoons unsalted butter
3 medium sized shallots, minced
1/4 cup Brandy (I like cooking with a French brandy, cognac)
2 tablespoons Dijon mustard
grated zest and juice of 1 small lemon
2 tablespoons Worcestershire sauce
1/2 cup beek stock
1/4 cup heavy cream
leaves from 6 springs of flat leaf parsley, coarsely chopped
1/4 cup fresh chives, coarsely chopped
First, season the steaks generously with kosher salt and pepper on each side. Heat your pan at medium high heat and add 1 tablespoon of butter. After the butter's bubbling has stopped add the steaks. If you have a smaller skillet you could cook all the steaks at once using two skillets.
Next, sear the first side of the steak for 6 to 8 minutes resisting to temptation to move or flip it too soon. Once the steaks are browned on the first side, turn them over and brown the second side for another 5 to 7 minutes. Cook the steaks to your desired doneness. If you are using a meat thermometer then rare is 125 degrees F to 130 and medium is 135 degrees F to 140 degrees. Take the steaks from the pan and allow them to rest while you make the sauce.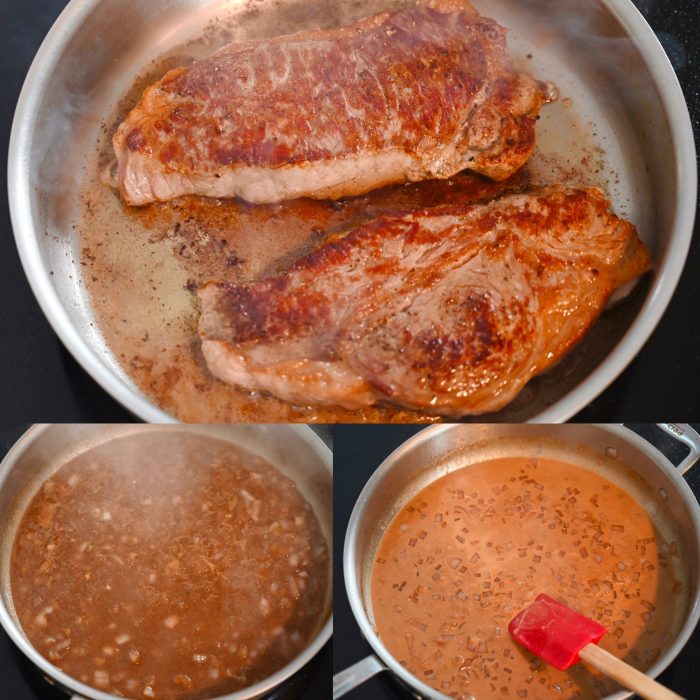 Finally, make the pan sauce. Melt 1 tablespoon of butter in the pan then add the chopped shallots and cook them for 3 to 5 minutes until they are translucent. Next, pour the brandy in the pan to deglaze it. Allow the brandy to reduce by half scraping up all the brown bits from the pan as it cooks. Whisk in the mustard, lemon juice, Worcestershire and beef stock. Allow the sauce to reduce and become thick enough to coat the meat about 3 to 5 minutes. Stir in the cream, parsley, lemon zest and chives. Taste for seasoning. Place the steaks on plates for serving and generously spoon the sauce of the top of each steak.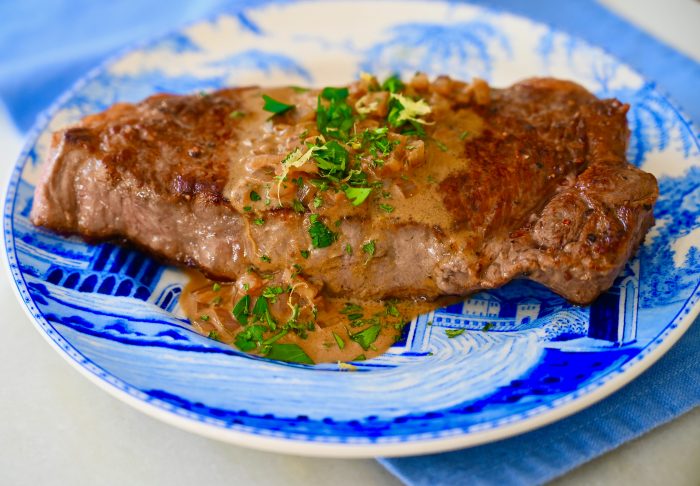 Cooking as my eight year old daughter so wisely proclaimed this week is all about "community." There is something special about cooking with others and sharing a meal with the ones you love. Guarnaschelli's Cook with Me is all about community. Guarnaschelli weaves together a delicious collection of stories about her life and recipes for the dishes she loves. I enjoyed her cookbook so much that I am sure that I will be cooking things like her steak Diane for many years to come.