"Everyone wants to talk about the color that is hot right now, but for me color is never just another trend. It's ebullient, endless boundless. When you walk into a colorful room you smile."
Ruthie Sommers
It seems like all the color and fun has just suddenly vanished from home stores everywhere. I am working on some new projects around our house. So, last week I braved the cold and snow to go looking for a few new fabrics and pillows. I went to all of my favorite stores and I came away feeling very underwhelmed. Where has all the color gone?
Perhaps the pandemic has us all feeling drained. So this week I decided to dedicate a post to coloring your house happy. Fabric and pillow ideas that that could give any room in your house a vibrant boost.
First, up two vintage patterns by Schumacher called Citrus Garden and Exotic Butterfly. Both of these patterns were hand drawn by Viennese architect and furniture designer Josef Frank. Frank's story is inspirational to me. He was of Jewish decent, so he had to flee his home in Vienna by emigrating to Sweden before World War II. In the late 1940s he created these colorful nature inspired drawings. While the world was unraveling, he was finding a new way to thrive by drawing these vibrant and hopeful new patterns. Which goes to show that color's ability to lift us up and great design is timeless. When I was researching this pattern I found that his design company in Svenskt Tenn still carries many of his fabrics here.
Citrus Garden Lime and Blue
This lime tree pattern has so many beautiful colors to pull from. A happy lime green, a bold blue, and preppy pink. Just one pillow could inspire an entire room.
Schumacher Josef Frank Citrus Garden Lime Tree
Lacefield Designs Indigo Blue Ikat Sahara Ovals
Exotic Butterfly and Patterned Pink
Next, Exotic Butterfly is one of my favorite prints.  It comes is several color ways including an all blue and all green version. This particular pattern is called Spring. I especially love the juxtaposition of the red and pink. So, I had fun finding a few bright pink patterns that would make a smashing addition. I love the bright peony pink spots by British designer Anna French. I also liked this trellis like pattern by Quadrille. Nothing says happy like bright pink!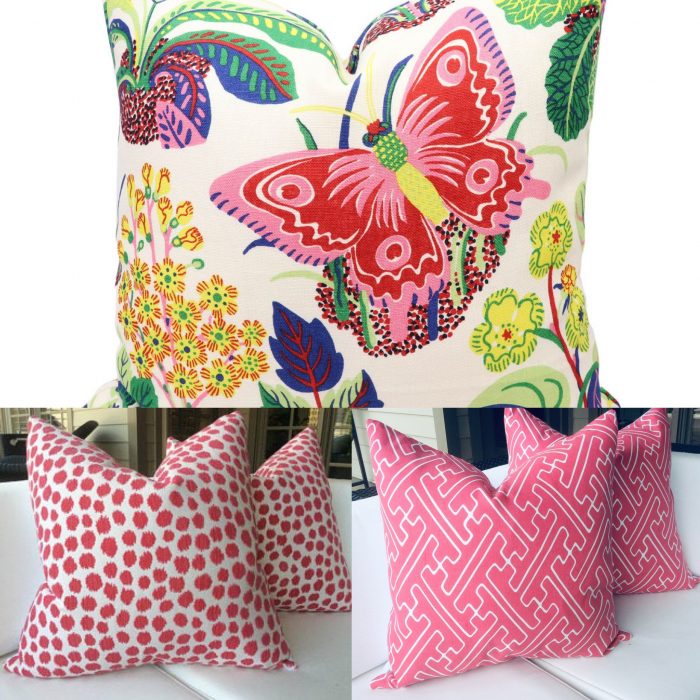 Schumacher Exotic Butterfly Spring Pillow
Thibaut Sarah Spot in Peony By Anna French
Quadrille Saya Gata in Magenta by Alan Campbell
Equestrian Orange and Brown
Then I found this happy French inspired orange fabric called Faubourg. It also comes in a very pretty celadon blue color as well as a brown. This shade of orange made me think of a bright Hermes orange. I paired it with two brown and white fabrics by Kelly Wearstler. These brown and taupe fabrics have a modern equestrian like feel to them.


Schumacher Faubourg Orange Horse
Groundworks Channels Taupe by Kelly Wearstler
Schumacher Imperial Trellis Java by Kelly Wearstler
Chinoiserie Red, White and Blue
Perhaps a little blue and white. I love this Thibaut pattern because it adds a pop of cheery lacquer box red. Picking up on the blue and navy colors in the flowers I found a couple different pillows that might pair nicely with this gorgeous fabric.
Thibaut Honshu Red and Blue Chinoiserie
Coastal Aqua and Lilac
Finally, a sunny coastal inspired fabric. A pretty aqua and lilac ikat from Alan Campbell's collection at Quadrille. Thibaut has a dotted print called Marathon that picks up on that pretty lilac color and this fabric pattern also comes in aqua as well. I could also see pairing this aqua ikat with a brush stroke print like Schumacher's light dove colored Queen of Spain. Turquoise and white have a happy beach house feel that instantly lifts my spirits.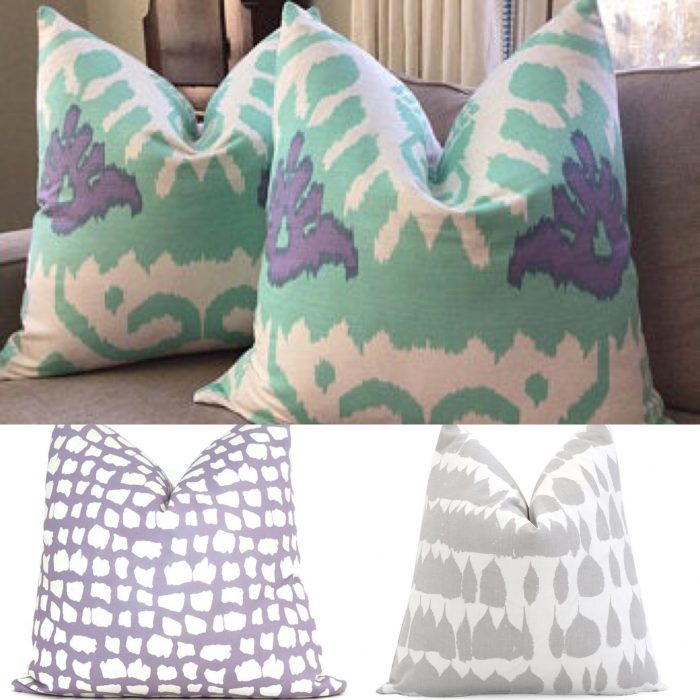 Quadrille Kazak in Aqua and Lilac
Schumacher Queen of Spain Dove
Never underestimate the power of color. Neutrals certainly have their place, but there is nothing like a gorgeous green, a brilliant blue, a pretty pink, or a radiant red  to inspire you. I believe that color in a way speaks to our soul. Clinton Smith, former editor of Veranda Magazine once said that "color is a declaration of intention: It sets the tone for how you want to live. It's the embodiment of what you are and what you find beautiful." In times like these, we could all use a little color in our lives. So add a colorful pillow or two to your home or just wear a little more color, because we all need more reasons to smile.