There is nothing like homemade Holiday Chex Mix. That irresistibly crispy and savory mix has over the years become a Christmas tradition. Just after Thanksgiving my mom starts making big batches of her Chex mix to share. It's what we all love to eat when we watch holiday movies together. My mom always has a fresh batch or two made when we come to visit. Even after the holidays it's the snack we happily took back with us to college and I still take it home with me when I travel.
This retro favorite first appeared on boxes of Chex cereal in 1952. Curious about the history of this mix, I found that the wife of Chex Cereal Company executive Ralston Purina is the one who is credited with making this holiday party mix. Her "Party Chex Mix" was such a hit that in the late 1980s the company started making and selling the mix. However, if you ask me there is nothing like eating a warm homemade batch.
Over the years my mom has made a few changes to her recipe, including making a quicker version using the microwave. Her traditional mix uses a bugles corn chips which are delicious, but I had a hard time finding them at my local stores. I substituted Gardettos garlic rye bagel bites. You can could also use goldfish crackers as a substitute as well. My mom has added those in years past and it makes a tasty and fun addition too. So here is another one of my holiday favorites:
Holiday Chex Mix
Snack mix
2½ cups corn Chex
2½ cups rice Chex
1½ cups wheat Chex
1½ cups bite sized pretzels
1½ cups garlic bagel chips, broken into bite sized pieces
2 cups of Bugles chips or rye bagel chips
½ cup dry roasted peanuts (optional)
Seasoning mix
1/2 cup (1 stick) butter, melted
3 tablespoons Worcestershire sauce
1 tablespoon Lawry's seasoned salt
1 teaspoon garlic powder
1/2 teaspoon onion powder
In a large, microwave safe bowl mix together the snack mix ingredients.
Next, in a glass measuring cup or small bowl melt the butter in the microwave. Whisk in the seasoned salt, garlic powder and onion powder.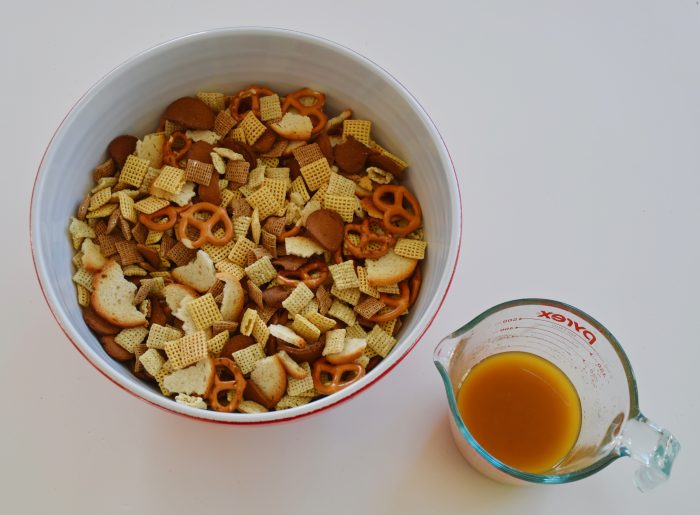 Pour 1/4 cup of the seasoned butter over the Chex mix and mix well. Then pour another 1/4 cup of the seasoned butter and mix. Then do same with the remaining 1/4 cup of the butter. Adding it in thirds helps make sure that the Chex mix gets evenly coated and seasoned.
Next, microwave the mix for 2 minutes. Let it cool for a minute or two and then mix it and microwave it for another 2 minutes. Cool the Chex mix again and then stir. Then microwave it one last time for 2 minutes. The cooling time keeps it from over cooking and makes it easier to stir.
Finally place the Chex mix on a large cookie sheet lined with paper towels to allow it to cool before serving or storing it in an airtight container.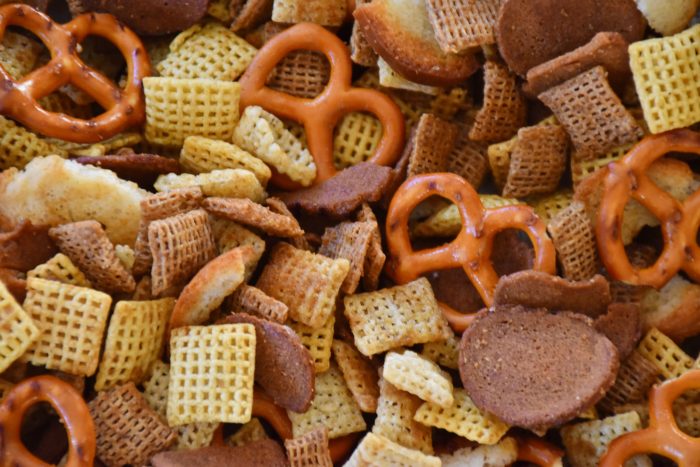 So make a bowl of my mom's Holiday Chex Mix. Gather around the fireplace and turn on a Christmas movie or two. My daughters and I watched a double feature of Home Alone and Home Alone 2. Those movies still make me laugh. Or if you are like my husband cue up a few classic James Bond movies for some movie night fun. Holiday Chex mix its definitely one of my favorite recipes this time of year.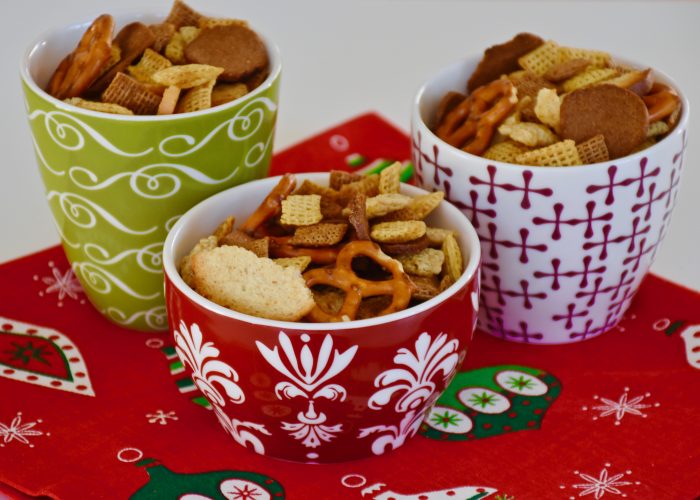 Another tradition that we love in our house is holiday music. My husband and I both love to sing and normally the holidays are happily filled with rehearsals and concerts. However, this year through the magic of technology one of the Christmas concert has gone virtual. My husband is part of a group called The Tower Chorale which is sharing their holiday concert online beginning this Sunday December 6th at 3pm. The concert will be available for free for the month of December. So if you are looking for some beautiful and uplifting music then here is a link to the Tower Chorale Virtual Christmas.