"Haul out the holly. Put up the tree before my spirit falls again….For we need a little Christmas right this very minute."
This year more than ever I am channeling the classic song from the musical Mame. Tired of the stuck at home blahs, our family decided  that we all needed a little Christmas. So this weekend we decorated our Christmas tree and began hanging up the garlands and twinkly lights. I also decided amongst all the decorating zaniness that it might be time for a holiday cocktail too. So I whipped up a round of  my favorite holiday drink, cranberry margaritas.
Cranberry Margaritas – makes 2 margaritas
3/4 cup good quality limeade
1 cup cranberry juice
1/3 cup silver tequila
3 tablespoons triple sec or another orange liquor like cintronage

 or grand marnier 

fresh lime wedges
1/4 granulated sugar or coarse salt if you prefer for rimming the glasses
fresh cranberry as a garnish
First mix the drinks. In a small pitcher or large glass measuring cup mix together the limeade, cranberry juice, tequila and triple sec.
Next for a festive touch rim your glasses. Take a lime wedge and run in across the top of the glasses so the juice sticks to the rim. Then have a shallow dish or plate with the sugar or salt. Turn the glass over and dip it in the sugar or salt until the rim is well coated. The cranberry juice makes the margaritas a little sweet so I used sugar, but I could also see how the traditional salt rim would be good too.
Then it's time to serve them. Pour your drinks and add a lime wedge and a fresh cranberry or two.
Note: for a mocktail version leave out the tequila and increase the limeade amount to 1 cup. Then replace the orange liquor with 3 tablespoons fresh squeezed orange juice.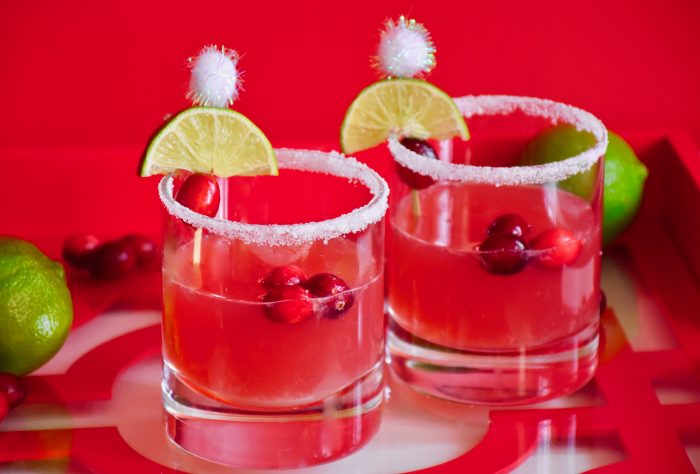 These cranberry margaritas are a fun holiday cocktail. The combination of the cranberry, lime and tequila is always a hit. It may be a bit early but sometimes there is just nothing like a little holiday cheer!