"Nothing is better than a picnic." – Zooey Deschanel
Picnics have have become quite a frequent event in our house this year. A moment to get outdoors for a lunch date together or dinner with our family beneath the trees.  Dining at park or just a pretty spot on the lawn makes me forget about the worries of the world.
This fall my husband and I have enjoyed getting out together for a picnic lunch date when my girls are at afternoon school. We love to pick up lunch and at a local restaurant then find a beautiful spot. There is a local family owned cafe called The Village Gourmet that makes the best sandwiches and salads that are perfect for a picnic. One of the dishes on their menu that caught my eye was a colorful tortellini and sun-dried tomato salad. So, I decided to create my own version of this pasta salad.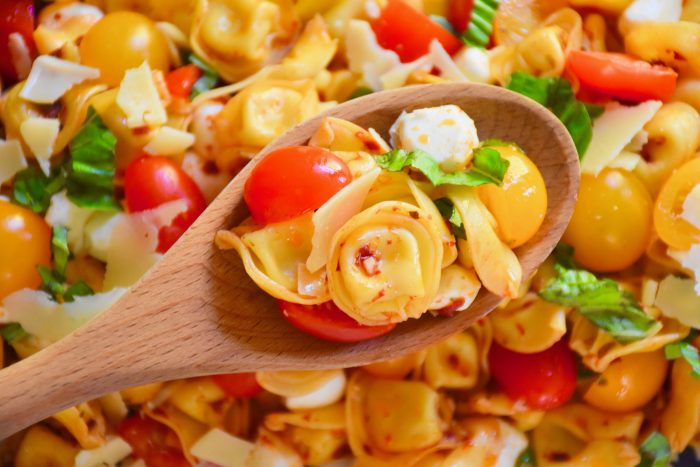 My tortellini and sun-dried tomato salad is a quick lunch or dinner that takes just ten minutes to pull together. The flavors in the sun-dried tomato pesto are delicious and it can be made ahead of time. It's wonderful served either hot or cold which makes it a great picnic dish. It is hearty enough to make a quick weeknight meal. But it also wonderful as a side dish with a parmesan breaded chicken, a grilled fish or even burgers. Everyone needs a quick and delicious pasta salad recipe like this one.
Tortellini and Sun-dried Tomato Salad
Serves 4 as dinner or 6 as a side 
1 large (20 oz) container of fresh cheese tortellini (I like Giovani Rana pasta)
1 1/2 cups cherry or heirloom tomatoes chopped
1 cup (8oz) fresh mozzarella pearls
1/4 cup freshly grated parmesan cheese
8 basil leaves, julienned
Sun-dried Tomato Pesto
6 sun-dried tomatoes in oil, drained
1 clove garlic, roughly chopped
2 tablespoons balsamic vinegar
6 tablespoons olive oil
1 teaspoons capers, drained
1 teaspoons kosher salt
1/4 teaspoon ground pepper
Bring a large pot of water to a boil. Cook the cheese tortellini according to the pasta's instructions, about 3 to 4 minutes. Then drain the pasta and place in a large mixing bowl.
Next make the sun-dried tomato pesto. In the bowl of a food processor combine the sun-dried tomatoes, balsamic vinegar, olive oil, garlic, capers, salt and pepper. Blend them together until almost smooth.
Finally, chop the tomatoes and cut the basil into thin ribbon like strips. Then add the tomatoes and mozzarella pearls to the tortellini. Next pour on the sun-dried tomato pesto to taste and then sprinkle on the parmesan cheese and the basil.
Serve it immediately or refrigerate it and have it ready for your picnic or dinner.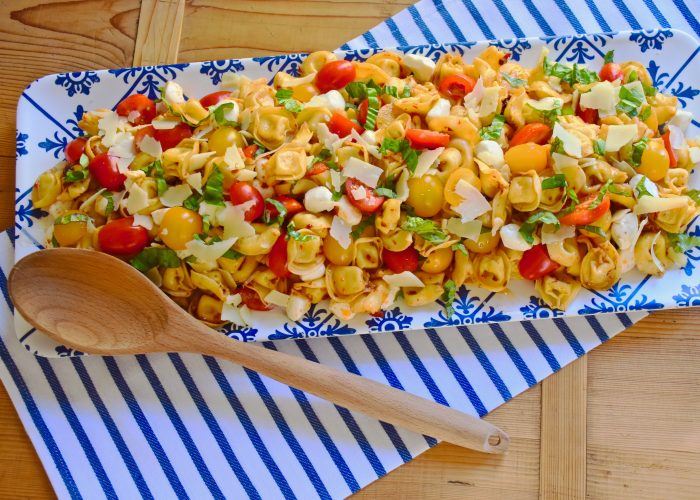 It has been an extraordinarily beautiful fall week here in Chicago. So as I was outside planting tulip bulbs my daughters were busy setting up their own picnic snack. It seems like we just can't get enough picnics in our house. We are taking in all the sunshine and good weather while we can. However, as the saying goes sometimes picnicking is a state of mind. So even as the air turns chilly next week, I know we will continue to picnic indoors with all of our favorite dishes like my tortellini and sun-dried tomato salad.