I love a recipe that has been shared so many times that one doesn't even know where it originally came from. Those recipes are wonderful because you know they have to be good to be made and shared between family and friends. This mandarin orange salad is a holiday favorite in our house. My aunt was the one who first shared this salad with us, after she got the recipe from a friend. I have made a few changes to make it my own, like  using butter lettuce and tweaking the salad dressing just a touch. The canned mandarin oranges may be a bit retro but they are delicious and they make the recipe quick to assemble. Sometimes when you are putting a holiday meal together you need some dishes to be simple. The salad dressing is something you can make ahead and have in your fridge and the candied almonds can also be made the day before and stored in a Ziploc bag or airtight container. This salad is a classic in our house and it finds it's way on the menu for many special occasions, so now I am sharing it with you:
Mandarin Orange Salad (Serves 4 to 6, but can easily be doubled)
1 large head of butter lettuce, washed, dried and torn into bite sized pieces
½ cup chopped celery
4 green onions, thinly sliced on the diagonal
1 (11oz) can of mandarin oranges, well drained
½ cup sliced almonds (optional if you have an allergy then this salad is still good without the almonds)
2 tablespoons of granulated sugar
Salad Dressing:
4 tablespoons champagne vinegar
4 tablespoons of granulated sugar
1 teaspoon kosher salt
1/8 teaspoon ground pepper
1 tablespoon of Fine Herbs (a French herb mix that you can find in the spice aisle that has parsley, tarragon, chervil and chives)
½ cup canola oil
First, you want to prepare your candied almonds. Place a small to medium sized nonstick skillet over medium heat and then add 2 tablespoons of sugar and your almonds. Stir with a rubber spatula until the sugar melts and just begins to turn golden. Make sure your almonds are evenly coated in the melted sugar. While your nuts are toasting, keep a close eye on them, because once the sugar starts to melt it can burn very quickly.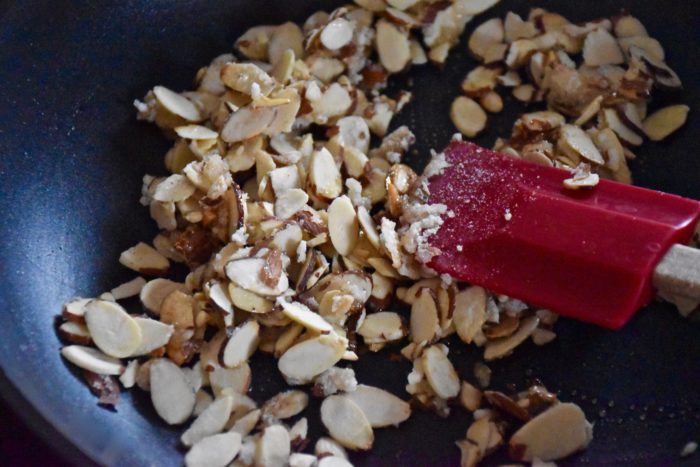 Have a plate or piece of aluminum foil ready to put the nuts on to cool. Once the almonds are cool they are ready to break apart and sprinkle on top of the salad.
Then in a large bowl assemble your salad by tossing together your lettuce, celery, green onions, mandarin oranges and almonds.
Finally, make your salad dressing by whisking together your vinegar, sugar, salt, pepper and fine herbs. Then once they are well mixed slowly drizzle in your oil while whisking. You want to keep whisking your dressing until it fully emulsifies and thickens. Sometimes I make this dressing in my mini food processer, which makes it even quicker. If you make you salad dressing ahead you may need to whisk it again if the herbs and ingredients have settled a bit. Add your salad dressing to your salad to taste and wait to toss it with your salad until right before your serve it.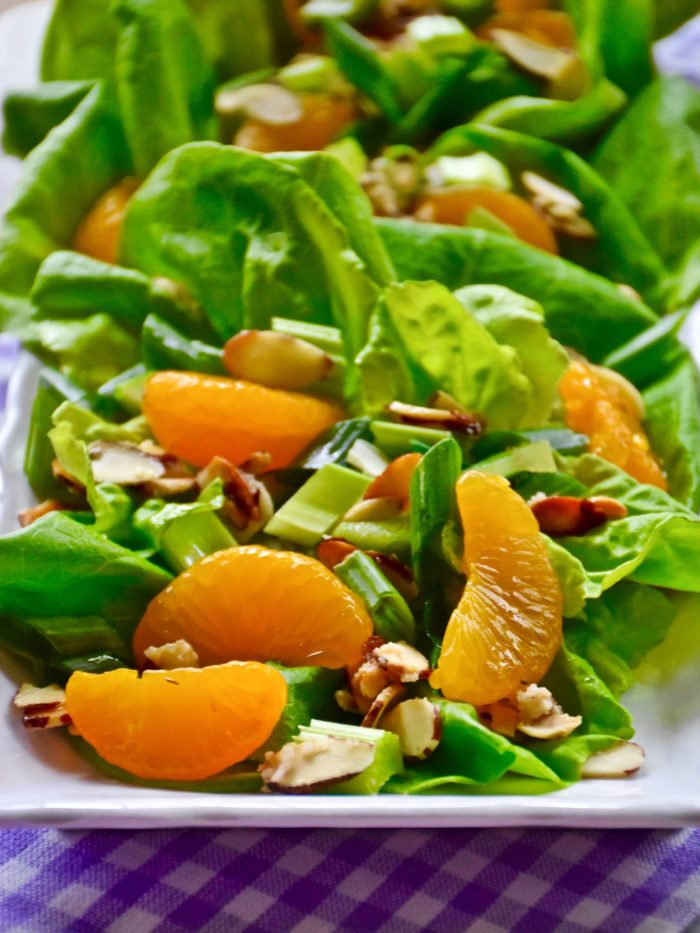 A little sweetness from the oranges balanced with the slight tang of the dressing makes it a delicious side. The mix of crispy textures and colors make it a pretty dish too. It's a side that is sure to brighten any buffet or dining table. So I hope you love and share this recipe too!