When you walk past the gray weathered siding, through the vine covered gable and in the bright red doors at Ouisie's Table you instantly feel like you are dining in a gracious southern home. The dining room might be a little larger, but the lace café curtains, twinkling candles and wooden tables make it feel like you are dining with old friends. This Houston restaurant is one of my favorites. The menu is filled with well loved Texas dishes like chicken fried chicken or steak, grilled quail and Louisiana seafood. I know I am not the only one who loves this charming little restaurant it's been a Houston favorite for over 40 years. My parents had a neighbor who at one time dined there multiple times each week. He was not one to cook so while his wife was away taking care of their old house in California, he made Ouisie's Table his home. It's just that kind of a place.
One of my favorite things that they serve isn't even on the menu per se. It's the amazing breads that come with the meal: cheese biscuits, gingerbread and cornbread muffins. This trilogy of bite-sized breads is so delicious, that it would be a mistake to waive this breadbasket away. These petite breads are wonderful because you can have a taste without getting too much. Since I don't get home to Texas often enough, I have created my own version of the mini cheddar chive scones that I love. Light and flakey with little bites of cheese and a whisper of a savory onion flavor from the chives, if I close my eyes, a bite can take me there. So this week I am sharing these mini scones that would be perfect for any brunch or dinner.
Cheddar and Chive Scones – Make 35 mini scones
2 cups flour
1 tablespoon baking powder
1/2 teaspoon salt
1 1/2 sticks of cold unsalted butter,cut into small pieces
2 eggs, lightly beaten
1/2 cup heavy cream
1 cup (4oz) cheddar cheese diced into small squares
2 tablespoons fresh chives, thinly chopped
1 egg mixed with a tablespoon of water for an egg wash
Preheat your oven to 375 degrees
In the bowl of your food processor mix together your flour, baking powder and salt. If you don't have a food processor then you can use a large bowl and then cut your butter in using a pastry blender or your fingers, but the food processor make it much quicker.
Cut your butter into small pieces. Then on a high-speed pulse your food processor until the butter is cut into tiny crumbs. It took me less than 30 seconds. You don't want to over do it because you want to have little bits of butter evenly distributed in your dough.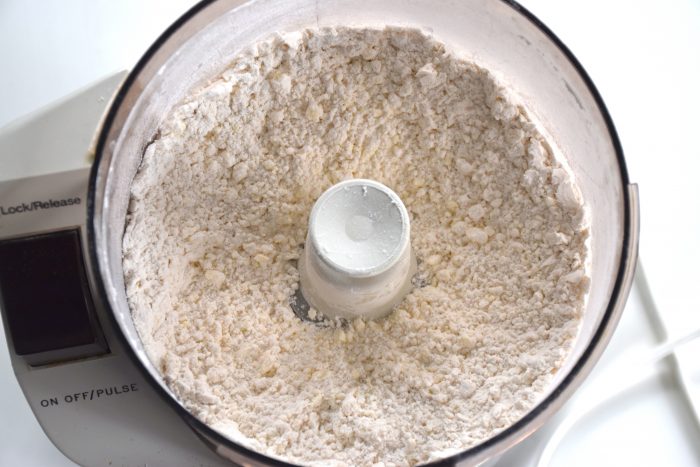 Then lightly whisk together your egg and cream and slowly pour them through the chute of your food processor while you mix it into the flour. Be careful not to over mix. As soon as your dough comes together stop mixing.
Then on a lightly floured silicone mat or counter evenly kneed in your diced cheddar cheese and chives. Then your pat it with the palm of your hand or roll your dough to a thickness of 3/4 of an inch to an inch thick. Cut your scones using a small 1 1/2 inch cutter. (I have a whole set of inexpensive round cookie cutters that I love for things like this.) Cut out as many rounds as you can then bring your dough together in a ball and pat or roll it out it out again until you use up all of the dough.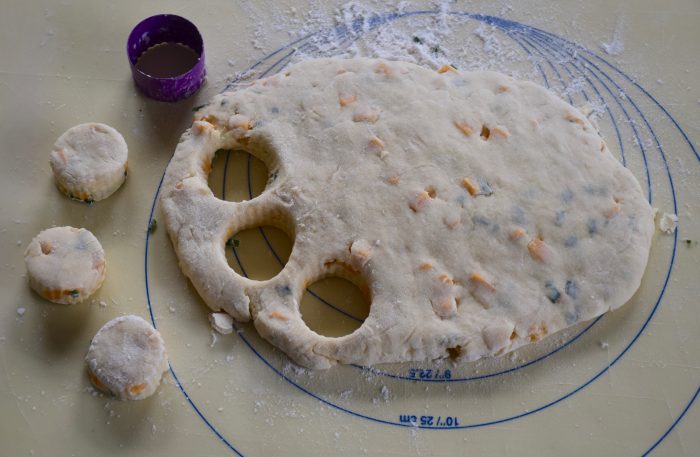 Finally in a small bowl whisk together one egg and one tablespoon of water to make an egg wash. Then brush the tops of your scones so they get a pretty golden finish when they bake. The protein in the egg helps the scones turn golden while the fat from the egg yolk will give your scones a slight shine on top.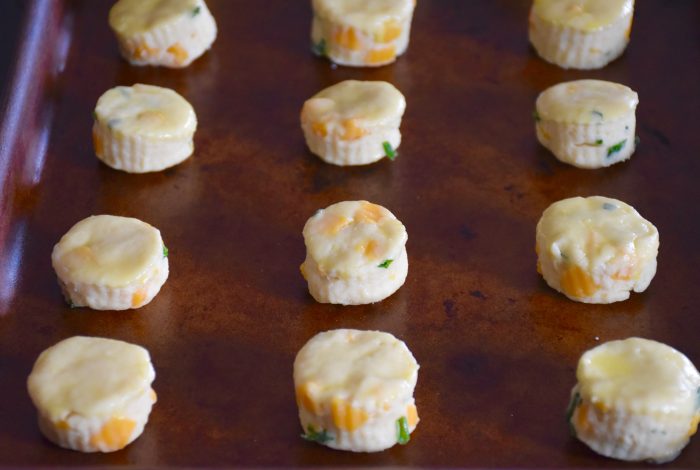 Bake your scones for about 12 minutes if you are making this mini version. If you want to  make a larger more traditional 3 inch size then bake for about 15 to 20 minutes.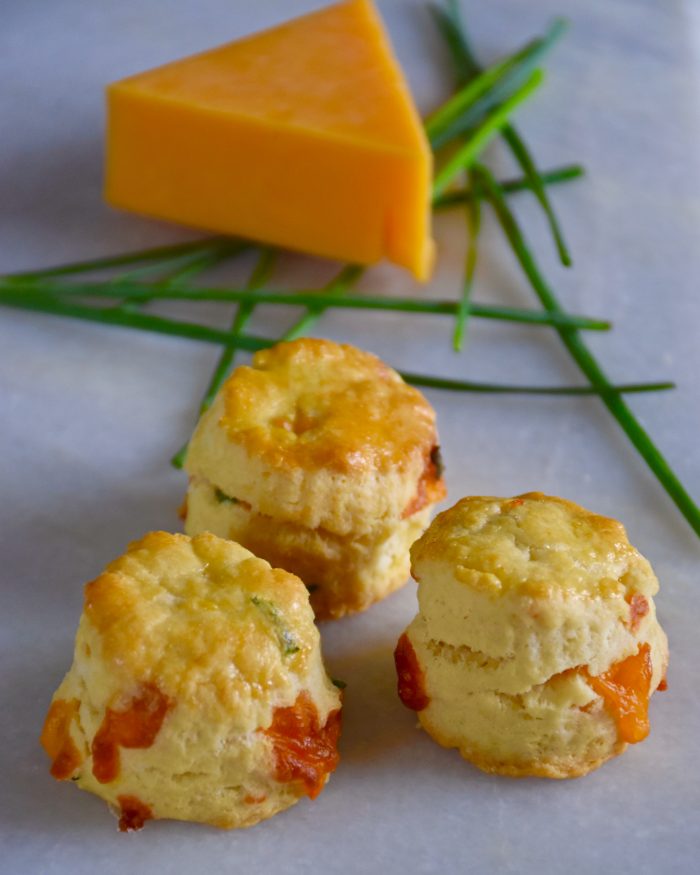 These cheddar chive scones would be a welcome addition to any meal, but I find the mini size works perfectly for holiday meals or brunch. In the winter I make a slightly larger sized scone and serve it with my potato soup. These versatile little scones are fairly quick to make and unlike traditional rolls they don't have yeast that needs time to rise. A basket or plate full of these cheddar chive scones will definitely have your family and friends talking. They might be the side that you make a little extra room for because they are that delicious.