Spring gatherings like Easter and Mother's Day are on their way, so I am creating a new series of southern inspired side dish recipes that would go well with the traditional holiday ham or your family's favorite. So whether you just need a single side to share or if you want inspiration for a whole meal these recipes are some of my favorites.
Potatoes are always a well loved side, but bake them in a cream sauce with cheese and you have a holiday worthy crowd pleaser. My husband loves scalloped potatoes so for Valentine's Day I created these white cheddar potatoes to go with a rosemary steak, but I think they would also pair well with ham or lamb as well. I like baking mine in a large tart or pie plate because the pie shaped wedges make for an easy and elegant way to serve these potatoes.
White Cheddar Scalloped Potatoes –Serves 6 to 8
3 medium russet potatoes, peeled and thinly sliced
1/2 cup (1 medium) shallot diced
4 tablespoons butter
1/4 cup flour
2 cups cream, room temperature
1 teaspoon kosher salt
1/8 teaspoon ground pepper
8 oz (2 cups) shredded white cheddar cheese
2 tablespoons chives, finely chopped
Preheat your oven to 375 degrees
Then prepare your potatoes by slicing them thinly. You could use a sharp knife or I use a mandolin which makes it quick to cut even slices. Then finely dice your shallots.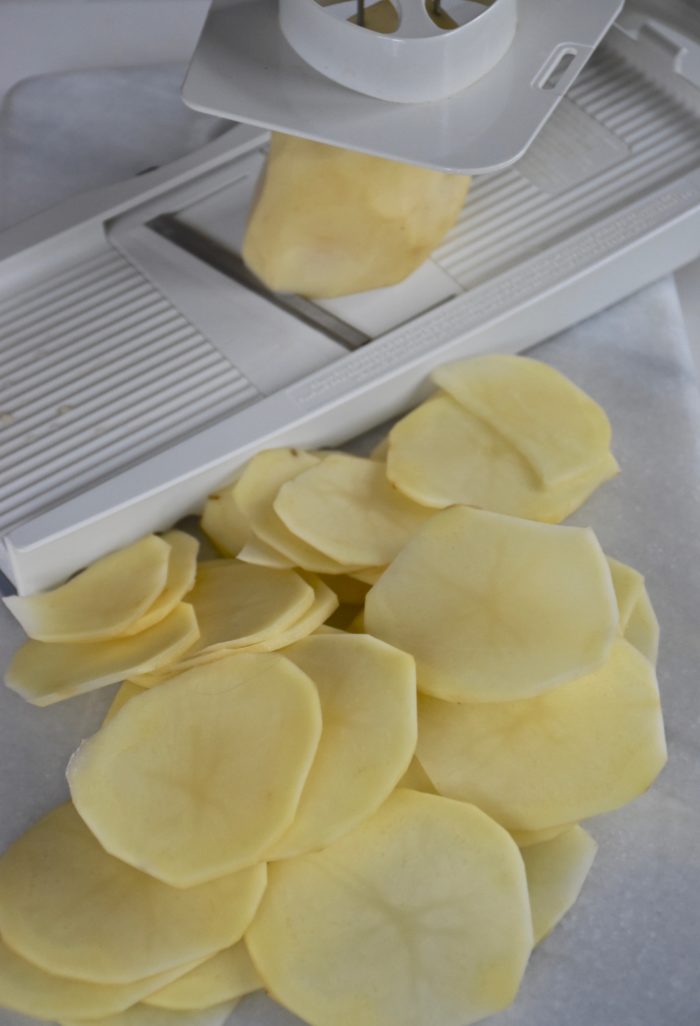 Next, make your béchamel or cream sauce by melting your butter over medium heat in a large sauce pot or deep skillet. Then once your butter is melted add in your shallots and sauté them until they begin to turn translucent. Then sprinkle in the flour in and whisk it until it is smooth.
Then slowly pour in your cream about 1/4 cup at a time while whisking well. I recommend having your cream sit out a short while because adding cold cream to a hot sauce can make it much harder to whisk your sauce together. Continue adding your cream a little at a time until it is smoothly whisked in.
Then let your cream sauce thicken by continuing to cook it over medium heat for 4 to 5 minutes whisking it occasionally. Season to taste with the salt and pepper.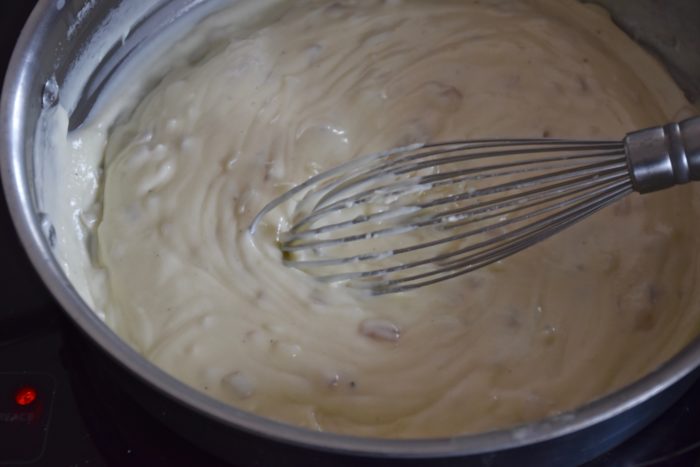 Once the sauce has thickened remove it from the heat and start layering your potatoes. I used a 10 1/2 inch diameter tart pan, but you could a pie plate or another Pyrex dish and make similar layers. Spray your pan with cooking spray and make one layer of potatoes on the bottom. I overlapped my slices slightly and place them in overlapping rings that covered the entire base of the pan. Then pour a third of your cream sauce on top and spread it evenly. Then sprinkle on 1/2 cup of your cheese. Repeat this layering process until you have three layers of potatoes and top the final layer with the last third of the sauce and cover the top layer with the last cup of the cheese.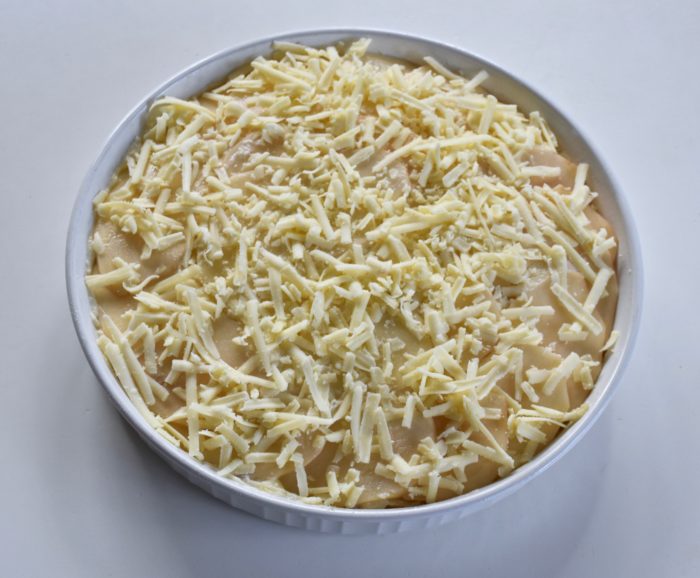 Cover your dish with aluminum foil and place your dish on a jelly roll pan in case any sauce bubbles during baking. Then bake covered for 1 hour. After an hour take the foil off and continue to bake your potatoes for another 15 to 20 minutes until the cheese and potatoes are gold and bubbly. Then garnish with some chopped chives before serving.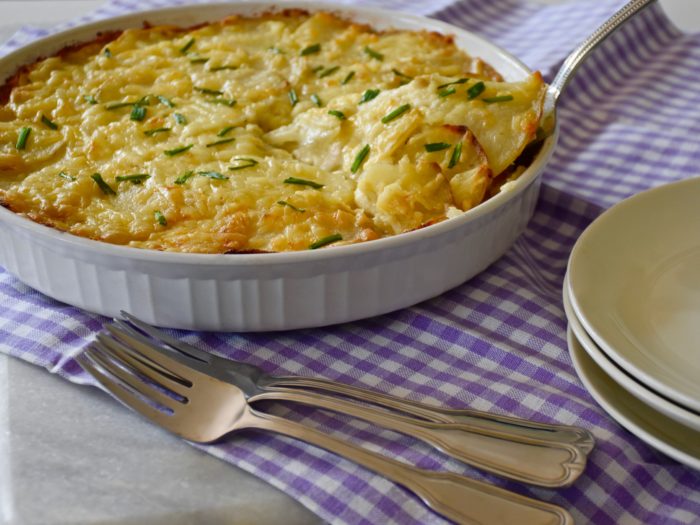 One slice of these tender and scalloped potatoes is worth the time it takes. These cheddar potatoes are a classic comfort food that will definitely have your guests coming back for seconds. These potatoes could even become a main course or a way to use leftover ham. Just finely dice some ham and add that ham to the cheese layers. Add a side salad like this one and your side dish becomes a delicious dinner.