Summertime in Chicago is definitely our family's favorite time of the year. There are all kinds of festivals, concerts and events and everywhere you look everything is green and the flowers are blooming. Our neighborhood sponsors a summer concert series in the park. There is live music every week and my girls love to go and listen to the music and dance. We like to bring a picnic dinner with us when we go. So this pasta salad was something I created recently for one of our picnic dinners. The roasted potatoes and the pasta made it hearty enough for a one dish dinner and I can make it a few hours ahead of time and have it all ready to go. My husband said he thought the salad "tasted like summer." The fresh basil dressing and the mustard roasted potatoes make this delicious pasta just a little different than your ordinary pasta salad.
Picnic Penne Pasta Salad (Serves 4 to 6 as a main course) 
2 cups of roasted new potatoes
1 teaspoon Dijon mustard
2 tablespoons olive oil
1/2 teaspoon kosher salt
1/8 teaspoon pepper
2 celery stalks, diced
2 carrots, diced
2 cups dried penne pasta, boiled and drained
2 cups of baby spinach leaves
1/3 cup grated parmesan cheese
3 slices of bacon, cooked and crumbled (optional)
French Bread Croutons
2 1/2 cups cubed french bread
2 tablespoons olive oil
1 tablespoon butter
1 teaspoon dried oregano
1 teaspoon garlic powder
1/2 teaspoon kosher salt
Salad Dressing
1/4 cup fresh basil leaves, rolled and sliced into thin ribbons
1/4 cup olive oil
1/4 cup canola or vegetable oil
2 cloves of garlic, minced
3 tablespoons red wine vinegar
1/2 tsp kosher salt
1/8 teaspoon pepper
First preheat your oven to 350 degrees
Then slice your new potatoes in half or in quarters if they are larger. Then in a medium-sized bowl whisk together your 2 tablespoons olive oil , 1 teaspoon Dijon mustard and salt and pepper. Toss your cut new potatoes in the bowl and stir then to coat them in the olive oil mixture. Then place your potatoes cut side down on a sheet pan lined with aluminum foil or parchment paper. Then roast your potatoes in your oven for 30 minutes until they are golden brown.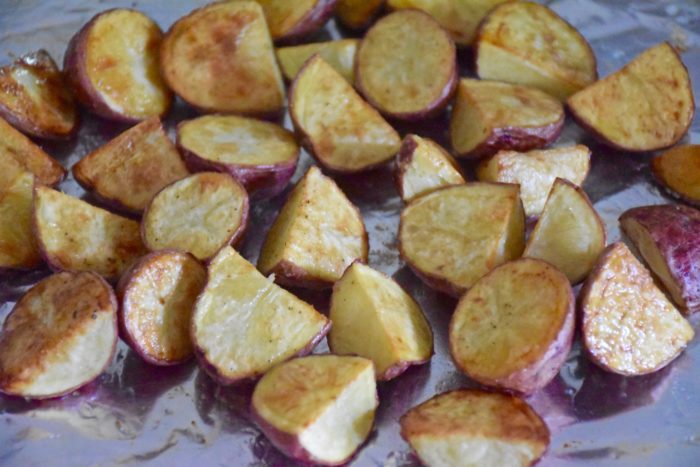 Meanwhile, slice your french bread cubes and place a medium-sized skillet on your stove at medium heat. Melt 1 tablespoon of butter in the pan and add two tablespoons of olive oil. Add in your garlic powder, died oregano, salt and pepper. Then toss your bread cubes in your skillet and stir them to evenly coat them in the seasoned olive oil and butter. Then reduce your heat to medium low and let your croutons get toasted and golden brown stirring occasionally so they cook evenly.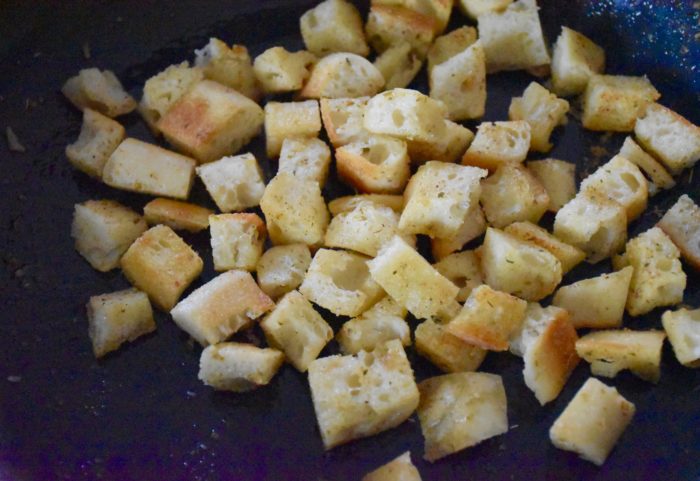 Then cook your penne pasta according to the package directions and chops your celery and carrots.
Now your are ready to make your salad dressing in a small food processor or blender mix together your salad dressing ingredients and blend until the oil is fully incorporated and emulsified.
Finally, you are ready to assemble your pasta salad. In a large bowl toss together your pasta, roasted potatoes, carrots, celery, spinach, croutons, bacon and parmesan cheese. Add in your salad dressing and mix well.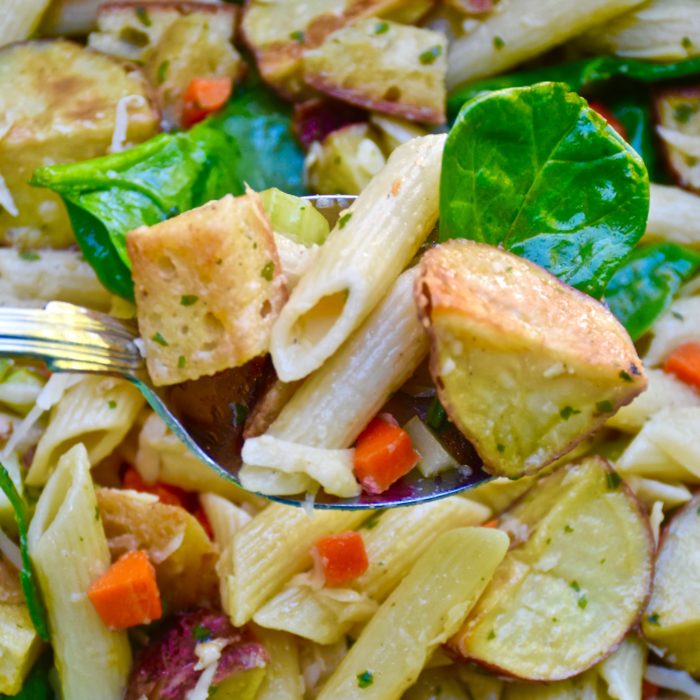 There you have it a summer pasta salad that makes a great one dish dinner or a side to take to any picnic or barbecue.  It also makes a great vegetarian dish if you leave out the optional bacon. So no matter how you serve it, this summertime pasta salad is filled with layers of delicious flavors that are sure to be hit.