There is a certain cheerful confidence in the bright pinks, oranges and blues that my youngest daughter loves. So when I was working on giving her new "big girl" room  design, I wanted it to reflect her bright and happy personality. The first piece I bought for her room was this colorful flower garden patterned quilt I found at a little antique store. I had stumbled into the store with my mom while buying chalk paint for another project.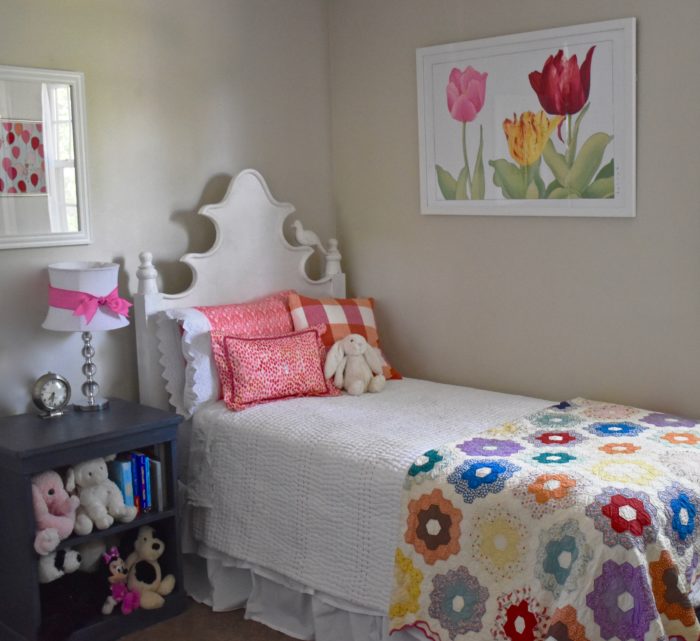 The store was closing in days, so on a whim I decided to go for it and get the quilt. The bright happy colors and hot pink trim on the edges made me think of my daughter. There is something uniquely special about handmade quilts. The details and colors add a certain one of a kind character to a room that I love.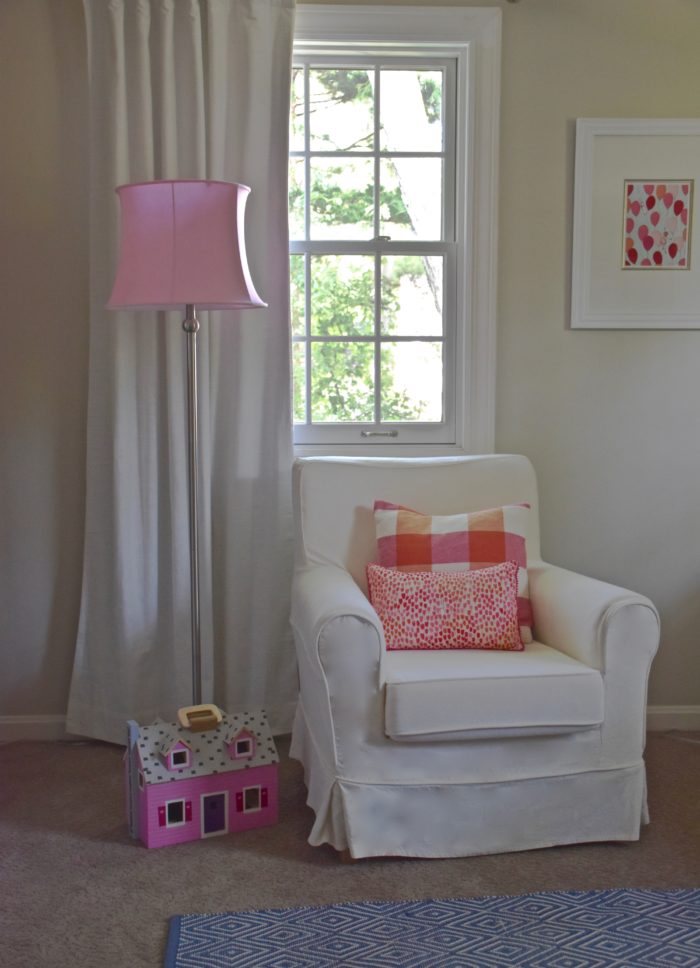 However to keep this room feeling youthful and fun, I decided to add some modern fabrics in complementary colors that brought out the pink and orange colors in the quilt. When I was looking for additional fabrics for pillows I found these tulip patterned fabrics designed by Sarah Jane for Michael Miller. I thought they added just the right touch of whimsy for a little girl's room. Then to ground out those smaller scale patterns I chose a larger buffalo check in shades of pink and orange from Calico Corners.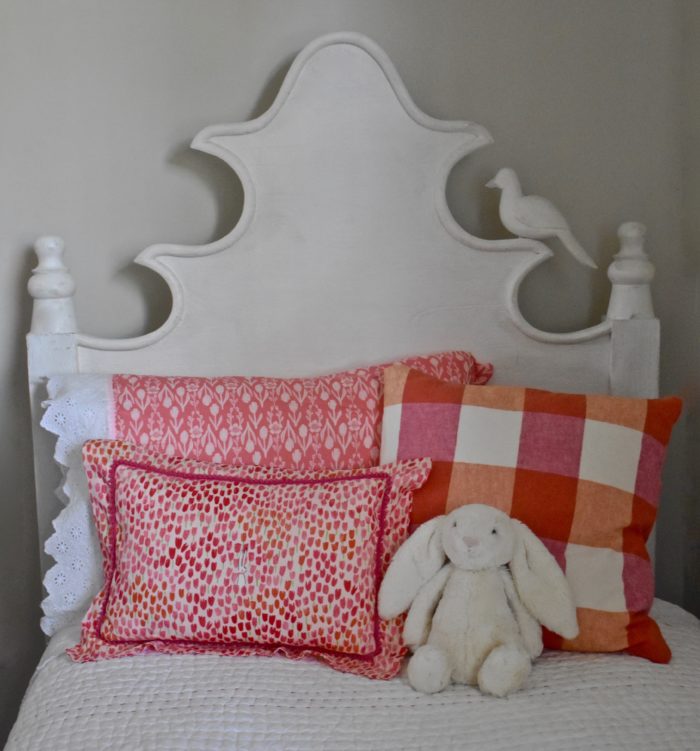 A favorite stuffed bunny is right at home on her new bed. I added some white lace trim to the pillow from an old summer dress that my daughter had loved but outgrown. Small touches like that and the hot pink pom-pom trim make these pillows one of a kind.
Then I made a few small changes by adding new lampshades and I added other touches of pink to the dresser with some flowers and her little pink jewelry box.
The nightlight on the corner of the dresser was formerly a more contemporary lamp from Target, but some chalk paint and a new custom lamp shade from an old swiss dot dress gave this lamp a completely different look.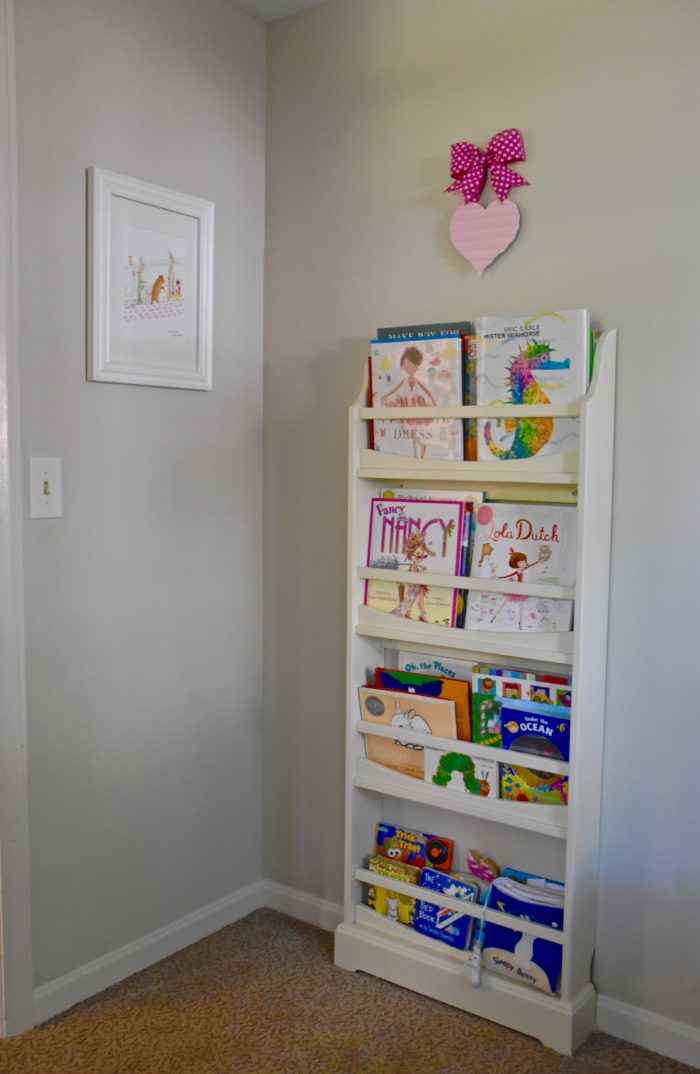 In the corner is a bookshelf that makes the most of the tight space by the door. I added a new print from a children's book called Lola Dutch that had a little girl heading home from the library with a wagon full of books. Which is sometimes what I think we need to carry home all books my daughters love to check out from our library.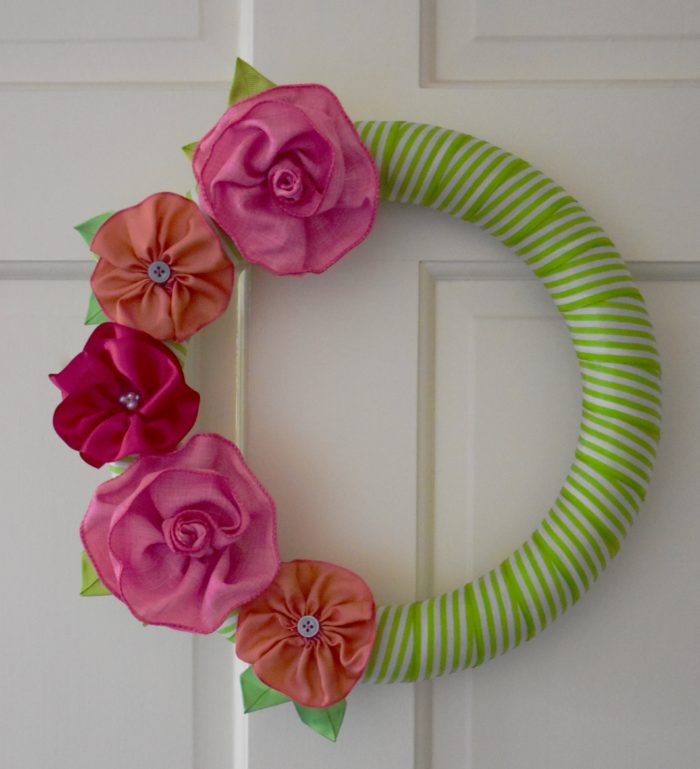 Then even her bedroom door got a pop of color with a ribbon flower wreath I made with pink and orange poppies and roses.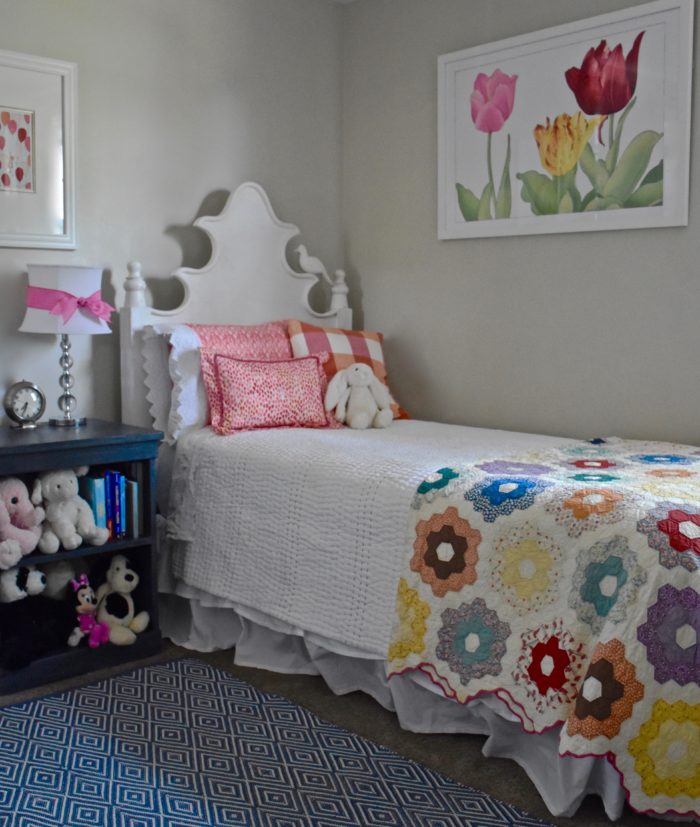 Finally, the two major pieces that I added to this room were the new headboard and the watercolor tulip painting. The headboard has a gorgeous curvy lines and the white washed finish will be able to grow with her. Even if she decides she wants a slightly different look when she is older. I also loved little carved bird detail on it because it reminds me of my daughter's favorite blanket. She has a pink fleece blanket with little birds on it that she got as a baby gift from our adoption agency and she sleeps with that "bird blanket" every night. So there are small bird details around her room that come from that beloved blanket. The tulips picture was also a favorite find because I love the bright happy colors that remind me of a garden on a pretty summer day.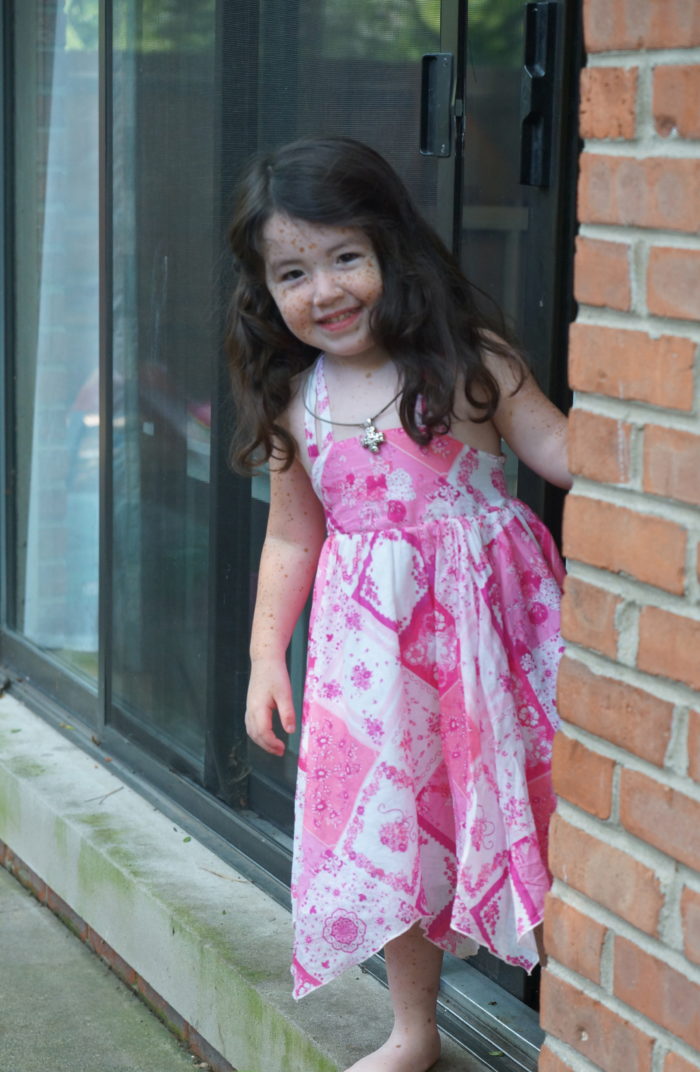 This joyful little girl can light a room up with a her smile. She has an amazing sense of humor that keeps us all laughing and smiling right along with her. She has a bright and fun personality and now she has a new room that reflects her own colorful style.