Just one bite of a sweet peach makes me think is there anything as divinely delicious? Peaches are one of Summer's great gifts and so when July comes and ripe peaches are filling the produce end-caps and the local farmer's markets I happily commence the summer tradition of eating and cooking with as many peaches as possible. The July issue of Better Homes and Gardens featured an article and recipes from Case and Deanna  Fischer of Das Peach Haus in Fredericksburg Texas. The Fischer's and their business partner Mark Wieser have a specialty food company that makes gourmet jams and sauces. Here is a link to their  company's website here.
One of the recipes the Fischer's shared was this Peach and Tomato Salad. The flavor combination of the tangy balsamic vinegar and the sweet honey with fresh peaches and tomatoes is wonderful. This is one of those recipes I know I will be making for years to come so I thought I would share it with you.
Peach and Tomato Salad
1/2 cup balsamic vinegar
1/4 cup olive oil
1 tablespoon of honey
1/2 teaspoon of salt
1/4 teaspoon ground pepper
6 medium peaches (about 2 pounds) pitted and cut into wedges
2 pounds of vine ripened tomatoes cut into wedges
1 cup thinly sliced red onion
1 cup crumbled feta cheese
1 cup of pecan pieces (the pecans can be left out if you have an allergy)
1/2 cup of fresh basil cut into thin strips
First in a medium sized bowl whisk together the balsamic vinegar, honey, salt and pepper. Then slowly drizzle in the oil while whisking and continue whisking the dressing until the oil is fully incorporated.
Next slice your peaches and tomatoes. Since fresh vine tomatoes can be soft I like to slice my tomatoes using a serrated knife. It makes cleaner and better tomato slices. Then slice your red onion into thin bite sized slices.
Next take your basil leaves and stack them on top of each other and roll them longways into a chiffonade.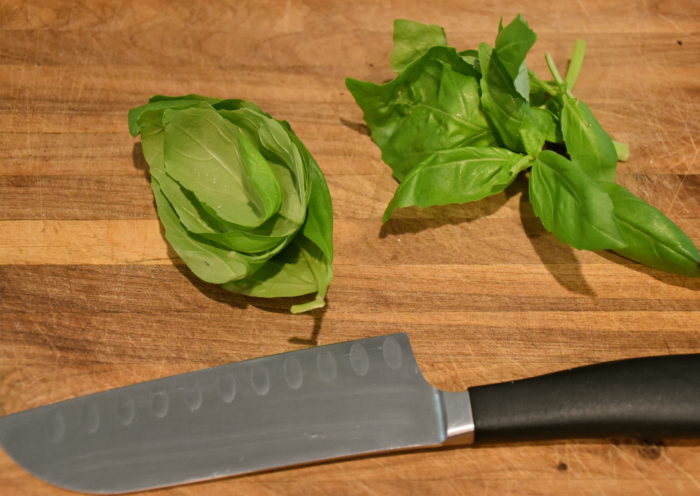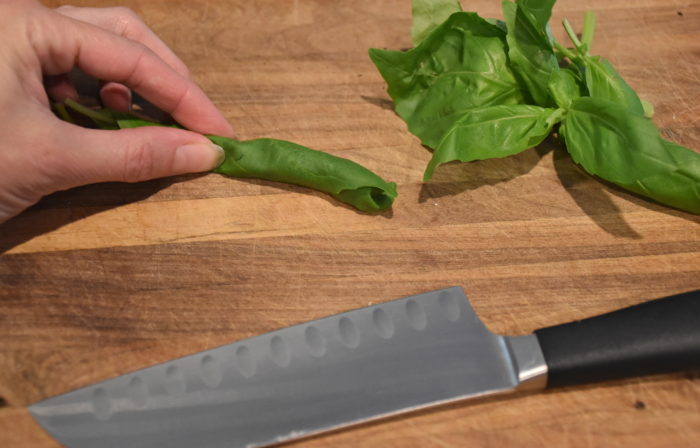 The slice the rolled leaves into thin even ribbons like strips.

Finally in a large salad bowl toss together the peaches, tomatoes, red onion, basil and add in your feta cheese and pecans. Drizzle on the balsamic dressing and carefully mix in the dressing so it coats all the peaches and tomatoes.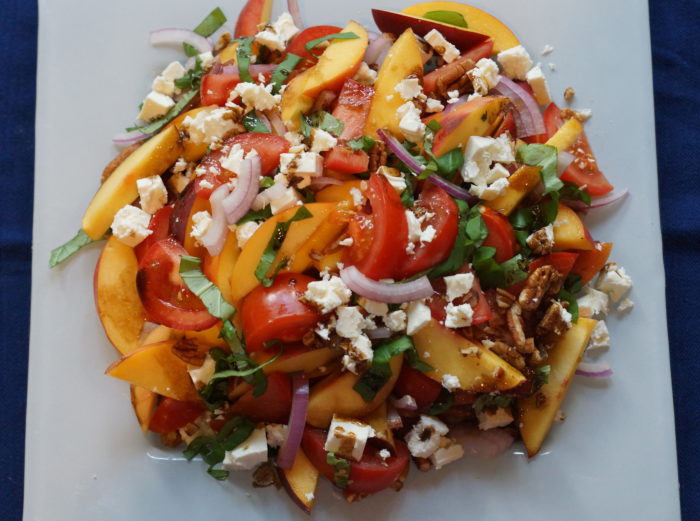 This is a great side salad that I have served with steak and grilled chicken sandwiches but it would be good with all kinds of dishes.