After these past two weeks I will not take a simple thing like going to the grocery store for granted. I have been shopping as little as possible and when I do go, I try and go earlier that I ever have. Six AM grocery store trips are generally not my style. My carefully planned lists are now a thing of the past as I look for what I can find that is fresh. I am in a good way more deliberate about not wasting anything.
Like so many of you I am cooking more than ever. As I do, am trying to cook simple things. Foods that bring us comfort burgers, tacos, waffles, potato soup, red beans and rice. I am someone who expresses myself through food. So, family dinners are a moment of graced goodness.
Being together at the table has taken on a new meaning. In our house dinner is about more than eating it has become a love story. It began sixteen years ago when my husband and I started dating. We were both graduate students at the time, so our first date was dinner at my husband's apartment. He wasn't a gourmet but, we had fun cooking together in the kitchen. Those early years were filled with lots of studying, but cooking dinner together became a part of who we were. Now years later, we are sharing the love of cooking with our daughters.
Cooking for me has always been about love. Love for my husband and my family. So, in this time of uncertainty and waiting. I thought I would share a simple one dish dinner that my family loves, a Southwestern chopped chicken salad.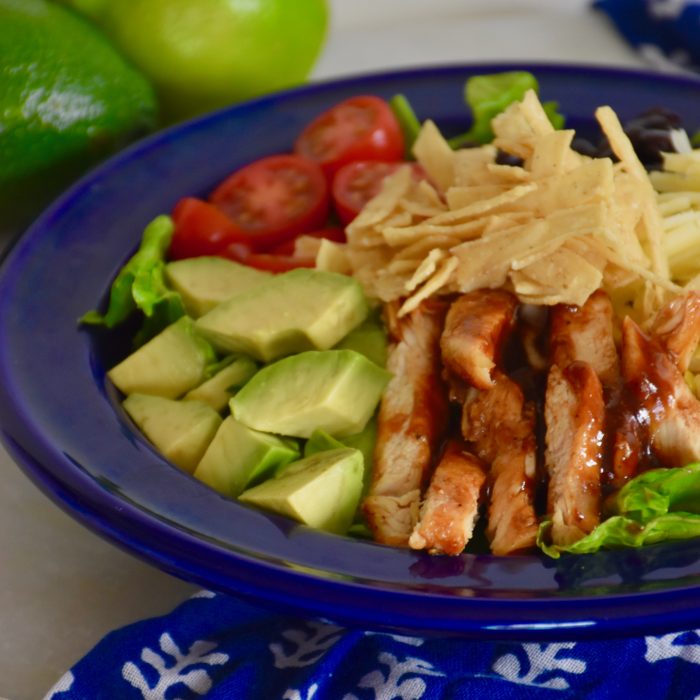 Southwestern Chopped Chicken Salad– Serves 4
4 thinly sliced boneless skinless chicken breasts
1 teaspoon kosher salt
1 teaspoon garlic powder
1/8 teaspoon ground pepper
1 tablespoon olive or canola oil
1/2 cup barbecue sauce
3 ears of fresh corn, sliced off the cob
2 tablespoons butter
2 cups grape tomatoes, sliced in half
1 large avocado, diced
 1/2 of a lime, juiced
1 (15 oz) can black beans rinsed and drained
1 cup shredded Monterey Jack cheese
6 cups romaine or your favorite artisan lettuce chopped
1 package tortilla strips (you can find them on the croutons aisle)
Ranch dressing (if you are not a fan of ranch then it is also good with Catalina dressing)
First in a small cup mix together your kosher salt, garlic powder and pepper. Then pat your thinly sliced chicken breast dry with a paper towel and season both sides with your garlic salt mixture.
Over medium heat in a nonstick skillet add your oil then cook your chicken for about 4 minutes on each side until they are cooked through. As chicken breast cutlets can differ slightly in thickness you may need to adjust your cooking time.
Then slice your chicken breast on the diagonal into thin strips or pieces. In a small bowl mix together your chopped chicken and barbecue sauce.
Wipe out your skillet and add 2 tablespoons of butter heat it over medium heat until the butter melts. Then add in your corn kernels and cook them until they turn bright yellow and tender about 5 minutes. Season with a small pinch of salt. Then set aside.
Chop your grape tomatoes in half and set aside. Rinse and drain your black beans. Then slice your avocado and squeeze half of a lime's juice on top of it to keep it green.
Now time to assemble your salads evenly divide the chopped lettuce between 4 bowls or plates. Then assemble your chicken, corn, tomatoes, black beans, avocado, cheese and tortilla strips.
Finally drizzle a little ranch dressing on top.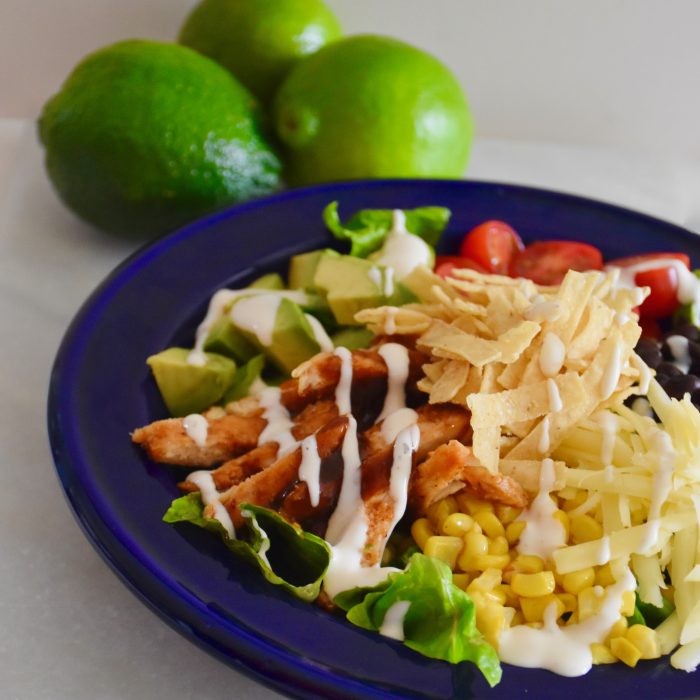 A quick dinner that has so many flavors and textures. This salad is substantial enough for dinner and it's something that can be pulled together easily. Sometimes recipes like this are what we all need. Because dinner in our house is all about spending time with the ones we love.