Easter is coming soon and its message of hope and etneral love couldn't come at a better time. Although many of our traditional Easter plans will need to change, we are still making plans to celebrate. I love holiday meals and one of our family's traditions is this lamb cake. I made one for my youngest daughters baptism and my family loved it. So, it has now become a part of our Easter celebrations. I adapted a vanilla pound cake recipe from Ina Garten so the cake is delicious. Pound cake makes a wonderful molded cake because it's tight crumb stands up well.
Talking to friends, I know that an Easter lamb cake is a tradition for other families too. Some people even have their mother or grandmother's old cake pan which is especially meaningful. My cake pan is newer. Its from Nordic Ware, but I liked it because it has a more nostalgic feel to it. Looking into the history of these cakes I found that one of Nordic Ware's original 1950s lamb cake pan molds is actually in the Smithsonian's collection.
This lamb cake is fun to make. Although it takes a little patience it's easier to frost than your traditional layer lake where you have to worry about the sides. My girls love to help me bake so I know this cake would make a great family baking project.
Honey Vanilla Pound Cake– Makes one lamb cake or 1 standard loaf ( 8 1/2 x 4 1/2 inch pan) if you just want to make a traditional pound cake
2 sticks of butter, cool room temperature (let it sit out for 1 hour)
1 1/4 cups sugar
4 large eggs, at room temperature
2 tablespoons honey
2 teaspoons vanilla extract
1 teaspoon grated lemon zest
2 cups cake flour, sifted
1 teaspoon kosher salt
1/2 teaspoon baking powder
Preheat your oven to 350 degrees Grease both sides of your lamb pan well, using Baker's Joy. This flour baking spray is the very best when it comes to bundt cakes and molded pans.
In the large bowl of your stand mixer fitted with your battle attachment beat your butter and sugar at medium speed for 3 to 4 minutes.
Then add in your honey, vanilla and lemon zest and blend until incorporated. Next with your mixer on medium low speed add in your eggs one at a time.
Scrape down the sides of your bowl and add in your salt and baking powder. Finally on low speed slowly add your flour mixing until it is just combined.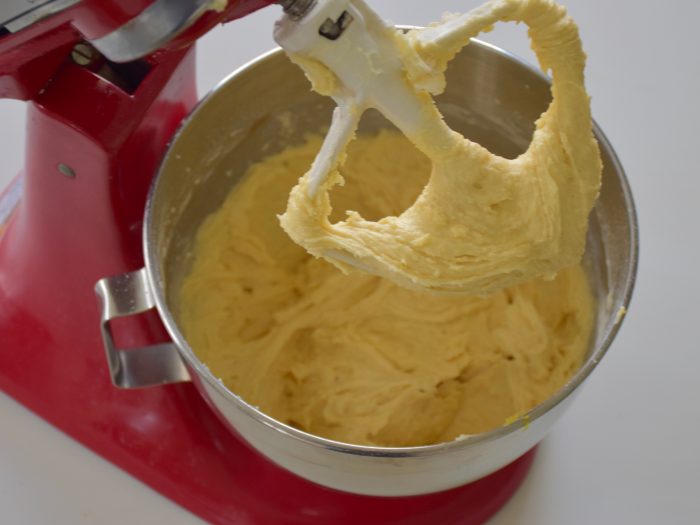 Then spoon your batter into the front of your lamb cake mold (the side without the cake testing hole.) When smoothing the top make sure to press the cake batter in well so you don't have air pockets.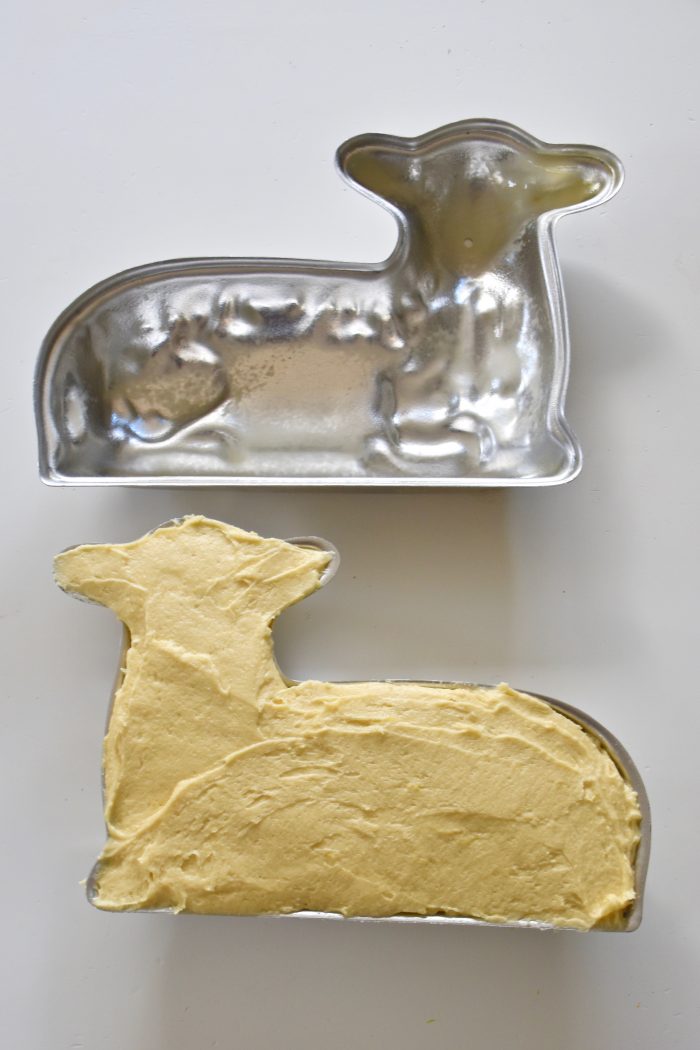 Place the front cake pan on a cookie sheet. Then place the back on top and place it in the oven to bake.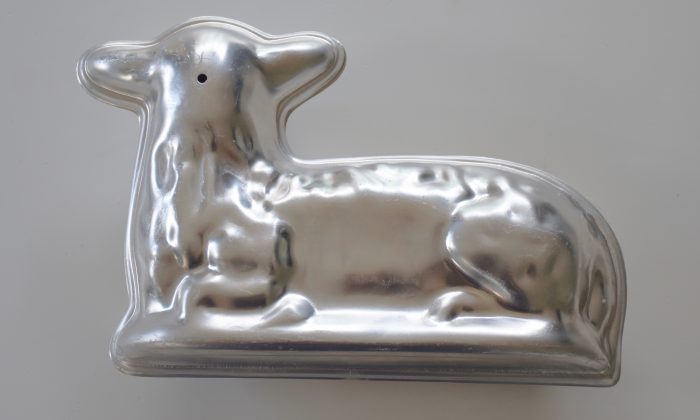 Bake for 50 to 55 minutes. Check the doneness at 50 minutes by using a toothpick in the testing hole to make sure the cake is cooked through.
Let the cake cool in the pan for 5 to 10 minutes before you remove it.
Vanilla Buttercream
12 tablespoons butter (1 1/2 sticks) at room temperature
1/4 teaspoon kosher salt
1/4 cup plus 3 tablespoon of milk
1 teaspoon vanilla
6 cups powdered sugar
In a large bowl of your stand mixer add your butter and salt and beat your butter on medium high speed for a minute. Scrape down the bowl sides and add in your vanilla, and half of your milk and powdered sugar. Blend on medium speed until blended and then add the last of your milk and powdered sugar. Continue to beat at medium high speed until it is light and fluffy.
How to Decorate Your Lamb
1 small container of white fondant
Pink gel food coloring
1 small container of black fondant or black gel food coloring to color some of your white fondant
1 piping bag with a medium sized star tip
1 piece of ribbon (optional)
First roll out a small piece of white fondant and cut it in an almond like shape to fit the lamb's face. I like to use clean kitchen scissors to cut out my fondant.
Then mix together a tiny drop of pink food coloring and a small amount of white fondant. Shape a small set of ears and a little nose. Use a toothpick to add little nostrils to the nose.
Once your cake has completely cooled then crumb coat the entire cake with a thin layer of icing. Then add your fondant face by gently pressing it on, letting the heat of your hands smooth it to fit. Add your ears and then attach your nose with a small drop of icing.
Roll your black fondant into a thin rope like piece to create your eyes and eyelashes. Put a tiny bit of water on your finger to wet the back of the eyelashes so they will stick.
Finally, use a pastry bag with a star tip to pipe your lamb's wool. Use a smaller star around the face and ears. Then on the body you can make larger rosettes.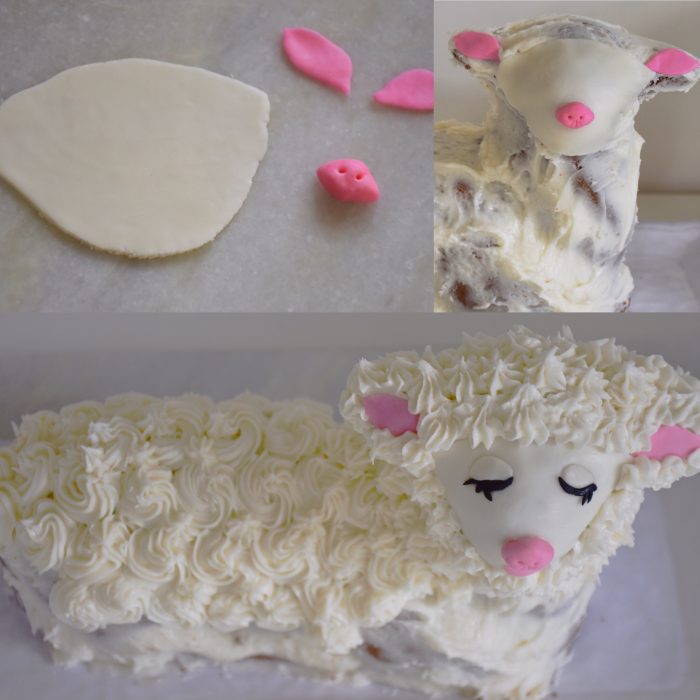 Once your lamb's wool has been piped on you can add other small details like a ribbon collar and sugar gum paste flowers.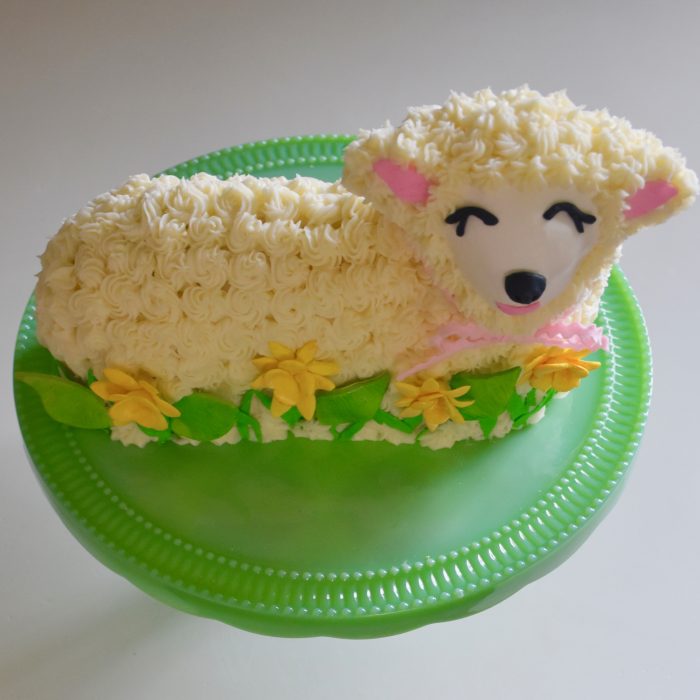 Other ideas include edible flowers like violas or pansies. You could also add jelly beans or small chocolate eggs on a bed of green icing or coconut grass.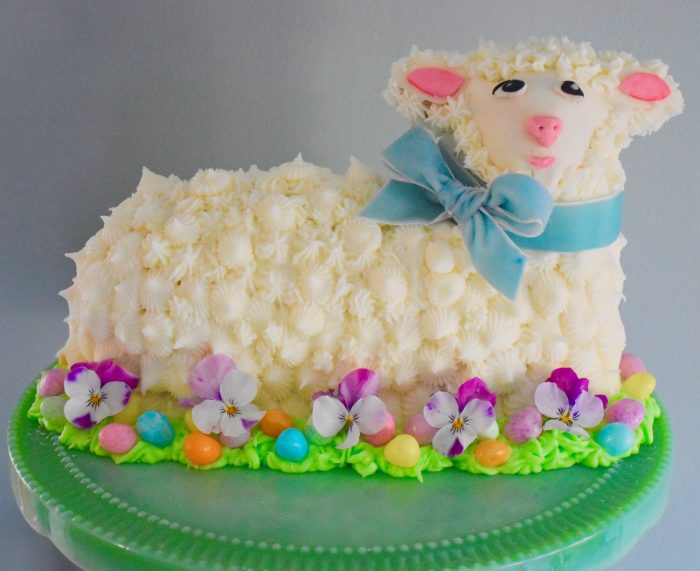 Every year our lamb has a new look, which is part of the fun. So get creative and add your own special decorations. Most importantly my girls want you to know that  this cake is "so good" to eat and share together!