The holidays are the perfect time to make a quick cake or breakfast bread like these orange cranberry cakes. They are easy to make and the chewy cinnamon flavored bread reminds me of a sweet British fruit cake. The tartness of the fresh cranberries is balanced by the sweet orange and cinnamon. This recipe was something I clipped years ago from the Houston Chronicle, but with my love of The Great British Baking Show I was inspired to make these orange cranberry cakes again. The original recipe called for making cake loaves, but I prefer to make mini sized cakes because they take less time to cook and I like decorating these smaller sized bites.
Mini Orange Cranberry Fruit Cakes (makes approximately 12 cakes or 2 nine inch loaf pans)
2 cups sugar
3 cups flour
1 teaspoon baking soda
2 tablespoons cinnamon
1/4 teaspoon salt
2 tablespoons vanilla
3 eggs, beaten
1 cup canola oil
1/2 teaspoon orange zest
1 1/2 teaspoons fresh orange juice (I used mandarin oranges)
3 cups of fresh cranberries
Preheat your oven to 325 degrees
Then grease and flour two standard sized muffin or cupcake pans or spray them with Baker's Joy cooking spray that has flour in it.
Next in a large mixing bowl or in the bowl of your stand mixer mix together your sugar, flour, baking soda, cinnamon and salt then mix in your eggs, oil, orange juice and orange zest. Then fold in your cranberries and make sure they are evenly distributed. The batter will be stiff almost like you are making a streusel. Fill your muffin tins about 3/4 of the way full.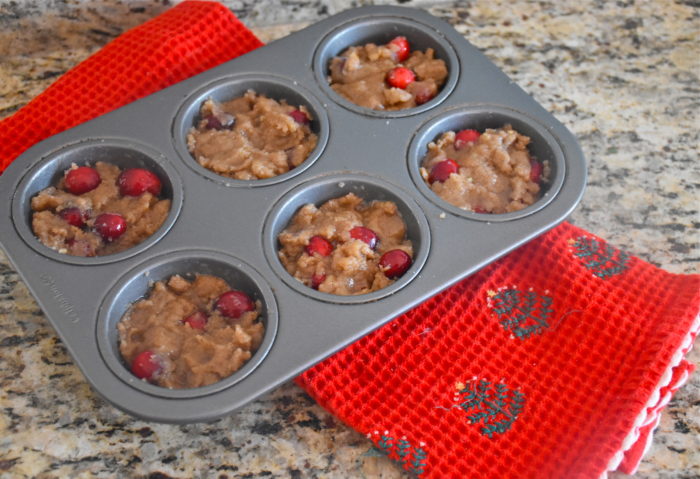 Then bake your muffins for 35 to 40 minutes until a toothpick comes out clean. If you are making them in loaves they will need to bake for 1 hour and 30 minutes. These cakes take a bit longer than your average cupcake because of the fruit and the denser batter. When they have cooled a bit remove them from the muffin or cupcake tin and drizzle them with the orange glaze recipe below.
Orange Glaze
1 cup powdered sugar
3 tablespoons of fresh orange juice
Zest from two small mandarin oranges or I like to use my barware channel knife to make some decorative orange zest curls
In a small bowl mix together your orange juice and powdered sugar till you have a thick but still drizzly glaze. Then I like to put my glaze in a plastic pastry bag and cut of the tip to make a small hole. You could also use the tip of a large ziplock bag to make your own pastry bag or just drizzle it with a spoon.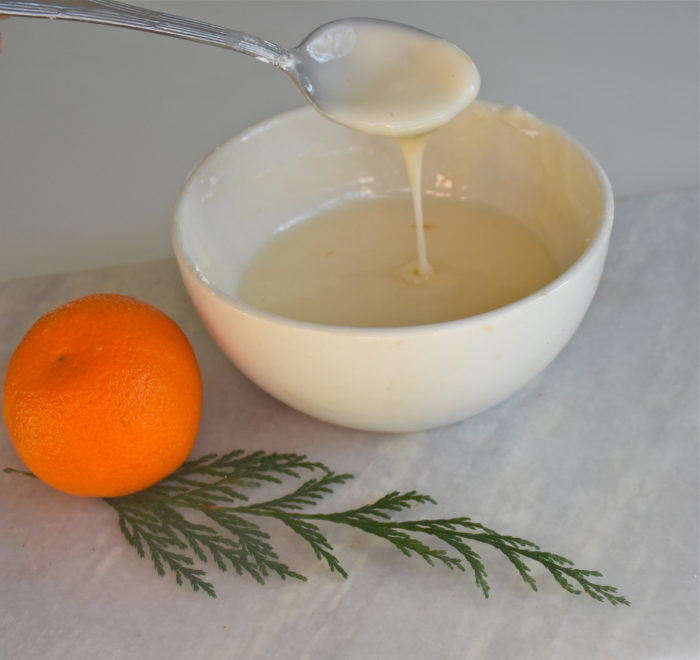 I like to make a set of stripes going on way and then turn my muffin slightly and make a second set of drizzle stripes on the diagonal, but the icing tastes good any way you drizzle it on.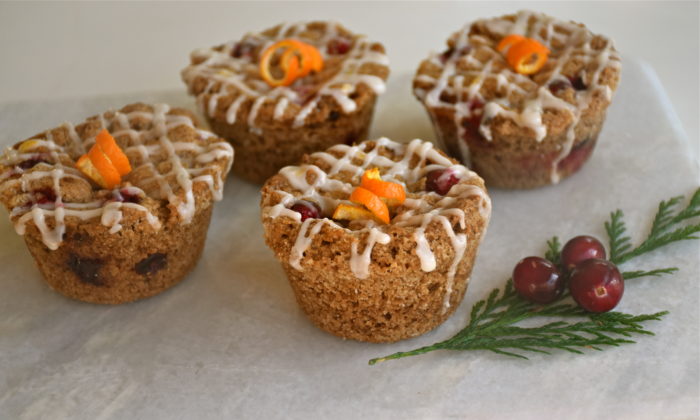 So if you too have gotten into a bit of the British baking fun then try this fresh take on a classic holiday fruit cake.