The holiday gift wrapping is now in full swing in my house, but as I looked through old Christmas pictures to find some photos of some pretty package ideas to share with you my thoughts wandered back to my first Christmas as a newlywed. I don't think I have shared this story with anyone, but you should know that the first major fight of my married life, eleven years ago was over something completely silly, gift wrap. My husband and I made it nearly a year into our marriage without a major issue, but somehow on Christmas eve I managed to say something I shouldn't about my husband's department store shopping bag gift wrap. Maybe it was just the stress of the holidays, but somehow in my mind I thought I should say something or I might never see a gift wrapped Christmas present ever again. Faulty logic I know, but I have to laugh at my younger self. I will spare you the details, because hopefully the statute of limitations has run on such craziness. However, I am grateful that my husband is a kind man who forgave my temporary lapse in sanity.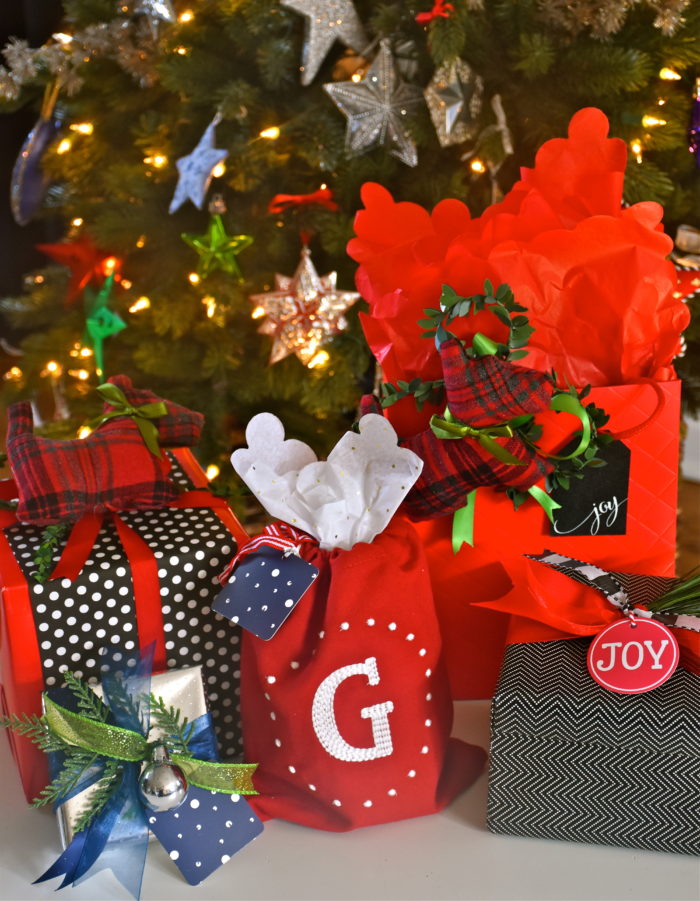 So now as I write and share a few ideas about some last minute gift wrapping ideas I am reminded that perspective is everything. While I truly love the artistic fun of wrapping packages and all the details that make Christmas special, I try not to let the little things get in the way of celebrating the true meaning of the season. So if you are feeling frazzled then I have a few gift wrapping ideas to make any gift feel special.
First, if you running low on time or you're worried about traveling with wrapped paper packages in your suitcase then you can get some pretty paper boxes and just tie a bow with some wired ribbon that will hold its shape. Marshall's Home Goods has my favorite selection of patterned paper boxes that make gift wrapping easy.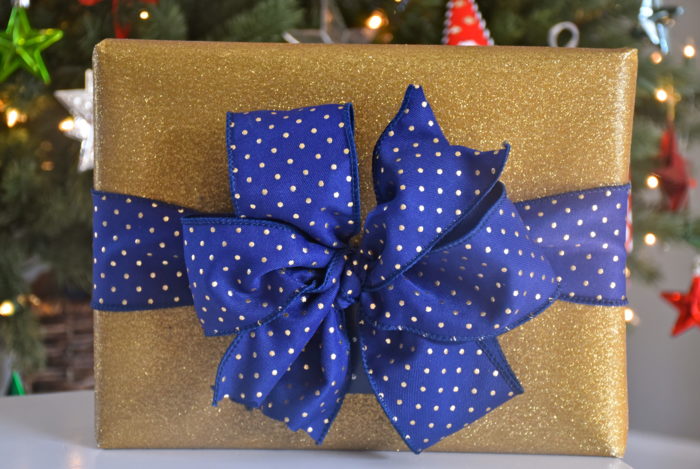 Want a package to instantly feel a bit more fancy? Then do what the department stores do and add something special to your bow. Craft stores like Michaels and Hobby Lobby usually have a wall of bins filled with small bits of seasonal greenery and decorations for garlands, wreaths and packages. Adding just a small touch like   greenery leaves, some berries or even a plaid scottie dog can make a simple bow look gorgeous.
These gifts were easy to wrap because they don't have your looped traditional bow.  Instead, I tied three different ribbons in a knot or around some glittery Christmas greenery. The varied colors and textures in the ribbons create a gorgeous topper for your package without having to worry about making bow loops. All you need to do is tie some simple knots.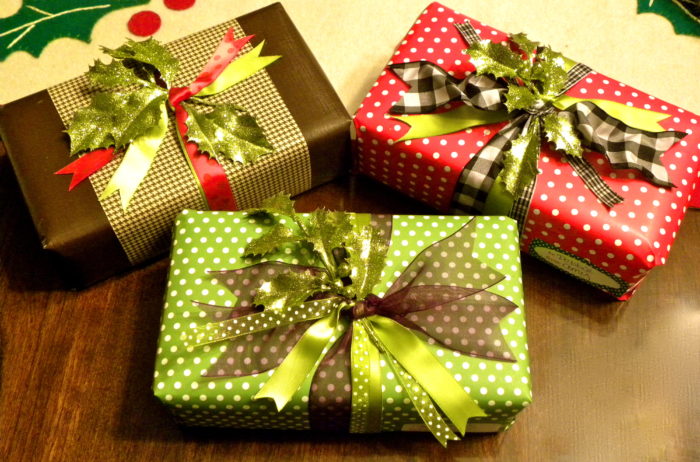 Finally, Are you looking for a last minute hostess gift? Do you have a bottle of wine, a jar of jam or homemade gift from your kitchen? Then think about using a decorative tea towel that can double as a part of the gift.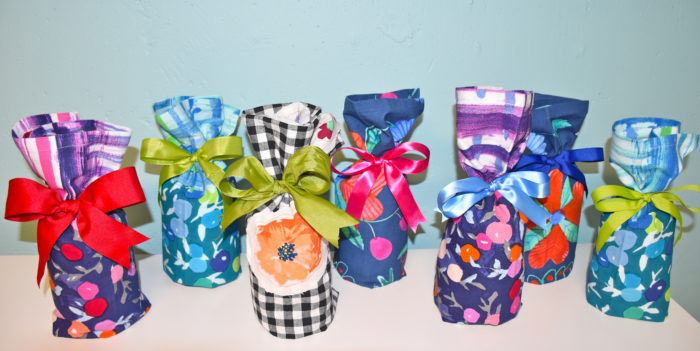 Last year I made cake truffles as gifts and I placed them in mason jars. I wanted to give them a more personal touch, so I wrapped them up in brightly colored tea towels and tied them with a ribbon.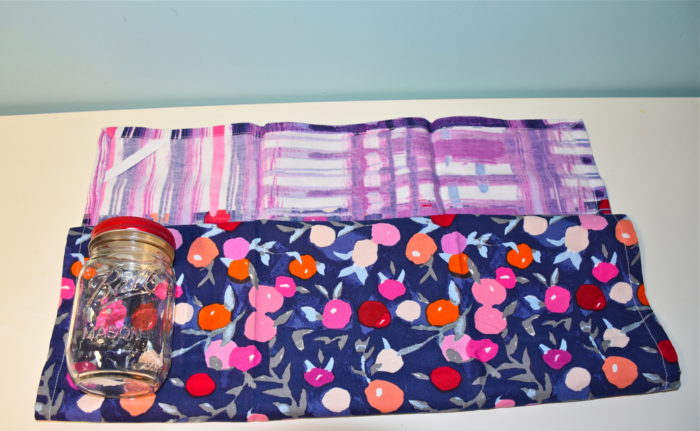 Here you can see I folded my towel over to fit the size of my jar and create a pocket, so the bottom of your jar is covered. You can adjust your fold to fit a taller bottle.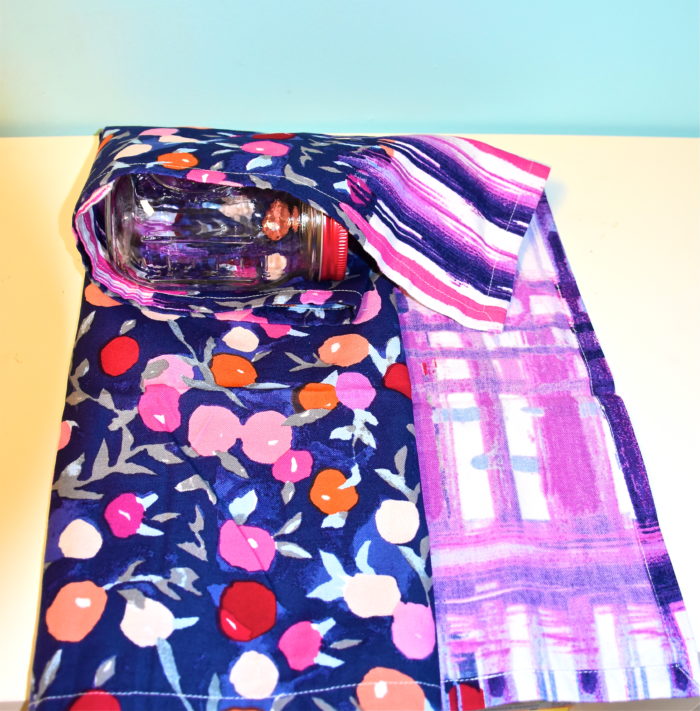 Next I put my jar inside the folded over pocket. Then I rolled it tightly and secured it with a small safety pin on the bottom and I tied the top with a large grosgrain ribbon.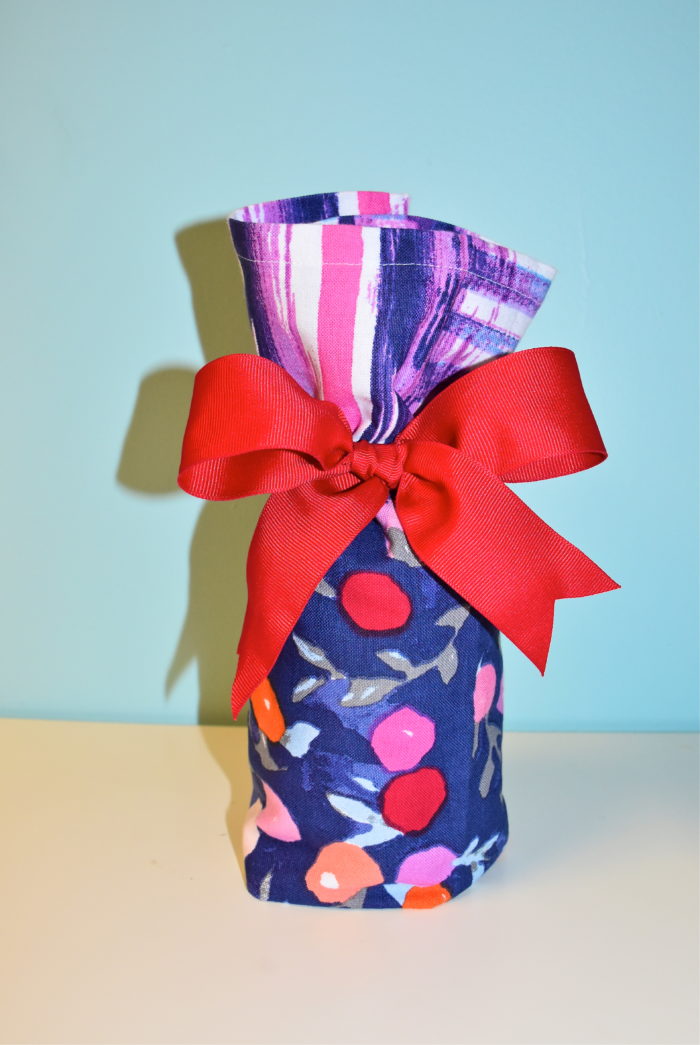 This towel was fun because it had a different pattern on the edge of towel, but you could use a plaid Christmas towel or something with a smaller scaled pattern.  These towels came from Anthropology, but I have also seen some pretty ones at Target, Sur La Table and Home Goods. This is a quick and easy way to wrap a gift. It's unique and the fabric holds up better than paper in transport.
Just a few ideas to help you finish wrapping those special gifts, but if you find yourself up way too late and it gets crazy then gift bags are definitely the way to go. When I told my husband that I was going to share the shopping bag story it took a bit to get him to remember it. I think it's a good sign if your husband loves you enough to forgive you and forget about the zaniness of it all. I am going to take a short break from the blog to spend some time celebrating the holidays with my family, but I will be back in the new year with more recipes, inspiration and fun.
Wishing you a very Merry Christmas my friends!